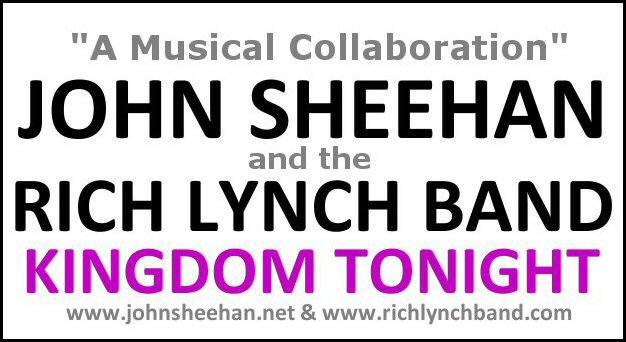 (RINGWOOD, NJ) -- In 2003 two friends and musicians from Ringwood, New Jersey set out to document the tragic and bizarre story of the Heaven's Gate suicide in the wake of the Hale-Bopp comet's fly by in the spring of 1997. The musical collaboration between John Sheehan (http://www.johnsheehan.net) and the Rich Lynch Band (http://www.richlynchband.com) resulted in the dark and dramatic "Kingdom Tonight" which drew upon both performer's love of the the classic rock genre.
The critically acclaimed-track tells the tale of "Bo and Peep and all their sheep" and features a haunting chorus of voices powered by a uniquely compelling reverse slide guitar lead that underscores the perplexing story of Marshall Applewhite and his San-Diego based followers. In late March of 1997 thirty-nine members of the "Heaven's Gate" cult took their lives in a misguided attempt to board a spacecraft they believed was flying in the tail of comet Hale-Bopp.
Now, as a new comet called Lovejoy is shining bright in the January night skies the pair felt it was time to release their song to the world.
"John had a great idea to write a song about this subject matter and it came together really fast," Lynch said describing the musical collaboration that stayed on the shelf for over a decade. "We couldn't get it commercially released at the time so it kind of was forgotten about."
But, like most comets the idea for getting it out to the public came around again at the timing was right in 2015 to give the world the song via YouTube.
"The exciting appearance of Comet Lovejoy in the night sky gave us an excuse and the impetus to dust it off and put the track up on Youtube," Lynch remarked. "We just want the world to hear it because a lot of effort went into it, we feel the song has an important message as a cautionary tale and the overall feedback has been great so far."
Rockin' Rich Lynch has been musically active in the past year launching a successful digital singles career online at (www.richlynchband.com) with several songs scheduled for release in the coming months. John Sheehan (www.johnsheehan.net) continues to amaze audiences in northern New Jersey with his fiery fingerstyle guitar performances and he is a supporter of local regional talent hosting a regular "Original Music Night" every Wednesday in West Milford, New Jersey.
For more information on Rich Lynch visit http://www.richlynchband.com - for more information on John Sheehan visit http://www.johnsheehan.net