State Theatre presents Brian McKnight On Mother's Day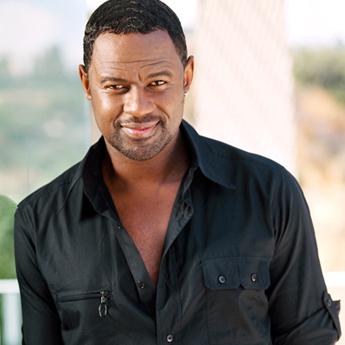 (New Brunswick, NJ) -- State Theatre celebrates Mother's Day with R&B singer-songwriter Brian McKnight on Sunday, May 13, 2012 at 6pm. Tickets range from $32-75. With 13 albums to date, including last year's Just Me, Brian McKnight has sold over 20 million albums worldwide. His hits include "Back at One," "Anytime,""One Last Cry," "Let Me Love You," and "My Kind of Girl." Hear these hits and more in this intimate, solo-acoustic performance featuring Brian on guitar and piano.
In addition to being a singer, songwriter and producer, McKnight is also a multi-instrumentalist who plays nine instruments including piano, guitar, bass, drums, percussions, trombone, tuba, flugelhorn, and trumpet. In an industry known for a constantly revolving door of artists, McKnight has easily established himself with an enviable record of chart consistency, has toured successfully for over a decade, and has collaborated with performers across every genre including Quincy Jones, Justin Timberlake, Mariah Carey, Diddy, Christina Aguilera, Rascal Flatts, Nelly, Vanessa Williams, Willie Nelson, and Kenny G.
Born in Buffalo, New York, McKnight's musical career began in childhood when he became a member of his church NY choir and a bandleader for his high school, Sweet Home High School. By the age of 19, he signed his first recording deal with Mercury Records. In 1992, his self-titled album Brian McKnight was released followed by I Remember You (1995), and Anytime (1997). Anytime sold over two million copies and was nominated for a Grammy®. In 1999, McKnight released Back at One on Motown Records, which sold over three million copies.
Along with several Grammy® nominations, McKnight has been the recipient of American Music Awards, Soul Train Awards, NAACP Image and Blockbuster Awards, and Billboard Songwriter of The Year.
McKnight has also used his vast industry knowledge as a red carpet host for Extra! and in 2007, McKnight stepped into Broadway with a successful run as Billy Flynn in Chicago. He was also a contestant on the Donald Trump hit show Celebrity Apprentice.
For tickets or more information, call the State Theatre ticket office at 732-246-SHOW (7469), or visit us online at www.StateTheatreNJ.org . The State Theatre ticket office, located at 15 Livingston Ave, New Brunswick NJ, is open Monday, Tuesday, Thursday, Friday, 10am to 6pm; Wednesday 11am to 7pm; Saturday 1pm to 5pm; and at least one hour prior to curtain on performance dates. For information on group outings and discounts, call 732-247-7200, ext. 517. Some additional ticket and transaction fees may apply.
originally published: 2012-04-28 13:41:22
---
Latest articles In music
INSIDE MUSIC: Crowdfunding the Arts




Zak Danger Brown, Columbus, Ohio, an Internet jokester, ran a Kickstarter campaign to raise $10 to make a bowl of potato salad. Four days into the month-long campaign, he had raised $32,000. It ended at $44,000! Another Kickstarter campaign was for promoting rape-based card game that has players rape their way through an all-girls school. It raised $30,000 before it was cancelled by Kickstarter for being too sexy. --

click here for more...
Stormin' Norman: a Jersey Shore Legend




If you're a fan of Bruce Springsteen, you may have heard the story about how Clarence Clemons was playing in a bar one night when Bruce walked in and was blown away by the music. The band Clarence was playing in was led by Norman Seldin, and while that moment may be part of rock and roll history, it's just one part of the Stormin' Norman legend. --

click here for more...