State Theatre presents Brian McKnight On Mother's Day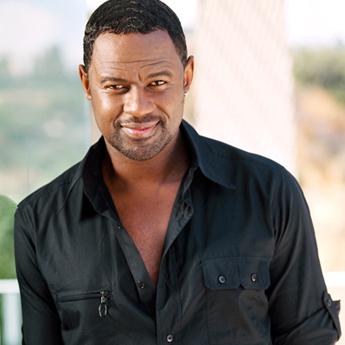 (New Brunswick, NJ) -- State Theatre celebrates Mother's Day with R&B singer-songwriter Brian McKnight on Sunday, May 13, 2012 at 6pm. Tickets range from $32-75. With 13 albums to date, including last year's Just Me, Brian McKnight has sold over 20 million albums worldwide. His hits include "Back at One," "Anytime,""One Last Cry," "Let Me Love You," and "My Kind of Girl." Hear these hits and more in this intimate, solo-acoustic performance featuring Brian on guitar and piano.
In addition to being a singer, songwriter and producer, McKnight is also a multi-instrumentalist who plays nine instruments including piano, guitar, bass, drums, percussions, trombone, tuba, flugelhorn, and trumpet. In an industry known for a constantly revolving door of artists, McKnight has easily established himself with an enviable record of chart consistency, has toured successfully for over a decade, and has collaborated with performers across every genre including Quincy Jones, Justin Timberlake, Mariah Carey, Diddy, Christina Aguilera, Rascal Flatts, Nelly, Vanessa Williams, Willie Nelson, and Kenny G.
Born in Buffalo, New York, McKnight's musical career began in childhood when he became a member of his church NY choir and a bandleader for his high school, Sweet Home High School. By the age of 19, he signed his first recording deal with Mercury Records. In 1992, his self-titled album Brian McKnight was released followed by I Remember You (1995), and Anytime (1997). Anytime sold over two million copies and was nominated for a Grammy®. In 1999, McKnight released Back at One on Motown Records, which sold over three million copies.
Along with several Grammy® nominations, McKnight has been the recipient of American Music Awards, Soul Train Awards, NAACP Image and Blockbuster Awards, and Billboard Songwriter of The Year.
McKnight has also used his vast industry knowledge as a red carpet host for Extra! and in 2007, McKnight stepped into Broadway with a successful run as Billy Flynn in Chicago. He was also a contestant on the Donald Trump hit show Celebrity Apprentice.
For tickets or more information, call the State Theatre ticket office at 732-246-SHOW (7469), or visit us online at www.StateTheatreNJ.org . The State Theatre ticket office, located at 15 Livingston Ave, New Brunswick NJ, is open Monday, Tuesday, Thursday, Friday, 10am to 6pm; Wednesday 11am to 7pm; Saturday 1pm to 5pm; and at least one hour prior to curtain on performance dates. For information on group outings and discounts, call 732-247-7200, ext. 517. Some additional ticket and transaction fees may apply.
originally published: 2012-04-28 13:41:22
---
Latest articles In music
Americana Songwriter Brings Grit and Elegance to Asbury Park




(Nashville, TN) --Known for his entrancing live show and darkly humorous storytelling, Americana singer/songwriter Rod Picott brings his Hang Your Hopes On A Crooked Nail summer tour to The Saint in Asbury Park NJ on Monday, September 15. The show is an Asbury Cafe seated show in which talking during the performance is frowned upon. George Wirth will open. --

click here for more...
UCPAC Opens 2014-2015 RSI Jazz Masters Series With The Cookers and Dave Burrell




(RAHWAY, NJ) -- The Union County Performing Arts Center opens its 2014-2015 RSI Jazz Masters Series on Saturday, September 13, 2014, at 8 PM, with a performance by THE COOKERS and DAVE BURRELL at Hamilton Stage, 360 Hamilton Street, in Rahway, NJ. Sponsored by RSI Bank, this exciting series features headline performances by some of the most distinguished artists on the contemporary music scene. All seats are $25, with a $5 discount off each concert if three or more concerts are purchased. --

click here for more...
Canadian Band ZERBIN Plays The Saint in Asbury Park Tonight




(ASBURY PARK, NJ) -- If you're like me and you listen to satellite radio in the car, chances are you've got a couple of favorite stations you turn to on a regular basis. One of mine is Iceberg, a station that largely plays Canadian artists. One band I've been hearing a lot of on the station is ZERBIN from Victoria, BC, which features the songwriting duo (Jason Zerbin & Peter Mol). Songs like "New Earth" and "Take Your Heart" are regularly in rotation. ZERBIN comes to The Saint in Asbury Park, NJ for the first time tonight (Friday, August 29) on a bill that includes Modern Suits and Underwater Country Club. --

click here for more...