By Gary Wien
originally published: 06/20/2016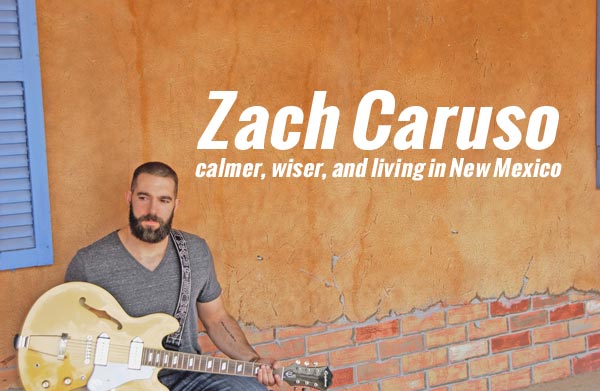 When I first heard about Zach Caruso, a musician from New Jersey living in New Mexico writing for an online outlet called Urban Beardsman, my first thought was the witness protection program, but it turns out he just always wanted to live in mountain country.  Caruso, who grew up in Salem County, recently released his fifth album called Afternoons With Miss Jones.  The album features a lead single about the actress Anna Kendrick that offers hope to all who dream of having their celebrity crush fall in love with them.
His journey to New Mexico began after he graduated from Rowan University in 2011. He has a Bachelors in Journalism and a Masters in Writing with a focus on journalism. Caruso headed down to Florida where some relatives lived and wound up living there for about four years. He wrote freelance articles for magazines, newspapers, and websites and got serious about a musical career.
"I had known since I was around 13 or 14 that I wanted to move on from New Jersey," explained Caruso.  "It seems to me, there's always two kinds of people.  People who love where they're from and don't want to leave the area because they have everything they need and those who have a lot of wanderlust and want to go.  I was the guy with wanderlust."
But Florida wasn't where he wanted to be - it was too humid and had too many people - so he began thinking about relocating to the mountains. He loved the areas of New Mexico, Colorado, Wyoming, and Montana, and originally thought he would go to the Denver/Boulder area.  But when his parents moved to New Mexico they suggested he use the area as a home base until he found his ideal spot.  Once he arrived in New Mexico, he realized he had found it.
"I came out here and I didn't know what the deal was," he admitted.  "I didn't know if there were any musicians out here or where to go. And what I found was a very strong creative community of musicians and artists who are very supportive and were very welcoming of an outsider coming in.  They thought it was awesome that I was from the East Coast; it brings a little diversity to their music community.  There are some great clubs, open blues jams, and outdoor concert series.  There's a lot here I didn't expect."
---
The article continues after this ad
---
---
Caruso's own music is a blend of classic rock and British blues.  He lists bands like Free and Humble Pie as among his favorites, and reminds me a bit of Lou Gramm and Foreigner.  For years he has been putting out solid albums and getting airplay on radio and internet stations across the country.  Thanks to the lead single, "If Only, Anna" in which Caruso serenades Kendrick, he's getting more exposure than ever.  It's a cute song about unrequited love for someone you've never met.
"I know that Anna, she's on the other coast from me / I like to think that, given the chance, she could have fallen in love with me"
The song was performed live on Good Day, New Mexico, the area's morning network tv show, and seems to be striking a chord with the public. Ironically, what could turn out to be his breakout song was originally written as a lark.
"It's been a running joke for a long time," said Caruso.  "In my circle of friends, bandmates, and family members, it's been common knowledge that Anna Kendrick has been my celebrity crush for many years now.  It's the kind of thing where any time she pops up in a commercial or has a new movie coming out, I'll get a slew of text messages and phone calls.  'Did you see that your girl is going to be on this or in that?'   So, I was sitting around, writing a song one day and I had this idea I was working on.  It was a funny, light-hearted take on what if things were different and I went out to Los Angeles and had a hit song?  I thought it would be something cool to show to my friends and bandmates and they'd get a kick out of it.  After I finished writing it, I tested it out at a couple of acoustic gigs.  My dad was hanging out at one show and asked if that was one of my new ones. I said yeah and told him the story behind it.  He said, 'I think you should record it, it's really catchy.'  Later on, I was telling a friend from back home about the song and he said he wanted to hear it.  So, I sent him a quick demo and he came back with the same thing.  He said,'You've got to record this and do something with it.'  So, it's on the record and I'm promoting it.  I'm hoping I annoy her so much that she calls me and tells me to stop!"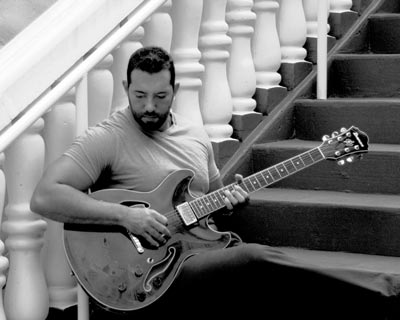 The overall theme behind Afternoons With Miss Jones is about growing up and finding yourself in a more mature position. He explains it as having a broader scope on the way things affect him now and how he views the future.  The title track was inspired by a relationship that ended. The break-up didn't exactly break Caruso's heart.  In fact, he was entirely fine with it, but his friends kept throwing cliches like "you're better off" and "you'll meet someone when you least suspect it" — never realizing he was doing fine.
All of the comments from people made him think back to a friendship he had in college.  They were just friends, but there was always an unspoken attraction between them.
"I remembered there was a sense of warmth and home with her and a sense of ease," recalled Caruso.  "For some reason, she popped in my head and I had this thought that if one day I find that again that's when I'll take advantage and jump on the opportunity to have something, but, until then, I'm fine.  And that was kind of the theme of the song: I'm not in a rush; when it happens it happens.  This is what I'm searching for and I know it's out there for me somewhere.  One day I'll get there.  I thought that was a good central theme for the whole record - this feeling of being in control of my thoughts, feelings, and emotions, and not being in a rush.  When I was younger, I had a short fuse and would react out of emotion.  As I've gotten older, I've learned to take my time and collect myself and be more in control of my emotions.  I want to have a grasp of what I'm thinking or feeling or what to say before I say anything.  And just keep myself a little calmer.  That's sort of where I'm at as a songwriter, a singer, a guitarist, and as a person."
He's not very religious, but throws characters and stories from various religions into many of his songs. Caruso says they help give people a good starting point — providing something people can relate and connect with.  His music also often tackles the darker side of life, something Caruso says he finds more interesting.  The contrast between saints and sinners seems to be a running theme of his.
"I guess I've always been more interested in the darker themes because I feel those are more telling than when you're in a good, happy place," said Caruso.
Caruso's in a pretty good place now, although he does admit to missing the local WaWa and some of the clubs where he first cut his teeth on stage. He even turned having a beard into a writing job.  As a user of Beardbrand products, he decided to send a resume to them about their UrbanBeardsman.com site one day on a whim.  His timing turned out to be perfect as they were looking for a new writer at the time.  He was hired and about 7 months later the story got even better.  Beardbrand itself was looking to hire a social media manager.  Caruso wound up getting the job.  So, now he's got a new album out, feels like he's calmer, more mature, and has a good job.  He just can never shave again.  But he's fine with that.
---
Gary Wien has been covering the arts since 2001 and has had work published with Jersey Arts, Elmore Magazine, Princeton Magazine, Backstreets and other publications. He is a three-time winner of the Asbury Music Award for Top Music Journalist and the author of Beyond the Palace (the first book on the history of rock and roll in Asbury Park) and Are You Listening? The Top 100 Albums of 2001-2010 by New Jersey Artists. In addition, he runs New Jersey Stage and the online radio station The Penguin Rocks. He can be contacted at gary@newjerseystage.com.
---