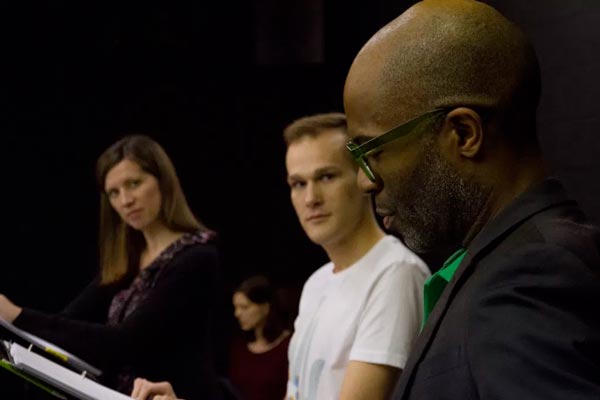 (MADISON, NJ) -- Writers Theatre of New Jersey's annual Soundings reading series kicks off on January 2 with Joe Sutton sharing his latest play, "The Patriot," at the Dreyfuss Theatre on the Madison campus of Fairleigh Dickinson University. Soundings brings you fourteen plays in fourteen days, kicking off on January 2nd and running through January 15th. The series features new works from some of the country's best playwrights – including two Pulitzer Prize nominees, Kilroy and Emmy Award winners, and more – performed by professional actors under the direction of professional directors.
This year's series tackles many of the issues currently in the news. Seth Rozin's "And Their Sons, Too…" looks at sexual abuse scandals involving coaches in college football and Donna Hoke's "Teach" looks at the same issue from a public school classroom perspective. Richard Dresser's "Wolf at the Door" deals with urban gentrification. Joe Sutton's "The Patriot" is about a crisis at a conservative news network not unlike Fox, and Bob Clyman's "The Real Story" looks at the challenges of gathering "Real News" in a world where facts now seem to matter less than they have in the past.
All Soundings readings will be held in Madison, New Jersey at Fairleigh Dickinson University's Dreyfuss Theatre. (285 Madison Avenue) Each reading will begin at 7:00pm and will be followed by a brief post-show discussion with the playwright and the director, where the audience will be invited to give feedback on the play. This part of the process is vital, as this feedback often helps to shape the play as it moves forward to future productions; it's a chance for you to be an important part of the creative process.
Readings are free with a recommended donation of $10 (or pay what you can), but you can get a 7-Play Pass for a donation of $25; a 14-Play Pass for $35; or a Big Read Pass for $50, which gives you entrance to all Soundings Readings as well as their March series at The Bickford Theatre, Jersey City Theatre Center, and Mile Square Theatre.
This year's plays are:
---
The article continues after this ad
---
---
Tuesday, January 2 – "The Patriot" by Joe Sutton. An exciting play about the current state of TV news and the ethical and political issues that is raising in our national conversation.
Wednesday, January 3 – "Like Saltwater" by Pia Wilson. A bipolar, African-American woman is locked in a room with her husband's childhood friend, would-be lover, and now priest, Richard while her husband John is dying in their bedroom.
Thursday, January 4 – "Nichiiwad" by Hal Corley. On a raw November morning, a woman returns to what appears a scorched earth bomb site, the devastating aftermath of a late-autumn tornado that leveled her small Illinois river town. Her home's contents scattered forever, her two brothers must coax her away from the wreckage, adapt their strategy in response to Corrie's quicksilver defense mechanisms. Freed from her protective asylum, will Corrie finally accept the help she's long needed for her deteriorating mental state, or take a final stand against her equally wounded family amid the ruins of so much lifelong struggle?
Friday, January 5 – "Hurricane Colleen" by Tammy Ryan. Six months after their sister Colleen has died of cancer, sisters Maggie and Rosemary rent a beach house in Melbourne to have a memorial and scatter Colleen's ashes. The family reunion is interrupted when a tropical depression forming in the Caribbean suddenly turns into a hurricane and is heading their way. Though they fall within the "cone of uncertainty," the sisters and their partners decide not to evacuate. As the strong winds and rain bands begin, strange encounters with wildlife signal something more is going on, both between the sisters and with Mother Nature as they struggle to ride out the storms both outside and inside.
Saturday, January 6 – "And Their Sons, Too..." by Seth Rozin. Joe Koehler was an almost godlike figure as the longtime head coach of a storied college football program, until news broke that he failed to properly deal with the predatory sexual behavior of one of his assistants, and he died of a sudden heart attack. Two years later, his wife of 51 years, and his younger son are just beginning to get their lives back together when the family lawyer arrives with news of the continuing investigation. Picking up where Arthur Miller's classic, ALL MY SONS, leaves off, AND THEIR SONS, TOO… asks us to consider the human price we pay for needing our heroes to be saints and our villains to be pure evil.
Sunday, January 7 – "Encounters" by Yasmine Rana. A collection of ten-minute plays between saviors, friends, and eternally optimistic want-to-be lovers. The evening's fleeting moments include Leaf Cutters, a finalist in Miami's City Theatre's National Short Play Contest and At The Barre presented at Luna Stage's New Moon Short Play Festival.
Monday, January 8 – "Memoirs of a Forgotten Man" by D.W. Gregory. A Soviet journalist with the gift of total recall. A government censor with a secret past. A psychologist seeking to rehabilitate herself. Over two decades and across thousands of miles, their fates become entwined as victims and collaborators in Stalin's campaign to rewrite public memory.
Tuesday, January 9 – "Teach" by Donna Hoke. Ten years ago, Ken and Chris were teacher and student with a questionable relationship. Now, as principal and teacher, a suspiciously high grade prompts Ken to grill Chris until the young teacher is forced to confront the past--as well as the present.
Wednesday, January 10 – "Wolf at the Door" by Richard Dresser. Nine tenants, a shady landlord, and one run-down apartment building all come together in this story of neighbors and gentrification. Keith, an often-passive resident, involves himself in his building's Tenants Association: a motley crew of young and old, well-to-do and not, and Americans and Norwegians alike. In the face of Dr. Muldge, their wealthy yet distant landlord, they swear to hold their ground in the face of apartment renovations that seem to good to be true.
Thursday, January 11 – "Redux" by Rob Zellers. JOHN and CHUCK have not seen each other since completing their two tours of duty in the Vietnam War. During their time in-country they were subject to fierce jungle combat and horrific atrocities. Now, in 2017, they have very contrasting memories of their experiences, reflected in starkly different ways of coping and the different paths each has traveled since. Their reunion brings many painful recollections and recriminations before they are finally able to craft a truce based on the bond that was forged in the jungle crucible of Southeast Asia forty-five years earlier.
Friday, January 12 – "Ghost Story" by Lia Romeo. Lydia's just looking for a one-night stand, and so she's met a cute guy at a bar and brought him back to her apartment. But now things keep getting in the way. Like the fact that they could hardly be more different (she's forty, he's twenty-eight; she's black, he's white; she's a New Yorker and he's from the Midwest). And the fact that he's still not over his ex. And the fact that her apartment might very well be haunted. A play about ghosts – both literal and otherwise – and the ways we try to move forward.
Saturday, January 13 – "The Excavation of Mary Anning" by Ian August. Amidst the groaning cliff sides and sandy shores of southern England, fossil hunter Mary Anning combs the earth for glimpses of the ancient past. Armed with only her determination, her lucky hammer, and her erstwhile companion, Tray, Mary uncovers secrets that redefine science and religion and philosophy. But 19th century geology is a nobleman's game, and Mary's discoveries are buried beneath the rubble while the stars of her male counterparts grow ever brighter. The Excavation of Mary Anning is a historical fantasia about things that come from the earth and things that go to the earth, and one woman's quest to reclaim her legacy in a society that refuses to acknowledge her worth.
Sunday, January 14 – "The Real Story" by Robert Clyman. Mark, an eccentric freelance reporter, meets the troubled and haunted Stuart at an airport. Mark intuitively senses Stuart has an exciting story to tell, and works his charismatic charm until Stuart confides he joined a secret rebel group in Southern Peru. Before Mark can report Stuart's incredible story, the content editor insists on hiring a professional fact-checker to verify his claims. Enter Nina, a professor, intellectual, and chief fact-checker for the Peruvian Literary Consortium, determined to uncover the real story.
Monday, January 15 – "Branwell (and the other Brontës): an autobiography edited by Charlotte Bronte" by Stephen Kaplan. The Brontë siblings (Charlotte, Branwell, Emily and Anne) had incredibly vivid imaginations that allowed them to create such masterpieces as Wuthering Heights and Jane Eyre. However, it is in their own private fantasy worlds, first invented when they were children, that they find their most inspired outlets. With a clear set of rules, they escape to these worlds whenever fancy pleases them. But when reality threatens to crash in, the siblings start changing the rules in order to avoid the inevitable and fight to keep their cherished worlds alive. Though set in the past, Branwell (and the other Brontës): an autobiography edited by Charlotte Brontë is about how, throughout time, we tell stories that can unite us all together in our humanity.
---
"We are working on an extraordinary group of plays this year, many of whom are by writers familiar to WTNJ audiences, including Seth Rozin, who wrote "Two Jews Walk into a War," D.W. Gregory, the author of "Radium Girls," Richard Dresser who wrote "Augusta," Tammy Ryan, author of "Lost Boy Found in Whole Foods," and Robert Clyman who wrote "Where the Sun Never Sets,"" said Artistic Director John Pietrowski. "As always, we will follow up the readings with the quality discussions our audiences have come to expect."
Staged readings, like those in the Soundings series, allow playwrights to hear their work read aloud by professional actors and to see the reaction of audiences to their play; the performances and reaction help the playwright determine what changes, if any, are needed to further develop the script. For audiences, this is a way to become part of the creative process and to help shape brand new plays. It's also an inexpensive way to see a lot of great, professional theatre close to home.
Soundings will be held at Fairleigh Dickinson University's Dreyfuss Theatre, on the university's Madison, New Jersey campus, and each performance will begin promptly at 7:00pm. The readings are free with a suggested donation of $10 or you can purchase a Soundings pass for $25, which gets you into all fourteen readings.
For more information on the individual plays and playwrights and for tickets, click here.
Writers Theatre presents around 10 of these readings per year. Plays presented will be a mix of new submissions and continued relationships with writers whose work has been developed at WTNJ in the past.