By Gary Wien
originally published: 12/25/2019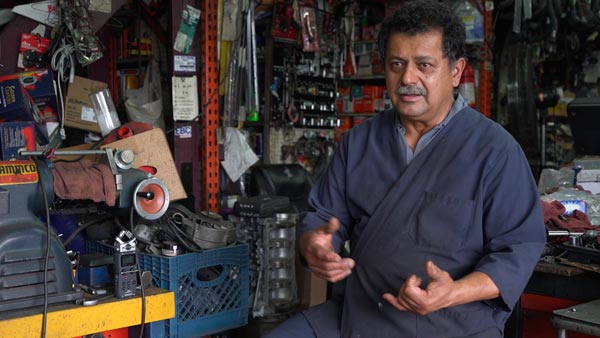 "I don't mind the machine, I just don't want to be its victim…"
Ever since the industrial revolution workers have been face to face with technologies that helped their productivity while threatening their jobs.  In the documentary Work Songs, New York filmmaker Mark Street takes a look at how people are coping with work and today's challenges.  He interviews people in a range of industries who are trying to survive economically while finding meaning in their jobs and sometimes doing so alongside the very technology which may eventually replace them.
"The film looks at automation as a constant threat facing almost all jobs," explained Mark Street.  "The decline of unions affects work.  There's a way people are piecing several jobs along the way and I found that to be very instructive - the idea that you train to do one job and you do that for the rest of your life seems like an anachronistic position in this day and age."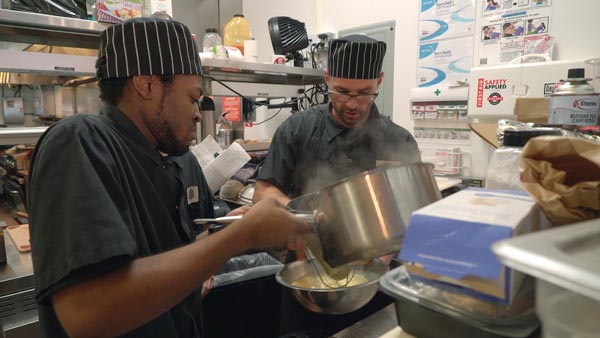 Few politicians talk about automation and how it will undoubtedly change the workplace forever in the upcoming decades.  There aren't many jobs that cannot be done with a robot or automation in the near future - especially when artificial intelligence is better achieved.  We already see fast food restaurants and convenience stores like WaWa utilize computer touch menus to take your order.  Between that and direct payments via credit card or debit cards, several jobs are eliminated.  Some restaurants and bars around the world are beginning to utilize automation to cook food and serve drinks;  robotic-assisted surgery is no longer science fiction; and autonomous vehicles (cars which drive themselves) are already on our streets. The film takes a look at the testing of autonomous vehicles in Pittsburgh.
"Pittsburgh is a town with factories that are rusting and isn't the economic powerhouse it used to be," said the filmmaker.  "So they're investing in automatic vehicle technology with the idea that it'll be a win/win situation that turns a former industrial powerhouse that's stagnant now into a purveyor of green technology."
---
The article continues after this ad
---
---
Testing vehicles in Pittsburgh helps the technology gain valuable experience on challenging city streets. It is also supposed to help the city by bringing an influx of college graduates as well as those with Masters and Ph.D's to the area.  Autonomous vehicles will be a blessing to senior citizens and the disabled who can no longer drive, but threaten the jobs of taxi and limousine drivers.
Charles Crawley, a cab driver in Pittsburgh sees the autonomous cars on the streets with their globes spinning on top.  "I'm personally afraid to get in one where there's no one driving, where it's being driven by a machine," said Crawley.  "Machines make mistakes and their mistakes are fatal. Big difference.  A machine makes a wrong turn and you go over a bridge. I make a wrong turn, we hit a guard rail. I'll take the guard rail."
As with many advancements in technology, more jobs will be threatened or lost than people initially think.  If autonomous cars become a large part of society, it may change everything from the amount of parking garages needed in cities (if the autonomous cars are part of ride sharing they can be continuously in use, eliminating the need for parking) to the people who hand out parking tickets to insurance issues (since autonomous vehicles will likely be better and safer drivers once the technology is perfected) to less need for ambulance drivers and emergency services.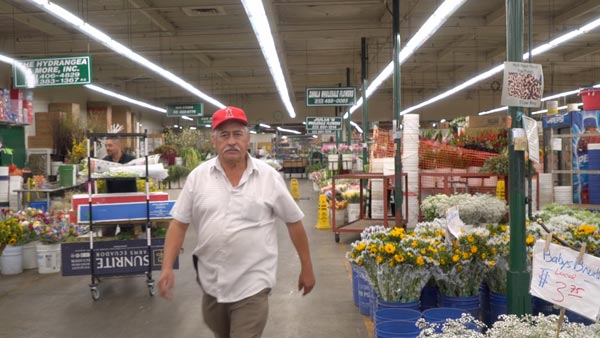 In addition to showing how technology has improved some professions and hurt others, Street finds people who are taking advantage of technology in ways that surprised the filmmaker such as a woman in New Jersey who is a full participant in the gig economy (one in which people work part-time or temporary positions).  He found her from an ad on Craig's List.
"She's buying things on alibaba.com and selling them on Etsy," said Street.  "Everything she has enters into the gig economy, including her home.  She was very sanguine about this new economy.  I don't have it on camera and didn't put it on film, but she said, 'You know, there's all this opportunity out there.' I sort of looked at her and thought, 'Man, you're working 24/7 at this stuff… you're even renting out your place.'  She told me about the time one woman who rented the room asked her to tuck her in at night.  I thought it was a tender moment of humanity poking up through the coldness of the transactional Air BnB experience."
Street says he knew he wanted include factors like geography, diversity, and genders for the film subjects.  He wanted to cover areas from coast to coast and various industries.  Some were subjects he read about or heard about and some were friends of friends.  He started out in Pittsburgh because he saw that city exemplifying a sort of worker tension and expanded from there.
"I saw it as a bit like a road trip movie," he explained.  "I tend to have movies not entirely planned out and let the movies surprise me.  I think all documentaries should surprise the maker as it's being made."
One of the main issues he encountered from workers was the struggle to find a work/life balance.  He notes how everybody today has to set their own boundaries in order to keep a separation of family life, personal life, emotional life, and their work life.  It's a struggle that has grown exponentially thanks to the proliferation of email in our lives and cell phones - two things which mean we can be in constant contact if needed.
He encountered a woman who works as an Academic Forms Specialist for a university.  There was a misunderstanding within email messages that he thought a phone call would solve.  But when he searched the university website for her office, he could not find her.  He learned she works remotely from home and has never even visited the campus.  Her role in the film was to talk about what it's like to work from home - a situation some prefer while others cannot fathom.  Street himself was a bit surprised at the way she spoke about the freedom working from home provides her.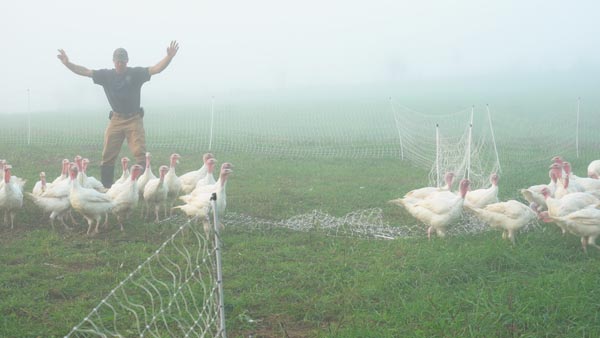 One of the interviews that stayed with him was with a farmer who talked about how things were today as opposed to where he thought they would be.  "He said I thought 20 years ago that everybody was going to be in their kitchen cooking and buying from the local farmer," said Street.  "We were all wrong.  What replaced that is places like Blue Apron and ready-to-eat meals as opposed to things that came right from the ground and from farmers.  He was sort of irritated, but, as any businessman, you can't be irritated with the market.  As he said, we have to figure out a way of dealing with the fact that people don't want to cut up their own chicken.  The fact that people want boneless, skinless chicken breasts as opposed to whole chickens and things like that.  He was a little disappointed in the market or the customer, but was willing to adapt and be aware that as a business model it's on him to make it work."
Street says he hopes people watch his film and realize that everything that goes on around them is a product of a human being doing something - whether it's the person serving you coffee or someone sweeping the sidewalk in front of you.  He thinks it's easy for people to look through those who are working around them, never imagining that they have a life of their own.  The UPS driver who drops off Christmas packages to your house may have to make 16 stops in the hour or risk getting fired. And that may be why the driver is running late with your delivery.
"I wanted to unlock those inner stories and have people hear them and consider that everyone around them is working and has a story and a reaction to their job," said Street.  As one of his subjects said, "If you work for a living, you're a worker.  It's a common bond that workers have."
Work Songs will be screened on the first day of the New Jersey Film Festival Spring 2020 on Saturday, January 25 at 7:00pm following a screening of the short film Textile Workers by Andrea Nappi and Juno Roome.  Both of those filmmakers, as well as Mark Street, will take part in Q&A sessions with the audience following the screenings.
---
Gary Wien has been covering the arts since 2001 and has had work published with Jersey Arts, Elmore Magazine, Princeton Magazine, Backstreets and other publications. He is a three-time winner of the Asbury Music Award for Top Music Journalist and the author of Beyond the Palace (the first book on the history of rock and roll in Asbury Park) and Are You Listening? The Top 100 Albums of 2001-2010 by New Jersey Artists. In addition, he runs New Jersey Stage and the online radio station The Penguin Rocks. He can be contacted at gary@newjerseystage.com.
---