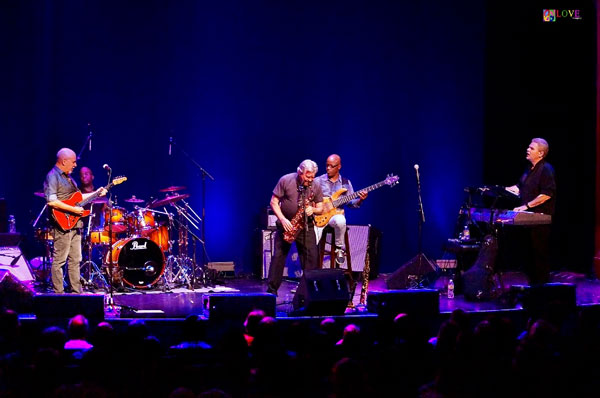 There is an enthusiastic welcome from the crowd as audience members cheer for the five virtuoso jazz musicians currently stepping out onto the stage at the cozy Newton Theatre in Newton, NJ, this beautiful Thursday, September 28, 2017 evening — Tom Schumann on keyboards, Scott Ambush on bass, Lionel Cordew on drums, Julio Fernandez on guitar, and Jay Beckenstein on saxophone — all members of the legendary jazz group, Spyro Gyra!
Over the last 40+ years, Spyro Gyra has released 31 albums, selling over ten million recordings including one platinum album and two gold albums.
The group has also performed over 5000 live shows — and right here on the Newton Theater stage, the group viscerally demonstrates to this crowd of jazz lovers why it is they have had such longevity for the past four decades!
From the start, Cordew's solid drumming, Ambush's tight bass, Fernandez's tasty guitar playing, and Schumann's extraordinary keyboard skills lay the groundwork for Beckenstein's world-famous alto sax work as he takes the lead on a clever jazz arrangement of Johnny Rivers' 1966 hit TV show theme, "Secret Agent Man."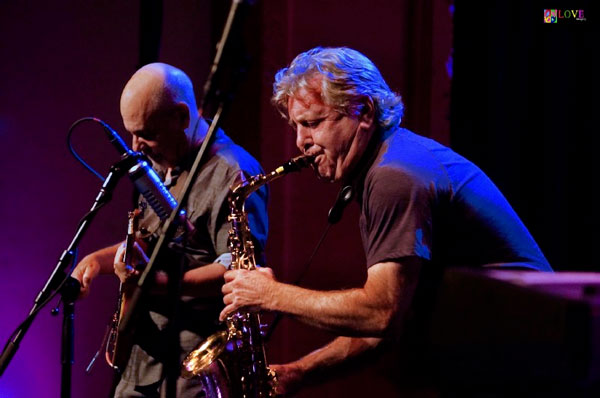 In their minds' ears, audience members can sing the song's famous lyrics, "Secret agent man/Secret agent man/They've given you a number and taken away your name," along with the band as Beckenstein's saxophone glides over ever-shifting chords.
---
The article continues after this ad
---
---
The appreciative crowd applauds for a vibrant Schumann keyboard solo, drinking in the notes as they fly by, the band expertly supporting him. As the musicians move and groove, experiencing these five seasoned jazz musicians creating their spinning melodies and lush harmonies in person is a treat for both the eyes and ears.
Moving on to the title tune from Spyro Gyra's 1980 gold record, "Catching the Sun," the upbeat and breezy tune takes many in the audience back to the carefree days of the 1980s.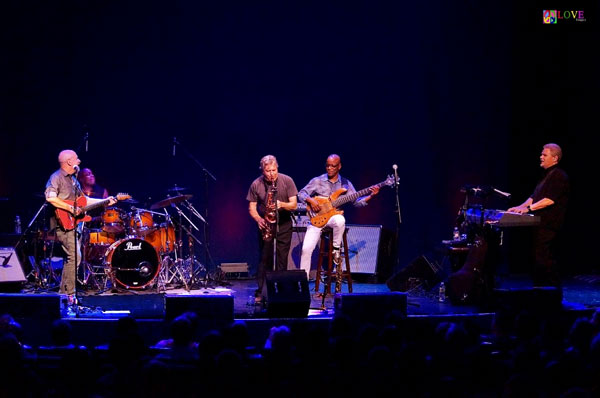 Beckenstein's solo is classic Spyro Gyra — brilliant in terms of its innovative melodic and rhythmic motifs — and Julio Fernandez makes his guitar sing an uplifting song as it bops and glides along, creating a dancing melody that fills the house with joy.
Following excited cheers, Spyro Gyra band leader Jay Beckenstein welcomes the audience to "The Newt" and lets the crowd in on some welcome smooth jazz news when he announces, "We will be releasing a new record next year which will include 'Secret Agent Man'."
Introducing guitarist Julio Fernandez, Beckenstein says, "He was born in Havana, Cuba, but was brought up right here in Jersey!" to eager audience applause.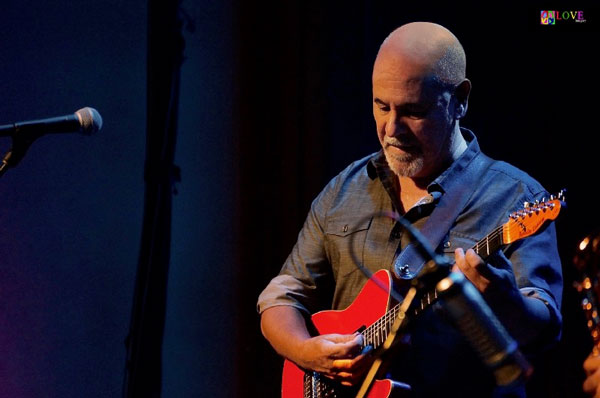 Taking the microphone, Fernandez sings in Spanish as the group performs their 1996 composition, "De La Luz." On this tune — which translates to "of the light" in English — Beckenstein switches over to soprano sax, and Schumann's keyboard, Fernandez's guitar, Cordew's drums, and Ambush's bass work together to create a completely different sound and feel for this Spanish-influenced number. The crowd interrupts the musicians several times with heartfelt applause and cheers as they perform this Latin-inspired gem.
Moving on to something completely different, Spyro Gyra performs a jazzy arrangement of the infectious 1981 hit song by Squeeze entitled "Tempted." Recognized by most listeners by the melody of its catchy chorus which, in the Squeeze version, features the famous "Tempted by the fruit of another/Tempted but the truth is discovered…" lyric, Spyro Gyra opens the tune with a jazzy Tom Schumann keyboard intro.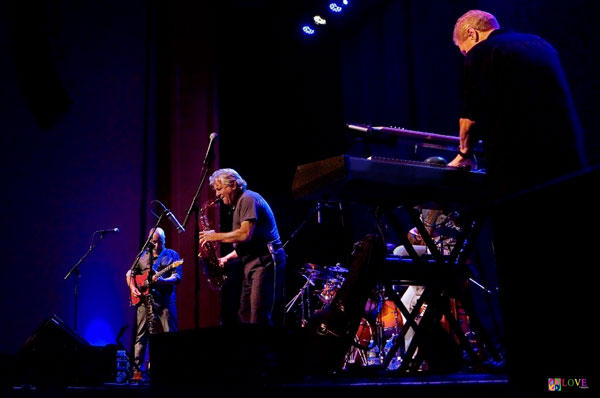 As the band members enter, it's obvious they feel the music in their bodies as well as their souls as evidenced by their spontaneous movements as they play, each musician spilling his soul onto the stage for all to see.
Schumann's synthesizer solo is mind-blowing, and hearing Spyro Gyra's creative instrumental arrangement is a treat for any jazz listener to experience just how these five musicians can creatively transform the tune's melody and harmonies, transferring this pop confection into something new and different, and moving the song in a variety of artistic directions which only these gifted players can imagine.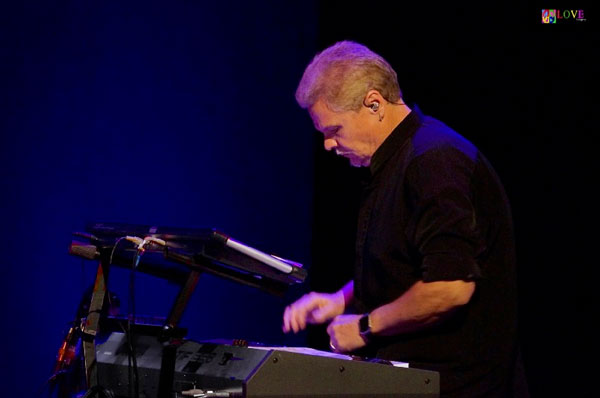 According to Beckenstein, the next tune, "Cashaca," is about "a strong Brazilian liquor." Moving on to this 1980 album cut, Beckenstein plays notes so high they are far beyond the normal range of his horn. The saxophone, guitar, and keyboards dance to the beat of Cordew's drumming and Ambush's bass as this quintet of world-class musicians creates rhythms of many colors and the lights overhead shift colors with each beat of the music.
Feeling the Brazilian influence on this number, the instrumentalists play off each other's energy and vibe as they reinterpret this song written over 25 years ago.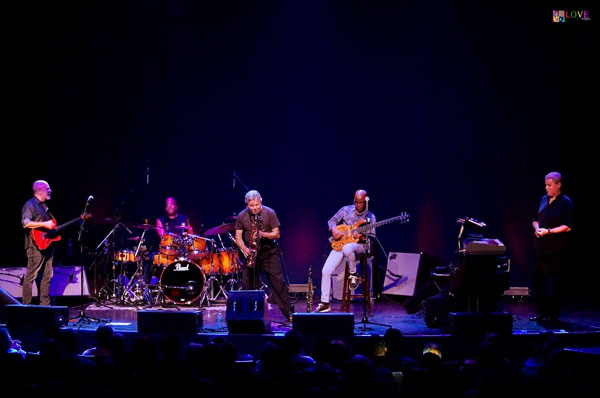 During intermission, we get an opportunity to chat with an audience member, Gary — a bass player — who along with his wife, Shawn, traveled all the way from Detroit, MI to Newton, NJ especially for tonight's concert.
Explains Gary, "I've been a fan of Spyro Gyra for 35 years! I've seen the group in different venues from nightclubs to symphony halls to outdoor jazz concerts," before adding, "I've even seem them perform at a pool at a hotel, which was a fantastic setting to watch them play!"
According to Gary, recently, back in the Midwest, Spyro Gyra has only appeared in live concert venues as an opening act where "they only get to play for 40 minutes." As a result, he and his wife decided to "come to New Jersey and get front row seats so we could enjoy them perform for an entire show."
Responding to why he finds this particular jazz group so appealing, Gary says it involves "hearing the way they play off one another" and experiencing "the kind of energy they have."
Pointing out, "Over time, some bands begin to lose some of their intensity, but Spyro Gyra hasn't," Gary reveals, "I play bass in various rock bands, and this group is inspirational to me. When they perform live, there's no one up there covering for them — they don't use any prerecorded tracks; they're just out there playing flawlessly without a net — proving every night what great musicians they are."
Gary's wife, Shawn, shares her love for the band with her husband, disclosing, "Gary is the one who reeled me in and got me started listening to them." Expressing her sheer enjoyment over seeing Spyro Gyra live, Shawn says, "When you're listening to them in person and you close your eyes, for me, it's like going back to 1979," before explaining, "I love seeing them live because when you hear them play on a recording, they're just so good it's almost like they aren't even real!"
Hooting and hollering ensues as the band retakes the stage for Act II.
Opening with 1990's "Escape Hatch," the upbeat and bright sound of this feel-good song provides the audience with good vibes, the music building in intensity as the musicians solo and play up, over, and around one another.
Drummer Lionel Cordew is featured on a number entitled "Lionel's Den." After playing the tune together, the rest of the musicians walk off so Cordew can have free rein of the stage. Performing a drum solo which electrifies the crowd, Cordew creatively employs several of the rhythmic motifs from the song, improvising on them, extending them, and transforming them into something new and exciting. Tapping on the rims of the drums as well as on the cymbals, Cordew creates different and unexpected timbres, all to the audience's delight.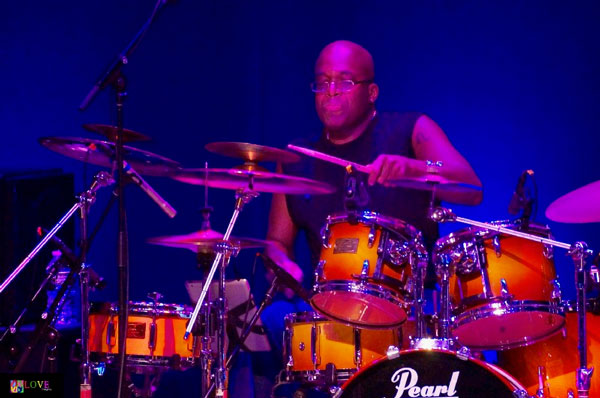 As the crowd applauds and cheers, with the playing of a long drum roll, Cordew invites his band mates back to the stage to complete the number. At the conclusion, when Beckenstein utters the phrase, "Lionel on drums," the words take on a whole new meaning of respect on the part of the audience following Cordew's virtuosic solo.
Beckenstein makes the audience chuckle when he says, "I've tried to count up how many times I've played 'Morning Dance'" before announcing, "This is our 5,043rd performance!"
Audience members clap along to the rhythm of the band's 1979 Top 40 feel-good song that both catches the ear and heart with it's easy flowing rhythm and its bright, happy melody. As the band joyfully plays, lights spin and shine color all over the stage.
Following enthusiastic cheers and applause, Beckenstein confesses to the crowd that, over the years since the tune was a pop hit, "I've met three different women who've come up to me and told me their parents named them Morning Dance after that song!"
Next, the group performs a 2004 number written by bassist Scott Ambush. As the quintet plays "Wiggle Room," one audience member yells out "Go, Scott!" when Ambush takes a solo, performing jazz bebop lines to a funk beat with his tight bass sound.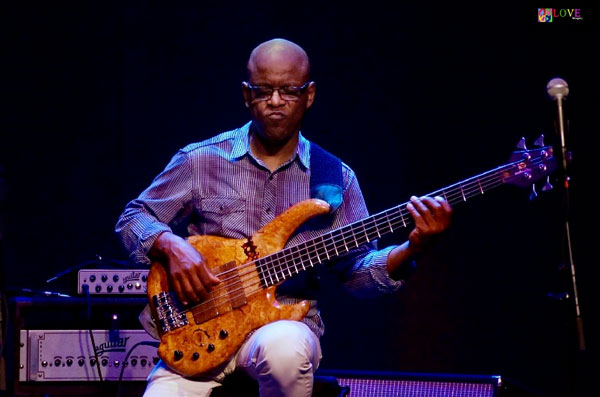 The rest of the band stands back to observe while Ambush impresses the crowd and his fellow musicians playing what starts out as a slap bass solo, but then moves on to a segment where he simultaneously performs a melody while accompanying himself with guitar-like chords. And as if that isn't enough, Ambush follows things up with a call and response segment where — like an entire jazz big band — Ambush plays a melody which is answered by horn-like riffs, all on his single bass!
The crowd responds with wild cheers and applause, after which the group moves on to a song by guitarist Julio Fernandez. Performing 1997's "Ruled by Venus," Beckenstein stuns the audience when he plays two saxophones simultaneously — his alto and his soprano — becoming a one-man horn section! On this catchy and upbeat funk tune, Fernandez also has the audience happily singing along on the "yeah-yeah, whoo-whoo" refrain as he rocks out on guitar.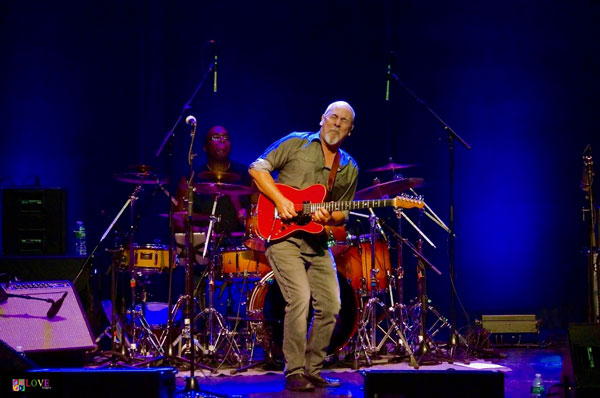 By the end of the number, the audience is on its feet cheering for these five men as they take a bow before taking leave of the stage.
Not willing to go home until another song is played, the audience continues to clap and cheer. A fan yells out, "You da man!" as Beckenstein and company return to the stage to perform a high energy arrangement of Oliver Nelson's classic ballad, "Stolen Moments."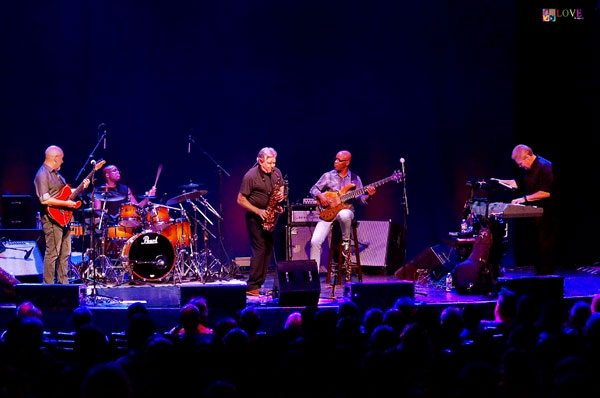 Beckenstein wails on his sax, trading solos with Fernandez on guitar.
Before saying goodnight, he thanks the audience, telling them, "You have big hearts!"
As the audience makes its way out of the theater, we get a chance to chat with Jay Beckenstein who comments about performing here in the Garden State saying, "This is the most diverse state! Playing here can be like any one of ten experiences. It's just endless what New Jersey can offer!"
We also chat with several audience members who share their opinions of tonight's show.
First, we catch up with Gary and Shawn from Detroit, whom we met earlier during the show's intermission.
Exclaims Gary, "I loved this show — and I especially enjoyed Scott Ambush's performance on bass tonight! It was melodic and percussive — just effortless," before going on to point out, "And we've never had a better venue to see the group in. This theater is just perfection — it's comfortable and the sound is great!"
Gary's wife, Shawn, agrees, stating, "The people here at the Newton Theater are so friendly — this is a really great place for a concert," before emphasizing how much she enjoyed Jay Beckenstein's performance this evening, commenting, "He's so great — he didn't even look like he was playing!"
Kyle from Hamburg agrees, remarking, "This show was great! I've been following Spyro Gyra since the beginning," before going on to disclose, "I bought a shirt and wore it to a concert of theirs which I attended in 2001 and had the band sign it. To this day, each time I see the group, I bring that same shirt with me and I have the band sign it again. When they see the shirt, they always remember me!"
Carol from Jefferson calls tonight's show, "Excellent," revealing, "I've been following Spyro Gyra for 30 years and this is my first time seeing them in person," acknowledging, "tonight's concert was a birthday present from my granddaughter!"
Notes Carol's granddaughter, Jacqueline, with regards to her grandma's first Spyro Gyra experience, "My grandmother was smiling the whole time!"
Salvadore from Palisades Park tells us, "This was an amazing show! These are great musicians. It's really special to get a chance to hear them play individually — and the respect they have for each other is obvious," before going on to suggest, "You can just fill your brain with Spyro Gyra's music and forget about everything else!"
Lastly, Todd from Belleville comments, "I've been a big fan of Spyro Gyra since the beginning — 1978 — and I've been lucky enough to see them play live several times over the years."
And just how does Todd characterize tonight's performance by Spyro Gyra?
In a single word:
"Wonderful!"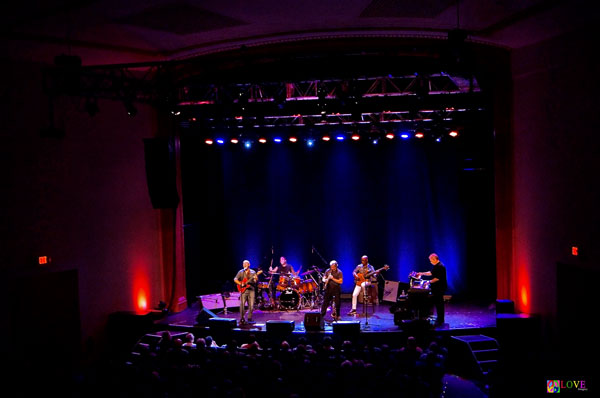 To learn more about Spyro Gyra, please go to spyrogyra.com/. For information on future concerts at The Newton Theatre — including Felix Cavaliere's Rascals on Oct. 13, The Stanley Clarke Band on Nov. 12, and Max Weinberg's Jukebox featuring Glen Burtnick and The Weeklings on Dec. 8 — please click on www.thenewtontheatre.com/.
Photos by Love Imagery
Spotlight Central. Your source for Jersey entertainment news and reviews
Love Imagery Fine Art Photography. all you need. peace/love/flower/power