By Gary Wien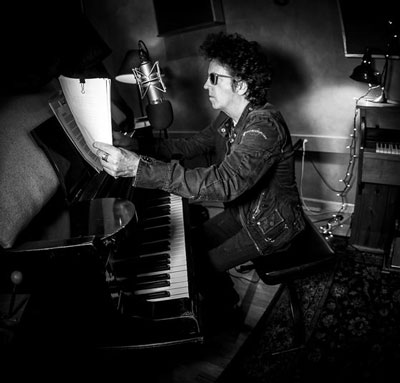 It always makes me laugh when people say that rock and roll is dead or complain that nobody makes great albums anymore. I guess they've never heard of Willie Nile. One of the most under-rated rock and roll artists in the world, he's been on a roll for the past decade releasing album after album, each better than the one before. In 2013, his American Ride record received nearly universal acclaim as an instant classic. Could he possibly top it?
Nile's latest release, If I Was A River, takes a different approach. Instead of the all-out rockers that he's generally known for, it's an album done completely on piano. Many of his albums have included powerful ballads as a change of pace, but this record takes that approach to a new level. It's a truly powerful, spiritual, and uplifting record that holds its own against anything in his catalogue. It's also a pretty bold way to follow-up the most successful record of his career.
"I think that, for me, American Ride really was a lot of dreams fulfilled," explained Nile in an interview conducted days before he headed off for a European tour. "A lot of the dreams that I'd always had about making records were realized with that album, and it was well received and I'm deeply grateful for that. So, it felt like a circle had been completed in some way, like I'd gotten to where I was going after a long journey. I thought it was time to make a left turn and try something different."
Nile says that this was a good window for him to release a piano record because he's halfway done with a true full band follow-up to American Ride. The songs on his latest release were intended to be piano songs from the start. It's a special record, a very personal record, and one he's waited quite a while to release.
"It just felt right to me," he said. "I always try to follow my instincts as best as I can and hopefully in that way the music that I write and record will sound genuine and believable. I've wanted to do an album of piano songs for some time. I've got drawers full of songs of all kinds, but these piano songs are close to my heart. I love the simplicity of just sitting at a piano and singing a song, and I first started out in music playing the piano. Sometimes less is more, and this just seemed like one of those times."
The universe must have agreed with him about the timing because Nile was able to record the album on the same Steinway Grand piano that he had played 34 years earlier at the Record Plant on the night John Lennon was killed. This piano, which was used on many classic records, was being stored at Hobo Sound in Weehawken. "It was almost as if the stars were aligned for doing this record now," said Nile who had not played that piano since 1980 when he was a budding young rocker from Buffalo. The stars might actually have been aligned for Nile because the piano is no longer being stored there.
Nile's first two albums, Willie Nile and Golden Down, were released in 1980-81 on Arista Records and should have been the start of a great career, but legal disputes with the label led him to walk away from the music business. He didn't put out another album until 1991 when Places I Have Never Been came out on Columbia Records. A few years later, Nile decided to go the independent route and has been putting out records on his own label ever since, most notably in the past decade in which he has released five studio records and three live discs.
One constant throughout all of his records is an honest spirituality that many artists are hesitant to show in their work. His songs often have the same intense soul searching spirituality found on records by U2 and The Waterboys — two artists that Nile admires greatly.
"I grew up in an Irish Catholic family, so I grew up with a lot of the religious stories and imagery around me," said Nile. "So I could see it making into my writing, but it's not something I do consciously. I just write them down as they come. I think that I'm not particularly religious, but I'm very spiritual. There's a lot of mystery to this life and a lot of wonder in my heart and my soul. I appreciate life for the beauty around us. I just write the songs down and I don't try to edit. No doubt there's a lot of me in these tunes, but there's also some characters in there as well. It's not a concept album by any means, but there are some common themes in these songs: love, loss, passion, ecstasy, joy, war, peace, sorrow, hope, the journey."
The idea of a journey is very apparent on If I Was A River. The record begins and ends with two songs about rivers, which serve as bookends. It opens with the idea of imagining the possibilities and ends with the realization of what is possible. It's all about the journey, which is what word comes to mind for Nile when he thinks of a river.
"I see our lives, the human race and our individual lives, as a journey," he explained. "The river flowing from one direction to another. I thought bookending the record might be a nice way to go and I'm very happy with how it worked out."
Fans of The Waterboys might find a nice comparison to If I Was A River in the demo piano songs found on In A Special Place. On that record, Mike Scott offered a unique look into the songs which would comprise the wonderful This Is The Sea release. Stripped down to their essence, Nile's songs hold the same magic and power that the Waterboys songs had on that release. The piano is an incredible instrument that allows lyrics to shine alongside layers of emotion from the music. Nile, who is known as a fiery guitarist on stage, believes he is fortunate as a songwriter to be able to write all-out rockers for the guitar just as easily as quiet, emotionally draining songs on piano.
"To be able to pick up a guitar on stage, turn up the amps, and rock with the band and blow the roof off is really fun — just being able to make the walls sweat!" said Nile. "And, at the same time, to be able to sit at a piano and conjure up stories that hopefully have some mystery, wonder, and beauty to them in powerful and different ways. If I Was A River has a power all of its own. The songs sound genuine and ring true when I listen to them. I'm pretty critical. It's funny how sometimes less is more. Being able to write both ways totally gives me more freedom. You can rock, you can roll, and you can dream. That's the beauty of being free to write whatever you want. I'm lucky."
Nile is looking forward to playing at the Hamilton Stage at Union County Performing Arts Center in Rahway on Saturday, December 13. It will be his second show after returning from a month long tour of the United Kingdom. They have a Fazioli piano there — one of the best pianos in the world and the perfect instrument for Nile to introduce songs from his latest release.
"I love that venue," said Nile. "It's a rockin' place and there's no audience like a Jersey audience."
Nile knows a thing or two about Jersey audiences. Despite originally being from Buffalo, he's an adopted son of the Jersey Shore music community. Little Steven once said, "Willie's so good, I can't believe he's not from Jersey!" - a line that still makes Nile smile.
"Yeah, I've been adopted by New Jersey and it's a great thing," said Nile. "The fans in Jersey are just the best. They've given me a lot of love and a lot of support over the years, never more than now. And Little Steven's quote… when I saw that quote I howled! God bless Little Steven, he's the champion of rock and roll and of a certain kind of music that has a raw power to it. He's like the godfather of garage rock."
In January, Nile will once again be part of the annual Light of Day shows to raise money for Parkinson's research. Light of Day began with a birthday party and fundraiser held in 1998 at the Downtown Cafe in Red Bank to celebrate Bob Benjamin's 40th birthday. Two years later, the first official Light of Day show took place. Since that show in 2000, the organization has raised over $2.5 million to help find a cure for Parkinson's and Light of Day has grown into a series of shows held in 13 countries on 3 continents.
Of course, the most famous shows still takes place in Asbury Park where a guy named Bruce Springsteen often lends a hand.
Nile will be one of the artists playing the Stone Pony in Asbury Park on Friday, January 16 and among the crowd of musicians at the huge show at the Paramount Theatre the next night. The annual show at the Paramount is one of the most sought after tickets of the year with music fans coming from all over the world for the chance to see all of their favorite artists on stage together.
"Lots of people come from Europe to New Jersey for Light of Day because you get a real sense of community," explained Nile. "It's a good feeling. It's a good cause. It's always a thrill and an honor and something I look forward to each year. I think everybody knows someone suffering from Parkinson's, so you just want to give back. Everyone has the same spirit, and it's great to play, the shows are always magical."
One song you're bound to hear at Light of Day is "One Guitar," a song by Nile that has taken on a life of its own. Mike Peters of The Alarm, who is one of many to record a version of it, calls it one of the best live songs since "Rockin' In The Free World." It's an anthem that has become a traditional sing-along at The Alarm's annual Gathering shows in Wales and has become one of the favorite jam songs at Light of Day.
"'One Guitar' is fun to play live," said Nile. "People know it and sing along to it. The song does seem to have taken on a life of its own. Sometimes I'll go through airports and people will be singing the chant. It's sweet.
"I think I've grown more confident, as a writer and in the recording studio, as the years have gone by," Nile adds. "I'm certainly more comfortable at it than I was in the early days, and less intimidated by the process. But one thing that hasn't changed is my passion for the music. I'm having more fun with it now than I ever have. The fire still burns deep in me, and making music has more meaning for me now than ever."

---
Gary Wien has been covering the arts since 2001 and has had work published with Jersey Arts, Elmore Magazine, Princeton Magazine, Backstreets and other publications. He is a three-time winner of the Asbury Music Award for Top Music Journalist and the author of Beyond the Palace (the first book on the history of rock and roll in Asbury Park) and Are You Listening? The Top 100 Albums of 2001-2010 by New Jersey Artists. In addition, he runs New Jersey Stage and the online radio station The Penguin Rocks. He can be contacted at gary@newjerseystage.com.
---