By Gary Wien
originally published: 07/25/2019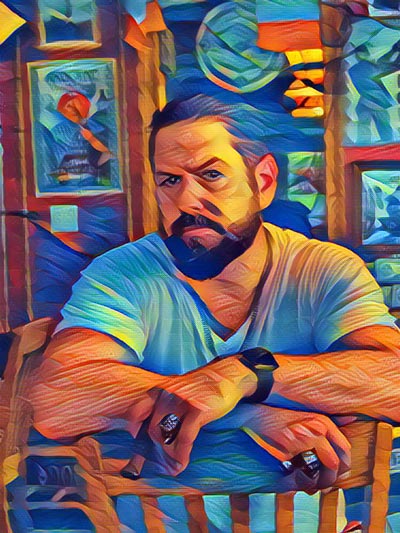 Songwriters write songs for many reasons.  Matt "Billy" Williams, a singer-songwriter in Burlington County who performs as Williamsboy, writes songs about the human experience with one central goal in mind - to let people know they aren't alone.
The latest release from Williamsboy is called Then & Now.  It's a unique collection of songs which represent a ten year journey for the artist.  The first seven tracks or so are from a period in which he aimed for a much harder, full band rock and roll sound.  The last seven show his songwriting maturing, changing, moving towards more of a rootsy, Americana type sound.  Considering you are far more likely to see him perform as a solo artist, the change makes perfect sense.
"I'm not the same person I was when I started this album," said Williamsboy. "I've learned a lot, I've lost a lot, but I've also gained a lot as well. Living takes a while to understand, and my hope is that somewhere within the songs I've put together others can find wisdom, solace, help, comfort, laughter, and a general sense that no matter how alone you think you are, you're not."
Williams bounced around shore towns in New Jersey while growing up, spending time in Ocean, Cape May, and Atlantic County.  Some were rough neighborhoods and his family never had much money.  His father abandoned them when Matt was very young.  His mother would later die from Shy-Drager syndrome - a rare, degenerative neurological disorder that is similar to Parkinson's and carries a similar death sentence to that of ALS (amyotrophic lateral sclerosis), also known as Lou Gehrig's Disease.  Sadly, tragedy seems to have followed him throughout his life.  Music is what keeps him going.
"My personal belief is that music is a primal thing," explained Williamsboy.  "It's a vehicle; a way to take your feelings and get them out there.  I believe I have things to say.  People come up to me and say, 'Hey man, I understand what you're feeling.  I've felt that way.' 
---
The article continues after this ad
---
---
"The way I grew up, you weren't allowed to have feelings," he continued.  "It wasn't manly to talk about your issues and stuff.  You suck it up, you do your job.  If you have to deal with something you shake it off.  I guess that's growing up Irish; they don't care.  There's no such thing as feelings, you just do your job and push through it."
Despite being one of the hardest working musicians in the state - performing multiple shows each week and treating music literally as his second job - Williamsboy hasn't gotten or sought as much press over the years as he's deserved.  Part of that is because he doesn't believe his music is sellable as the music industry's modus operandi is to be easily disposable. And part of that stems from having trust issues.  He's been burned by family, by life, and by the music industry.  He never stops creating, but treats his songs like pages of a diary.  People can choose to hear them if they want or put on the latest song to top the charts that will be forgotten in a week or two.  It's not so much he doesn't want an audience for his music, it's he doesn't know if such an audience exists.
"I'm more of an older soul and I write the old way," he explains.  "I write from the heart.  I guess my demographic is limited and I don't necessarily know how to catch that.  I don't know how to hone that in without spending thousands of dollars for an algorithm I don't have."
The songs on Then & Now include some he's been playing for years, although the versions on the record are not how he originally envisioned them.  As life went on he changed and the temperature and mood of the songs changed as well. For many artists, these changes come from acquiring new tastes like a rock fan who starts listening to country or vice versa, but Williamsboy says he rarely listens to music.  It's not other songwriters that inspire him, it's real life. One of the songs on his new album that proves that point is "Rosalita." 
When a music fan in New Jersey scans the song titles on Then & Now and sees a song called "Rosalita" odds are pretty good they will think it's a Bruce Springsteen cover, but the two songs could not be further apart. Matter of fact, Williamsboy says he has never even heard the song by Bruce; his "Rosalita" is based on a woman from his own life, but he did change her name.
"The story behind that song was from when I lived in Philadelphia in 1997 and had a fire," recalled Williamsboy.  "A couple of my friends died. That was another delicious piece of trauma that life threw out at me.  I saved my friend, but as I turned around he was burning to death and I heard him screaming.  I couldn't get that out of my head for months.  I was 19 at the time, seeing doctors and stuff.  They were just pushing pills down my face.  I ended up moving out and getting an apartment down in Ocean City with some friends just trying to clear my head.  There was a girl I knew.  I had just come off all this trauma and lost a girlfriend and we hung out one night.  We had hung out a little in the past, but we spent that night together and it was awesome.  It was, I guess, the best rebound sex you could have.  It was the way she treated me; I had never been treated that way before."
"I was scared, so the next morning I took her home and dropped her off," continued Williamsboy.  "I said I needed a little time.  I regret that because a couple of months later she died in a car accident.  She had some addiction issues, so the song is basically about 'wake up, you can do this.'  I was trying to coax her out of it and she was saying if she had someone like me in her life it would be easier, but I just wasn't ready for that.  It wasn't the baggage; I wasn't ready for the responsibility to be that."
"That song is basically you can gather this, your train is leaving at five, stop doing this shit," said Williamsboy.  "But I had to change the name because for some reason when I was writing it her name didn't sound good.  I was listening to a Steve Earle song and he said Rosalita in it.  I'm like, I could probably use that name.  It just sounded better and it helps me to not be so attached to it, because she meant a lot to me."
Williamsboy has the knack of writing songs that just sound authentic. His stories sound real because they largely are real. When he sings, 'One last drink Sam before last call,' you're  transported to a tavern where you can actually smell the beer in the air and see the clock coming up on 2:00am The lyrics sound true because they were inspired by actual conversations.  
"This is the way I approach writing - I have to feel it," he explains.  "It's why I'm so hesitant to work with other people because if it's not something I've either been through, can see myself going through and pulling out of, or seeing it affect me in a certain way then I can't be honest about it. I'm not going to waste a quick word just for a silly rhyme. I don't have the patience for that. It's just not real. That's unfortunately what I hear today. I can't even turn the music on that's out there now.  I have zero connection to it because it just doesn't make any sense. It doesn't feel heartfelt. It's written well, but it's not well written. It doesn't come from a spot that, to me, feels natural. It feels contrived."
About a decade ago, Williamsboy was approached by a lyricist who flew him down to Nashville to meet a few industry professionals who had big-time credentials. Having local audiences and local writers tell you your writing is good is one thing, getting praise from people who have won Grammys is something else.  He was beyond flattered that they thought he could be seen as someone they would want to write for them.  Unfortunately, they also wanted him to write a certain way and it meant trying to figure out a way to balance his family responsibilities with the opportunity.  Several years after that, he was approached by another record executive who wanted him to be part of their team in Chicago.  While these offers were coming in, he was taking care of his kids.  Now that they're much older, he's more willing to push his own work and take chances.
"It's weird, for the past 12 years of my life I was changing diapers and taking kids to the doctor," said Williamsboy.  "That's why it took so long to make the second album.  I don't know why I was so blessed to have the opportunities that I had and I kept saying no.  I kick myself sometimes, but I do have kids who are happy and healthy and that's awesome.  One reason I'm proud of this album is that it was a huge thing for me to be able to work through the adversity that I had to go through to get to this point and there are songs in there that real people could identify with."
"My songwriting is totally indicative of being through hell, 41 years on this rock, floating in the space that's been given to me," he continues.  "I'm lucky to have it.  I wouldn't trade it for the world, but it has totally shaped the way I write."
You can often find Williamsboy performing at wineries and taverns throughout the state and he will be taking another shot at raising his profile in September when he performs at Americanafest in Nashville on September 11th.  It's a major industry event that brings thousands of artists, fans, and industry professionals from all over the world to Nashville. When he gets his chance to perform he will likely try making a connection with someone in the audience like he did at a recent show in Connecticut. If he does, the trip will be a success whether or not it does anything for his career.   
"There's a song I wrote called 'Only You'" recalled Williamsboy.  "After I did it, a lady came up to me and said, 'I went through that too.  Thank you so much for your story because now I know I'm not alone.' That right there hit me.  As humans, we are a social species.  That was the ultimate compliment when she said thank you because she knew she wasn't the only one to go through this.  That was huge."
For complete list of upcoming shows go to Williamsboy.com
Aug 1 @  Heritage Vineyards, Mullica Hill
Aug 2 @ Iron Plow Vineyards, Mount Holly
Aug 4 @  Mainbrook Tavern, Englishtown
Aug 9 @ Hurricane Jacks, Levittown, PA
Aug 24 @ TirNaNog, Trenton
Aug 29  @  Heritage Vineyards, Mullica Hill
Sep 5 @ Nottingham Tavern, Hamilton - Danny Coleman's Rock on Radio Happy Hour
Sep 11 @ Americana Fest, Nashville, TN
---
Gary Wien has been covering the arts since 2001 and has had work published with Jersey Arts, Elmore Magazine, Princeton Magazine, Backstreets and other publications. He is a three-time winner of the Asbury Music Award for Top Music Journalist and the author of Beyond the Palace (the first book on the history of rock and roll in Asbury Park) and Are You Listening? The Top 100 Albums of 2001-2010 by New Jersey Artists. In addition, he runs New Jersey Stage and the online radio station The Penguin Rocks. He can be contacted at gary@newjerseystage.com.
---