By Gary Wien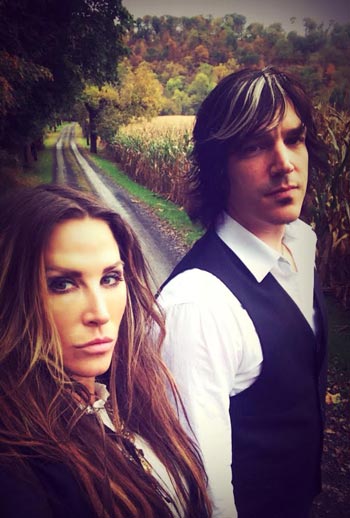 This article was originally designed to be read
in the October 2014 issue of
New Jersey Stage magazine. To read it in
its original format, click here


It's always been rare for an artist to get signed to a major record label. Gordon Brown, a talented songwriter from Long Branch, did it twice — in the late 1980s with Mr. Reality and again in the 2000s with Highway 9. Both bands featured a blend of country and rock and roll, creating a rather unique sound along the Jersey Shore.

Now based in Nashville, the heart of the country music business, Gordon is back with a new band called Williams Honor with the charismatic lead singer, Reagan Richards. New Jersey Stage spoke to Gordon about his new band.

This is your first true new music you've released in a while. How's it feel to be back again?
It's an exciting time. You don't just go and start a band anymore unless you feel you still have something to say and want others to be a part of that with you. It's been about ten years since I've had a band and to be working with such a talented singer and writer in Reagan Richards is the reason why you start one in the first place. A band is defined by a gang mentality that usually has similar outlooks on life and shared experiences that help them create a body of work. I am excited to have that in my life once again.

Once again you're walking a fine line between rock and country as you did with Highway 9 and Mr. Reality. Do you like being in between the two worlds?
Country is America's rock music now but it's all about the lyric. That's what really separates country from anything else. It's pretty obvious that the genre has evolved over the last few years and come around to the kinds of things I've always naturally done. Now acts like Keith Urban, Little Big Town, Rascal Flatts, Kenny Chesney, Kacey Musgraves, Taylor all sound like rock and pop acts. Reagan and I also love George Strait, Patsy Cline, Hank Williams, Eric Church, Carrie and Miranda ...and it's all in the music we're making. We also don't hide the fact that we come from one of the greatest music communities in America and we wear it on our sleeve so you hear all of that in there as well. Williams Honor is a good starter kit for people wanting to dive in from either side.

How long have you known Reagan Richards and how did the two of you decide to put an act together?
Well, we actually met for the very first time because Meg Kelly from The Saint walked over to me and said "Hey, both of you are into country music and have spent a lot of time in Nashville, you guys need to meet!" and she then introduced us. A year later our area was hit hard by Hurricane Sandy. Reagan and I ended up being asked by Mark Ribler to participate in his Restore the Shore benefit at The Strand. We met once again at sound check and really hit it off. Since that night we knew we had to show the world that country music could come from Asbury Park with all the roots and passion that has made Nashville its first home. With Reagan's amazing voice and knowledge of country's roots, we decided that the music we made was going to be based on its tradition of songs and stories with a touch of the modern edge.

Tell me about the name Williams Honor.
We wanted a banner that would describe that feeling, as well as honor those in our lives that have passed on. So in honor of both of our dads who had extensive military backgrounds, we decided on the name. Her dad's name was William. We loved the idea of having that hanging over our heads as we perform.

Do both of you write the music together? How do the songs come about?
The process has to come from a spark. Maybe it's a phrase that someone says, a riff, a melody, one thing that becomes a brick in the foundation. Then you start to build ...brick by brick. In country music you want to make sure that the lyric leads and everything else follows. Most of the time we're both in a room together hashing out lyrics and melody all at once. Reagan has also been a songwriter her whole life so she loves bringing in an idea and asking me what I think of it. When we're inspired we could literally write the whole song right there and start to think about arrangement. We love to creatively argue about direction of the lyric and how we can stand apart from the rest. It has really raised the bar and made us think about our content. While one of our obvious goals is to connect with the country audience, we also want to help continue to create a new one.

Reagan is known as a great singer and from her modeling work. She seems to have that certain something that great performers all have.
She is truly an original. A one of a kind, beautiful and talented powerhouse that always finds a creative outlet. Everyone loves working with her, not only because of her talent, but her spirit, energy and incredible sense of humor. We're talking about a girl who sang with the iconic Les Paul for years. One moment she's on stage with Glen Burtnik, the next it's Jon Bon Jovi and Bobby Bandiera, the next it's Frankie Previte and Lisa Sherman. She'll be singing backup for Christine Martucci and then doing all kinds of things with her partner in crime Emily Grove ...then you might see her modeling for Diane Vocaturo's incredible clothing store Fetish, and then it's NYC's Fashion Week. Recording her voice and then singing with her onstage is an honor for me. Talking about that certain something, this girl has it in spades.

You've always kept yourself in the background it seems, content to write music and play guitar. Was there ever a part of you that wanted to be the frontman?
Never. Even when my ego goes to my head, the voice I hear in my songs is always a higher quality than the one that comes out of my throat. One of the greatest tricks I've learned over the years in a great team is to exploit your strengths and hide your weaknesses. I've learned how to be the best support system for any great singer. I'll produce, write, record, sing and perform along with others that stand in front and command an audience. I can help make that singer as strong as they're capable of. That has always been my job. I've learned from all the best. Bruce and Little Steven, Jon and Ritchie, Southside and Bobby, Tyler and Perry ...and those guys seemed to learn from the very best: Mick and Keith. I felt very lucky to share that for many years with the lead singer of Highway 9, Peter Scherer and to this day we still treasure that chemistry and relationship. I still believe in that basic template and in Williams Honor with Reagan, I look forward to building on all of that experience.

You took some time off after playing in Highway 9 and moved to more of the artist development and behind-the-scenes roles for several artists, but in the last few years, you've really hit the road hard again and have supported many new acts.
Well as they say, once a performer ...always a performer. I've always studied every aspect of the business so I tend to get involved with many different angles of it. After being on RCA Nashville with Highway 9 it was important to me that country music continued to have deep roots in my career so over the last few years I've been fortunate to have worked and toured with some of its brightest new talent. I've been out on radio tours and performances around the world with Jessie James Decker (E! / Universal), one of CMT's next women of country, Natalie Stovall (Hitshop /Warner Nashville), and NJ's very own Corey Wagar. Looking back, what did being in Nashville do for you - mentally, spiritually, professionally? Nashville has always been a very inspiring and grounding environment to create and work in. I've always felt like Asbury Park had a lot in common with it on a much smaller level. I think that's what made me feel at home there from the very first visit many years ago during our first tour with Mr. Reality.

It was the inspiration to bring Writers In The Raw to Asbury Park and help foster that kind of community. That show seemed to really take off and start a great energy that continues to grow to this day. I love that there are a whole bunch of other writers in the round type of shows now. I'm proud of that. However, most of all it's the craft of songwriting that you really can learn a thing or two in Nashville. You can build relationships with so many great hit writers and artists. I've been traveling back and forth since 2003. Reagan actually lived there for seven years, was a session singer, worked with Dreamworks, but moved back to Jersey to take care of her dad who was suffering from cancer.

When do you hope to have a full album available?
We're about twenty songs in and we're experimenting with all kinds of different combinations. Reagan and I write together all the time but in Nashville we got together with very talented and well respected friends like Paul Sidoti who is Taylor Swift's guitarist and also one of the nicest and most humble guys you could ever meet. We also got to write a great one with Cyndi Thomson who had some monster hits in her solo career a few years back. Her voice is still as angelic and amazing as ever. Among many others, one of our favorite writes was with the legendary Billy Burnette, who Reagan knew from her Les Paul days, and who replaced Lindsey Buckingham in Fleetwood Mac from 1987 to 1995. Once we feel we have the right collection of songs together, we're planning for a full release in Spring of 2015.

---
Gary Wien has been covering the arts since 2001 and has had work published with Jersey Arts, Elmore Magazine, Princeton Magazine, Backstreets and other publications. He is a three-time winner of the Asbury Music Award for Top Music Journalist and the author of Beyond the Palace (the first book on the history of rock and roll in Asbury Park) and Are You Listening? The Top 100 Albums of 2001-2010 by New Jersey Artists. In addition, he runs New Jersey Stage and the online radio station The Penguin Rocks. He can be contacted at gary@newjerseystage.com.
---