By Gary Wien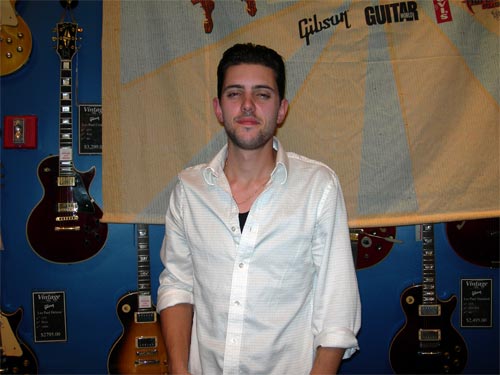 Last year, Guitar Center's "King of the Blues" was Matt O'Ree who hailed from Monmouth County, New Jersey. The Garden State hopes to hold on to its crown for a second straight year thanks to Rob Baumiester, a 24-year-old guitarist from Deptford who will be competing in the finals after beating out thousands of guitarists from around the country.

The finals will be held on June 16th at the Music Box @ Fonda Theater in Hollywood, California. The remaining guitarists will compete for a prize package valued at over $50,000. In addition to the "King of the Blues" competition, there will be feature performances by The Black Crowes and a special collaborative set by Kenny Wayne Shepherd & blues legend Hubert Sumlin.
Baumiester never imagined he'd be one of the last standing. He took part in last year's competition but didn't get very far. In fact, he didn't even get out of his local store's battle.

"I actually thought I was done with it," explained Rob Baumiester. "I thought it wasn't worth entering again, but one of the judges kept telling me to come back. A year later, I was walking through the store and people were telling me that the competition was back on. They were telling me to enter again, so I just said what the heck and entered."

You won't find much about Baumiester on the web. He's played in some bands, and currently plays in a Christian rock band called Compelled and performs in his church, but you won't find a band website or even a Myspace page for him. He simply picked up the guitar when he was 13 and basically taught himself how to play.

"There was a friend of my father's that played guitar who gave me some pointers here and there for a couple of months," explained Baumiester. "But like anything else I just dropped out of it because I didn't want to be instructed, I wanted to learn how to play myself. I don't know how to read music or anything, I just learn songs by ear and pick up stuff by doing it that way."

Around the time Baumiester was a senior in high school he began noticing that his passion for music was much stronger than his friends'. His passion also led his natural ability to grow to the point where it was obvious he was better than others.

"Everybody else was into a lot of things other than music and just played guitar now and then, but for me it was something I had to do every day," he said. "I just had to do it because I loved it so much."

He's literally using this competition as his coming out party and doing it on a grand scale. If he wins he'll not only be crowned "King of the Blues" and receive tons of great prizes, but he'll receive 7 days in the studio with Grammy Award-winning producer Pete Anderson, a 20-minute set on the main stage during Eric Clapton's Crossroads Festival in Chicago on July 28th, and will be fetaured in Guitar World Magazine. In other words, Rob Baumiester will no longer be a secret.

"This is something I really didn't even think I could accomplish," admitted Baumiester. "It would be a huge accomplishment for me as a musician and kind of prove to some of the people who didn't think I could do this that I'm capable as a 24-year-old to hang with a lot of the people that are playing across the country. It's such a huge passion of mine that it would be very fulfilling for me. I consider myself blessed from God just be given a gift like this and to be given an opportunity to play with awesome people."

Some of the artists Rob's looking forward to meeting are Kenny Lee Shepherd and the Black Crowes. Shepherd was one of Baumiester's idols while growing up and the Black Crowes are one of his favorite bands.

Ironically, Baumiester only started getting into the blues over the last few years. As with many music fans, he was lured to the blues by the desire to learn more about the artists who had influenced his idols (guys like Jimi Hendrix and Eric Clapton). From there, he began moving deeper and deeper into the blues.

"I started to realize just how much they were influenced by the blues and then I began buying those records and I just found myself lost in it," said Baumiester.


---
Gary Wien has been covering the arts since 2001 and has had work published with Jersey Arts, Elmore Magazine, Princeton Magazine, Backstreets and other publications. He is a three-time winner of the Asbury Music Award for Top Music Journalist and the author of Beyond the Palace (the first book on the history of rock and roll in Asbury Park) and Are You Listening? The Top 100 Albums of 2001-2010 by New Jersey Artists. In addition, he runs New Jersey Stage and the online radio station The Penguin Rocks. He can be contacted at gary@newjerseystage.com.
---