By Gary Wien
originally published: 08/25/2018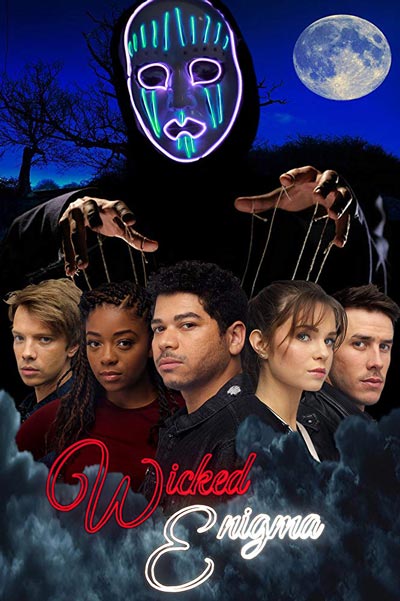 Terrence Edmonds has been seen on television shows like Grey's Anatomy, Major Crimes, and the remake of 90210.  His latest project is a series called Wicked Enigma in which he not only stars, but is the writer, director, and producer as well.  His partner, Jake Doull, is the editor and executive producer. We spoke with Edmonds via email to learn more about the project, which is described as an LGBTQ suspense thriller with the drama of Pretty Little Liars and the horror elements of Scream. 
"Wicked Enigma is an LGBTQ+ Murder Mystery web series that begs the question: How well do you know your friends, because when everyone has a motive… who do you suspect?" said Edmonds. "It follows the lead character, Max, who is a bisexual filmmaker that gets a group together to shoot his college entry piece. Unfortunately, he had no idea that a more sinister plan is underway. His lead actress is murdered in the process and everyone is forced to keep quiet through peer pressure, blackmail, and murder. Max must survive betrayal, love, loss, and grief while being a pawn of an even more wicked game."
Even though it is a murder mystery, the series also presents elements that horror fans will enjoy. The show grew out of a concept Edmonds originally tried in a series called Catalyst.  
The concept of a television show featuring LGBTQ characters in very prominent roles is an important aspect of Wicked Enigma.  While Edmonds says he thinks network television does well when it comes to including LGBTQ characters, he does not think they realize what a big market and voice the LGBTQ community truly has.  He also believes it is very important for LGBTQ kids to see characters they can relate to on screen.
"I think it's imperative to have role models growing up," explained Edmonds. "Everyone deserves to feel that they have someone they can relate to. By writing roles and voices where there are none, we can help alleviate the pressures of feeling alone and help entertain LGBTQ youth and young adults. Many LGBTQ+ kids and young adults don't feel comfortable with expressing their feelings. Some can feel afraid to open up out of fear of being rejected by family and friends. We're hoping that with this series we can shine a light on the normalcy of LGBTQ characters and actors leading a show. If it helps one kid feel comfortable, then we've achieved our mission."
---
The article continues after this ad
---
---
Although it is currently available only on the Internet, Wicked Enigma is a television show - just in short form.  Each episode is roughly 12 minutes long; combining three episodes provides a complete hour episode without commercials. Edmonds says they have already filmed 5 episodes and plan to shoot another 11.
During the show's Kickstarter campaign, Edmonds and his partner spoke about pursuing careers in the entertainment industry with over 15 years of experience combined.  "While that time was spent learning, we were fulfilling someone else's dream," said Edmonds.  "Watching my vision come to life is the most rewarding experience I have had in this industry.  It may not have reached amazing heights just yet, but witnessing all these artists come together to create art and believe in this project is truly remarkable."
Edmonds writes, directs, acts, and produces the series.  That's a lot of hats for anyone to hold and he admits it has not been an easy process. 
"Filming this passion piece had its challenges, from limited funds, not enough hands, and many scheduling issues with cast members," continued Edmonds. "Having to handle the issues of a director and producer can sometimes get in the way of being able to be completely relaxed enough to focus on a scene from an actor's perspective, but proper time management has been my best friend... and by proper time management, I mean this series has taken over my life! But I'm OK with it."
Even with the challenges, Edmonds wants to continue with projects that involve writing, directing, and acting.  "I want to continue making art for many years to come," he said.
Edmonds and his partner have discussed ideas for projects to start next.  There's the chance of another series, possibly some shorts, or even a film.  The important thing is to keep living their dream - not someone else'.
New Jersey Stage was glad to see Wicked Enigma pull off a successful KickStarter campaign and raise $30,756 in 30 days to fund their project. Maybe there is a little NJ Stage bump :)
---
Gary Wien has been covering the arts since 2001 and has had work published with Jersey Arts, Elmore Magazine, Princeton Magazine, Backstreets and other publications. He is a three-time winner of the Asbury Music Award for Top Music Journalist and the author of Beyond the Palace (the first book on the history of rock and roll in Asbury Park) and Are You Listening? The Top 100 Albums of 2001-2010 by New Jersey Artists. In addition, he runs New Jersey Stage and the online radio station The Penguin Rocks. He can be contacted at gary@newjerseystage.com.
---