---
Tune into Radio Jersey with Lee Mrowicki every Monday through Friday from 6pm to 8pm
Broadcast on Asbury Music!
---
"Who Am I: A Christmas Lullaby" Packs The House at UCPAC Loft Theater
originally published: 12/19/2016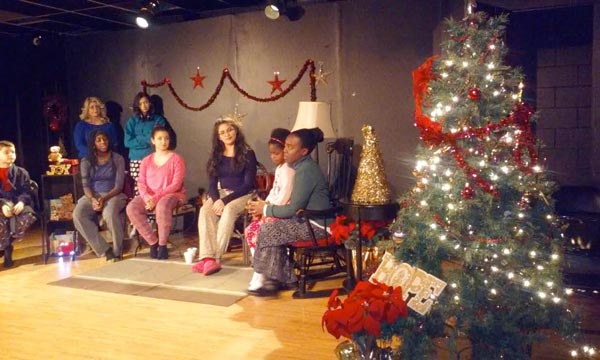 (RAHWAY, NJ) -- From the eyes of a child, the true meaning of Christmas was expressed, in the uplifting original musical "Who Am I: A Christmas Lullaby". Despite the snow fall that blanketed New Jersey on Saturday December 17, the musical debuted to a full house, at the Union County Performing Arts Center LOFT theater.
Audience members where entertained by a diverse cast of children, portraying a group of vivacious foster care kids; that expressed their ideals of Christmas through dance, song, and poetry. 
"I enjoyed this program so much! The talent was unbelievable! Everything was just fine, despite the weather, because those kids brought the sunshine inside," said Bernice Young, of Rahway, New Jersey.
"This was an outstanding production! It deserves to be on a larger stage next year," said Celeste Cafasso, a guest of actress Ruth Rocky, who portrayed the role of Ms. Lillian.
---
The article continues after this ad
---
---
Centered around the character, Abegail Heart, who unexpectedly became a foster child on Christmas Eve, the musical shed light on the realities of life as a foster child. Moments of laughter, singing, and dancing proved that there is always room for hope. The cast of children ranged from age 8 to 16-year's-old and consisted of aspiring performing artists from New Jersey.
"The venue was awesome, the setting was perfect; and most of all, I believe the characters were hand picked from God. From the very beginning, when the character Abegail enters the stage, we felt her hurt, we saw her pain in her eyes.  It was so heart felt, that the person in front of me cried all throughout the performance; and I cried right along with her.  The icing on the cake was when we were serenaded by the cast at the end. AWESOME!  Can't wait for the second season," said Minister Crystal McDaniel, mother of Adora McDaniel who portrayed the role of Abegail Heart. 
At the conclusion of the musical, world-renowned opera singer, Darren Stokes, delivered a powerful motivational speech, followed by a stirring vocal performance of "Dream the Impossible Dream". Stokes has performed in the Chicago Opera Theater, the New York City Opera, Carnegie Hall, the Washington National Opera, and the San Francisco Opera; and many more. 
"I was encouraged by what these kids did today. To all parents, I want you to know, that it is possible, to be successful as a musician, a poet, a writer. And to continue to encourage your kids in whatever arts they may be in. It does so much for the kids, the community, and their cognitive thinking. I remember what it was like for me; as a kid, seeing my first opera singer. I was so proud to do this for them," said Stokes, who recently returned from performing in Dubai.
A portion of the proceeds from the show will be donated to New Jersey foster care children. Minister Zakkiyah Green, founder/executive director of Beauty In Spirit, Inc.; collaborated with Reynolds-Clarke to identify specific foster care homes in Central New Jersey. The donation will be made along with a special mini-performance of the musical for the foster families.
"The show was inspiring and impactful; and delivered a positive understanding of why Foster care is an important, and selfless act of love, kindness, and compassion to children in need. I'm delighted I could help in giving real foster children hope by identifying homes that have given children the love they need. This donation will be an even bigger blessing to the children," said Minister Green. 
A key sponsor of the musical, Vicel Guzman of JAFRA Cosmetics, donated goody bags to each guest, as well as, beauty product giveaways. Guzman will also make holiday gift bags to accompany the donation to the foster care children.
"I participated as a sponsor to this musical, because JAFRA believes that 'love springs out of benevolence'. This production was an amazing opportunity to uplift and encourage children in the arts. As well as, celebrate the holiday season for all. I'm so impressed that real foster children will benefit this holiday from this musical," said Guzman, district manager of JAFRA New Jersey division.
Plans are already underway for the 2017 season performance of "Who Am I: A Christmas Lullaby". The organization is actively seeking new aspiring young actors in New Jersey to join the cast. To request more information contact them at: justbeyou.contact@gmail.com.


The Panto Company Presents "Beauty and the Beast" at The Newton Theatre
(NEWTON, NJ) -- When you think of a dying rose and a clock, candlestick andteapot who talk... you are thinking Beauty and the Beast. One of this season's spellbinding family shows from The Panto Company USA stars Dame Dotty Potty, Loopy Louie, Gaston, Belle and of course The Beast!  The company brings their show to The Newton Theatre on Sunday, March 3 at 3:00pm.
---
La Strada Ensemble Theater Presents "La Bella Familia" by Edwin Sanchez
(OCEAN GROVE, NJ) -- La Strada Ensemble Theater presents La Bella Familia by Edwin Sanchez from January 18-20.  The play deals with a Puerto Rican hit woman and the gentlest man in the world move next door to the neighbors from hell and everyone learns, the hard way, that family comes first.
---
Art House Productions Presents "The Passion Project" by Reid Farrington
(JERSEY CITY, NJ) -- Art House Productions presents the unique theatrical experience that is Reid Farrington's The Passion Project performed by Laura K. Nicoll.  Eight performances will take place from February 21st to March 3rd. The Passion Project is a 30 minute vibration between performance, film, and installation. Carl Th.Dreyer's 1928 immortal masterpiece, "The Passion of Joan of Arc" is the main narrative along with the history behind the making of the film, a discussion with a Danish archivist, the story of making this project, as well as Joan's own story –– her trial, torture, and execution. The Passion Project explodes the film into the three dimensions; placing the audience inside the film, sitting next to Joan, subjecting them to the relentless rhythm of 35 mm film projection.
---
4th Wall Theatre Presents "Intimate Apparel" by Lynn Nottage
(MAPLEWOOD, NJ) -- 4TH WALL THEATRE continues its 22nd season with a one weekend run of Lynn Nottage's Intimate Apparel.  The show will be presented as part of the Black History Month celebrations on February 22, 23, and 24 at the Burgdorff Center for the Performing Arts in Maplewood, NJ.  The show is directed by 4th Wall Executive Director Gwen Ricks-Spencer.
---
East Lynne Theater, the Henry Sawyer Inn, and Twin Gable's Inn present Murder Mystery Weekends
(CAPE MAY, NJ) -- The award-winning East Lynne Theater Company, with The Henry Sawyer Inn and Twin Gables Inn, present Murder Mystery Weekends on February 15-16, March 8-9, March 22-23, March 29-30, and April 5-6. Participants can test their crime-solving skills while staying in one of these lovely Bed & Breakfasts. East Lynne Theater Company's Murder Mystery Weekends were cited among one of the top five in the country by "AM NY."  
---


It's "Apple Season" at NJ Rep
Every family has stories. Some are funny. Some are sweet. Some are sad. And some are never shared. Those are often the most powerful.
---
Rise of the Goatman
Theater For The New City presents Beltsville/Rockville, Part 1: Rise of the Goatman, an original play by Englewood resident Matt Okin (Artistic Director of Black Box Studios), from December 27 through January 13. In this pseudo-Southern Gothic dark comedy, a vibrant group of teens from two very different suburban neighborhoods clash over class differences, drugs, and sex - and the existence of the legendary 'Goatman' in 1986. Cut to 2013, and the adolescent kids of those very same teens are struggling to make sense of their family histories - and the same "mythological" creature - that could be holding them back in life.
---
PHOTOS from "The Winter's Tale" at Shakespeare Theatre of New Jersey
(MADISON, NJ) -- The Shakespeare Theatre of New Jersey's concludes its 56th season with its sixth and final Main Stage production, The Winter's Tale. Last seen at The Shakespeare Theatre in 2008, Artistic Director Bonnie J. Monte directs this production of Shakespeare's tragicomedic romance. Veteran company members Jacqueline Antaramian, Jon Barker, Erin Partin, John Keabler, Raphael Nash Thompson,Seamus Mulcahy, Patrick Toon, and Ames Adamson are among a cast of 20 actors. Performances run now through December 30. 
---
REVIEW: "It's A Wonderful Life" At Mile Square Theatre
Nestled in a corner of Hoboken, on the second floor, lies the studios of radio station WMST.  It's a wonderful art deco studio, replete with fine wooden walls, embedded with colorful lights an applause sign.  On stage, we've got a few chairs, several microphones and a whole corner wedged with all the necessary props – piano, men's shoes, sheet metal – to create the audio effects for the production of "It's a Wonderful Life."
---
Betsy Aidem Puts A Woman's Touch On George Street Playhouse's "A Doll's House, Part 2"
Betsy Aidem is a veteran actress you might have seen on Broadway. Or maybe on an episode of "Law & Order: SVU." Or maybe on the big screen last year in "The Greatest Showman." But over the next few weeks in New Brunswick, Aidem is adding a brand-new section to her résumé — by helming a sequel (of sorts) to a classic play that's more than 100 years old.
---