originally published: 11/26/2017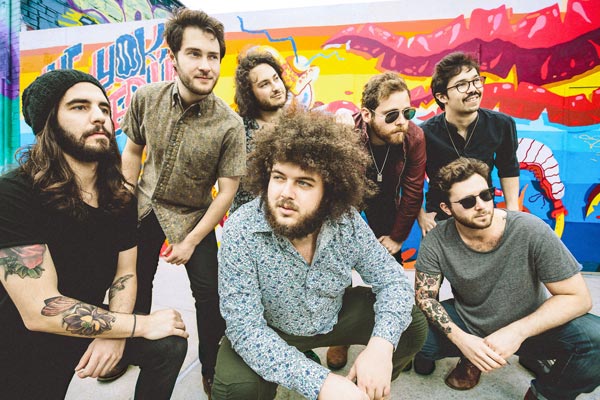 (JERSEY CITY, NJ) -- White Eagle Hall invites audiences to get loose, get down, and get ready with Ripe –the seven-piece, Boston funk/pop  phenomenon known for their unstoppable grooves, horn heavy hooks and dance-inducing songs on Friday, December 15 at 8:00pm. Okey Dokey and Late Night Episode are openers.
For their only New Jersey show on their current tour, Ripe's irresistible sound is guaranteed to get the party started at the newly renovated, historic concert venue in Jersey City. Made up of musical soulmates who first teamed up when they were all still Berklee School of Music students, Ripe is a musical collective that refuses to believe in a single definition of dance music.
Ripe uses the "swagger of funk filtered through a rock anthem, a musical journey that somehow gets as stuck in your head as your favorite pop banger," according to their official biography.  
Ripe is currently recording their first full-length album – their most recent EP is Say Hello – but for now the band has gained a growing, enthusiastic following for their unforgettable live performances. Ripe has an uncanny way of extending the moment of ecstatic release, and making those moments the catalyst for taking 'just another night' and elevating it into something else entirely.  
"Ripe looks at joy with the same depth as most people look at sadness, to find a happiness that is heavier and more meaningful than simply a distraction from the negative," says an official statement by the band. "We are united in one belief: with enough passion and honesty, music can still make the earth shake. With one eye looking back to the inception of both funk and psychedelic music, and the other looking forward with a modern concept of what makes people move, Ripe seeks both to honor musical history as well as to make it."
---
The article continues after this ad
---
---
About their live shows, Live Music Daily declares: "RIPE offers a complete spectrum of sound and energy while giving it their all every night.. a full speed musical romp." 
Originally constructed in 1910, the newly restored White Eagle Hall is an impressive new venue for arts and entertainment, including concerts, theater, performances and other events in the New York/New Jersey Metropolitan area. White Eagle Hall features complete food & beverage service, with two bars on the mezzanine level and one on the balcony level. The restoration enhanced the intimacy and charm of this historic venue while adding the latest in sound and lighting technology, creating a distinctive and memorable audience experience.
White Eagle Hall is located at 335-337 Newark Avenue in Jersey City, New Jersey.