By Gary Wien
originally published: 11/24/2016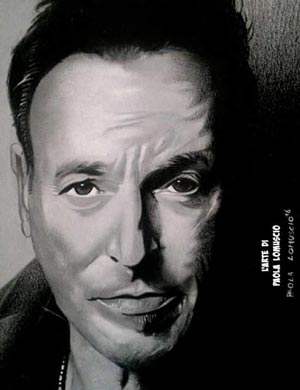 Bruce Springsteen's long-awaited autobiography, Born to Run, was released in September and an audio version narrated by Bruce himself is coming to stores December 6. The book, written in a voice that sounds as if it was directly transcribed into a recorder, runs through his life from childhood to the present in the rock and roll version of "This Is Your Life." He pulls no punches, filling in the details that remained from decades of songs.
Fans knew about his rocky relationship with his father from stories told on stage; they have seen him dance with his mother; witnessed his first marriage fall apart; and knew that he left Jersey for California only to return to Monmouth County and live minutes from where he grew up. But few knew the entire story of how he got to the present and even fewer knew about the internal struggles that he was battling.
If you are a fan of Springsteen or simply want to get to know his story better, Born To Run is a great place to start. For me, one of the greatest things about the book is learning some of the stories behind a few of the songs. Springsteen fans have seen themselves in his characters and so I asked a dozen people involved in the Jersey music scene about the personal nature of his songs. I wasn't looking for what was their favorite Springsteen song, but what song best represented their own life. Interestingly, only two songs were chosen twice.
---
Anthony D'Amato - "Hunter Of Invisible Game"
As much as I want the answer to this question to be a song from one of the early albums--both because those are some of my favorite records of all time and because those songs are full of the kind of charismatic, romantic, tragic-yet-heroic protagonists we all aspire to be in our lives--I have to be honest and pick a fairly recent song called "Hunter Of Invisible Game." I don't think I'm alone in this, but so much of what I do personally and professionally as a songwriter and performer is chasing down the unknown, trying to toss a lasso around nebulous concepts like feelings and emotions and pin them down just long enough capture them in song before releasing them back into the wild. How do you know when you're done? How do you know if you're even on the right track? The traditional mileposts of progress and success are nowhere to be found. So you continue the hunt. That's where the song begins, with the narrator picking himself up off the ground and resuming his quest, unsure if the best lies ahead of him or behind. The goals, the successes, the failures, they're all very ephemeral in this business, but I suspect anyone who's ever chased love or happiness or contentment can relate. We're all out there hunting our own invisible game.
---
Diego Allesandro - "Badlands"
My whole adolescent and adult life has been a struggle with some painful things in my childhood. Sometimes I want to rage and spit in the face of what pains me. Sometimes I remember that I believe in the love and faith and the hope that might raise me above it. Most of all, every time I hit the stage I wanna go out tonight and find out what I got.
---
---
The article continues after this ad
---
---
Bob Makin - "Backstreets"
"Backstreets" best represents my life because it is the song, when paired with "Sad Eyes" live in 1978, that made me either want to be Bruce Springsteen or at least write about him. I failed miserably at the former, but my career at the latter began just two years later writing for the Asbury Park Press' Youth Page while at Point Pleasant Beach High School. Thirty-six years after that, I'm still at it, extensively covering the NJ music scene with a clip file on Springsteen that is more than an inch thick. I owe that to Springsteen, "Backstreets," and my music-loving parents who turned me onto him.
---
Colie Brice - "Thunder Road"
I guess "Thunder Road" most effectively represents my life. Despite hardship and despair, I always believe in perseverance, that there is another chance for redemption, success, and actualization. It is always worth trying again and again and again.
---
Gordon Brown - "Thunder Road"
Coming from the same music community, clubs and streets that he came from, no... it is impossible to name just one. His career and artistry has helped define where mine comes from. There is nothing he does that I don't relate to in some way ...he is a musical father figure. Born To Run is one of the greatest albums of all time, a real American treasure, and the moments in my life that "Thunder Road" has impacted my heart and soul are some of the most memorable.
---
Hesh - "Independence Day"
One of the reasons I was always such a big Bruce fan was that his relationship with his father, as illustrated in his songs and stories onstage, reflected my own. I remember after one big fight I had with my father when I was in high school, I locked myself in my room, cranked up "Independence Day" in my headphones, and the experience was cathartic. I think that most telling is the second verse, where Bruce says that he and his father were "too much of the same kind" ... both father and son are equally as stubborn and bullish, and it was that way in my house too.
---
Bruce Tunkel - "No Surrender"
The answer is certainly not my favorite Springsteen song. I'd go with "No Surrender," a love song to music and commitment to it, reflective of my own experience.
---
Lee Mrowicki - "Dancing In The Dark"
There are a bunch of songs I can consider... some because they simply just rock - make your toes tap, sing along, snap your fingers. Some I can relate to... because of my background of growing up at the Shore-- doing things that are related to --- like Cruising the Circuit in Asbury Park, walking the boards (boardwalk), chasing girls at hangouts, hanging outside of clubs we couldn't get into to hear the bands, then when we became of drinking age--hanging inside for the music and the girls. So, any song that mentions any of the above activities... those I can relate to. But I must say that the one that has the most meaning to me in particular is "Dancing in the Dark."
My impression is that it was written about going to the Stone Pony. Back then, the dance floor was an important place... first of all, it was dark and lit only with a few colored lights, it was where you tried to entice a person of the opposite sex to fall for you, it was a place to get closer to the band and relate better to the music. I remember a few times when Southside Johnny would reprimand the crowd, "You Ain't Dancing'!" and all of a sudden, the dance floor would be packed...because that was the band's job, make the people dance, get hot and sweaty, drink more, and have a great time.
Back in the day, there were times that Bruce came to the Pony just to see his friends play...not necessarily to play, although he often did. But being someone who worked almost every night, I saw Bruce at the Pony just being a "customer." He would often join in on the fun of a dance contest (he lost) or a joke contest (again, he lost - although he had good comedic timing and has a great sense of humor). And he would often come up to the DJ booth and request a song or look through the 45's for songs for me to play.
So, thinking about the lyrics of the song, it all fits... especially with the revelations of his struggle with depression... "This Gun's for Hire"-- to me that refers to him jamming with his friends and there were a few periods when he would be at the Pony many Sundays in a row or a chance to be "normal" just before leaving for a tour. And a few times, he was there a few days in a row that I joked with him that we might need to get him a time card to punch in.
To make a long story short... to me, since I was a firsthand witness to it all, "Dancing in the Dark" was written about going to the Pony and the song I most relate to.
---
Debra L. Rothenberg - "Dancing In The Dark"
There are a few, all going back to the same point in my life. The first one isn't one of my favorite songs-it doesn't even make the top 10 but the lyrics fit.
I was 24 and living in a small town in southwestern Pennsylvania, working as a staff photographer for my 2nd newspaper. I was miserable. I remember someone asking me how old I was and I couldn't remember. When I did, I said "24, but I feel 40," At 24, 40 is OLD. I had one friend at the paper, a reporter named Keesha but we rarely saw one another outside of work because that is all we did-work. She was the only person in town I spoke to when I wasn't on assignment.
One day I was alone in my apartment dancing around to "Dancing In The Dark with a T-square as my guitar and dancing on the coffee table. It was an upbeat song but the lyrics were my life. I worked from 2-10pm but always got a call in the middle of the night to go shoot a fire or accident. After REALLY listening to these lyrics, I fell back on my couch and cried, and KNEW I had to get out of this town.
"I get up in the evening / and I ain't got nothing to say
I come home in the morning / I go to bed feeling the same way
I ain't nothing but tired / Man I'm just tired and bored with myself
Hey there baby, I could use just a little help."
All I wanted was to be back in my home state of new jersey.
"Message keeps getting clearer / radio's on and I'm moving 'round the place
I check my look in the mirror / I wanna change my clothes, my hair, my face
Man I ain't getting nowhere / I'm just living in a dump like this
There's something happening somewhere / baby I just know that there is"
"Stay on the streets of this town / and they'll be carving you up alright
They say you gotta stay hungry / hey baby I'm just about starving tonight
I'm dying for some action / I'm sick of sitting 'round here trying to write this book"
I called my Mother the next day and told her I had to get out of there. She said "quit and move home." (to Northern New Jersey) I was terrified I would never work again but went in the next day and gave my two week notice. On my last day, as the main photographer was yelling at me saying "you will never work again as a photographer" I put my key down on the editor's desk and quoted the last line of "Thunder Road"...
"IT'S A TOWN FULL OF LOSERS AND I'M PULLING OUT OF HERE TO WIN" to claps from a few in the newsroom. Two weeks later I got a job at a paper down the Shore.
---
Jean Mikle - "The Promised Land"
The song I always come back to is "The Promised Land." Darkness is my favorite album as it got me through some seriously bad stuff that was going on in life at the time (I was 17 when Darkness came out, the same year my mother passed away from complications related to kidney disease). I think I like the song so much because, like so much of his work, it contains an essential optimism, in the face of darkness and difficulty. The singer continues to believe in the promised land even though all his experiences have shown him it may not really exist. It's defiant and contains some of his most powerful lyrics, I think, "take a knife, and cut this pain from my heart."
---
Mimi Cross - "Tunnel Of Love"
If I had to pick one Springsteen song to represent my life it would be "Tunnel of Love." The song is gorgeous, and haunting. It includes small sensual details, like touching the silk of a blouse, touching the metaphorical "soft thrills", but also profound realizations about self-acceptance: "You've got to learn to live with what you can't rise above." You hear something like that and think, yeah, that's true. But trying to do it…is huge, at least for me. "Tunnel of Love" chronicles a journey, one you need to keep making. It's about a risk you need to keep taking; you have to keep trying to love, but it's not always easy, especially when you have the kind of baggage Bruce is singing about. Fear.
I love the way Springsteen paints a picture of the song-couple laughing, and in the very next line he sings about a room of shadows. They're both such rich images, and in my life, I've enjoyed exploring both light and darkness. The whole carnival/boardwalk/amusement park ride setting is great—easy to see, easy to imagine as a metaphor for love/relationships/marriage. Then there's the actual music. Uptempo, lifting on the bridge…it reminds me of a particular time in my life. For many years 1987 remained one of my favorite years for music.
And of course there are Patti Scialfa's stunning backing vocals, which, I've always loved to sing along with. There's wild beauty to them that's comparable to Merry Clayton's star turn on "Gimme Shelter", her duet with Mick Jagger. A freedom. And really, on one level, the two songs are about the same thing. Love is a kind of shelter, and a kind of war. It is guide and goal; past and future. Love is all. And so we take our ticket, and the luck.
---
Thanks goes out to the 12 folks (musicians, writers, DJs, and photographers) who took part in this piece as well as to Paola Lomuscio from Italy who sent us the drawing.
---
Gary Wien has been covering the arts since 2001 and has had work published with Jersey Arts, Elmore Magazine, Princeton Magazine, Backstreets and other publications. He is a three-time winner of the Asbury Music Award for Top Music Journalist and the author of Beyond the Palace (the first book on the history of rock and roll in Asbury Park) and Are You Listening? The Top 100 Albums of 2001-2010 by New Jersey Artists. In addition, he runs New Jersey Stage and the online radio station The Penguin Rocks. He can be contacted at gary@newjerseystage.com.
---