By Gary Wien
originally published: 11/26/2019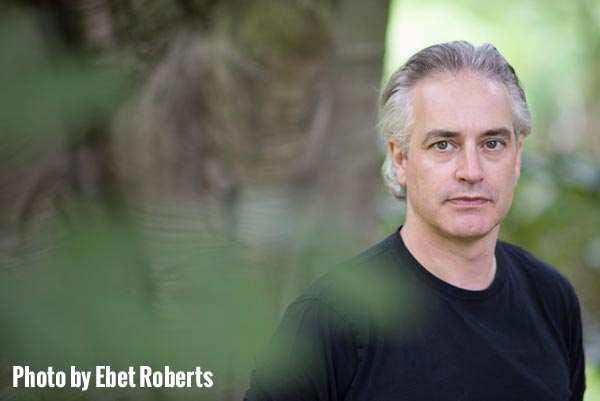 One of the most intriguing shows this December will take place at The Strand in Lakewood on Friday the thirteenth.  Wesley Stace, an artist who released great albums for two decades under the name John Wesley Harding, will bring his Cabinet of Wonders show to town. It's a one of a kind variety show featuring musicians, writers and comedians. The goal is to make the audience laugh, think, and sing along. Cabinet of Wonders has been described as a little bit vaudeville, a little bit literary, and a lot of rock 'n' roll.
The lineup in Lakewood is expected to include Josh Rouse, Dean Friedman (Ariel), Kristen Hersh & Fred Abong (Throwing Muses), Alec Ounswirth (Clap Your Hands Say Yeah!), Robert Pinsky (former US Poet Laureate), Daniel Wolff (4th Of July, Asbury Park), and comedians Eugene Mirman and Dave Hill.  It's not only a special show because of the holidays, but it will mark the 100th Cabinet of Wonders production.
"I've been a musician for years and then started writing novels," explained Stace.  "At some point my agent said to me, 'When you're doing the novels and so forth, you steer away from talking about the music.'  I was doing the music under John Wesley Harding and I was writing novels under Wesley Stace. So he said, 'Why don't you put them together a bit and we can use them as the X marks the spot and you'll be in the middle?'"
Stace decided to revisit a show he ran many years ago at The Mean Fiddler in Harlesden, London called "The John Wesley Harding Medicine Show."   Born in Hastings, Sussex, he moved to America around 1990, and built up contacts across music, literature, and entertainment over the years.   Those contacts would prove invaluable for the new show.  He was living in New York City at the time and launched the first Cabinet of Wonders show at Le Poisson Rouge in the city.
"I suddenly felt that my Rolodex was better and I had more friends everywhere," said Stace. "I thought the meeting of literature and music was a perfect idea and that comedy was right in the middle of the two of them.  The kind of singer-songwriters who I figured would be interested in doing it are the kind who want to play a cover and want to have their lyrics heard.  All writers want a more rock and roll experience than reading at a bookstore can offer and comedians are right in the middle.  So that's how the show developed."
---
The article continues after this ad
---
---
The initial Cabinet of Wonders was a success and Stace began featuring a house band from the second show on.  After a few shows, Cabinet of Wonders moved to City Winery, which became its home.
"There's something about the cabaret setting of it and the good wine and good food," continued Stace.  "It's at City Winery that we've done about 70 of the shows."
City Winery was such a good home that for years Stace couldn't imagine it taking place anywhere else.  But that changed over time as he was asked to bring it to places like London, Los Angeles, and San Francisco.  When people asked, he thought about who he knew in the area and discovered many were interested in playing.
"New York City is the easiest city to do it in," he explained.  "Why? Everybody wants to be in New York.  Everybody ends up in New York at some point and even if they're not going to be there it's an easy place to get them to.  But Los Angeles has its benefits too.  If L.A. comes calling, which it has a couple of times, that's when I get back in touch with Moby, Susanna Hoffs, and Bruce Wagner.  They're all people I know who are out there.  They can never do the show because there's no point in asking people from L.A. to come to New York when they'd rather wait until the show comes to them.  San Francisco is the same.  I've known Joan Baez since I toured with her in the early 90s, so I'll get in touch with her.  That's how it works."
Strand Board Member Ray Coles asked Wesley Stace to consider bringing his show to venue when Stace performed there as part of The Strawb's 50th Anniversary shows and loved the venue.  With this particular show, he gets to call on artists from New Jersey, Philadelphia, and his regular cast from New York City.  Offering it as a holiday edition gives artists another reason to be interested.
"We don't usually do themed shows," explains Stace.  "I've found they are kind of counter productive.  I like people to be able to do whatever they want; however, when it comes to Christmas time, everybody wants to do a Christmas song.  So it's silly not to have it be a bit Christmasy.  The whole show isn't going to be Christmasy, but there will be various people picking Christmas songs.  There's also going to be good surprises at the Lakewood show!"
Stace says he is a fan of Christmas songs himself, noting that he has previously performed songs like "Christmas in Prison" by John Prine and the classic "I Saw Mommy Kissing Santa Claus."
"I am a huge fan of Christmas music to listen to," added Stace.  "In fact, just yesterday I bought Ramsey Lewis' album for a buck.  The Ramsey Lewis Trio with Sound of Christmas on Cadet - that is right up my alley.  That's basically all I want to listen to all year because Ramsey Lewis playing Christmas songs is just genius! And my favorite Christmas album of all is another album on Cadet - The Soulful Strings' Christmas album, which is a great record."
In addition to performing at The Strand, Stace has done shows throughout New Jersey over the years.  The Philly resident has also taught courses at Princeton University and was the artist-in-residence once at Fairleigh Dickinson University. He's also going to be back in the Garden State for several shows in early 2020 with "A Tribute To John Wesley Harding" - a look back at his first three records.  Shows are planned for The Record Collector in Bordentown, The Saint in Asbury Park, and a few house concerts across the state.
Revisiting his early work means a return to the stage name he used for his first 19 albums - John Wesley Harding.  When Misfortune, his first novel, was published in 2005, he chose to release it under his given name.  He has had four books of his own published with 2014's Wonderkid being his most recent.  The books were all well received by critics and his latest is under consideration to become a television sitcom someday. But from the beginning, Stace wanted to make sure there was clear separation between his artistic ventures.
"I did not want writing to be considered in light of my music on any level," said Stace.  "And, in fact, my agents were against me changing the name to Wesley Stace because they thought they could benefit from the concept of John Wesley Harding - thinking if he sells 30,000 records maybe he could sell 30,000 books. I sought a much longer view and a better view was to not do that.  I think I was proved right because the book was a nice surprise that I did something else rather than have it rammed down people's throats."
When he finally decided to release music as Wesley Stace, it likely caused a little confusion in some camps and removed confusion from others.
"It just got increasingly difficult for me being called John Wesley Harding in one ear and Wesley Stace in the other," he explained.  "In the end, I was like 'Ooh fuck it, I'll just do it all under my own name."
His most recent project involves another one of his artistic friends - the legendary choreographer Mark Morris. On Stace's website, he talks about the biography Out Loud: A Memoir, which he co-wrote with Morris.  Wes writes: "I am very proud to have co-written the memoir of the genius choreographer Mark Morris. Whether you are a modern dance aficionado, want to know how to live a life in the arts, or you just love a good story, I guarantee this book delivers."
Stace says he never imagined ever writing a biography and likely will never write another despite requests from several people.  He did it because Mark Morris is a friend of his and someone he considers to be a true genius.
"Mark had a thing about not wanting to do a memoir," said Stace.  "He probably didn't have the patience because it's hard to write a book.  He certainly didn't want somebody with an agenda in the world of dance to help him out with it.  He approached me because we were friends and he liked my stuff and I could tell a story.  Because his stories are so great, I reached out to him, while we were having a drink one night, and said you should definitely write a memoir at some point.  He said, 'I'll never do it. It won't happen.' Then about a year or two later he said to me, 'I'll do it.  Do you want to write it?'"
"I'd never wanted to do anything like that for anybody ever, but I just felt that unless I did it nobody would do it," he continued.  "So that's how it got done.  I'm very proud of the book.  I've never done anything like it before and I'll probably never do anything like it again."
Stace and his family have lived in Philadelphia for about a decade and he's very much a part of the city's art scene. You can hear him often on WXPN (or performing at one of their shows), reading from his novels or performing at places like The Rosenback and The Free Library, or playing the role of an interviewer.  On Tuesday, December 10 at 7:30pm, Stace returns to The Free Library to hold a conversation with noted author Salman Rushdie - someone who has also been seen on stage during a Cabinet of Wonders show!
---
Gary Wien has been covering the arts since 2001 and has had work published with Jersey Arts, Elmore Magazine, Princeton Magazine, Backstreets and other publications. He is a three-time winner of the Asbury Music Award for Top Music Journalist and the author of Beyond the Palace (the first book on the history of rock and roll in Asbury Park) and Are You Listening? The Top 100 Albums of 2001-2010 by New Jersey Artists. In addition, he runs New Jersey Stage and the online radio station The Penguin Rocks. He can be contacted at gary@newjerseystage.com.
---