By Gary Wien
originally published: 06/16/2015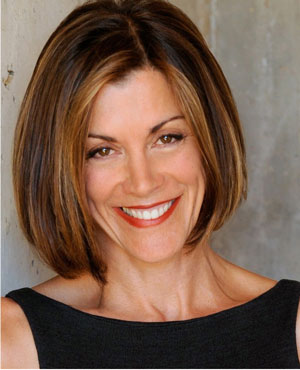 Wendie Malick stars alongside Gary Cole (Office Space) in Closure at New Jersey Repertory Company this month.  Born in Buffalo, NY, Malick has an extensive resume of roles on stage, films, and television, including three long-running series (HBO's Dream On in the early 90s, Just Shoot Me! in the late 90s, and TV Land's Hot In Cleveland which began in 2010 and had its series ending episode in June.  With a role in the upcoming show, Rush Hour (based on the hit film franchise), there's a good chance the Golden Globe and Emmy Award Nominee might be part of another long-running series.  New Jersey Stage caught up with Malick to find out what it's like for the cast when a show ends after a long run.
Hot In Cleveland literally just aired its last episode and now you're getting ready to do Closure at NJ Rep.

Yes, we just had our series finale of Hot In Cleveland Wednesday night in New York and we were all there, staying in a lovely hotel with everything first class all the way.  I was saying I guess I better not get used to this, I'm about to move into an old Victorian house with five guys to do a play in New Jersey.  It's kind of like going back to your roots.  I feel like we're going back to college!
You've had a bunch of tv shows to last five years or more.  What is it like when you have a cast you've been with for that long and then you hit the goodbye period?  You were part of such a wonderful crew alongside Betty White, Valerie Bertinelli, and Jane Leeves.

It's pretty emotional.  You're always a valuable part in each other's lives and actually my cast for Just Shoot Me! still gets together for dinner three or four times a year, and some of us see each other individually.  But with this group of women (Hot In Cleveland), I think we are in it for the long haul because we did form this kind of sisterhood.  We're going to see if there's something else we can do together — we're toying with several ideas.
This was just such a great learning curve for all of us, understanding how you could be mentored by women both younger and older than you are. Betty (White) is such a remarkable role model.  It reminded me that it's not until you turn 60 that you get to start your third act.  It's just about appreciation and being in the moment and fully committing yourself and finding joy in everything you do.  It was a real privilege to be with all of them.
It's remarkable the career that she's had.

And she's had so many resurgences.  She started when television started and has continued to this day!
---
The article continues after this ad
---
---
It didn't take you very long to jump into a new series.  Do you think your winning streak will continue with Rush Hour?

It's funny, the executive producer said, 'My gut feeling is this thing will either be a huge hit or it's going to die very quickly!'  It is a pretty huge, ambitious undertaking.  The pilot had a helicopter chase, it was like a movie - it was crazy! I think my stuff will all be pretty much in the police department when I read them the riot act every week for various reasons.  
These young actors are very impressive and so enthusiastic. They have great energy and are so thrilled to have this opportunity.  They're fun to be around.
It's got great name recognition from the film franchise.

Yes, and I understand that John Foo is a big martial arts star in China and Korea, which are huge markets for American television to tap into.  I'm sure that's part of the appeal.
Tell me about Closure.

I love the piece and I am so excited about this cast.  I love the way Rick Dresser writes and I had met him several times over the years.  He came to me with the play as we did a workshop of it at the Berkshire Playwrights Lab a couple of summers ago.  The plan was to do it last summer up there and then my series went back earlier than expected so we had to postpone it.
It's a suspenseful noir — who done it — and it has a lot of emotional ups and downs, but a lot of dark humor too. Like in all things, there is humor even in the darkest of moments.  The play is about a couple whose daughter went missing during a school vacation in the islands.  And it's been three months and the wife is still determined to find her and the husband is kind of giving up on it.  It's about the relationship that is developing with the detective that has been helping the wife.  It sort of surprises you at every turn.
---
Gary Wien has been covering the arts since 2001 and has had work published with Jersey Arts, Elmore Magazine, Princeton Magazine, Backstreets and other publications. He is a three-time winner of the Asbury Music Award for Top Music Journalist and the author of Beyond the Palace (the first book on the history of rock and roll in Asbury Park) and Are You Listening? The Top 100 Albums of 2001-2010 by New Jersey Artists. In addition, he runs New Jersey Stage and the online radio station The Penguin Rocks. He can be contacted at gary@newjerseystage.com.
---