By Gary Wien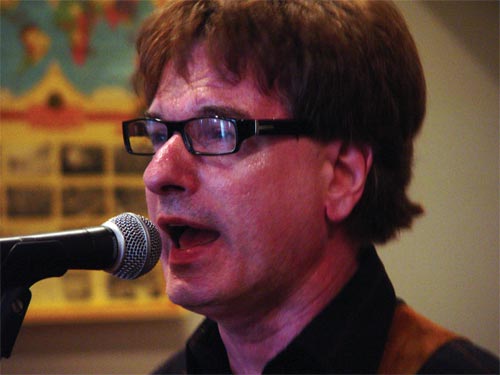 (ASBURY PARK, NJ) -- I had a late start to Sunday thanks to a sleeping pill that actually worked, but I managed to get to America's Cup in time to see The Hesh. Cookman Avenue on Sunday really showed a sense of community as tons of musicians were all hanging out and checking out the venues whether they were scheduled to play that day or not. It was truly a great day for the Wave Gathering Festival as the weather was incredible - the best of the weekend.

After The Hesh, I stayed around to catch The Commons from Trenton. They're a great band that will be releasing their final CD this summer before calling it quits. Kind of going out on top in a way as their last CD had several songs featured on an MTV show giving them their largest audience to date. They had a great set that blended some of their most popular tunes with songs from the upcoming record.

Mark Prescott was up next filling in for Steve Reilley of Ireland who had visa problems and couldn't make the festival. I managed to see several songs before running over to Twisted Tree Cafe to catch April Smith. It had been a while since I saw April perform solo; I've almost gotten used to her as a band leader but she still is a great solo acoustic artist.

Afterwards I returned to America's Cup for Bob Burger's set. Several of the regular Thursday night crowd at the Celtic Cottage in Long Branch was in attendance for what Bob said was his first ever show in a coffeehouse. He joked that he finally felt like a singer-songwriter in the Dylan mold with the experience. Joe Harvard sat in with Bob on lap steel guitar and did a great job - especially since he was winging every song. I gave him a little test when I got Bob to play "Spinning My Wheels" - a song Burger and Glen Burtnick wrote together that was released on Glen's "Heroes & Zeros" CD. I knew it! Joe's lap steel took the song to a totally different direction and it was beautiful.

It was then on to a little get together at AERIA Records new office on Bond Street where the beer and wine were flowing and a brand new CD idea ("Greetings From Asbury Park... Again") was coming into focus. Colie Brice had artists like Lou Montesano, Greg Wilkens, James Dalton and Bob Burger in attendance for a while before people headed over to the Wonder Bar for the festival's wrap up party.

The Wonder Bar was filled with musicians, Wave Gathering staff and helpers and music fans as the festival concluded with sets by Matt O'Ree and deSol. The look on everyone's faces told the story - this year's Wave Festival not only was a success but exceeded expectations. It showed just how important music was to Asbury Park's history and how much it could play a role in the city's future. Looking back on the weekend, I think I thought Cookman Avenue would be hopping but I never imagined it doing as well as it did. The festival really pulled it off in three locations (Cookman Ave, Ocean Ave and the Saint). The biggest thing they could do for next year is to tie the three areas together with a trolley or bus service. While you did see many people going from place to place, it was easier to hang in one area for a while before moving on; a trolley would have people constantly moving around the city in ways just not possible by foot or even by car - especially if the festival crowd numbers continue to grow.

For anyone who ever doubted the idea of music tourism, all you had to do was see Asbury Park during this weekend. This was a great example of music tourism. Music brought people to town; those people visited many places and spent money all around the town; and, most importantly, they had fun and had an incredible experience in town... and that's the kind of thing that'll bring people back. And, if the music fans keep coming back, the city will come back.

---
Gary Wien has been covering the arts since 2001 and has had work published with Jersey Arts, Elmore Magazine, Princeton Magazine, Backstreets and other publications. He is a three-time winner of the Asbury Music Award for Top Music Journalist and the author of Beyond the Palace (the first book on the history of rock and roll in Asbury Park) and Are You Listening? The Top 100 Albums of 2001-2010 by New Jersey Artists. In addition, he runs New Jersey Stage and the online radio station The Penguin Rocks. He can be contacted at gary@newjerseystage.com.
---