By Gary Wien
originally published: 07/01/2018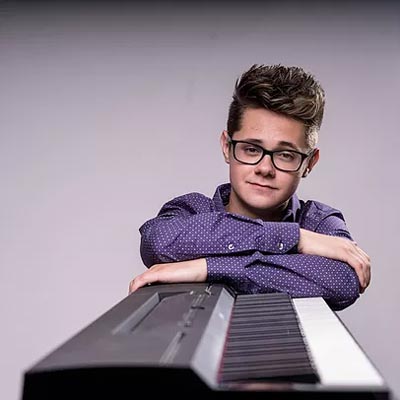 It's a busy time for John Paciga these days.  The young musician has just graduated from Delbarton School in Morristown, New Jersey and is preparing to start a new chapter at Yale University.  He's also just released a cover of "The Prayer" with Charlotte MacMurray and New Jersey Stage is proud to premiere the video.
"The Prayer" is a song made famous by Celine Dion and Andrea Bocelli. They recorded it for the Quest for Camelot soundtrack in 1998 and the song would go on to win the Golden Globe Award for Best Original Song.  It was also nominated for the Academy Award for Best Original Song and the Grammy Award for Best Pop Collaboration.
According to Paciga, it was one of his grandparents' favorite songs. "They absolutely loved the song and would play it all the time at home," he explained.  "They kept saying, 'John, you have to make your own version of this someday.'"
Paciga met Charlotte MacMurray at Delbarton last year when she auditioned for the school's Abbey Players' production of Catch Me If You Can.  She wound up playing Brenda Strong and he played Carl Hanratty.   
"Over the course of this past year, we did some more shows together and I thought she had a perfect voice for this collaboration," said Paciga.
---
The article continues after this ad
---
---
Paciga started playing piano at the age of four, singing at the age of eleven, and writing his own songs at the age of thirteen. Surprisingly, he hated piano lessons when he first began playing, but with encouragement from his grandma and his parents, he kept at it.  He is now comfortable playing anything from pop, rock, jazz, blues, and classical music.  He's also written more than 60 songs and has released an EP (Gotta Play) and a full length album (Other Side of Town) while in high school. And for the last seven years, he's been living with Type 1 Diabetes.  Instead of having that bring him down, he sees it an opportunity to be an inspiration to other children who are Type 1.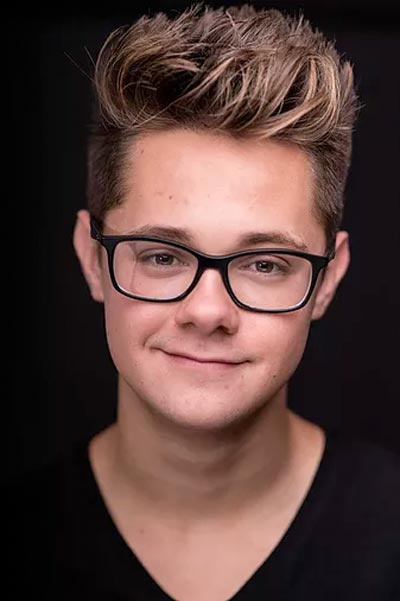 It's rare to find a teenager who is as adept at writing original songs as he is covering artists as diverse as Billy Joel, Bruno Mars, and Bocelli; and one who wants to be seen as a role model for others, but that's what we have in John Paciga.  So we decided to find out more...
New Jersey Stage spoke with Paciga a few days before his graduation ceremony.
Are you planning on studying music or something else at Yale?  I don't think I'm going to do their music major just because if I did do a music major I would want to focus more on the music business in the modern industry in that sense and on songwriting, which is something I love to do.  But Yale doesn't have a program like that.  Their music major is more geared towards a historical or classical context, from what I have gathered.  I don't think I would get the practical use out of it that I would want.  So, I might do an English major or a theatre studies major because in addition to songwriting, making my own music, and recording, I love the theatre and acting.  I've written a few one-act plays and directed them as well at my high school.
So, I'm not exactly sure what my major is going to look like yet, but it will probably be something in that vein.
Yale has a great theatre program, are you going to give that a shot too? Yea, absolutely.  I'm definitely interested in acting there and getting involved in their theatre program.  Whether or not I'm working on theatre-related things in the classroom setting, I'll definitely be getting involved in the extracurricular sense with all of the performance opportunities there.
I know you took lessons once, do you still play guitar? A little bit.  I don't take lessons anymore.  I took lessons for a couple of years.  I know some basic chords, but I don't play guitar regularly.  If I had to - in a pinch - I could play a couple of four chord songs, but piano is my main instrument and I do play that regularly.
As far as playing piano, songwriting, and acting, are you hoping to be able to do all three? Or is there a single goal you have in mind? I'm not exactly sure.  Ideally, I would love to be involved in all of the areas and to be able to take jobs or have a career where I'm able to do all of those things. but I would be happy with any one of them. 
I don't have a set vision for where I want to be in the next 5-10 years, but in the performance industry you never really know what direction it will take you.  I'm just going to keep doing what I'm doing with all of my interests and talents and we'll see where it takes me.
I noticed that some of the videos of your cover songs include Billy Joel and Bruno Mars. Is there a particular artist whose career is one you'd like to emulate?  Billy Joel is one of my biggest inspirations in terms of artists today.  Another one would be Ben Folds, another piano guy.  His style is a little more edgy, more jaunty in his piano style, but he's got awesome chops.  I saw him at the Count Basie Theatre in Red Bank in September.  It was an awesome show and he's definitely another inspiration as well.  Another one is Jamie Cullum. He's a British pop/jazz crossover artists and a songwriter.  Some of his stuff sounds more poppy and some sounds more jazzy, but he's definitely an influence as well.  I'm influenced a little bit by Elton John, but not as much of him as the other three.
Are you planning use the next few months to get ready for college or are you going to try doing some shows this summer? I'm definitely going to try to do some shows, hopefully in July. I'll be away for much of June.  I'm going to Germany for two weeks and then Florida for a while, but once I'm back I'm hoping to play some gigs to promote the music I have out and the new music I'm hoping to release later this year.
Are you looking forward to playing some new venues in New Haven? Absolutely!  I'm not sure what the performance scene looks like there, but anywhere I can find I'll try.  It's always good to get out in a new environment and get yourself out there and in front of a new crowd.
Finally, how has it been with your diabetes? Has that affected how you proceed with music in any way? Looking back on it, I was diagnosed almost seven years ago.  It was in the 6th grade and I was 11 when diagnosed.  I think it forced me to become a lot more mature and responsive at a younger age, which has helped me with leadership and my music by making me take it very seriously and professionally.  I've had to take good care of myself to make it possible for me to do everything.  I think overall it has made me a stronger person in that regard. 
Of course it can still be a burden at times to manage it, but after doing it for seven years it's just kind of my way of life now.  I hope that as I start to gain more recognition I can use my platform to sort of empower other kids with diabetes and diabetics to go after what they want to do and let it be a source of individuality and strength rather than a hindrance.
---
For more on John Paciga visit his website at www.johnpaciga.com and follow him on Facebook.
---

---
Gary Wien has been covering the arts since 2001 and has had work published with Jersey Arts, Elmore Magazine, Princeton Magazine, Backstreets and other publications. He is a three-time winner of the Asbury Music Award for Top Music Journalist and the author of Beyond the Palace (the first book on the history of rock and roll in Asbury Park) and Are You Listening? The Top 100 Albums of 2001-2010 by New Jersey Artists. In addition, he runs New Jersey Stage and the online radio station The Penguin Rocks. He can be contacted at gary@newjerseystage.com.
---