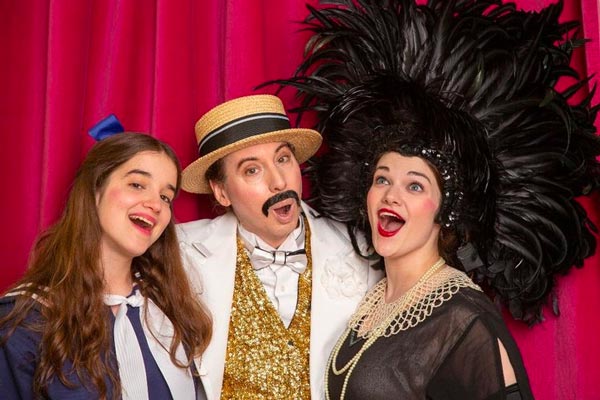 A New Jersey summer getaway often includes a trip to the shore (that's Jersey-speak for beach or coast; sometimes referred to as downtheshore). And the shore has a lot to offer: You can stroll in the sand and swim in the ocean, take a boat ride and go water skiing, hit the arcades and play a round of miniature golf. Or, for something altogether different, you can head over to Mid-Atlantic Center for the Arts & Humanities (MAC)'s Emlen Physick Estate to experience "Victorian Vaudeville," an entertaining, family-friendly production performed by REV Theatre Company.
"Victorian Vaudeville" is not the first collaboration between MAC and REV and, considering the partnership's success since the two groups first worked together in 2015, it won't be the last. Last summer, REV presented "A 1940s Cabaret," a revue featuring music made popular by Bing Crosby and the Andrews Sisters at the Physick Estate and Rosemary Hay, who is Co-Artistic Director with Rudy Caporaso, called it "the perfect thing for a summer evening."
Caporaso grew up in Scranton, Pennsylvania, which – believe it or not – was where fledgling acts often got their start. According to Nancy McDonald, author of If You Can Play Scranton: A Theatrical History 1871-2010, the well-known phrase "If you can make it in there, you can make it anywhere," originally referred to Scranton.
"Audiences there were not necessarily sophisticated," Caporaso said, "but they were discerning and not shy about voicing their opinions."
"A lot of the vaudeville greats came through Scranton," he continued, "It was a great place to try out your act."
Caporaso is very excited about "Victorian Vaudeville" and not just because he's a Scranton boy and has always had an affinity for that genre.
"It's going to be wildly entertaining," he said. "The two women in the show are fantastically talented, and it is very vibrant and colorful, with many period costumes."
"The show is like a brand-new baby, in an old-fashioned kind of way. We are bringing vaudeville back, single-handedly."
A production such as this, though, is only a sampling of what REV does. The company's mission, according to their website, is to "bring a fresh, contemporary vision to existing dramatic works and company-created new pieces."
What this means, according to Hay, is that REV performs original works and reimagines existing – and sometimes quite well-known – stories. It could be a location or time period adjustment or the addition of lots of music and singing where there previously was none. "This also means we are not boring," Hay said. "People aren't standing around proclaiming."
REV also pays close attention to discovering and creating works that will have cross-generational appeal. "We are very keen to attract younger people," Hay said.
Hay told me that it is Caporaso who frequently comes up with new works for the company to perform, but that her passion lies elsewhere.
"I was with the Royal Shakespeare Company in London," Hay said. "The Shakespeare is all mine."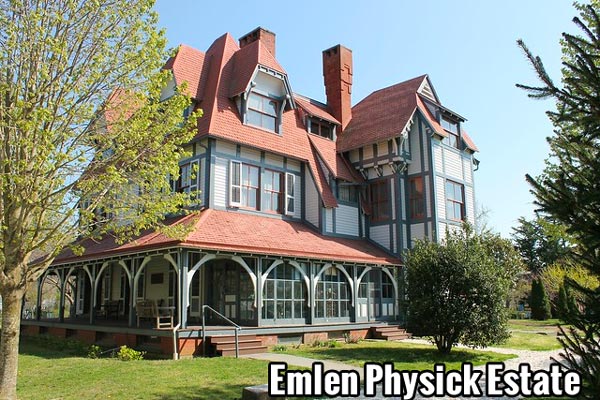 Another distinctive characteristic of REV's performances is that they site-specific. REV has performed in urban parks, a municipal parking lot, a storefront on New York's Lower East Side, a pier on the Hudson River, the steps of the Philadelphia Museum of Art (yes, those steps), and – more than once – at Laurel Hill Cemetery, an iconic, historically-landmarked Philadelphia location.
This explains why the Physick Estate is an ideal place to present this show. "It is just so Victorian," Hay said.
Susan Krysiak, Director of Media Relations at the Mid-Atlantic Center for the Arts & Humanities, shares REV's enthusiasm about their ongoing collaborations.
"They are a wonderful partner," Krysiak said. "They have so much creativity and bring something so special. We love being able to host unique shows that aren't found anywhere else."
And presenting events like "Victorian Vaudeville" is an excellent way to introduce the Physick Estate to those unfamiliar with it. If your knowledge of this grand house on Washington Street is limited to a quick glimpse as you travel to or from Cape May proper, you have a lot to find out!
For example, the 18-room mansion on the Emlen Physick Estate was built in 1879 and designed by Frank Furness, the same renowned Philadelphia architect who designed such splendid buildings as the Pennsylvania Academy of Fine Arts (PAFA) and the University of Pennsylvania Library.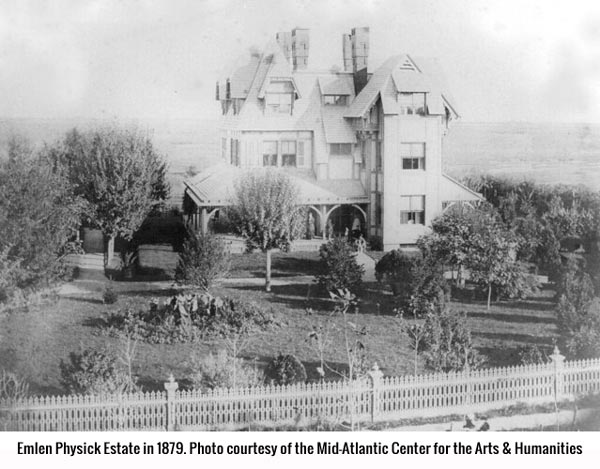 It was built for Dr. Emlen Physick, Jr., who attended the University of Pennsylvania and earned his medical degree. Instead of practicing medicine like his physician father, young Emlen invested some of his vast inheritance to purchase a sizable swath of Cape May property and become a gentleman farmer.
"Dr. Physick lived in Cape May for years and was a very involved citizen," Krysiak said.
After the last of the Physick family members – Emlen Jr.'s maiden aunt Emelie – died in 1935, the property passed to a neighbor. For the next 30 years, many different people owned the estate, until it was acquired by developers that planned to tear down the house and build a new 1960s-style home. At that time, the house was in terrible shape and even rumored to be haunted.
But don't despair. In 1970, a group of concerned citizens, believing the estate and house to be too special to lose, formed an organization – now known as MAC – to fight the demolition and conserve the property and house for the future. "This was an effort by a group of very committed people brought together by their passion for historic preservation," Krysiak said.
In 1973, the City of Cape May purchased the property with the aid of state and federal grant funds and leased it for up to 99 years to MAC (for $1/year), with the condition that MAC restores and continues to maintain the estate for civic purposes.
Fast forward to 2019. The house, outbuildings, and grounds have all been beautifully restored and The Emlen Physick Estate operates as a historic house museum.
"This is a Victorian story we get to tell nearly every day of the year," said Krysiak.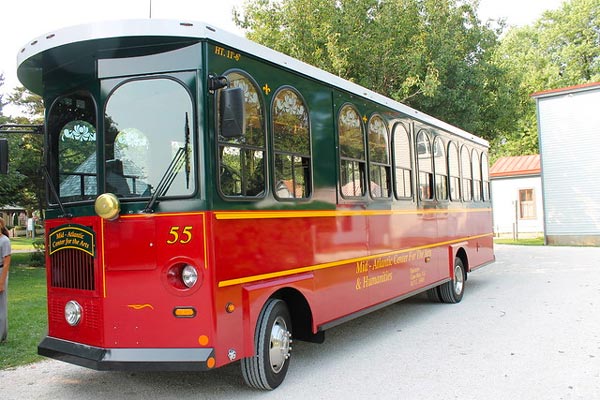 In addition to regularly scheduled guided tours, there are a wide variety of activities and events going on all the time. "It's amazing how many things we offer," said Krysiak. "We have trolley tours and all sorts of house tours, and special events like the recent Cape May Craft Beer, Music and Crab Festival."
And to help Cape May visitors and residents keep track of it all, MAC staffs the information booth at Washington Street Mall and publishes "This Week in Cape May," which Krysiak called a "great resource."
In addition to numerous on-site offerings, MAC also has a division devoted to education. They regularly host student groups at the estate during the school year and they provide low-cost, in-classroom programming to augment what teachers do. "Any school in Cape May, Atlantic, and Cumberland counties is eligible for this."
And wait, that's not all.
"We have all kinds of specialty tours," Krysiak said. "Ones that focus on the Victorian era, on fashion of that time, or social customs, or what people ate. We do Halloween and Christmas, and the history of holiday tradition.
"We are even the keepers of the Cape May Lighthouse."