By Gary Wien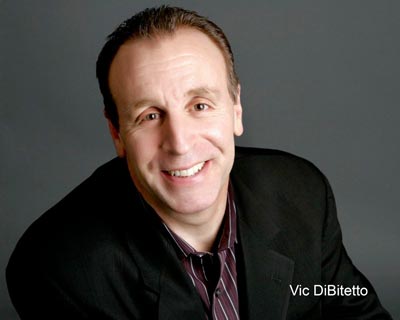 This article was originally designed to be read in the September 2014 issue of New Jersey Stage magazine. To read it in its original format, click here


Eight months ago, comedian Vic Dibitetto uploaded "Who's gonna give me my shot?!" on YouTube. In the video, Dibitetto, who lives in Central Jersey, makes a plea for somebody to give him a shot at a television role, rattling off a list of comedians he started out with that are world famous today. "If I suck, I suck," he says, "just give me my shot."

One of the comedians called out in the video was Kevin James, who just happens to be one of the 40,000 subscribers to Vic's videos and he took the plea to heart. He offered Vic a role in Mall Cop 2, the sequel to the blockbuster film from 2009, which will be released next year. So after thirty years of working two jobs (he's been a school bus driver for the past decade), Vic finally gets his shot.

"It was the greatest experience of my life," Vic said, describing the movie shoot in Las Vegas. "I was there for 6 weeks. He gave me a nice part, I'm in the whole movie. It was surreal, I'm doing lines with Paul Blart and I'm pinching myself in my pocket... I hope there's more to come because if you notice in all of his movies, he's got the same guys in there.

"He told me I nailed every scene," Vic continued. "He says you busted your ass for thirty years, you belong here. Kevin's a great guy. I mean, we weren't buddies, but we started out and worked the circuit together... He was watching my videos and I truly believe it's not who you know, it's who knows you."

Over 12 million people know Vic thanks to YouTube. That's the number of people who viewed his "Bread & Milk" vignette, which was his first video to go viral. He's since had a video with over 600,000 views (Im Not Drivin To FL!!) and another that's approaching 2.5 million views (Justin Bieber). Vic says he had no idea that "Bread & Milk" was going to break him nationally. In fact, he thought it was rather stupid and nearly deleted it.

"One day I'm in the car in the city and the phone rings," recalls Vic. "It's my niece from Florida. She says Uncle Vic, you're on Reddit. I'm like what the hell is Reddit? I'm a 52-year old guy, she's 20, she knows all this stuff. She's like your Bread & Milk video is going viral! Over the weekend I had a couple of million views and I couldn't believe it. I have vignettes that I thought were much funnier, but, no pun intended, it was literally the perfect storm.

"From my door to the car, a total of 30 seconds which got me more recognition than 30 years of stand-up... it's amazing."

While most comedians fill YouTube with videos of their stand-up act, Vic has basically created his own genre of these quick little vignettes. He puts out several each week, sometimes several in a single day. In each video he rants about whatever comes into his mind. It could be Justin Bieber getting a DWI or yesterday's Knicks game or the Ebola scare.He doesn't script them out, he just wings it. The videos help him relieve stress, while building his brand as a regular guy. He says he rants about what people are thinking.

Which brings us to The Shed.

Vic purchased a shed from Sam's Club and instantly a new series was born - a show about a guy and his shed. "It's a simple man cave and every guy relates to this," said Vic. "So, every wife relates to the guy who has it. I hit home with a lot of people because the material is so relatable."

Having a regular job in addition to comedy helped Vic stay relatable throughout his career. For the past decade he's driven a school bus full of special-education children, most developmentally challenged, all over Staten Island. He says having the day job also keeps one humble.

"All of your great TV characters are blue-collar, north east characters," he explains. "Guys like Ralph Kramden and Archie Bunker. I'm like the common man, like Rodney Dangerfield was. Rodney didn't make his first movie until he was 58, so he's my inspiration."

With a number of projects in the works, including the release of Mall Cop 2 and starring in "Don't Know Jack", a new series on Hulu, it looks like his days behind the wheel are over. This will be the first time he's ever been able to do comedy full-time. "Could you imagine me doing comedy full-time? 2015 is going to be my year!"
In "Don't Know Jack", Vic plays a retired cop in his mid-fifties who is living with a young, smart-aleck guy in his thirties. The show, which somewhat plays off of The Odd Couple theme, takes place in North Jersey and furthers his identity as a regular guy, the every man, or, as Vic puts it, the working class zeroes.

As excited as he is about landing acting roles like this, stand-up remains his first love. When asked if he could only do one: acting or stand-up, he replies, "Oh boy... that's like asking me who do I like better: Pacino or De Niro? I guess I'd say stand-up.

"When you're on stage you're your own director, producer, and choreographer," he explains. "When you make a movie it's 'Alright, cut! Let's try it again.' In stand-up, you're in the belly of the beast. People come to see me because I say what they're thinking. I'm high energy. I scream, I spit, and my vein is popping. I'm the regular guy."

Vic performed at Uncle Vinnie's Comedy Club in Point Pleasant in September and is coming back at the beginning of the new year. For him, the vibe of the small Jersey Shore club is perfect for his act.

"I like Uncle Vinnie's, it's very intimate," he says. "It reminds me of Pips where I started out in Brooklyn. That was like the boot camp of comedy. At Uncle Vinnie's, the crowd is right there. When you do a casino, you're on a big stage, the lights are in your eyes, and you don't even see the audience. You actually have to wait for the waves of laughter to stop before you do your next bit.

But at a place like Uncle Vinnie's, you actually see the hecklers. They're right there. They're covering their drinks because I'm spitting - that's how close they are!"

Eight months ago, he asked for a shot. Now that he's got it, he's running with it. The only question is what will he rant about if 2015 really is his year?

---
Gary Wien has been covering the arts since 2001 and has had work published with Jersey Arts, Elmore Magazine, Princeton Magazine, Backstreets and other publications. He is a three-time winner of the Asbury Music Award for Top Music Journalist and the author of Beyond the Palace (the first book on the history of rock and roll in Asbury Park) and Are You Listening? The Top 100 Albums of 2001-2010 by New Jersey Artists. In addition, he runs New Jersey Stage and the online radio station The Penguin Rocks. He can be contacted at gary@newjerseystage.com.
---