By Gary Wien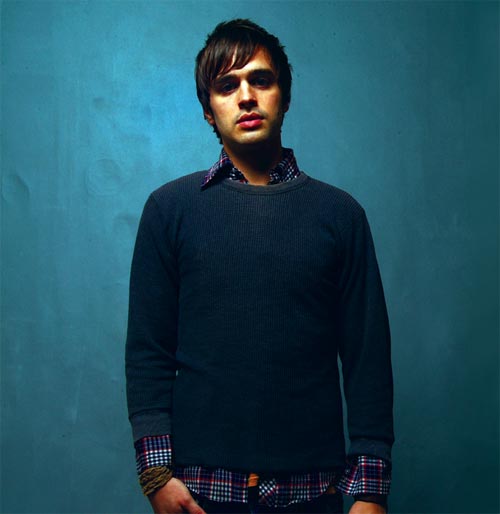 It was roughly three years ago to the day that Val Emmich was the cover of the first issue of Upstage Magazine. Since that time he struggled as he watched his record label seemingly put his career on hold. After working his way out of his contract, he's back as an independent artist and actually enjoying life again. He's releasing his new CD "Sunlight Searchparty" this month. Upstage recently talked to Val about the new record and the last few years in limbo...

How does it feel to be free again?
It feels really good. It's been a while. I think I forgot how it feels to be able to do what you want and not have someone think of a million ways to tell you no. I think the last two years of my life was people saying no to every idea I had. When I first got back on my own again I had to reteach myself that it was ok to do whatever I wanted. So that was really liberating.

It's always sad to see someone like you get caught the way that you did. But almost 9 out of 10 artists that get signed wind up with stories like yours, so why is that still the goal for so many people?
It's sad and frustrating that this is kind of the norm, but I guess it's liberating at the same time that there's so many acts that go on to have healthy careers. It's sad that the artist gets caught in this trap like you said. It is a trap and it's hard to resist.

I don't know. I think that the labels make the mistake of maybe signing too many artists that they can't focus on each of them. Each artist needs their own plan, I think, to make their art work and sometimes the big labels don't have that intimacy so they run each artist through the same system and it doesn't always work.

Also the major labels aren't making the same kind of money they once were and the turnover of their staff is quick. I had three A&R guys and four product managers in two years. And so the people that signed me and understood me at first weren't even there a year after. So you get caught up in that as well.

Do you ever think that you may have been something of a 'trophy signing'? There was a bit of a label frenzy after your video was shown on MTV as an unsigned artist. Maybe the labels thought something was up, but didn't really know what to do with you. They just knew that they wanted you.
Yeah... I think there's a lot of truth to that. There were a bunch of labels interested in me and when Sony came along maybe they just wanted to win the race more than they actually wanted to win what was actually the prize. More than the artist, they wanted to beat the other labels! There is a bit of that. They put on a big show for you when you come into the office and they tell you all these things.

I was interested in the history of Epic with bands like Pearl Jam, who I grew up loving, and even solo artists like Fiona Apple and Ben Folds. But it's not like the Motown of yesteryear. Sony, Epic and the other labels are changing so fast that they don't really own that history anymore. The Dylan that Columbia signed is not on the same label. It's the same in name only. I got caught up in a little bit of the music history of it.

There are independent labels that don't have as many resources that I think have reputations as being artist friendly and do better on a smaller level. There's still labels like that where you feel like you know what you're getting because of the other records they've released. They have a kind of integrity that really doesn't exist on a major label scale nowadays. I think [major labels] are stabbing themselves because if they were patient with artists they would probably get the return they're looking for.

But with the Internet now they're becoming less and less necessary. It'll be interesting in the next few years to see what happens.

There's been a lot of confusion regarding your CD being re-released a few times. Were you involved with that process?
A lot of people I've talked to have asked me that because I think they're confused as to why that happened, so it's a good question...

I had thought since I was a kid about what if I could get a record deal and that's something very exciting. I researched the hell out of it and by the time I did get a deal I knew a lot. Everyone was telling me it takes a long time, to make a record, to find a producer and then get it released. They were saying that it might be next year before you get a record out and I was scared about that. I just really wanted to get out there, so we came up with this compromise and I was very much a part of it.

They wanted to release the record as it was and just put me on tour right away. I said let's do a few songs and release that. Right after I recorded I went on tour with Dashboard Confessional and then Butch Walker and I was still on tour when the record came out.

In retrospect, I probably should have just gotten the record out of them. Knowing then what I know now I would have just made a major label full record instead of re-releasing, but it seemed like the quickest thing to do at the time to keep the ball rolling and I didn't want to wait around.

What are your plans for this record? Are you planning on talking with any independent labels?
I am thinking about that but I was never focused on it when I made the record and I'm not even focused on it now. I'm just leaving that possibility open. Right now I'm just focused on releasing the record to the fans I already have and with the Internet it's really easy to do that.

It was so nice to be able to think of a record and then make a record and now release it; to do all of the art myself and just put it out immediately.

Tell me about the packaging. There's a 16-page booklet and a DVD included with the record. It looks like you really pulled out all of the stops with this one.
Yeah... This record has so much of me in it because I was pent up for a while and I wanted to get it all in. I have songs that have given me a lot of hope that I put in there. I didn't want them to just become these MP3s, so I wanted to come up with a package that would make people want to buy the CD. I just wanted to put all of my heart and my finances into making this package this really meaty thing. I feel that's another thing major labels do wrong - they put out your standard 8-panel fold with the black and white on the inside and here's the artist - nobody buys it because it doesn't have any depth to it.

When I first saw the song titles on the CD I was like was this the past two years in a nutshell?
Some of them specifically had to do with that time and others were written in different time periods. When the stuff was going down with EPIC I rented a house in Woodstock and wrote a lot of music there by myself and that was an amazing turning point. I was just turning the feelings into positives and it became a release.

A lot of the songs have to do with what do you do when it feels like there's no light at the end of the tunnel?

Is that the general idea behind the title 'Sunlight Searchparty'?
Yeah. The record has to do with a lot of different subjects but the overall feeling to me is just getting through these things and how do you get through those things and find light in a dark situation. And it's not just about doing it by yourself but doing it with a group of people. I had tons of help from my friends on this record. I tried to make it like you're going to hear us doing this record and between songs we're going to have fun and even though the songs are dark at times we're going to play them like they're happy songs.

Anything you'd like to say to your longtime fans from New Brunsick and the Shore who have been wondering what was going to happen next?
I am so grateful that people even think to ask of me and I appreciate it so much that people even remember me. I felt really embarassed and kind of sad about not being able to push forward when it seemed like there was a lot of promise. I just want those people to know that it wasn't because of me and now that I am working as my own boss I plan to release a lot of music and go as fast as I can.

I hope everyone is still excited and I really appreciate the fans I do have. Please hit me up on myspace and all that because that's really the only thing that gives me hope!

---
Gary Wien has been covering the arts since 2001 and has had work published with Jersey Arts, Elmore Magazine, Princeton Magazine, Backstreets and other publications. He is a three-time winner of the Asbury Music Award for Top Music Journalist and the author of Beyond the Palace (the first book on the history of rock and roll in Asbury Park) and Are You Listening? The Top 100 Albums of 2001-2010 by New Jersey Artists. In addition, he runs New Jersey Stage and the online radio station The Penguin Rocks. He can be contacted at gary@newjerseystage.com.
---