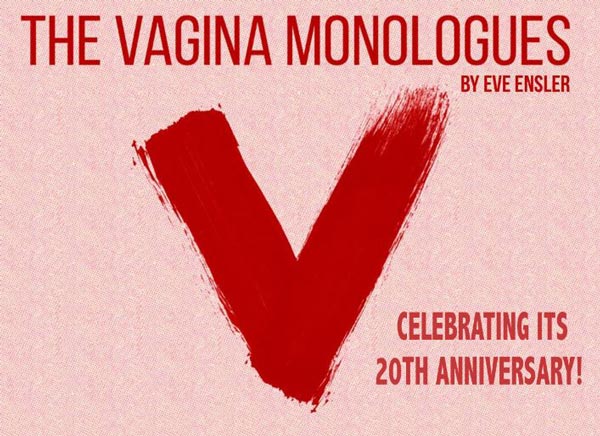 (JERSEY CITY, NJ) -- February marks the 20th anniversary of The Vagina Monologues by Eve Ensler and the return of V-Day. Speranza Theatre Company (STA will present the fourth annual V-Day benefit readings of Eve Ensler's award-winning play. There will only be one performance on Friday February 23rd at 7:00pm in The Benjamin J. Dineen, III and Dennis C. Hall Gallery Atrium ( 71 Sip Avenue, 6th Floor) at Hudson County Community College. The show is free and open to the public. Donations are greatly appreciated; all proceeds will benefit local Jersey City non-profit WomenRising.
V-Day is a global movement to end violence against women and girls.  Each year, thousands of V-Day benefits are held around the world raising funds and awareness towards ending violence against women and girls. These highly successful events raised over $5 million through performances of The Vagina Monologues, readings from V-Day's A Memory, A Monologue, A Rant and A Prayer and Any One Of Us: Words From Prison and screenings of V-Day's documentary Until The Violence Stops and the PBS documentary What I Want My Words To Do To You. STC and HCCC are once again joining this global movement as part of the V-Day 2018 College/Community Campaign.
Director Heather Wahl says the show is a perfect fit for the nonprofit: "Speranza is a women's theatre company and we focus on producing plays that highlight three things: representing the voices of women, bringing light to women's issues, and featuring female artists. The Vagina Monologues hits all our major points of focus."
"Every V-Day brings a new, special version of the script. I think this makes it really interesting for the performers and for audience members who come back year after year." Says Wahl.
The show, which will feature the voices of strong women from Jersey City and will raise money for WomenRising, a local Hudson County group that empowers women from crisis to self-sufficiency.
---
The article continues after this ad
---
---
"WomenRising is a Jersey City organization that provides assistance to women and children in need, including emergency shelter, crisis intervention, education, and counseling," explained Wahl. "V-Day is a global movement to stop violence against women and girls -- which is exactly what WomenRising is advocating for here in Hudson County."
Wahl hopes the show will not just entertain, but also inform and enact change. "The only way to stop the violence is to bring light to the situation and have communities talk about it. It is our hope that these performances will help individuals become aware of what's happening, possibly closer to them than they realize, and know that there is an organization that is able to help those in need of assistance."
About The Vagina Monologues - Hailed by The New York Times as "funny" and "poignant" and by the Daily News as "intelligent" and "courageous," The Vagina Monologues, which was first performed off-Broadway by Ms. Ensler, dives into the mystery, humor, pain, power, wisdom, outrage and excitement buried in women's experiences.  Ms. Ensler has performed the play to great acclaim throughout the world -- from Zagreb to Santa Barbara, from London to Seattle, from Jerusalem to Oklahoma City.  Villard Books/Random House first publishedThe Vagina Monologues, which includes a foreword by Gloria Steinem, in February 1998.  A special edition was released in hard cover and paperback in February 2008 in honor of V-Day's ten year anniversary.
About V-Day - V-Day is a global activist movement to end violence against women and girls that raises funds and awareness through benefit productions of Playwright/Founder Eve Ensler's award winning play The Vagina Monologues and other artistic works. The V-Day movement has raised over $100 million; educated millions about the issue of violence against women and the efforts to end it; crafted international educational, media and PSA campaigns; reopened shelters; and funded over 13,000 community-based anti-violence programs and safe houses in Democratic Republic of Congo, Haiti, Kenya, South Dakota, Egypt, and Iraq. V-Day has received numerous acknowledgements and awards and is, one of the Top-Rated organizations on both Charity Navigator and Guidestar. V-Day's most recent global campaign, ONE BILLION RISING, galvanized over one billion women and men on a global day of action towards ending violence against women and girls. vday.org
What is a V-Day Campaign? - A V-Day Campaign is a catalyst for mobilizing women and men to heighten awareness about violence against women and girls. By creating this global community, V-Day strives to empower women to find their collective voices and demand an end to the violence that affects one in three women in the U.S and around the world.
V-Day Jersey City is a local effort within the worldwide context of the 2018 V-Day Campaign.