By Gary Wien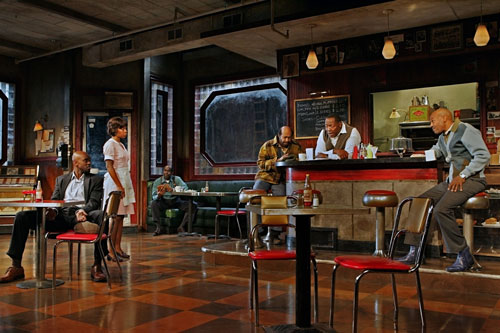 (RED BANK, NJ) -- I can still remember a conversation I had once with an African-American playwright from Asbury Park. We were talking about influences and I mentioned August Wilson's name. He hadn't heard of Wilson yet. I said, he's a brilliant playwright who penned a 10-play series on the African American experience in America. The guy said, "Why does every white playwright think they can just write about our experiences?" I replied, "He's not another white playwright..."

It's sad that August Wilson isn't as well known throughout the country as say Arthur Miller or Shakespeare, but that appears to be the case. I waited a long time for local theatre groups to perform his work and am elated at the relationship Two River Theatre has with the fantastic director Ruben Santiago-Hudson (who directed last year's "Jitney" at Two River) and an acting troupe who regularly performs Wilson's work in New York City. In fact, Ruben and several of the actors in "Two Trains Running" (currently playing at Two River Theatre in Red Bank) came directly from "The Piano Lesson" at the Signature Theatre in New York to this production. I think Wilson's work demands a certain level of experience that both the director and this fine cast have.

For anyone that doesn't know, August Wilson had just about as much critical success from his 10-play cycle as anyone could imagine. All total, the cycle earned him two Pulitzer Prizes (for "Fences" and "The Piano Lesson"), a Tony Award for "Fences", seven New York Drama Critics' Circle Awards for best play, and received Tony Award nominations for all but one play. "Two Trains Running" was itself a finalist for the Pulitzer and garnered Wilson one of his many Tony Award nominations.

As with most of his plays, "Two Trains Running" is set in Pittsburgh. This time, we're in Memphis Lee's restaurant, which is across the street from West's Funeral Home and Lutz's Meat Market. The placement is part of the grand plan of the play. As the City takes over buildings via eminent domain, all the people basically have to look forward to is their ending at West's. In fact, as with most dying cities, the funeral home is the only business thriving in town.

One regular to the restaurant named Hambone looks forward to his ham from Lutz's -- payment for painting his fence many years ago. Each day he screams out "you're gonna give me my ham" and "I want my ham" to Lutz. Played by Anthony Chisholm, Hambone is really the central character in the play and Chisholm plays him perfectly. I would be amazed if people didn't leave the theatre muttering "I want my ham!" to themselves.

As the story goes, Hambone took on the job to paint Lutz's fence. Lutz told him he'd give him a chicken for the job, but if he did a really good job he'd get a ham. Knowing that he did a fine job, Lutz kept holding out for his ham - day in and day out. As one person put it, Hambone knows more about life than most. If he agreed to the chicken, it wouldn't taste as good as the ham he wanted and he'd be depressed. It would also ruin the taste of chicken for him forever. So, day in and day out, he pressed Lutz for his ham. It wasn't pride, it was the hope that an honest day's work would earn an honest wage.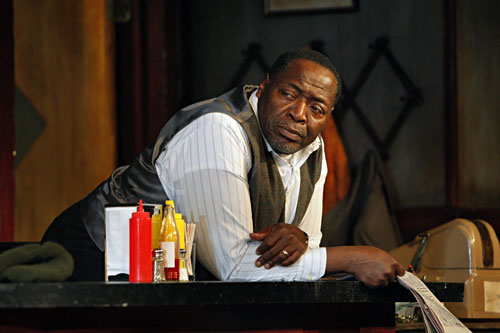 Memphis, the restaurant's owner, is holding out for a higher price than the City has offered him for his property. Like Hambone, Memphis refuses to settle. The idea of not settling seems to be something August Wilson is stressing here. Rules are always changing for these characters, so the townspeople hold their hopes and dreams with local Prophet Samuel and Aunt Esther (the long-running character in this series who is about 340 years old at this time). Both are guiding forces in the community. When the local residents feel they can't control their own destinies, they put their faith into these two.
This is truly one of Wilson's finest works. As with jazz music, there are periods when nothing much seem to be going on and then suddenly everything makes sense and you realize how brilliant the last few minutes really were. Ruben's direction is spot on with the way they play flows so well. "Two Trains Running" tells a lot about the human condition - how we live and love and try to survive. It's remarkable in its simplicity and its complex design at the same time. You've got to see it to understand what I mean there...
Two River has assembled a truly wonderful cast for this production. The play stars Chuck Cooper as Memphis, John Earl Jelks as Wolf, Roslyn Ruff as Risa, James A. Williams as Holloway, Owiso Odera as Sterling, Harvy Blanks as West, and the aforementioned Anthony Chisholm as Hambone.
The set is among the finest designs I have ever seen anywhere. Michael Carnahan, who was the scenic designer for "The Piano Lesson" at Signature Theatre, was another one of that shows transplants here. He created a restaurant/building that is utterly perfect. I loved how the building, which has a few apartments above the restaurant, even contained an air conditioning sticking out. It's little touches like that which transform the set into its own world.
"Two Trains Running" is playing now until March 3rd at Two River Theater, 21 Bridge Avenue in Red Bank, NJ. And, if we're lucky, the relationship between August Wilson's work, Director Ruben Santiago-Hudson, and Two River will continue on. After all, there are eight more plays to go!
---
Photos by Michal Daniel

---
Gary Wien has been covering the arts since 2001 and has had work published with Jersey Arts, Elmore Magazine, Princeton Magazine, Backstreets and other publications. He is a three-time winner of the Asbury Music Award for Top Music Journalist and the author of Beyond the Palace (the first book on the history of rock and roll in Asbury Park) and Are You Listening? The Top 100 Albums of 2001-2010 by New Jersey Artists. In addition, he runs New Jersey Stage and the online radio station The Penguin Rocks. He can be contacted at gary@newjerseystage.com.
---