By Gary Wien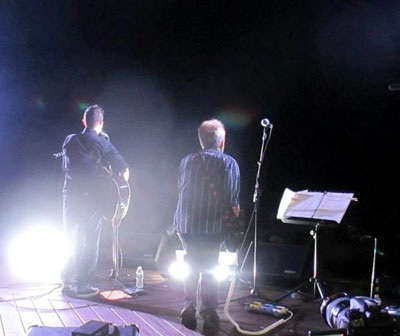 (BELMAR, NJ -- AUGUST 29, 2013) -- It was supposed to be the first concert in this year's 90.5 Songwriters Series, but it wound up being the last... And it was worth the wait. The show finished up what hopefully will be the first of many years in Belmar with a huge crowd (the biggest of the ones I was able to attend) and amazing music by The Sunday Blues and Richard Barone.

The Sunday Blues kicked off the night with songs from their recently released disc, City Folklore, as well as a few new tunes. It was fun seeing Lindsey Miller and Keith McCarthy get the opportunity to play in front of a large crowd and they sounded great! I love seeing artists get out of their comfort zone to see how they'll do and these two hit it out of the park.

"It was awesome to look at the ocean while we played, it was a great crowd and it looked as if everyone was really listening!" said Lindsey Miller. "It certainly was one of the biggest crowds we ever played for, especially cool, because it was basically full of people who had never heard our music before or even knew us. We sold a bunch of CD's and got really great feedback from all the people. I'd say it was a wonderful night."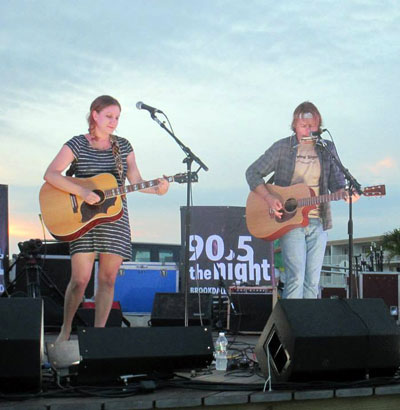 It's kind of funny hearing a band like The Sunday Blues play new songs just weeks after having a CD released, but the new songs really sound to me as if they're among the band's strongest material. I guess they recognize that too and don't want to wait to play them. It's nice to see that their writing has not only continued, but is getting better and better. Hopefully it won't take another 4-5 years for them to release a followup record.
Up next was Richard Barone who was joined by his Bongos bandmate, Rob Norris, on bass. "Like I said on Facebook today, it's two Bongos for the price of none!" said Barone. This set was a real treat as the two of them circled through a virtual Greatest Hits of Richard's solo career and songs by The Bongos - including songs like "My Wildest Dream" from the band's long-awaited and soon-to-be-released album Phantom Train. The set list also included "The Bulrushes", "I Belong To Me", "Miss Jean", "Tangled In Your Web", "River To River", "In The Congo", "Video Eyes", "Barbarella", and the closer, "Number With Wings".
In between Richard played a couple of rarities like his "Hey, Can I Sleep On Your Futon?" tune that was inspired by the classic "Brother, Can You Spare A Dime?" -- a Great Depression era tune. Richard's song was recorded for the Occupy This Album record. Richard also gave a wonderful cover of "It's Only Love" by The Beatles.
One of the highlights of the night came from when Richard tried staring out into the crowd, but struggled to see past a handful of people. He asked if anyone was out there and if they were to light up their cell phones. A sea of lights soon filled the beach. "I wish I could put this on my Instagram," said Richard as he gazed out from the stage.

"The Jersey Shore is a very special, almost sacred place for me that I've been going to every summer for most of my life," Richard said via email. "I've written many songs and performed many of my most memorable shows there, such as that last night of the Green Parrot. So to have a concert there now, especially on the actual Beach of Belmar and after the devastation of last year's Hurricane Sandy, was something very close to my heart.
"I always feel a special kind of love and acceptance from the Shore crowds - It's a rare sensation of being onstage yet also feeling I am part of the crowd myself," he continued. "Last night's show was about connecting - connecting the past and present with the songs we chose, and connecting with the awesome crowd in every way we could. It was such a beautiful, clear, cool breezy night - a perfect beginning to that last weekend of summer. I wanted to see and sense every person in the audience. That's why I asked them to light up their phones. It looked so beautiful from the stage; Like hundreds of stars twinkling and glowing right there on the beach. Which is, in a way, exactly what they were."
Sometimes it's easy to forget just how important The Bongos and Richard Barone's music was to New Jersey music history, but these songs are like classic rock to many of us. Richard was the last artist to perform at the legendary Green Parrot rock club and recently performed with The Bongos on the last official night of Maxwell's in Hoboken. Those two nights are like bookends on a stellar career that is far from done. In fact, the new release by The Bongos is about to write a new chapter in the band's history and introduce them to a whole new generation of fans. The Bongos, to me, are like a new wave version of The Velvet Underground. Their songs always reached towards places others dared not go. Musically and lyrically, both bands were extremely unique, highly influential, and timeless.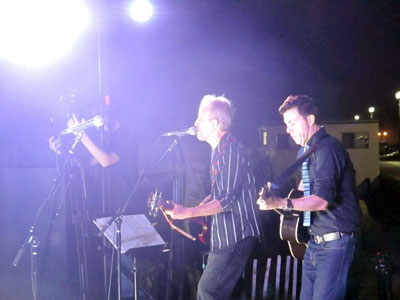 For someone like me that lives in Belmar, it's hard to express just how great it is to have 90.5 bring their Songwriters series to town. Music on the beach and boardwalk has always been a huge part of my summers, and being able to walk to a free show like this is incredible. Plans for 2014 are still up in the air, but I'm hopeful the series will return to Belmar. Watching the size of the crowd build after each show, I know I'm not alone. With the Taylor Pavilion being rebuilt, 90.5 just might be able to have the best of both worlds in Belmar -- a tremendous location on the beach and boardwalk, plus an indoor facility in case of rain. And, judging by the weather of the last few years, an indoor location next door would be very welcome.
"Nothing says summer on the Jersey Shore more than hanging on the beach with friends, listening to great tunes," said Rich Robinson of 90.5 The Night. "That's basically what Songwriters on the Beach was all about. Thanks to the people of Belmar for letting us bring our weekly party to the beach. Hope we can do it again next year."
---
Photos courtesy of Jeff Raspe of 90.5 The Night.
---
Gary Wien has been covering the arts since 2001 and has had work published with Jersey Arts, Elmore Magazine, Princeton Magazine, Backstreets and other publications. He is a three-time winner of the Asbury Music Award for Top Music Journalist and the author of Beyond the Palace (the first book on the history of rock and roll in Asbury Park) and Are You Listening? The Top 100 Albums of 2001-2010 by New Jersey Artists. In addition, he runs New Jersey Stage and the online radio station The Penguin Rocks. He can be contacted at gary@newjerseystage.com.
---