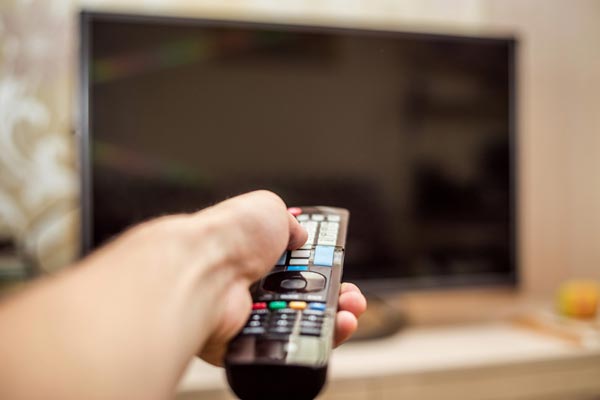 The award-winning playwright and New Jersey native, Christopher Durang, is back with Turning Off The Morning News - his third World Premiere commission for McCarter Theatre in Princeton. It serves as a follow up to his Tony Award-winning play Vanya and Sonia and Masha and Spike, and runs from May 4th through June 3rd.
This time around, Durang is back with a new cast of eccentric characters - starting with Cliff and Salena, whose across-the-street neighbors are somewhere between peculiar and stark raving mad.  This decidedly dark and daring comedy takes aim at today's absurd and dangerous world.
The cast includes Jenn Harris, Rachel Nicks, Nicholas Podany, Krisine Neilsen, Robert Sella, and John Pankow.  McCarter Theatre's Artistic Director and Resident Playwright Emily Mann directs the production.
Mann and Durang have known each other for a long time and the story of their professional collaboration and friendship will be told before each performance via a 20-minute talk led by a member of McCarter's artistic staff.  The Inside Story, as it is called, takes place 45 minutes prior to each performance.  It reveals what inspired Durang to write the play and the hallmarks of "Durangian comedy"; Mann's directorial vision for the play; and offers a few things to look for during the performance.
In a letter to McCarter subscribers, Emily Mann detailed the origins of her relationship with Durang and her thoughts on Turning Off The Morning News.
---
The article continues after this ad
---
---
"I first met Chris when we were students in William Alfred's playwriting seminar at Harvard, and I remember Alfred predicting that Chris was going to be a new voice for his generation," recalled Mann. "Chris's writing was unlike anything I had ever heard before, and I was amazed by his brilliance. It was a delight when we were reconnected many years later by fellow playwright and mutual friend, Wendy Wasserstein."
"With this reconnection, my professional collaboration and close friendship with Chris began. McCarter commissioned him to write the play that would become Miss Witherspoon, which I had the pleasure of directing here and at Playwrights Horizons in New York City in 2005. On the opening night of Miss Witherspoon, I gave Chris another commission, which brought us his enormously successful Tony Award®-winning play Vanya and Sonia and Masha and Spike. Now, I am thrilled to be directing his latest world premiere and McCarter commission: Turning Off the Morning News."
"I love working with Chris Durang. He is clear sighted and generous. An absolutely unique voice in the American theatre, Chris is able to take on disturbing questions and issues that in another writer's hands would take the form of tragedy and spin it into comedy. This is his own particular alchemy, his singular sense of humor and extraordinary craft as a playwright and a theater maker. I am honored that McCarter is an artistic home for Chris, and it is an exciting event to bring his newest play to life on our stage."
"At its heart, Turning Off the Morning News explores the absurdity of our modern world. A fierce exposure of the ways that our personal and societal anxieties can bring out the worst in us, it also gently reveals the antidote—reaching out beyond ourselves to find connection with others. In the end, isn't the desire for this kind of connection why we all go to the theater? Gloria Steinem once said: 'laughter breaks out when two thoughts come together and suddenly make a third, when we understand or learn something, when we recognize a truth.' Chris's talent for dark comedy shows us recognizable truths of modern society, while keeping us laughing throughout."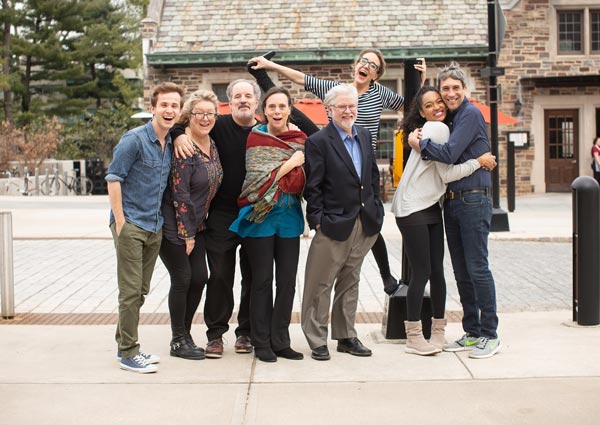 Director Emily Mann and Playwright Christopher Durang (center) with the cast of Turning Off The Morning News.  Photo by Matt Pilsner. The play runs from May 4th through June 3rd in the Berlind Theatre.