By Gary Wien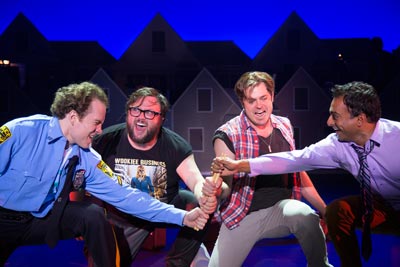 (NEW BRUNSWICK, NJ) -- Whether you thought the eighties were awesome or not, you're bound to have an awesome time at "Getting the Band Back Together".    Based on what I saw, the season opener for George Street Playhouse will not only be a major hit locally, but will very likely shoot up the road and be a hit on Broadway for the next few years.  More of a comedy than a straight musical, it's the type of play that has universal appeal; it's got wonderful music, is very funny, and puts forth the optimistic mantra that it's never too late to follow your dreams.  It has just the right amount of campiness, hilarity, and sentimentality; and the music is pretty good too!

The world premiere musical opens George Street's 40th anniversary season. The play begins with a birthday celebration at the office for Mitch Martino, a former musician turned investment banker on Wall Street.  As he holds up a cupcake with a lit candle in it, he quietly sings:

"Happy Birthday... Happy Birthday Mitch
Turning 40... Ain't that a bitch"

In a matter of moments he's fired from his job and forced to return home to live with his mother in Sayreville, New Jersey.  The raucous musical number "Jersey!" (which features the chorus "In Jersey... Hell Yeah!") follows him on his ride via the Garden State Parkway to what he imagines will be his own private hell.  The song sets up one of the major themes of the play -- his hometown may be a great place to live, but it's not New York.  In fact, the song pokes fun at the Garden State by describing New Jersey as "otherwise known as New York, Plan B" -- a line that will play well to New York audiences.

We then flash forward to his childhood rival -- Tygen Billows, the lead singer in Mouthfeel, a band beaten by The Juggernauts (led by Mitch) in the first ever Battle of the Bands competition in Sayreville.   While Mitch gave up music for a career, Bart soldiered on, winning the next 20 Battle of the Bands trophies, touring as the opener for Ratt, and earning enough money from a television jingle to buy half of the properties in town.  As he stares at his Battle of the Bands trophy case, he knows he wants the one that's missing... and one he believes should have been his all along.

It doesn't take long for Mitch to run into his childhood friend and neighbor (Bart Vickers), his high school girlfriend (Dani Franco), and Tygen Billows.  Mitch originally shrugs off Bart's suggestion that they get the old band back together, but a foreclosure notice on his mother's house forces him to rethink the idea.  He winds up making a deal with Tygen: if the Juggernauts win at the Battle of the Bands, Tygen agrees to stop the foreclosures and if Tygen wins he'll get the trophy he's long sought.

Of course, there's just one little problem... Tygen's band has been playing and practicing every day for years and Mitch doesn't even have a band yet.  So, Mitch and Bart try to convince (and sometimes blackmail) their old bandmates to get on board.  One is a policeman trying to pass the detective test (although he hates the job), another is a math teacher (who sucks at math and hates his job), and another is a dermatologist (who basically hates his job).  Mitch learns that the final member, Kenny (as in "they killed Kenny...") passed away a few years ago while playing in a Meatloaf tribute band called Anything For Loaf.

Mitch recalls how the last time he saw Kenny was at his father's funeral.  Kenny was broke, had no job, and was driving around with all of his music gear in a Dodge Caravan.

"I remember thinking, I have a 401K, health insurance... why am I jealous of this guy?" said Mitch as the guys launched into "Kenny's Hymn" -- a wonderful ode to an old friend, and one of the best songs of the show.

Bart recruits Ricky Bling, one of his math students, to replace Kenny after auditions reveal that America is apparently lacking for talent.  Bling looks like he would be better suited for a hip hop group and wants no part of hanging with guys twice his age, but can play guitar like a prodigy and the band eagerly accepts him.

"Getting the Band Back Together" has a bit of everything for the 80s fan.  There are musical numbers which sound like songs you would have heard on the radio in the 80s, scenes that look like MTV videos with lighting and slow-mo effects, Rocky-like montages, a hilarious first gig for the band, a dramatic reading of "Jessie's Girl" -- and even plot twists which involve Mitch's mom and her days a groupie (she prefers the term "traveling rock enthusiast") with a famous musician and her return to the dating world with a surprising new beau.

"Jersey!", "Kenny's Hymn", "Ride On, Cowboy", "Bart's Confession", and "Power Tool" were my favorite songs. The music is mostly comedic in nature, but features strong melodies. You may not remember entire songs afterwards, but the choruses will stick with you and keep the laughs coming.

Throughout the play, we're treated to amazing performances by the entire cast but especially Brandon Williams who steals scene after scene as the "arch nemesis" of Mitch.  Jay Klaitz is wonderful as Mitch's old friend and neighbor.   Alison Fraser is simply amazing as Sharon Martino, playing Mitch's mother with a scratchy, northern New Jersey-like voice and a look as if she's aiming for a reality show of her own.  Of course, Mitchell Jarvis holds everything together as Mitch.  He does a great job of portraying a man who thought he abandoned childish dreams, but learned that sometimes we all need a little kid inside of us.

Written by Ken Davenport and The Grundleshotz with music and lyrics by Mark Allen, "Getting the Band Back Together" is really about keeping dreams close to one's heart.  As Mitch learns, you're never too old for a do-over.
---
 "Getting the Band Back Together" runs now through October 27th at George Street Playhouse (9 Livingston Avenue, New Brunswick, NJ). The play is performed in two acts with a 15-minute intermission. It features adult humor and is probably best suited for ages 14 or 15 and up. Think of the humor as if it's of the South Park variety...

All photos by T. Charles Erickson
---
Gary Wien has been covering the arts since 2001 and has had work published with Jersey Arts, Elmore Magazine, Princeton Magazine, Backstreets and other publications. He is a three-time winner of the Asbury Music Award for Top Music Journalist and the author of Beyond the Palace (the first book on the history of rock and roll in Asbury Park) and Are You Listening? The Top 100 Albums of 2001-2010 by New Jersey Artists. In addition, he runs New Jersey Stage and the online radio station The Penguin Rocks. He can be contacted at gary@newjerseystage.com.
---