By Gary Wien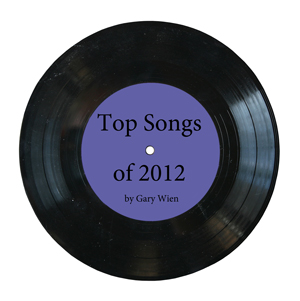 It's that time of the year again when music journalists and critics praise their favorite songs and albums of the year. Personally, I simply can't rank the songs of the year, I prefer to put them together for a true music playlist. Thus, the songs listed here aren't in any particular order other than I liked the way they flowed together. I love all of these tunes and I hope you get the chance to check out these great artists. The full mix comes out to about 3 hours and will be aired on ThePenguinRocks.com several times in January.
Top Songs of 2012 Playlist
Justin Townes Earle - Am I That Lonely Tonight?
Smalltown Poets - Charlie Brown's Lament
Keith Monacchio - Coffee House
Mike June & The Wilson Street Refugees - Death of New York
Kate Earl - One Woman Army
The Deadfields - Till the Next Time
Gotye - Somebody That I Used To Know
The Decemberists - One Engine - The Decemberists
Tony Tedesco & Full Fathom 5 - Virginia
The Stamps - The Continuing Story of How I Learned to Smoke With My Left Hand
Imagine Dragons - It's Time
George Wirth - Righteous Man
Bob Burger - Piano At The Bottom
The Dirty Panties - Pretty In Pink
The Lumineers - Ho Hey
JD McPherson - North Side Gal
Arlan Feiles - Tomorrow's Gonna Be A Better Day
James Deely - Last Ride
Stellar Corpses - Dead Stars Drive In
Lo Kloza - Hot Air Balloon
Ryan Culwell - Walking Away
John K. Samson - When I Write My Master's Thesis
Hey Rosetta! - Seeds
fun. - We Are Young (feat. Janelle Monáe)
Val Emmich - Audience
Neon Trees - Everybody Talks
Metric - Youth Without Youth
Here & Sea - My Estella Stone
Scott Miller and Rayna Gellert - Someday Sometime
The Gaslight Anthem - "45"
Anthony D'Amato - On the Banks of the River Where I Died
The Avett Brothers - Live And Die
Radio Drive - Rising
Red Wanting Blue - Audition
John Eddie - Just A Song
Playmaker - Helicopter
Zak Smith - Brand New Party
Kyle Adem - Sunlight & The Sea
The Killers - Runaways
Kevin John Allen (with Jerzy Jung) - The Big Goodbye!
Moon Motel - Blanket
Mike June - The Lucky One
Japandroids - The House That Heaven Built
Elevator Art - Tent City
The Shins - Simple Song
Bruce Springsteen - Land of Hope and Dreams

Listen to great tunes like these every day on The Penguin
---

Gary Wien is a three-time winner of the Asbury Music Award for Top Music Journalist. He currently writes for NewJerseyStage.com and Jersey Arts, and serves as Program Director for ThePenguinRocks.com, an online radio station spinning indie rock and roll.

---
---
Gary Wien has been covering the arts since 2001 and has had work published with Jersey Arts, Elmore Magazine, Princeton Magazine, Backstreets and other publications. He is a three-time winner of the Asbury Music Award for Top Music Journalist and the author of Beyond the Palace (the first book on the history of rock and roll in Asbury Park) and Are You Listening? The Top 100 Albums of 2001-2010 by New Jersey Artists. In addition, he runs New Jersey Stage and the online radio station The Penguin Rocks. He can be contacted at gary@newjerseystage.com.
---