---
For great Jersey music and much more, tune into our radio station at AsburyMusic.com
---
Top Songs Of 2012 -- a music playlist for you
By Gary Wien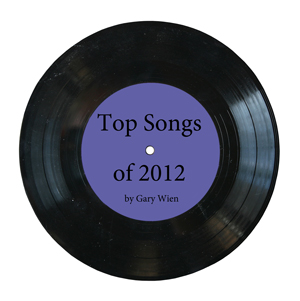 It's that time of the year again when music journalists and critics praise their favorite songs and albums of the year. Personally, I simply can't rank the songs of the year, I prefer to put them together for a true music playlist. Thus, the songs listed here aren't in any particular order other than I liked the way they flowed together. I love all of these tunes and I hope you get the chance to check out these great artists. The full mix comes out to about 3 hours and will be aired on ThePenguinRocks.com several times in January.
Top Songs of 2012 Playlist
Justin Townes Earle - Am I That Lonely Tonight?
Smalltown Poets - Charlie Brown's Lament
Keith Monacchio - Coffee House
Mike June & The Wilson Street Refugees - Death of New York
Kate Earl - One Woman Army
The Deadfields - Till the Next Time
Gotye - Somebody That I Used To Know
The Decemberists - One Engine - The Decemberists
Tony Tedesco & Full Fathom 5 - Virginia
The Stamps - The Continuing Story of How I Learned to Smoke With My Left Hand
Imagine Dragons - It's Time
George Wirth - Righteous Man
Bob Burger - Piano At The Bottom
The Dirty Panties - Pretty In Pink
The Lumineers - Ho Hey
JD McPherson - North Side Gal
Arlan Feiles - Tomorrow's Gonna Be A Better Day
James Deely - Last Ride
Stellar Corpses - Dead Stars Drive In
Lo Kloza - Hot Air Balloon
Ryan Culwell - Walking Away
John K. Samson - When I Write My Master's Thesis
Hey Rosetta! - Seeds
fun. - We Are Young (feat. Janelle Monáe)
Val Emmich - Audience
Neon Trees - Everybody Talks
Metric - Youth Without Youth
Here & Sea - My Estella Stone
Scott Miller and Rayna Gellert - Someday Sometime
The Gaslight Anthem - "45"
Anthony D'Amato - On the Banks of the River Where I Died
The Avett Brothers - Live And Die
Radio Drive - Rising
Red Wanting Blue - Audition
John Eddie - Just A Song
Playmaker - Helicopter
Zak Smith - Brand New Party
Kyle Adem - Sunlight & The Sea
The Killers - Runaways
Kevin John Allen (with Jerzy Jung) - The Big Goodbye!
Moon Motel - Blanket
Mike June - The Lucky One
Japandroids - The House That Heaven Built
Elevator Art - Tent City
The Shins - Simple Song
Bruce Springsteen - Land of Hope and Dreams

Listen to great tunes like these every day on The Penguin
---
Gary Wien is a three-time winner of the Asbury Music Award for Top Music Journalist. He currently writes for NewJerseyStage.com and Jersey Arts, and serves as Program Director for ThePenguinRocks.com, an online radio station spinning indie rock and roll.
---
---
For more by this author, click here
---


NJSO presents 2019 Winter Festival, 'Music Speaks'
(NEWARK, NJ) -- A trio of renowned guest artists with distinct musical voices—pianists Emanuel Ax and Daniil Trifonov and soprano Dawn Upshaw—headline the NJSO's Winter Festival, "Music Speaks," in January 2019. The Orchestra's signature artistic event takes place across three weekends, January 10–27, in six New Jersey venues.
---
RVCC Chorale to Perform Annual Holiday Concert on December 8th
(BRANCHBURG, NJ) --The RVCC Chorale will give its annual holiday concert on Saturday, December 8 at 8:00pm in the Welpe Theatre at Raritan Valley Community College's Branchburg campus. The program will feature Johann Sebastian Bach's cantata, Das Neugeborne Kindelein, as well as a cappella pieces from by Sergei Rachmaninov, Zoltan Kodaly and Giuseppe Verdi. The program also will include an audience singalong of traditional carols.
---
Classic Stones Live! The Complete Rolling Stones Tribute Show Comes To SOPAC
(SOUTH ORANGE, NJ) -- The Rolling Stones, the greatest Blues band of all time, couldn't make it to SOPAC on their 2018 tour. Instead, the acclaimed tribute band Classic Stones Live! makes an appearance on the SOPAC stage December 15 at 8:00pm for those who like to hear their Rolling Stones hits live.
---
Tony Trischka Presents "Of a Winter's Night" at the Morristown Unitarian Fellowship
(MORRISTOWN, NJ) -- Of a Winter's Night is Tony Trischka's acoustic celebration of the holiday season. Based on his CD release of the same name, this concert features Trischka's considerable melodic inventiveness on a wide variety of seasonal tunes. He turns his inventiveness loose on bluegrass and Americana music for the holidays. This one of a kind concert will take place at the Morristown Unitarian Fellowship on Saturday, December 8 at 7:30pm.
---
Idle Wave To Hold Record Release Party At Asbury Park Brewery
(ASBURY PARK, NJ) -- Pop-punks Idle Wave will celebrate the release of their self-titled EP on Saturday, December 1st at Asbury Park Brewery.  The record release show also includes performances by Skyeline, Roderick, and Pollyanna.
---


"An Amazing Musical Genius!" Brian Wilson LIVE! at the State Theatre
In the music room in the back of our house, there's an electric bass and amp, two acoustic guitars, a microphone and PA speakers, several pieces of music recording equipment, and a bookcase filled with books on music, not to mention a slew of assorted music memorabilia. But, perhaps, one of the most highly prized items in the room is hanging directly above the piano next to the college music diplomas.
---
Jazz Saxophonist Don Braden LIVE! at Toms River's Grunin Center
It's a breezy day for a new installment of the Jazz On a Sunday Afternoon concert series at Toms River, NJ's Grunin Center of the Arts this Sunday Oct. 27, 2018 afternoon. Today's special 3pm performance is entitled Earth, Wind and Wonder and is presented by jazz saxophonist Don Braden.
---
Charlie Thomas' Drifters, The Classics IV, and The Brooklyn Bridge LIVE! at The Strand, Lakewood
The stars are out this Saturday Oct. 26, 2018 evening in Lakewood, NJ for a "Golden Oldies" concert featuring Charlie Thomas' Drifters, The Classics IV, and The Brooklyn Bridge!
---
PODCAST: Grammy Winner Terri Lyne Carrington At TD James Moody Jazz Festival
Drummer, leader, and composer Terri Lyne Carrington made history as the first woman to win a Grammy for Best Instrumental Jazz for her album "Money Jungle: Provocative in Blue." Now, she brings her interpretation of Duke Ellington's "Money Jungle" to the TD James Moody Jazz Festival at NJPAC on November 11, 2018, as part of a program called "Jazz Vinyl Revisited." Producer Susan Wallner talks to Carrington about her connections to the jazz greats Clark Terry and Max Roach; her newest project, the Berklee Institute of Jazz and Gender Justice; and why she thinks drummers make natural leaders.
---
Sha Na Na LIVE! at the Newton Theatre
The audience is streaming into the Newton Theatre auditorium in Newton, NJ this Friday, Oct. 19, 2018 for a live concert starring Sha Na Na!
---
Event calendar
Thursday, Nov 15, 2018
---
MUSIC

---
---
---
TOTO

@ Mayo Performing Arts Center (MPAC), Morristown - 8:00pm
---
THEATRE

---
---
---
Apples In Winter

@ Centenary Stage Company - Kutz Theater of the Lackland Center, Hackettstown - 7:30pm
---
---
---
---
DANCE

---
---
FILM

---
---
View all events
---