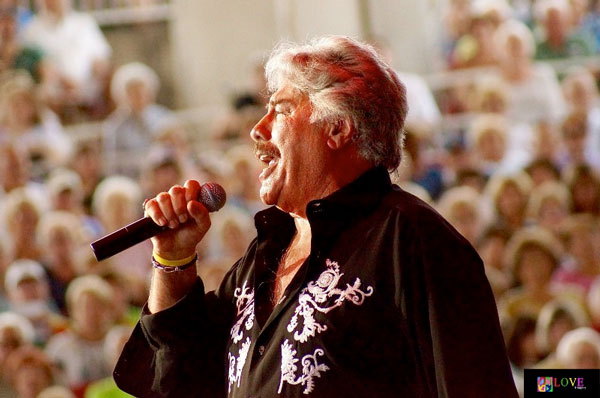 It's March 11, 1972.
I am seven years old and I am heading to my very first concert at Madison Square Garden! I am told I am going to see David Cassidy!
My brother Marc, fifteen, and the oldest of four siblings, is in charge. He leads all four siblings up the escalators. Up. Up. Up. Are we ever going to get there? More escalators? "What's David doing at the top of all of these escalators anyway?," I ponder in my seven-year-old mind, as somehow I think I'm actually going to meet David Cassidy!
We finally arrive to the tippy top of the nosebleed section. I view what looks like a tiny stage way down below. We all sit, and wait with baited breath and unbridled enthusiasm.
Finally, 77 WABC radio DJ Bruce "Cousin Brucie" Morrow takes the stage and introduces the opening act. To our amazement, it's Tony Orlando and Dawn! They sing "Knock Three Times" and "Tie a Yellow Ribbon." We love them! It is the formal beginning of a lifelong love for live musical performances.
---
The article continues after this ad
---
---
Fast forward to September 22, 2016.
The sun is shining and there's a slight breeze in the air. Once again, Marc and I are seated in an open auditorium. This time we are ready with over 7000 attendees to take a stroll down memory lane at the PNC Bank Arts Center to watch Tony Orlando! We discuss what is now known as Cassidy's landmark concert of '72 and ponder how our mom even got the tickets in the first place and how much they cost.
We check our iPhones. Though we are all grown up now, and life and the world have changed so much, some things still stay the same: we still sit and wait with the same childhood wonder and unbridled enthusiasm for a live musical performance by a musical icon from our youth, Tony Orlando.
Today's concert is part of the Garden State Arts Foundation's 2016 "Senior Concert Series," which offers free concerts to NJ residents 55 and older. The Garden State Arts Foundation has offered performances at no cost since 1984. Ronald Gravino, Vice President of GSAF's Board of Trustees confirms that "no federal, state, local, or Garden State Parkway toll money" is used to fund these performances. Instead, the programs are presented by donations from such long-time GSAF partners as PNC Bank, Live Nation, Serius XM '60s on 6 radio, WOLD Oldies 1079 radio, Sills Cummins and Gross, and the Hon. Jerold Zaro, in addition to support from new partners including The Two River Times, the Hon. Jerry Langer, The Hovnanian Foundation, NJ Resources, First Energy, and Sen. Joseph M. Kyrillos, Jr., along with contributions from the general public.
This banner day is off to a patriotic start with the playing of "The Star Spangled Banner." Unbeknownst to the audience at the time, the symbolism of our nation's freedom and patriotism will take on a stronger stance as the concert unfolds. The NJ Vietnam Veterans Memorial sits just across the way. The audiences' faces view the vivid red, white, and blue of the American flag.
First up is funny man Joe Cardone. He delights the audience with rapid fire jokes and stories, and assures us that while he has performed in this venue quite a few times, his comedy is always new.
The patriotic theme continues as Cardone reminds the crowd, "You need to laugh more. Enjoy the fact that you are American! Be grateful for being American. God bless America."
The crowd is now warmed up and sitting eagerly awaiting the performer they came out to see and hear today…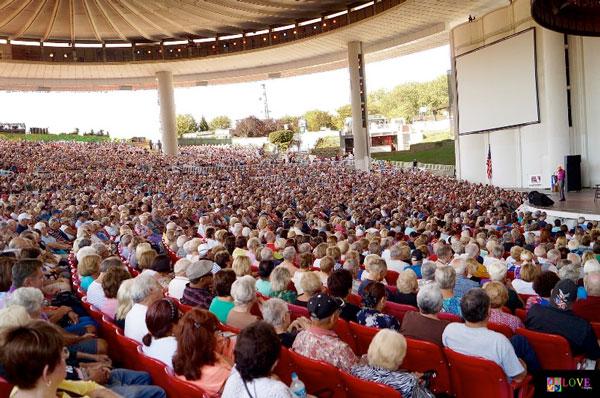 Soon, singer, entertainer, and performer extraordinaire, Tony Orlando, takes the stage and immediately bonds with the audience.
"Every time I come here I realize we all got gray together!," he quips.
Jean Brown, a woman who has worked diligently for the GSAF for 25 years, enters the stage to receive a plaque. To her and the entire audience's unexpected surprise, Tony begins to croon Joe Cocker's "You Are So Beautiful" to her. He holds her hand. The audience responds with sweet "awwws." They dance together. The audience erupts in applause and everyone sings to Jean, "You are so beautiful… to me."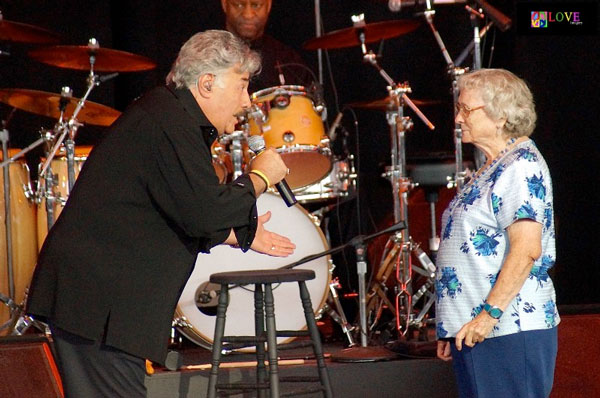 The crowd immediately sings, claps, taps their feet, and even knocks (three times!), as Tony Orlando belts out his top hits with which we are most familiar. These pop tunes include "Tie a Yellow Ribbon," "Candida," "Knock Three Times," "Say, Has Anybody Seen My Sweet Gypsy Rose," and "He Don't Love You (Like I Love You)." Orlando's voice is strong, and he is incredibly energetic. I feel like I am back at his concert in '72!
Jokingly, Orlando begins each tune telling the crowd during which year in the 1800s it was made. He asks them, "Do you remember these songs?" and when they cheer, he adds, "Thank God they remember!" He reminds them that this is his 56th year in show business and states, "Thank you for all the years you've given me. God bless you!"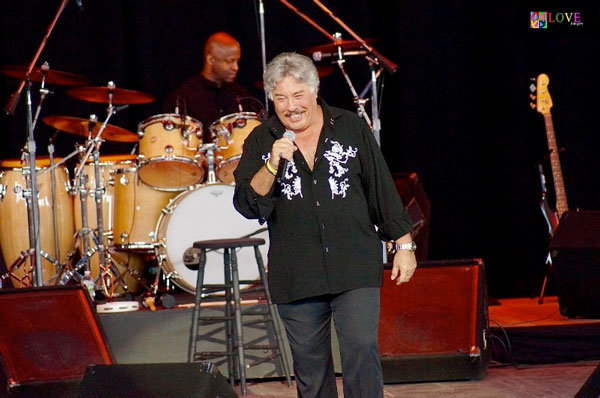 Throughout the concert, Tony describes his early years.
He was born and raised in New York City, where he declares, "Half the people were cab drivers and the other half of the people robbed the cab drivers. That's the neighborhood I came from."
He was discovered by producer Don Kirshner, a man some describe as "the man with the golden ear." Orlando recalls that Kirshner's offices were surrounded by such young music legends as Neil Sedaka, Neil Diamond, Carole King, and Simon and Garfunkel. He recalls it was "a great time to start our careers with Donnie." He reveals his Jersey connection having lived in Union City, West New York, and Hasbrook Heights. He earnestly goes on to assure the audience, "No area of the country ever treats me like you guys!"
The audience is also treated to the smooth sounds of Carole King's "Will You Still Love Me Tomorrow." Tony prompts the audience line-by-line as they repeat after him and sing each soulful lyric. Keyboardist Toni Wine takes a verse and adds her lovely voice singing, "Tonight, you're mine, completely/ You give your love so sweetly/Tonight the light of love is in your eyes/But will you love me tomorrow?" This is followed by a beautiful rendition of "A Groovy Kind of Love," which brings the audience to its feet in a dynamic standing ovation.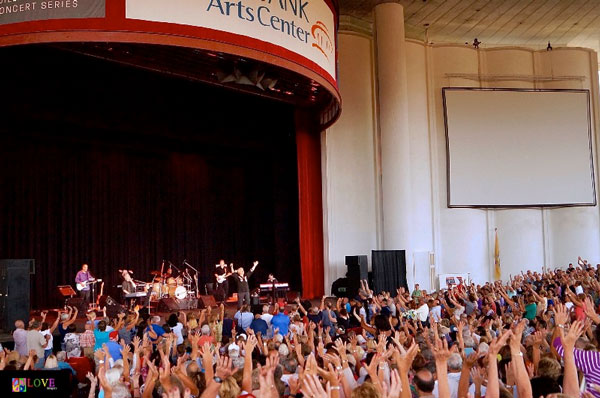 Toni Wine is an American pop music songwriter and singer in her own right. Not only did she write Tony's Top Ten hit, "Candida," but she also wrote "A Groovy Kind of Love," with Carole Bayer Sager, for The Mindbenders, in addition to songs for other artists, notably Elvis Presley. When asked which is her favorite song, she states that it is Checkmates Ltd.'s hit "Black Pearl," which she co-wrote with Phil Spector. In addition, Toni sang backup on Barbara Streisand's Top 10 LP "Stoney End" and Willie Nelson's Grammy-winning "You Were Always On My Mind." She also reveals that she and Valerie Simpson (co-writer of "Ain't No Mountain High Enough") are the "Babylon Sisters" on Steely Dan's platinum album "Gaucho."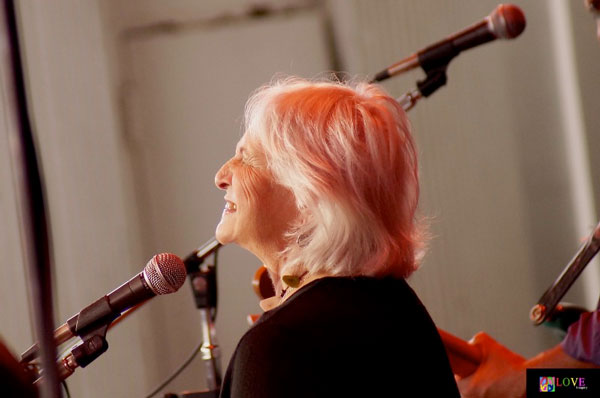 Other highlights from Tony and the band include a lively performance of Paul Simon's "You Can Call Me Al." The audience claps, cheers, and rocks in their seats as drummer, Tim Pope, pounds his sticks on a stage stool and then — at Tony's urging — moves his dynamic solo right onto the stage floor!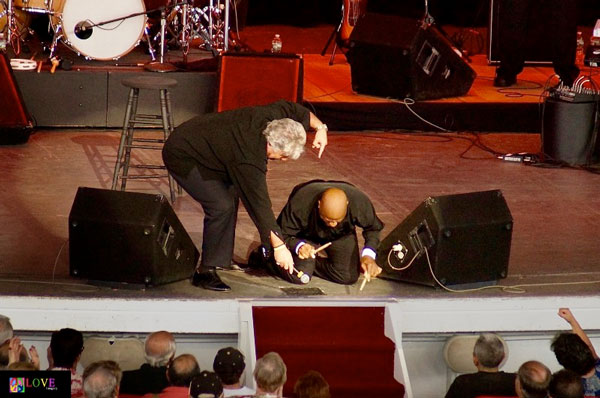 In addition, keyboardist Kerry Cole performs a wide range of incredible vocal impersonations including Willy Nelson, Sony Bono, and Cher. He also grits out Joe Cocker's lyrics with ease. "What would you do if I sang out of tune/Would you stand up and walk out on me?" The audience is completely entertained by the array of talent on stage as Tony yells, "Do I have a band!"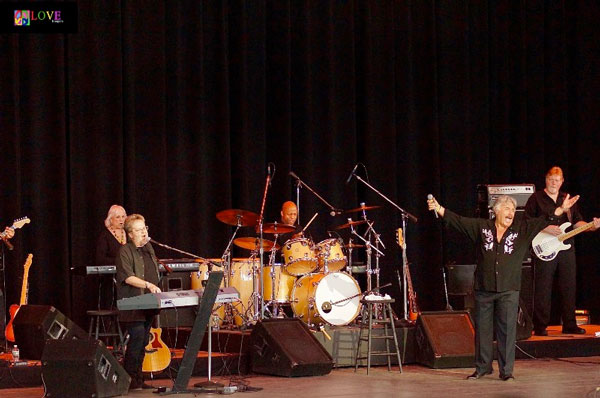 The patriotic theme peaks as Orlando sings Neal Diamond's hit, "America," which is cleverly interspersed with a moving tribute to all veterans in the audience. Tony asks veterans from each war to stand throughout the song, beginning with WWII as a handful of men stand. He then asks those who served in Korea to rise and about 50 people stand. For each group, Tony croons, "We want to thank you so much." Next up, he asks the Vietnam Vets to rise. There are many. Orlando tells them, "You were disrespected. No parades. You never complained. You held your heads up. We owe you an apology. Welcome home!" The audience cheers and shouts in unison, "Welcome home! Welcome home!," as some of America's finest are reduced to tears.
After this, Tony asks veterans from Desert Storm to rise. There is one woman in the front who stands and is thanked. Although there are no veterans from Iraq or Afghanistan in this 55 and over crowd, family and friends stand in their honor as the audience sings with Tony, "They put their life on the line for America! We want to thank you so very much!"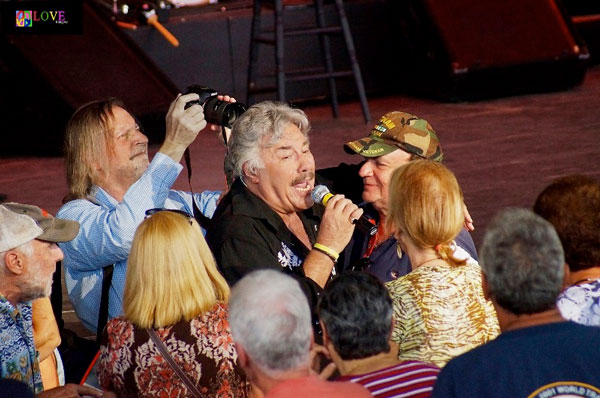 The musical crescendo rises as Johnny Petillo — formerly of The Duprees and Danny and the Juniors — takes the stage with Tony. Both nostalgia and fun are in the air as the audience sings and sways to these tunes of their early years including the Duprees' "You Belong to Me" in addition to such classics as "Blue Moon," "Silhouettes," and "Tears on My Pillow."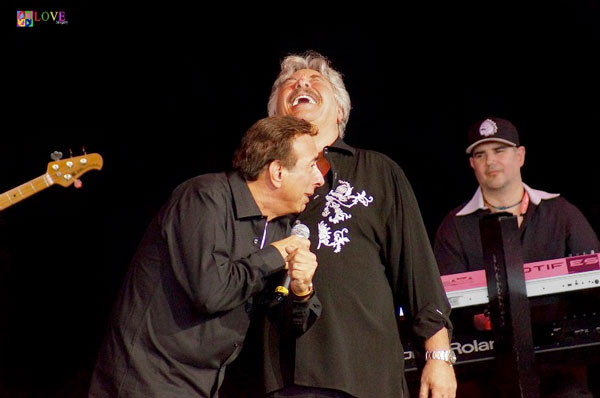 Petillo hails from Asbury Park and reveals "there is nothing like performing in New Jersey." When asked how he likes still performing these oldies, he confirms joyfully, "You never get old to rock and roll!"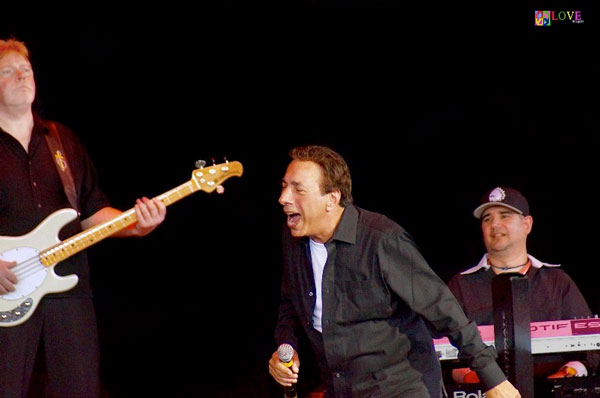 After that, the audience is ready to stand, cheer, sing, and shout as Orlando and keyboardist Kerry Cole perform a lively version of the Rolling Stones' "Satisfaction," everyone singing, "I can't get no/I can't get no/Satisfaction!" And if that's not enough to satisfy this crowd, that tune is followed by a lively version of "Johnny Be Good," Orlando energetically strutting across the stage to the music.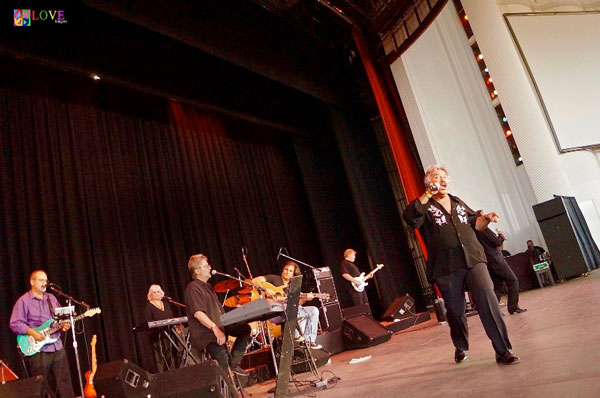 When it comes time for Orlando to sing a final reprise of "Tie A Yellow Ribbon" and depart the stage, the crowd jeers. Orlando reminds them, "I'm 72 years old!" All of us could probably reminisce and enjoy the music of the past decades all day!
As Tony exits the stage, we reluctantly return back to 2016 — exiting the auditorium as adults, but bringing a bit more of our childhood back home with us.
The truth is: Tony Orlando is more than a singer. He has the ablity to reach an audience, touch us inside, and connect with us on a higher level with his voice, style, and values. This is what he means to me, and I believe this is what he means to New Jersey.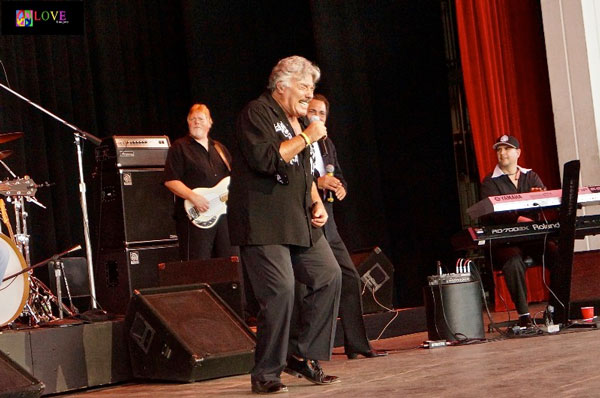 Upcoming events for Tony Orlando include a meet and greet with his former group, Dawn, on Oct. 28–30, 2016, in Parsippany, NJ; for more information, go to Chillertheater.com. To learn more about future Garden State Arts Foundation events at the PNC Bank Arts Center and elsewhere in New Jersey, please go to gsafoundation.org.
PHOTOS BY LOVE IMAGERY
Love Imagery Fine Art Photography. all you need. peace/love/flower/power
For more by Shelley Bromberg visit msbrom.com