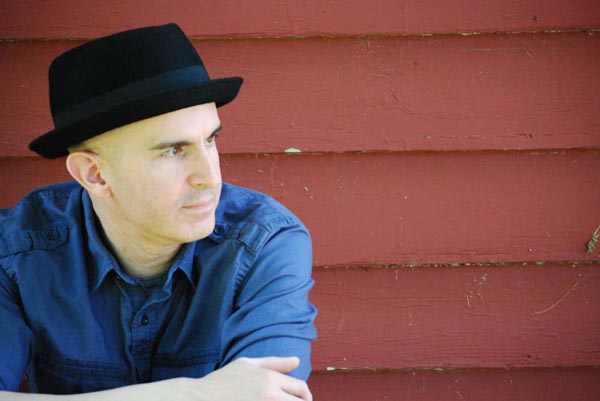 Tommy Strazza has been a staple of the New Jersey music scene for the better part of the last decade as both a singer/songwriter and lead guitarist for several bands (Hey Bulldog, Okra Winfrey, G-Man Syndicate) and solo artists (Anthony Walker, Anjelia, Emily Grove, and Michael Askin to name a few).  He recently announced that he was launching a new business called Mixes by Tommy Strazza.  It's the culmination of an idea that he's had for a few years.  New Jersey Stage reached out to him to learn more.
Tell me about Mixes by Tommy Strazza.  What is the focus of the new business? Great sounds, great sounds, great sounds!!! I love the craft and process of making recordings. I have been at it for long time, and around 5 years ago, I became very serious about learning how to get great sounds. I was blessed with a really good set of ears, and after years of wondering if I could get better sounds than whoever I was paying to get me those sounds, I decided to put my money where my mouth is, and start learning how to get them for myself, and other people. After that, I have been a very passionate student, and am now ready to assist others in achieving the best sounds possible for their projects. 
What you mean by achieving the sounds that your recording project needs and deserves? I usually come in after they are finished recording. Post production, mostly. I do track and produce other artists. I produced and recorded Melissa Anthony's upcoming LP. I am currently mixing and mastering that, and it will hopefully be out in 2018.
 I feel that when you put your heart, energy, and over extend your disposable income for that particular month(or more) for your recording project, I feel that it deserves to sound the way that you want it to. I will do my best to make that happen for the artist. 
I want the artist to feel that they are getting their money's worth. The same way I want my fans to feel when they come to see me play.
---
The article continues after this ad
---
---
When did you first get into producing and mastering?  What led you in that direction? I have always been interested in the art of recording. Between that, the current cost of studio time, and the amount of material I was coming up with awhile back... I realized that I probably won't be able to afford to record, mix, and master anywhere near as much music as I was creating. Plus, after 5 lp's of only being partially-to-just-about satisfied with their respective sounds, I asked myself an honest question... "Do you think you could get it to sound better?" My answer was, and is... YES. Then, I REALLY got into the art of mixing, and have been aggressively studying it like I first started playing guitar, and then singing. I started buying preamps, compressors, interfaces, Pro Tools, and a whole lot of plugins!!! 
Give your best sales pitch: why should a musician turn to you for this?  Simply because I have been there. I understand how difficult, frustrating, and expensive it can be to achieve the sounds that you want. It can be really tough to get there, and you realize along the way why some of your favorite records cost as much as they did to make. BUT... The technology is now here, and we can now get the very same results on a computer, if you have the ability and desire. I feel that I have both and want to help share what I know, at prices that won't sink the artist.  
I'm sure your fans will want to know, when will we hear new music by Tommy Strazza?  Will you have to put your music aside while getting this going? Nope. I'm a musician and performer til the very end. The Strazzacasters debut E.P. should be out this year, and I am working on a new solo record, as well. My hero is Prince. I aim for the kind of greatness that he did. I don't know if I will ever get there, but that's what I'm going for. He was an "all of the above" kind of guy. I don't dance as well as he did, though. Haha.
---
If you are a musician and interested in contacting Tommy, email him at: tstrazmixer@gmail.com
For more information on Mixes by Tommy Strazza visit his Soundcloud or Facebook page. 
PHOTO BY BRENDA WIRTH