By Spotlight Central
originally published: 02/18/2018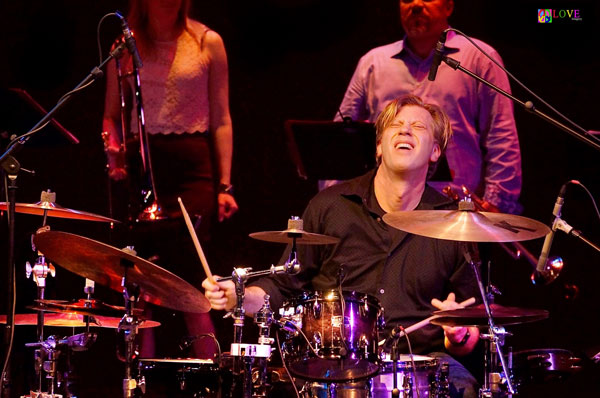 Drummer Tommy Igoe and his 10-piece jazz band — The Birdland All-Stars — made a recent Valentine's Day appearance this Feb. 14, 2018 at Toms River, NJ's Grunin Center of the Arts.
Igoe, who is currently recognized as one of the finest drummers in the world, began drumming before the age of two, started playing classical piano at 10, and won every music competition available to him once he entered high school.
As a professional, Igoe served as the principal drummer and conductor for the Broadway production of The Lion King. He also played drums on a number of Grammy award-winning recordings, and was voted the World's #1 Jazz Drummer in a recent Modern Drummer Magazine Reader's Poll.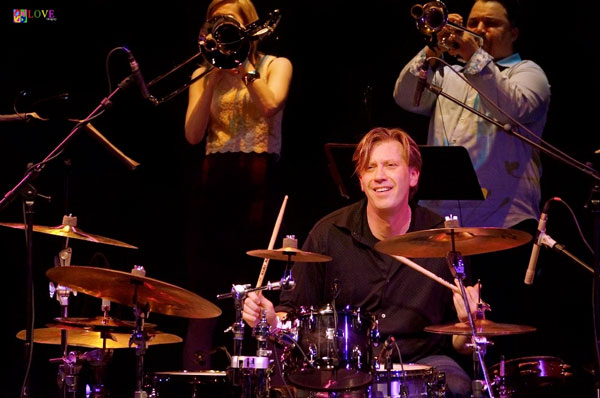 Originally from New Jersey, Igoe now lives in San Francisco. His most recent music project is the Tommy Igoe Groove Conspiracy — a 15-piece jazz supergroup from the San Francisco area.
But he also leads another group — his "New York" band, The Birdland All-Stars — which is currently on tour throughout the United States.
---
The article continues after this ad
---
---
It is this group that made a Valentine's Day stop in the Garden State at Toms River's Grunin Center.
As patrons enter the Grunin Center lobby this February 14th eve, the first thing they can't help but to notice is a collection of large paintings on display. Next to the paintings is a sign which indicates that tonight's show will feature one of the members of the All-Stars — Jeremy Sutton, a visual artist — painting his impressions of the music live as it is played on stage. The finished art from tonight's concert will be auctioned off to members of the audience at the conclusion of the performance.
Inside the Grunin Center auditorium, audience members can see that the stage is set for a rhythm section and various percussion instruments; there's a gleaming drum set front and center stage and a raised platform behind it for various wind instruments.
They can also take note of a large canvas covering the floor of the left side of the stage where two large easels — illuminated by spotlights — are waiting with various paints, pots, bottles, brushes, and a painter's palette.
Lastly, above the stage, there is a large screen which projects an image which reads "BIRDLAND" but is comprised of a collage of local scenes — Toms River's Main Street circa the 1940s, the town's iconic church steeple which is now part of the county library, and the River Lady, a 19th-century Mississippi paddleboat known for its scenic tours up and down the Toms River.
Soon, the lights dim and The Birdland All-Stars — Steffen Kuehn and Michael Olmos on trumpet, Jeanne Gieger on trombone, Tony Lustig and Tony Peebles on saxophone, Drew Zingg on guitar, Leo Traversa on bass, Ted Baker on piano, Christian Pepin on percussion, and visual artist Jeremy Sutton — take the stage to applause from the excited audience.
Lastly, Tommy Igoe enters the stage — to hoots and hollers — and takes his seat at the drums.
Commencing with a precision cymbal solo, Igoe and the band begin to rock it to the rafters right from the start with their electrifying arrangement of Weather Report's "Birdland."
The tune — composed by Joe Zawinul — recreates the excitement surrounding the iconic New York City jazz club named for jazz saxophonist Charlie Parker, also known as Bird. The sound swells and fills with the swirl and bop of this catchy number.
As the group jams, artist Sutton watches the musicians and begins to carefully add lines and color to a blank canvas on an easel as well as to an iPad mounted on a stand which is connected to the overhead screen above the band.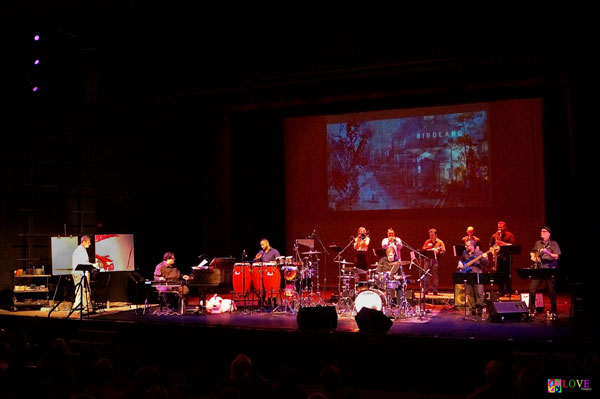 Drums and percussion take turns jamming out on "Birdland" — a flash of sticks and mallets here, a blur of rhythm and sound there.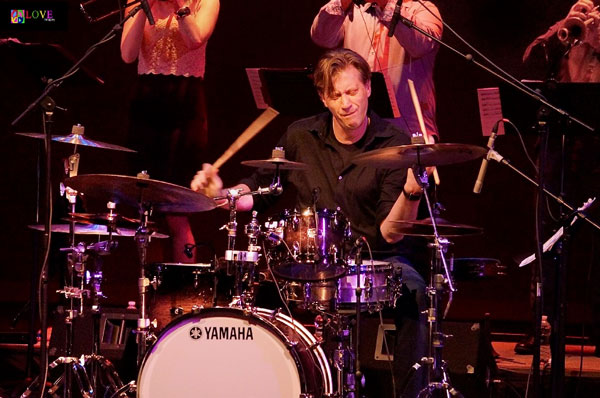 The rest of the instrumentalists eventually rejoin the party, each adding his or her unique voice to the collaboration.
Following enormous applause, Igoe exclaims, "Jersey, I'm home!"
Igoe goes on to explain that half of his band — the group he calls the "clean" half — comes from the West Coast, whereas the other half — the section he calls "a little more gritty" — comes from the East Coast.
Revealing that he and his musicians are currently on a "27-stop tour" playing a variety of different venues for all sorts of different crowds, Igoe acknowledges that his goal with this current tour is to "bring a jazz club experience to larger spaces" while "channeling the artistic bravery of Charlie Parker."
Announcing that the group's next number is a rendition of a Donny Hathaway song arranged by the group's trombonist Jeanne Geiger — a member of well-known percussionist Sheila E.'s band — Igoe and the All-Stars perform "The Ghetto."
The easy groove of the arrangement features trombone and trumpet playing off one another — their blips and blops creating a conversation that is deftly supported by drums and percussion. All the while, Sutton is doodling, scribbling his vision of the musical scene onto his iPad adding line, shape, and color to the Toms River collage which the audience views overhead.
As the musicians continue to play, the piece merges back together before splitting apart into solo territory again and then merging back into a unified whole. Each instrumentalist brings his or her individual contribution to the table to create a product which proves that the whole is infinitely greater than the sum of its parts.
The audience cheers and Igoe and the band follow up with an original piece created by saxophonist Tony Lustig, "'Til Next We Meet," a complicated composition which — like the theme song from Mission Impossible — is written "in 5/4 time." To make things even more complex, the arrangement also features trumpet player Mike Olmos overlaying a six-beats-per-measure feel on top of that already unusual 5/4 time signature.
Tommy counts "1–2–3–4–5," and the group is off!
Following the introduction of the tune, there is a Tony Lustig baritone sax solo which leads into a Tommy Igoe drum solo featuring rapid fire sticking.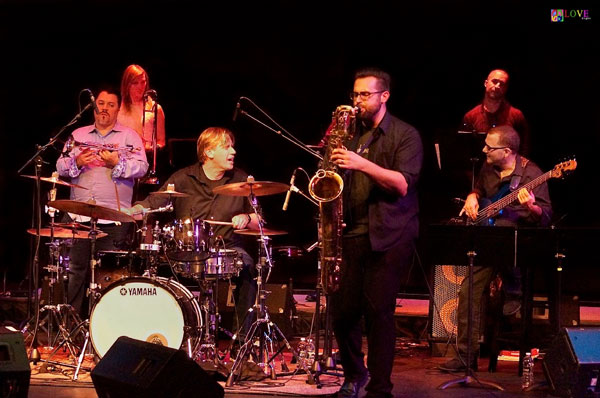 The crowd cheers and hoots their approval as the band rejoins the dance bringing the melody and harmony back to the original 5/4 feel.
The group works its way through this innovative piece creating waves of sound that collide as Olmos' trumpet solo riffs up, down, and all around.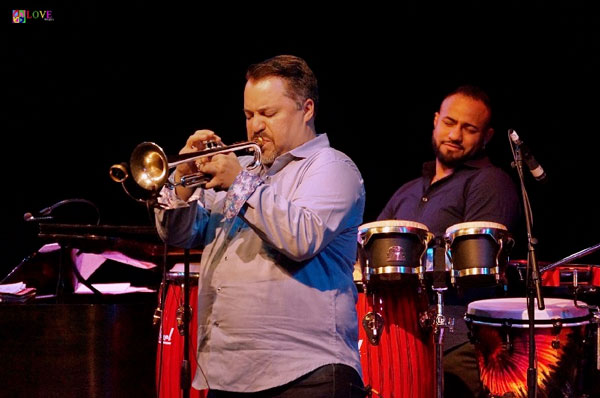 As the rhythm section keeps things moving ever forward, to add to the complexity, Sutton starts to paint on yet a third medium — paper — his artwork visually dancing along to this unconventional dance step!
Ending to applause and cheers, Igoe explains that the group's next number — a composition written by trombonist Jeanne Geiger — comes from a film which is about a pair of neighbors who bicker over a flower that grows between their two properties.
The crowd enjoys the improvisation which commences when the group's two trumpet players — Michael Olmos and Steffen Kuehn, each portraying the part of a warring neighbor — come forward to call and answer one another while Tommy rocks out!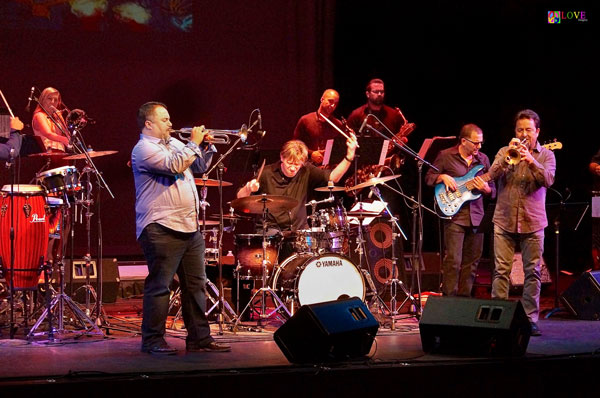 As they carry on, Sutton adds more detail to his iPad canvas. He uses line and color to create his impression of this complex amalgamation filling the Grunin Center auditorium with the sights and sounds of spontaneous art and music.
Huge applause ensues. After which, Igoe relays some history about Birdland, recalling how the famous jazz club was built in 1949 and chronicling how it eventually came to its current location on 44th Street in New York City.
After describing the layout of the club, Igoe explains how this band, The Birdland All-Stars, is designed to "play music forward," demonstrating how even the physical set-up for this group is different from most other bands.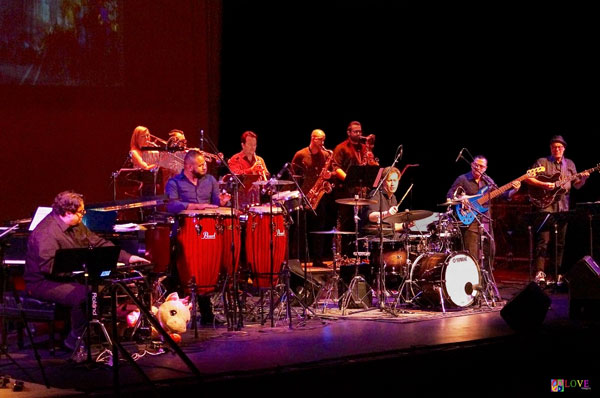 For example, says Igoe, "the rhythm section is down front where they belong." Morever, "the horns are elevated, and they come down front to you when they solo," noting, "they aren't tied to a music stand or a microphone."
Igoe also makes it a point to talk about another unique aspect of his group — the fact that one of the members is not a musician but, rather, a visual artist.
Here, he formally introduces Jeremy Sutton to the audience, acknowledging how "the art of jazz" features "truly unique improvisation," and explaining that creating in the moment is something that Sutton does, too, as he dances, paints, and improvises to the music.
Moving on to an arrangement of Dizzy Gillespie's "Tin Tin Deo," the number not only features trumpet solos, drum/percussion solos, and sax solos, but an outstanding solo by bassist Leo Traversa.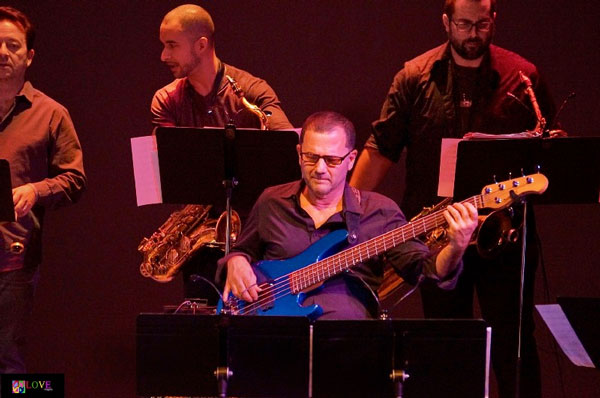 Playing thrilling runs up and down the scale, the band interjects with a sprinkling of Gillespie's "Salt Peanuts." The percussion and drums continue their compelling conversation until everyone comes back in together to conclude with yet another "Salt Peanuts" flourish.
A Brazilian number follows which features "the two Tonys" — Tony Peebles and Tony Lustig— on saxes as well as Leo Traversa on bass.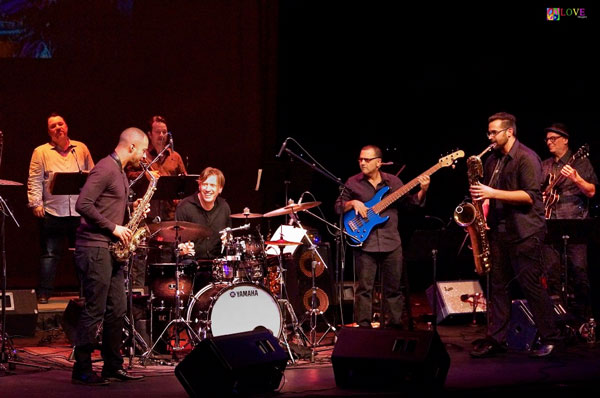 Igoe takes a moment to entertain the crowd with a story about his father.
A professional drummer who played in New York City, Igoe reveals that his dad often played in small clubs with extremely tiny stages where he was prohibited from playing with sticks and, as a result, had to use brushes.
As a tribute to his dad, Igoe plays Charlie Parker's "Moose the Mooche," a tune based on Gershwin's "I've Got Rhythm." He further adds that this is a number which the All-Stars have never performed before!
With no microphones or amplification of any kind, Igoe fills the room with sound performing fancy brush work with precision while accompanied by Michael Olmos on trumpet and Tony Lustig on bari sax.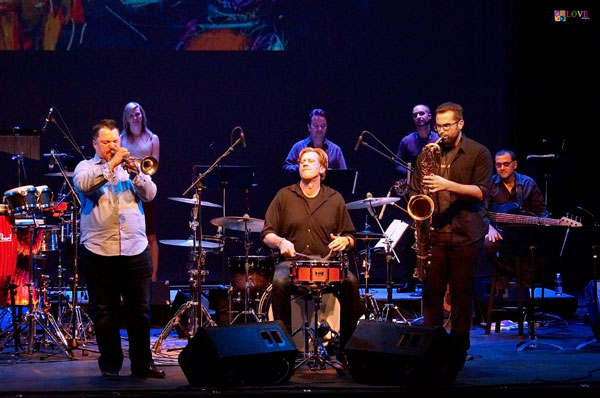 Playing it straight before jazzing it up, with the introduction of Ted Baker's piano, the piece morphs into a big band arrangement of the Parker song featuring a trombone solo by Jeanne Geiger and a piano solo by Baker.
After huge applause, the group launches into Chick Corea's "Gotta Match," a tune which features lightning fast instrumental runs, alto and baritone saxes trading solos, and a hot guitar solo from Steely Dan's Drew Zingg.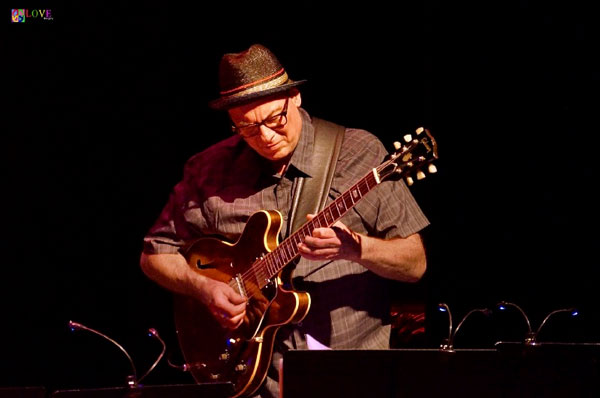 The band follows up with one of the highlight numbers of the evening — the group's rendition of Tower of Power's "Squibb Cakes." This catchy funk number features percussive saxes, flaring horns, a thrilling bass part from Leo Traversa, not to mention an electrifying guitar solo from Drew Zingg.
After introducing the members of the band, Igoe and the All-Stars perform their final number of the evening, a unique arrangement of Steely Dan's "Aja." Opening with electronic keyboard and guitar, alto and tenor saxes take the lead on the song's floating melody, accompanied by brass flourishes.
The percussive middle section features a fervent Tony Peebles saxophone solo.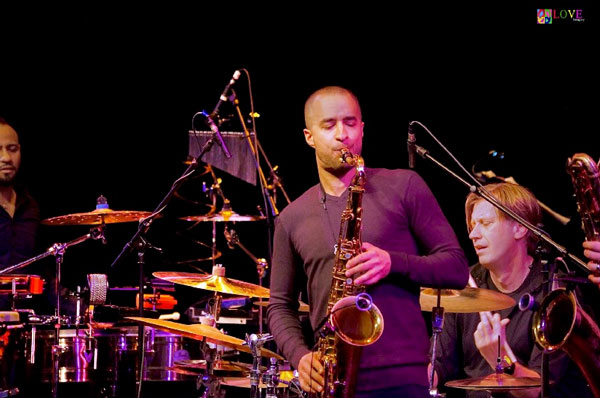 This is followed by Tommy Igoe playing a dramatic drum solo.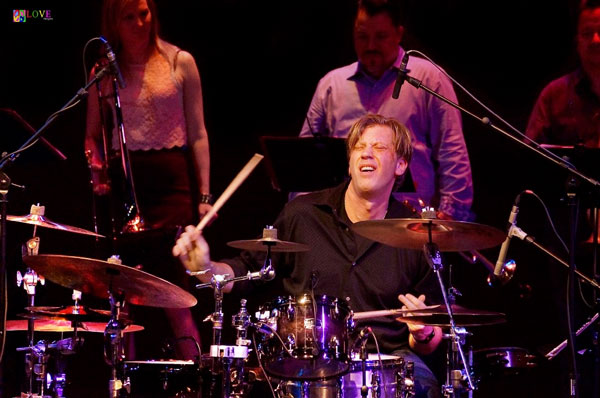 Ultimately, the arrangement meanders back into the opening melody before there's another explosive Igoe drum solo which is backed by percussive horns and the forceful rhythm section.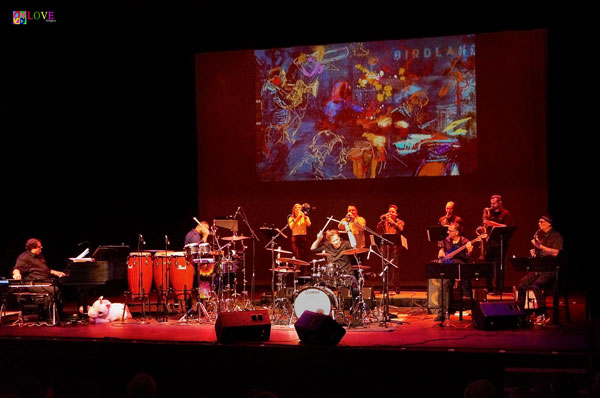 The audience rises to its feet to cheer and applaud!
As the crowd makes its way out of the auditorium, we stop and chat with several members of the audience who share their experiences about tonight's special Valentine's performance by Tommy Igoe and the Birdland All-Stars.
Reveals Dave from Toms River, "I didn't know what to expect, and I was impressed! The Birdland All-Stars are a world-class band. They sort of remind me of the Buddy Rich band," before adding, "and I especially like how bandleader Tommy Igoe connected with the soloists."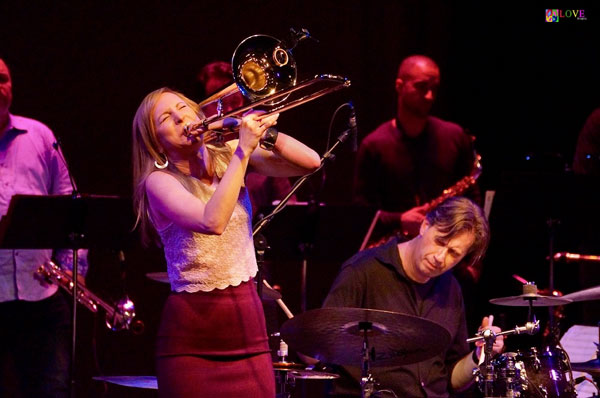 Rose from Island Heights exclaims, "Tommy Igoe and the Birdland All-Stars are amazing! They're sharp and skilled — beyond anything I've ever seen before. Their blend is awesome, and I loved their interactions as well."
Rose's friend, Grace, from Barnegat, remarks, "Overall, it was amazing and very inspirational! It flowed naturally, and Tommy Igoe was just so cool about everything!"
Ryan, a young musician from Beachwood, chimes in, "Tommy Igoe is the best drummer I've ever seen! He gave me lots of ideas to help me with my own drumming," before adding with a smile, "and he made everything look easy."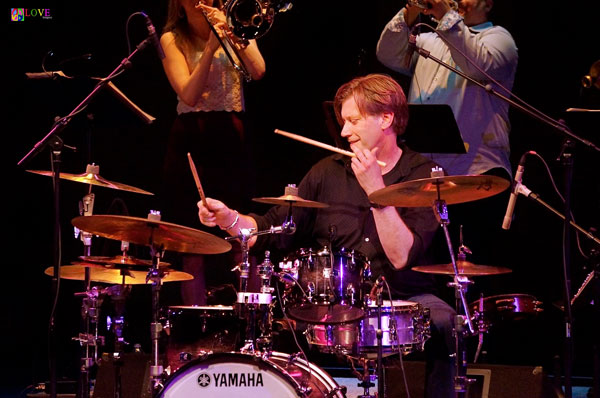 Notes Ken from Toms River, "Attending this show is one of the coolest things I've done in a long time." So impressed with the music and visual art spontaneously produced on the stage tonight, Ken reveals that he purchased an original Jeremy Sutton painting at the auction following this evening's performance.
While sharing with us Sutton's improvised rendering of a jazz trumpeter painted on paper, Ken exclaims, "I watched Jeremy create this piece of art as we listened to the music!"
Before exiting the venue, we take a moment to chat with the only member of the Birdland All-Stars who is not a musician — artist Jeremy Sutton.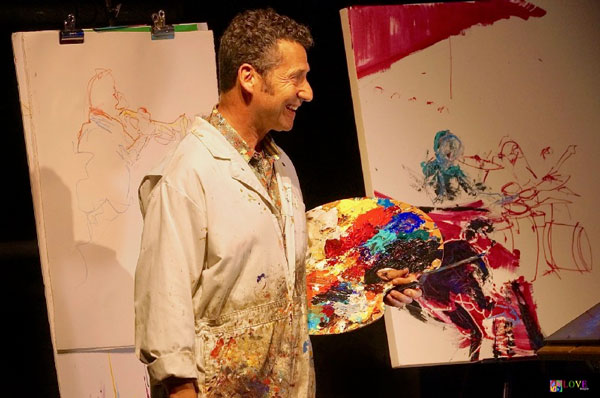 Sutton, from London, tells us that he studied physics at Oxford, but has worked professionaly as an artist for the past 25 years.
Commenting on creating his art here at Toms River's Grunin Center, Sutton says, "This is a friendly place" referring to it as both "warm and hospitable."
In talking about his experiences as a performance artist with Tommy Igoe and the Birdland All-Stars, Sutton says, "It's fresh — every night is different!"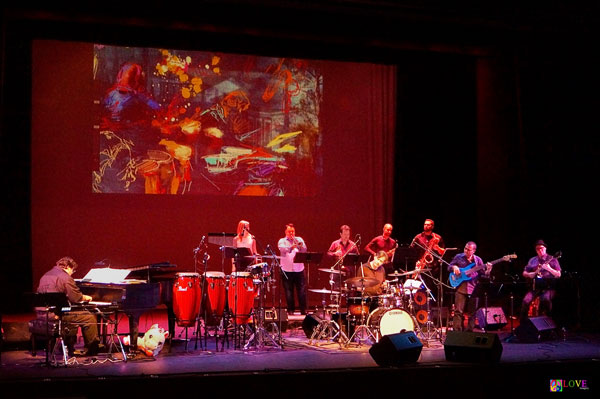 Revealing, "Tommy always says 'Creativity is dangerous.' His passion for improvising within structure and for risk-taking — being on the edge and being 150% authentic, real, and in the moment — is what both of our art forms are all about, his audial mine visual."
Concludes Sutton, "As an artist, this experience painting live across multiple media with the Birdland All-Stars is truly an amazing creative partnership on every level" — not to mention an interdisciplinary arts experience which the members of this Toms River, NJ, Valentine's Day audience won't soon forget!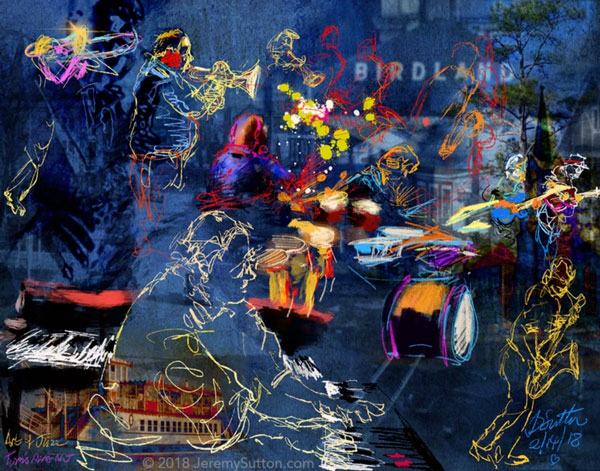 For more on Tommy Igoe and the Birdland All-Stars, please go to tommyigoe.com. To learn more about artist Jeremy Sutton, please click on jeremysutton.com. For information on future performances at Toms River's Grunin Center of the Arts — including An Intimate Evening with Rickie Lee Jones on March 22, Tom Chapin and the Chapin Sisters on April 21, and Peter, Paul and Mary's Peter Yarrow on May 11 — please go to grunincenter.org.
Photos by Love Imagery
Spotlight Central. Your source for Jersey entertainment news and reviews
Love Imagery Fine Art Photography. all you need. peace/love/flower/power