By Spotlight Central
originally published: 07/28/2016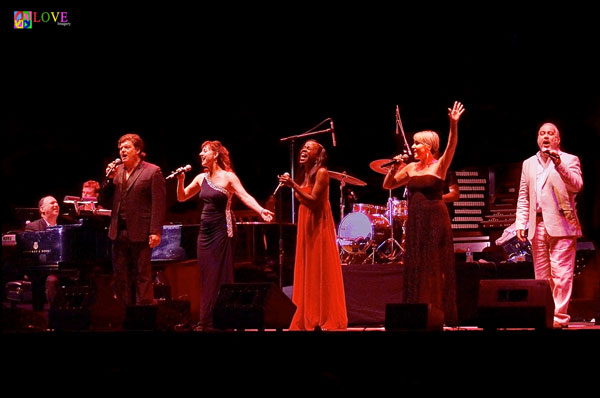 It's 5pm on a steaming hot July 23rd, 2016 evening in Ocean Grove, NJ.
Just beyond the boardwalk, beachgoers relax under their umbrellas, enjoying the breeze coming off the water as parasailers view the scene from above.
Just a few blocks away, on Main, people stop at the corner sandwich shop for a bite, some preferring the 19th-century ambience indoors while others sit outside in the shade enjoying old-fashioned char-broiled delights.
Unbeknownst to many in town, around the corner at the historic Great Auditorium, the cast of Neil Berg's 100 Years of Broadway is already hard at work rehearsing for their 8pm performance this evening.
As lighting crew members hook on their safety harnesses and climb a twisted and rope ladder (which shakes with every step!) up onto the enormous lighting rack suspended high above the stage to adjust the brilliant spotlights, the singers below alternate singing snippets of the dazzling songs they will perform tonight. As they do, the sound engineer adjusts levels on his console to catch the most intimate performance nuances — as well as to accommodate the powerhouse ranges — of each of these magnificent vocalists.
---
The article continues after this ad
---
---
100 Years producer and musical director, Neil Berg, is at the piano consulting with his multi-talented cast — attending to every minute detail — so that tonight, each spectacular performing artist will be able to take the stage, sing his or her heart out, and prove to the audience:
"This is the moment!"
100 Years of Broadway is the brainchild of Berg, composer and lyricist of the hit off-Broadway musical, The Prince and the Pauper, which ran for two years at The Lamb's Theater in NYC. In 100 Years, Berg, a gifted pianist, leads a small ensemble of accomplished Broadway musicians which features Roger Cohen on drums, Abraham Saenz on bass, and Alex Wise on keyboards.
Berg's inspiration to create 100 Years of Broadway comes out of his experience as a university student. Recalls Berg, "When I was in college, in order to help raise money for my dorm, I would take students from the theater department, have them put on a concert, and we would sell ice cream to make money. Every month we would do a new show and this was my first foray into producing Broadway concerts." After graduation, he went on to volunteer to organize star-studded Broadway events in New York City and later graduated to organizing corporate events there as well.
Berg was also inspired to create this show based on the musical tastes of theatergoers like his own parents. Explains Berg, "My mother and father were not in the theater industry. And I saw there was a disconnect between people in the business, including myself, where, if I was gonna go see a concert, I would want to hear the songs of Stephen Sondheim — really artsy, cool stuff — but the general public doesn't necessarily want to hear that. I recognized that my mother and her friends wanted to hear the hits, so I wanted to put something together based on everything I'd done before that really catered to the community — like my parents. And I wanted it to be fun! I wanted it to be as if I invited people to a house party in my living room and I just happened to have the best singers in the world showing up."
And that's exactly what he created — a show where he could sit at the piano and provide his audiences with intruiging personal anecdotes and history about various performers and shows; then, he could follow up each of those introductions with brilliant performances of some of the most thrilling moments in musical theater history.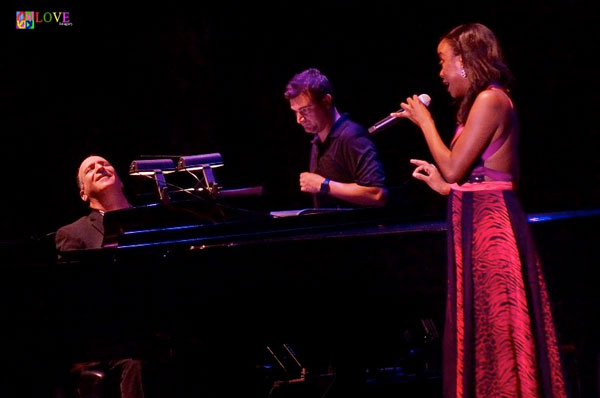 Fast forward to 8pm where, at the Great Auditorium, the venue is buzzing with musical theater lovers anxiously awaiting what promises to be a stellar performance.
The lights dim. The stage lights shine.
This is the moment.
This is when each of the talented members of the cast of Neil Berg's 100 Years of Broadway takes his or her turn in the spotlight and shines.
According to Berg, what makes his shows so extraordinary is that they always feature "the best people on the planet who connect to every lyric they're singing" and "who know their craft so well that it just becomes this BIG experience."
And this version of 100 Years at the Great Auditorium features the talents of five incredible Broadway artists: Rita Harvey, Rob Evan, Danny Zolli, Carter Calvert, and Jeannete Bayardelle.
Rita Harvey made her Broadway debut in the lead role of Christine in The Phantom of the Opera and has also appeared in Next to Normal and in the recent revival of Fiddler on the Roof, in addition to performing as a featured vocalist in opera houses across the United States.
Not her first time singing at Ocean Grove's Great Auditorium, Harvey recalls performing in this magnificent space at an opera concert as a part of the venue's well-known summer series of classical programs. What's most memorable for her about the famous venue is her vivid recollection of singing in the large hall without the use of a hand-held microphone thanks to what she calls the hall's "wonderful acoustics."
Along with singing such legendary Broadway hits as "I Could Have Danced All Night," from My Fair Lady and the title song from The Sound of Music, Harvey's jaw-dropping performance of the evening is her incredible version of "Think of Me" from Phantom of the Opera. Using her entire body as her instrument — her pure and delicate sound streaming out in waves — she dazzles the audience with her amazing upper register, the crowd bursting into applause when she perfectly hits the high note…and then just runs away with the song.
Harvey contends that singing in a show like 100 Years is different than performing in a musical in that there are no costumes, makeup, sets, or scenery. As such, she indicates there is a technique she uses to perform these songs in a concert setting which can only be gained through practice. Because the audience is looking at her as a performer — and not as a character — Harvey says she needs to "shift the energy to find the emotion in the song." That said, because she and her castmates have so much experience performing these show-stopping numbers, she says there's another dynamic which tends to come into play: because the performance is already "in your body and in your voice," she asserts, "you know what it's like to be in that character and it just comes back."
And how does it feel to experience such thrilling moments on stage?
Responds Harvey, "I don't want to be anywhere else."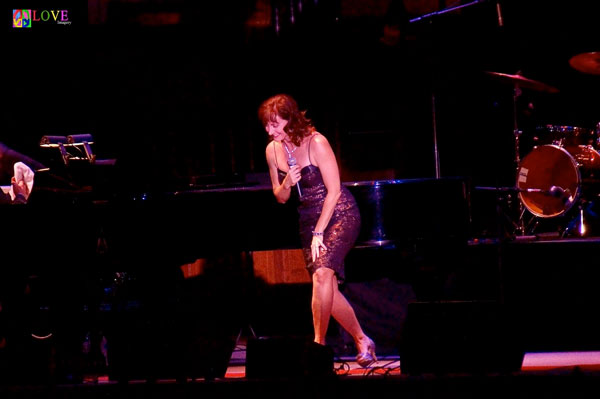 A veteran of musical theater, Rob Evan, has performed seven leading roles on Broadway, having been a member of the original casts of Jeckyll & Hyde, Les Miserables, and Little Shop of Horrors. He has also been featured in Disney's Tarzan.
Evan, originally from Georgia, has made New York his home for the past several decades. As such, he often spends time each summer at the Jersey Shore and also plays concerts in the Garden State at NJPAC and at the Prudential Center as a member of the multi-platinum selling band, The Trans-Siberian Orchestra.
Currently, Evan is working on a project called Rocktopia, a clever amalgamation of classical music and opera with rock which is presented by a traveling ensemble of six band members and six singers who perform with local orchestras and choirs in various locations around the world. In fact, Evan just completed filming for a television special on Rocktopia, which took place at the Budapest Opera House, and which will air on PBS television this fall.
Regarding his successful career in musical theater, Evan says he just "fell and tripped and wound up on Broadway," but these days, spends the vast majority of his on-stage time performing in concert settings. Evan adds that, in his own life, he follows the advice he frequently gives to others, revealing that in order to be successful as an artist these days, one must "continually diversify to evolve in the creative arts field."
Along with such powerhouse numbers as "Bring Him Home" from Les Miserables, his voice soaring with perfect emotion, and "Something's Comin'" from West Side Story, the tight 100 Years rhythm section providing him with the perfect backdrop accompaniment, Evan stops the show with his stellar performance of Jeckyll and Hyde's "This Is the Moment," his warm powerful voice filling the room with ease and grace. Holding the ending note effortlessly in the bright blue lights, Evan delights the audience — not to mention show producer Neil Berg at the piano — who jumps up in the air while doing the piano slide during the song's thrilling conclusion.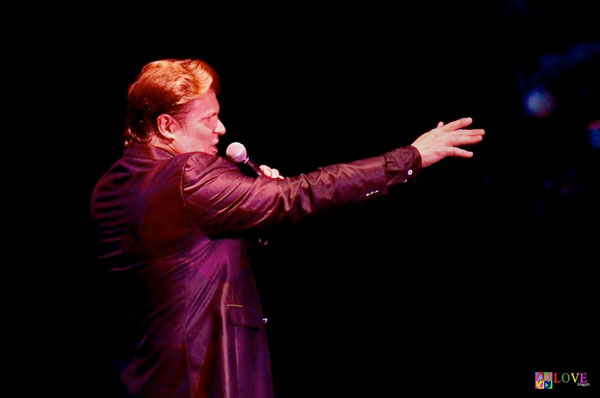 Another leading man from the theater world, 100 Years cast member Danny Zolli is best known for his work playing the roles of Jesus, Judas, and Annas in more than 26 productions of Jesus Christ Superstar on Broadway, internationally, and in a variety of national tours. As a vocalist, he's shared the stage with the likes of Diana Ross, Peter Frampton, Trisha Yearwood, Stevie Wonder, and Linda Eder, and he has also appeared in concert as a member of the World Rock Symphony Orchestra.
Zolli refers to performing in Superstar as "the greatest joy of my life." That said, he acknowledges that playing the role of Judas is the most difficult role he's ever performed vocally, revealing, "Singing the part of Judas is like singing the most difficult Zeppelin song for two hours."
During this engaging evening of music at the Great Auditorium, Zolli entrances the audience with a touching version of Simon and Garfunkel's "Bridge Over Troubled Water," a delightful rendition of "Sit Down You're Rockin' The Boat" from Guys and Dolls, and an effortless performance of the oldest song in tonight's show, George and Ira Gershwin's "How Long Has This Been Going On?" from 1927's Funny Face — his amazing control for sustaining notes on display for all to enjoy.
That said, Zolli's most magical moment of the evening comes on Elton John's "Benny and the Jets," an audience participation number where he directs the audience to echo him on the refrain as he sings stratospheric notes the audience didn't think were even possible for a man to sing. As the strobe lights punctuate the percussive music, Zolli puts on a powerhouse performance with Berg completely rocking out on the piano, leaving at least one young audience member to say she'd love to have "I HEART Danny" tattooed on her forehead with "Neil 4 Ever" tattooed just beneath that!
New Jersey audiences will soon have another opportunity to see and hear Zolli and Berg rock out to even more music by Elton John — in addition to the music of Billy Joel — when they perform an entire evening's worth of Elton and Billy hits at Tim McLoone's Supper Club in Asbury Park coming up on August 11.
Whether it's playing a character from musical theater or presenting a rock performance on stage, just how is Zolli able to make his live performances so scintillating?
"It's the actor's job to make the character humanistic," he discloses. "Being an actor and singer is all about storytelling."
But he also mentions one more ingredient involved in creating theatrical stage magic when he states, "It's also about the material," and further goes on to add, "I'm just a vessel."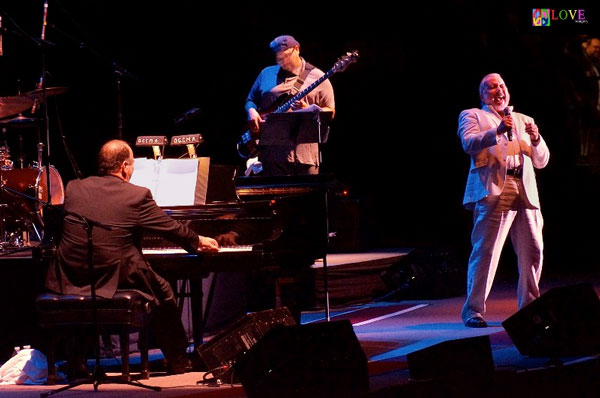 Multi-talented singer/actress Carter Calvert is best known for her starring turn in the Tony-nominated Broadway hit, It Ain't Nothin' But the Blues. She has also appeared off-Broadway in Forbidden Broadway, and additionally performed in national tours of such popular shows as Cats and Smokey Joe's Cafe.
In reference to the Garden State, Calvert, a New Yorker, says, "I love it here! It's great to be at the Jersey Shore in the summer."
But beyond the current season, Calvert has a special connection to New Jersey in the form of Manasquan, NJ's Algonquin Arts Theater, where she's performed in Evita, the Patsy Cline tribute show Always, and in Annie Get Your Gun. This fall, she will once again light up the Algonquin stage in her own show, Viva la Diva, accompanied by a band which features her husband, the ultra-talented drummer Roger Cohen.
Calvert's latest album is called It's A Man's World, which features fabulous vocals and wonderfully jazzy arrangements of such rock and pop standards as Springsteen's "I'm On Fire," Elton John's "Take Me to the Pilot," James Taylor's "Don't Let Me Be Lonely Tonight," not to mention Calvert's unique spin on The Police's "Every Little Thing (He) Does is Magic."
And speaking of magic, in addition to performing a sensational version of "Cabaret" and a powerful rendition of "Don't Rain on My Parade" from Funny Girl, Carter's show-stopping moment of the evening is her performance of "Memory" from Cats. On this number, she gives a powerhouse interpretation of the lyrics with all the nuance of a seasoned performer who knows this song intimately, making it alternately airy, floaty, dreamy, and effortlessly poignant, and, in so doing, brings many members of the audience to tears.
As Calvert herself puts it, in order to create such singularly spectacular moments on stage, her goal, along with the goal of her talented colleagues in 100 Years of Broadway, is to "always honor the concept of the music."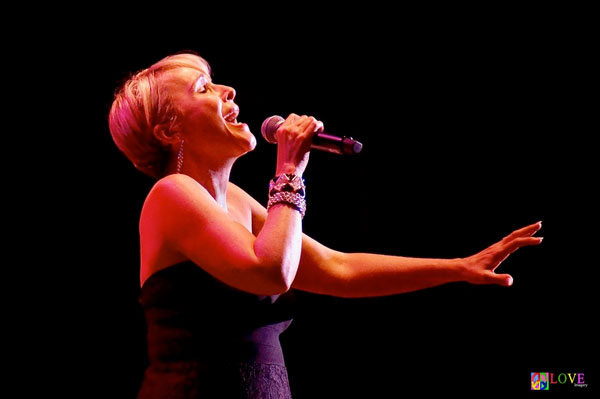 Along with her contemporaries, Calvert, Zolli, Evan, and Harvey, Jeannette Bayardelle also made her mark as a performer in New York City where she recently starred as Dionne in Hair on Broadway in addition to playing the starring role of Celie in The Color Purple.
Now touring with 100 Years of Broadway, Bayardelle reveals she loves this show because she can play characters she "knows so well" from her many appearances on New York stages. She also loves that 100 Years provides her with an opportunity to "bring these characters to people who have not seen the Broadway version of the show" and additionally puts her in a position on stage where — rather than interacting with other cast members — she can "acknowledge the audience" and — while they're looking right at her — "share the character in a more vulnerable way."
Bayerdelle, who hails from New York, says that, for her, "New Jersey is an extention of NY," and after traveling all over the country, when she finally gets to perform in the Garden State, she says she really feels she's "home."
In addition to performing an upbeat rendition of the Ashford and Simpson-penned "Ain't No Mountain High Enough" from Motown, a diva-esqe version of "(You Make Me Feel Like a) Natural Woman" from Beautiful, and a spine-tingling interpretation of "I'm Here" from The Color Purple, Bayerdelle's #1 magical moment in 100 Years comes when she provides her take on "And I Am Telling You I'm Not Going" from Dreamgirls. With a perfect balance of vocal control and the expression of emotion in the song, Bayerdelle gives the audience chills from beginning to end, bringing the crowd to its knees as she kneels on the stage, refusing to accept the utter heartbreak expressed in this stunning number.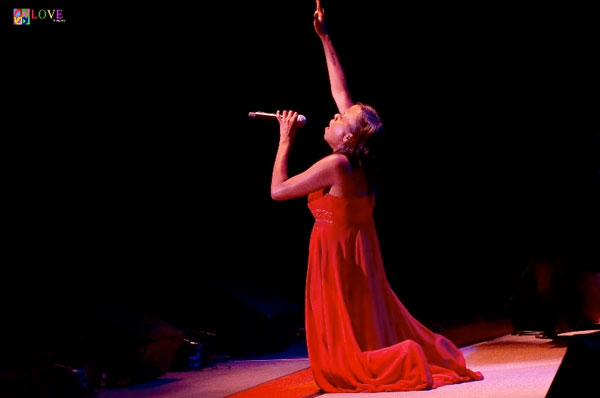 Ever so grateful to be a stage performer, Bayerdelle asserts, "I'm so lucky to be able to do this," going on to note that, as a performer, "even on our worst day, this is the best day…because we can perform for an audience."
And her castmates in 100 Years of Broadway must surely agree with Bayerdelle because, as a powerhouse unit, they go on to thrill and delight the audience at Ocean Grove's Great Auditorium with a wondrous cross-section of music — not only with their solo pieces, but with a variety of duets, trios, and group numbers including "All that Jazz" from Chicago, "Sherry" and "Oh What A Night" from Jersey Boys, and the theme song from Oklahoma.
In addition, Harvey and Evan team up to perform another show-stopping moment from the longest running show on Broadway, Phantom of the Opera, when they sing the show's title song with effortless skill. Demonstrating their vocal acumen, their musical flexibility, and their fabulous chemistry, Harvey and Evan allow the audience to viscerally feel all the primal tension and attraction the number is capable of evoking — despite the absence of a mask and a chandelier. In this concert setting, they inspire the crowd to rise to its feet in appreciation of this dynamic duo's sheer talent.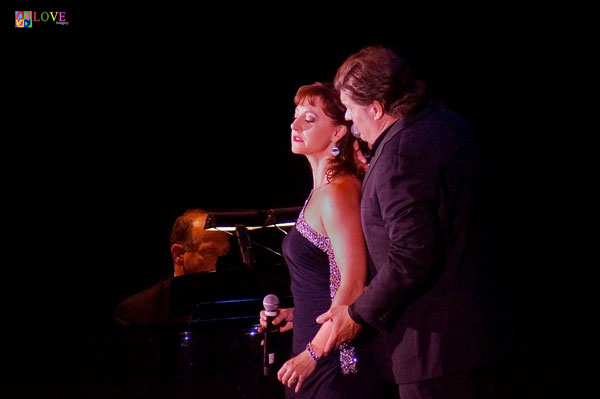 To conclude this fabulous evening of music, the entire group assembles on stage to sing a number which Berg describes as "a song about community…about the one thing that can overcome anything — something we all need now — love."
The song?
"Seasons of Love," from the musical Rent.
As the audience — already on its feet — listens to this amazing group of musicians and performers, it's easy for them to understand why 100 Years of Broadway is the #1 Broadway touring concert in the United States, playing in over 120 cities every year for the past decade.
And once the music of the night is over and members of the crowd take a moment to savor what they have just communally experienced, some begin to react with comments like, "This show is a treat!" and "We see a lot of shows, but this is one of the absolute best we've ever seen."
Summing things up very nicely, however, is the gentleman in the crowd who says out loud what everyone in the audience is surely thinking, "There's just no substitute for talent."
If you'd like to experience the amazing talent in Neil Berg's 100 Years of Broadway, be sure to check the upcoming performance schedule at neilberg.com.
And don't wait.
This is the moment.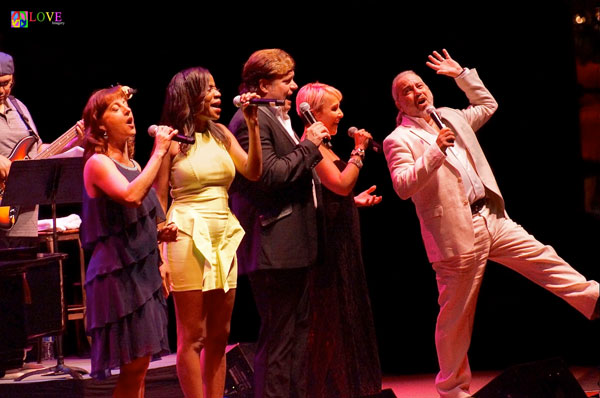 For more on Neil Berg — including information about his other productions such as Neil Berg's Pianomen — please go to neilberg.com. For more on upcoming Saturday night pop performances at The Great Auditorium — including "American Pop": The Grass Roots and The Buckinghams on July 30, Englebert Humperdinck on Aug. 6, and Michael Bolton on Aug. 13 — please go to oceangrove.org.
Photos by Love Imagery
Spotlight Central. Your source for Jersey entertainment news and reviews
Love Imagery Fine Art Photography. all you need. peace/love/flower/power