originally published: 03/14/2018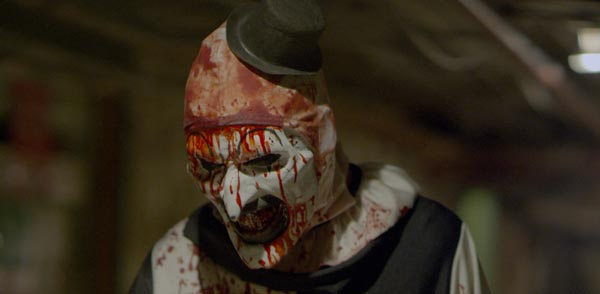 (MONTCLAIR, NJ) — Ken W. Hanley, former Editor-In-Chief of Fangoria Magazine and Montclair State Filmmaking Program alumnus, hosts the third edition of "Friday Night Frights" on Friday, March 23 at 8:00pm with a free advance screening of the Epic Pictures release Terrifier.  Following the film will be a Q&A with filmmaker Damien Leone and stars David Howard Thornton and Catherine Corcoran. The event takes place at the School of Communication and Media - Presentation Hall 1040 on the Montclair State University campus.
Based on a character from All Hallows Eve, the 2013 anthology, Terrifier is an '80s slasher throwback, takes place on Halloween night as the demented Art the Clown sets his sights on terrorizing two girls and anyone else that gets in his way. This bloody, practical-FX heavy film has played at such renowned film series as Lincoln Center's Scary Movies, London Frightfest, and the Philadelphia Unnamed Film Festival. The film was acquired in the fall of 2017 by Epic Pictures, who will release the film on VOD on March 27th through their "Dread Central Presents" label. Though the film will be screening in its unrated, intended presentation, viewer discretion is strongly suggested. To RSVP to this free event click HERE.
"Friday Night Frights" is a lecture and screening series that aims to shed light on the past, present, and future of horror films with pre-screening talks with Ken W. Hanley.  Ken's talk, "The Symbiotic Relationship between Practical Special FX and Horror Filmmaking," will focus on the relationship between the imaginative and nightmarish visions of horror and how they evolved alongside the craft of special make-up FX and prosthetics.  Hanley said "It's truly a privilege to be able to let people laugh, gasp, and squirm in their seats, all for the sake of academia. As someone who previously ran late night movie screenings during my time as a student at MSU, I feel like this is a real 'full circle' moment."
Director of Programming for the Film Institute, Susan Skoog added, "Some of the most interesting and inventive independent filmmakers today are making horror films. They are undeniably elevating the genre. The Film Institute at Montclair State has a mission to not only celebrate classic films and filmmakers, but also to educate a new generation of young filmmakers by exposing them to cutting edge and innovative films. We are honored and thrilled to introduce our students to film artists like Damien Leone, who are certainly advancing the horror genre."
MSU's School of Communication and Media students receive colloquium credit for attending this screening of Terrifier and conversation with the filmmakers.
---
The article continues after this ad
---
---
Those who cannot attend will be able to listen to the "Friday Night Frights" companion Podcast, "Fright 101," featuring such guests as "American Horror Story" producer Eryn Krueger Mekash, "Splice" filmmaker Vincenzo Natali, and more. 
About Damien Leone - A versatile and gritty new voice in the horror scene, Damien Leone has embodied a DIY attitude by producing his own shorts while providing special make-up effects for horror shorts in his spare time. He would transition his efforts into feature direction with the anthology film All Hallows' Eve, which prominently featured his lauded short film, Terrifier. He would go on to helm the FX showcase Frankenstein vs. The Mummy, which was released by RLJ Entertainment in 2015. In 2016, Leone finally adapted Terrifier into a feature length film, and in 2017, it was selected for exhibition by such premiere film festivals as London FrightFest, Lincoln Center's Scary Movies, and Philadelphia Unnamed Film Festival. Terrifier is slated for a limited theatrical release in March 2018 by Epic Pictures as one of the inaugural titles under their "Dread Central Presents" label.
Montclair State University is located at 1 Normal Avenue in Montclair, New Jersey.