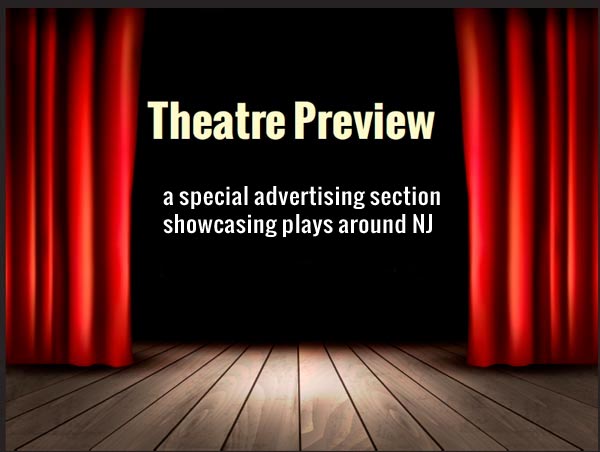 Each month New Jersey Stage takes a look at plays coming to theatres across the state.
Ah, Wilderness!
East Lynne Theater Company, 500 Hughes Street, Cape May
Richard's letters to his girlfriend, Muriel, contain quotes from Khayam and Swinburne. Finding these letter offensive, Muriel's father forbids Richard to see his daughter again. Heartbroken, Richard goes on a bender and meets Belle. Is Richard going to turn into his Uncle Sid, or can he be brought back to his senses? This large-cast play takes place during the July 4th weekend in 1906 in a small Connecticut town.
East Lynne Theater Company presents Eugene O'Neill's only comedy from July 26 through September 2.
---
The F Theory
New Jersey Repertory Company, 405 Lafayette Street, Cape May
New Jersey Repertory Company presents the world premiere of F Theory, a funny, poignant, thought-provoking play about the power and complexity of lifelong friendship. Co-written by and starring Megan Loughran and Alex Trow, and directed by Ethan Heard.
Two women meet in college and share a lifelong relationship in this wonderful play about what it really means to be a friend.
---
The article continues after this ad
---
---
The play is presented at NJ Rep in Long Branch from August 17 through September 24.
---
The Gin Game
Cape May Stage, 405 Lafayette Street, Cape May
The winner of the Pulitzer Prize uses the card game as a metaphor for life. The Gin Game takes place on the porch of a retirement home where irascible Weller Martin meets the prim, self-righteous Fonsia Dorsey. Fonsia wins every game and their secrets become weapons used against each other. "The New York Times" called the play "a thoroughly entertaining lesson in the fine art of theatrical finesse. The closest thing the theatre offers to a duel at 10 paces." It is a funny, intelligent play that will touch your heart even as you laugh at the characters foibles. Age Guide (13 +)
Written by D.L. Coburn, the production is directed by Roy Steinberg and stars Jennifer Harmon and Bill Tatum. It is presented from August 9 through September 22.
---
What The Butler Saw
Shakespeare Theatre of NJ, 36 Madison Avenue, Madison
First performed in 1969, two years after Orton's murder at the age of 34, this scathing farce shocked audiences when it was first produced. Now, almost 50 years later, what were racy subjects are far less so, and we are able to both laugh more and see better the acid bullets that Orton fires in a startling pace from beginning to end. This hilarious comedy unveils the fragile state of truth in the hands of those in power, and the power of truth despite our easy ability to twist it.
Presented September 6 through October 1.
---
Foster Mom
Premiere Stages @ Kean University, 1000 Morris Avenue, Union
Leslie's decision to adopt a child is complicated by two factors: a skeptical mother and an unexpected romance. As the relationship with the new man intensifies, so does her conviction about foster parenting. In the end, Leslie must choose between two things she wants desperately: the love of her life and the foster child she's never met.
Foster Mom was written by Chris Cragin-Day and is directed by Kel Haney. Winner of Premiere's 2017 Play Festival.
Premiere Stages at Kean University presents this World Premiere September 7-24.
---
Swimming In The Shallows
Alliance Repertory Theatre, 426 Springfield Avenue, Summit
An off-beat quirky comedy about a group of friends exploration into everyday problems, anxieties and modern relationships, be they man-woman, woman-woman or man-shark.
Alliance Repertory Theatre Company presents the New Jersey Premiere of Swimming in the Shallows by Adam Bock. The production is directed by Michael Driscoll and runs from September 8 to September 23 at MONDO in Summit.
---
A Raisin In The Sun
Two River Theater, 21 Bridge Avenue, Red Bank
On the South Side of Chicago, the Younger family has put their dreams on hold while just trying to get by. When the prospect of a large inheritance starts to seem like a reality, the family members must decide which of their dreams to pursue—and whose must remain unfulfilled. Come see why this 1950s classic about family, race, and the American dream was called "the play that changed American theater forever" by The New York Times.
This play is presented at Two River Theater from September 9 through October 8.
---
Neil Simon's California Suite
The Company Theatre Group, 39 Broadway, Hackensack
California Suite is a 1976 play by Neil Simon. Similar in structure to his earlier Plaza Suite, the comedy is composed of four playlets set in Suite 203-04, which consists of a living room and an adjoining bedroom with an ensuite bath, in The Beverly Hills Hotel.
The four parts include "Visitor from New York"; "Visitor from Philadelphia"; "Visitors from London"; and "Visitors from Chicago."
Directed by Lou Scarpati, The Company Theatre Group presents this from September 8 to September 17.
---
Chapter Two
Pegasus Theatre Project, 952 Alexander Rd, Princeton Junction
George and Jennie have given up on ever finding love again. But George's brother Leo and Jennie's best friend Faye think they're a match made in heaven. A misdialed phone call and an awkward, at best, extra-marital affair result in this touching and hilarious autobiographical comedy by Neil Simon about falling in love for the second time.
Directed by Jennifer Nasta Zefutie, Pegasus Theatre Project presents Chapter Two from September 15 to September 24 at the West Windsor Arts Center in Princeton Junction.
---
The Shapes of Things
Eagle Theatre, 208 Vine Street, Hammonton
How far would you go for love? For art? What would you be willing to change? What price might you pay? Such are the painful questions explored by celebrated playwright Neil LaBute in The Shape of Things. A drama that peels back the skin of modern-day relationships to their very core. A 2003 film of the same name starred Paul Rudd, Gretchen Mol, and Rachel Weisz.
Directed by Ed Corsi, the production stars Maggie Griffin Smith, Max Redman, Khalil McMillan, and Kelly Filios. It is presented from September 15 through October 15.
---
A Year In The Trenches
East Lynne Theater Company, 500 Hughes Street, Cape May
Meet Charles Edward Dilkes, poet Joyce Kilmer, pilot Kenneth Russell Unger, nurse Amabel Scharff Roberts, "Hello Girl" Grace Bunker, and other Americans who went to Europe when the United Stated entered World War I a hundred years ago. Written by James Rana and directed by Gahl Stahlhuth, this play is based on Dilkes' book and accounts written by others.
East Lynne Theater Company presents the World Premiere of A Year In The Trenches from September 20 through October 14 in Cape May.
---
Every Brilliant Thing
Dreamcatcher Repertory Theatre, 120 Morris Avenue, Summit
You're six years old. Mom's in the hospital. Dad says she's "done something stupid." She finds it hard to be happy. So you start to make a list of everything that's brilliant about the world. Everything that's worth living for. 1. Ice cream. 2. Kung Fu movies. 3. Burning things. 4. Laughing so hard you shoot milk out your nose. 5. Construction cranes. 6. Me. You leave it on her pillow. You know she's read it because she's corrected your spelling. Soon, the list will take on a life of its own.
Written by Duncan Macmillan. This solo show is presented September 21 to October 8.