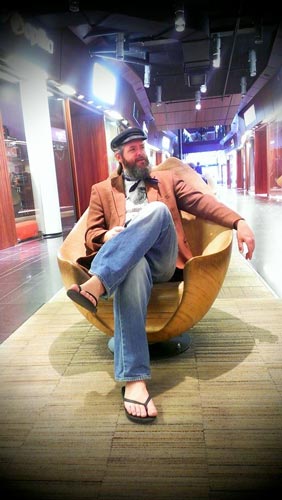 Cassandra Wilson, Fatoumata Diawara, Edmar Castaneda, Nina Attal, and Pat Metheny are just some of the artists performing at this year's Jazzkaar festival, the biggest jazz festival of the Baltics held in Tallinn, the capital of Estonia. Oh yeah, Bay Head's own James Dalton is also blowing his harp, playing guitar and mandolin, and guesting with some of the biggest names in Estonian music history while the annual festival celebrates its 25th anniversary.
For ten days, the city of Tallin is filled with the sweet sounds of jazz music. The festival even contains a New Orleans-style "Jazz March" through Tallin's Old Town, which James participated in. Check out a photo gallery from the walk and around the city.
"This is a pretty big deal, an honor, actually," said Dalton when asked about what the festival means to him. "Turns out that this is one of the real gems as far as Baltic music events go. For a couple weeks, music is not only showcased all over the capital, but artists, like myself have been shipped all over the country.
"I have been doing a combination entertainment/educational/cultural exchange type thing. It means a lot that I am here. I have been in front of all types from the sophisticated music fan to little public school children to the everyday person on an easy night out."
Touring Europe has become commonplace for James. In fact, one way or another, he's managed to tour most of the world -- including being broadcast on television in China. It's always exciting to hear his tales from the road as so few musicians ever criss-cross the country on tour, much less circle the globe. James says he's toured Europe 12 or 13 times since 1998 to perform music or theatre. He is known as a performer, a storyteller, and a poet, in addition to being a fine musician. He's huffed it around, reaching audiences the hard way: one person at a time, on stages and subway platforms, in living rooms and radio studios. He shares secrets and laughs, and mixes breathtaking vocals with exciting harmonica playing. In my opinion, he's got the best set of pipes New Jersey has produced since Southside Johnny.
This year's European tour for James started off in Tartu, the second largest city in Estonia, where he played at the Feel Good Cafe — ironically, a place he had played at six years ago this very week. He then moved on to the Theatre NO99 Jazz Club in Tallin. "It was unbelievable," said James. "Just really awesome! I played in the city streets for a few days, which was really amazing. I got messages from home -- from New Jersey -- people saw pictures of me playing in the window and playing on the streets and said, 'This looks awesome!' and they're proud of me. They'd say, 'This looks like a great place to perform" and I'd say yes."
The next night (Easter no less), things got really interesting. He was at the Marina Pavilion with the Tanel Padar Blues Band which features some of the country's best musicians including members of Ewert and The Two Dragons (which James is a huge fan of), Compromise Blue, the composer Ülo Krigul, and Tanel Padar (as James puts it "the bad boy of Estonian rock himself").
"It was one of the wildest shows I've played in years," said James. "What an all-star band he has. He's so lucky... He's great, but he's so lucky to have so many good players with him."
Check out a photo gallery of James performing in Estonia at .
Why does he do it? It's certainly not for fame or fortune. In fact, these little tours cost him a fortune, but they more than pay for themselves with the memories and friendships he makes on the road. His travels also let him learn about other cultures, discover how people everywhere are far more similar than we're lead to believe, and see how music can truly bring everyone together.
"Estonia is a small country, but it's a country with heart," said James. "Everybody's very proud of being Estonian. The reason I like coming to countries of this size is because I'm from New Jersey and New Jersey is a small little place in the United States. For me, I feel more like a New Jersey guy before I feel like an American guy. We're a small little place and we're very proud of who we are and what we do, and we're misunderstood. I feel there are some countries in Europe like Estonia that are misunderstood by the rest of the Europeans and I understand that feeling, so I enjoy it. The people are very warm and creative and interesting.
"For everyone at home I'd say keep believing in yourself... keep stepping up. There's a lot of great things coming to this part of the world and it's because everybody here has something special inside of them."
Follow the world of James Dalton online at http://www.jamesdalton.bandcamp.com and http://www.facebook.com/jamesdaltonmusic
---
PHOTO: James Dalton at Foorum keskus courtesy of Reijo Ivarsoo.
A video of James' surprise visit is shown below. In the video, you can hear clips of James singing "Stand By Me" and his new single, "I Know You Rider" which he released during the tour on indie cards from Bands on a Budget.