By Gary Wien
originally published: 03/26/2018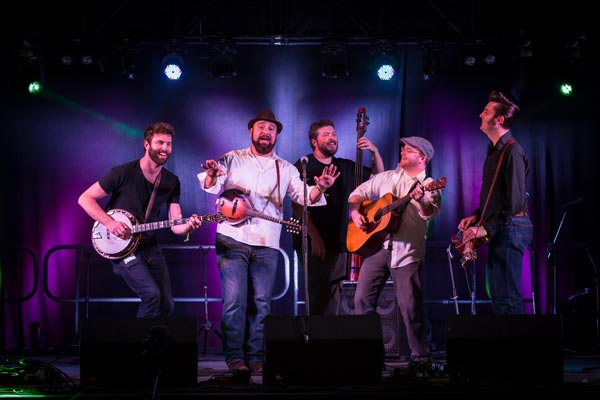 Forty-five years after its original release, The Who's Tommy will be performed as a full-length bluegrass tribute at The Grunin Center for the Arts in Toms River on Friday, April 13 at 8:00pm.  The band bringing this legendary classic rock story to a bluegrass tint is The Hillbenders from Springfield, MO.
Originally composed by guitarist Pete Townshend as a rock opera that tells the story about a deaf, dumb and blind boy, including his experiences with life and the relationship with his family. The original album has sold 20 million copies and has been inducted into the Grammy Hall of Fame for "historical, artistic and significant value." In 2003, Rolling Stone magazine ranked Tommy number 96 on its list of the 500 greatest albums of all time.
New Jersey Stage caught up with Jim Rea of The Hillbenders to learn more about the project and how it came to be.
According to the band's website, Tommy: A Bluegrass Opry was conceived and produced by SXSW co-founder and longtime musician/producer Louis Jay Meyers.  How did The Hillbenders get involved in the project? 
Louis had become an industry friend over a few years. He was always peeking his head into showcases and checking out the band. When he laid the project of tackling Tommy as a bluegrass opry, he said he had been exploring this idea for two decades and was waiting for the right time in his life and the right band to realize his vision. 
---
The article continues after this ad
---
---
What did the band think when first approached with the project?
I was a huge Tommy fan, so I leapt at the chance to do it and offered to be the musical director. The others had varying amounts of familiarity with the original album, but we were all very comfortable and confident in Louis and his ability to maximize artist output and reception. We knew it was a huge undertaking but committed with smiles at a new musical chapter to keep us touring. 
Was there a particular song or tune from Tommy that the band wondered if The Hillbenders could pull off?
"Underture" was shortened extensively and included in a medley with "Sparks." There was just too much drum work to try and arrange that one in my opinion, so I took the significant motives and placed them in the medley. "Cousin Kevin" proved to be tricky vocally due to the chromatic nature of the chord progression in the introduction part. "I'm Free," also took some extra time to find the right rhythmic patterns.
What songs are your favorites to perform and why?
I enjoy the hits cause the crowd sings along. "Pinball Wizard" is obviously the single that everyone knows and loves. The "Listening to You" finale is always engaging, and "Tommy Can You Hear Me?" gets people clapping and singing along. 
It looks like the band has long performed bluegrass versions of popular tunes (especially rock hits).  Was this something you've done all along?
Yes, we have always "flipped" genres to bluegrass. We didn't grow up in bluegrass like many folks who play this genre. Our dobro player had that traditional bluegrass upbringing, but we all love it, and I think Rock n' Roll is the other style we can all say has been a big influence on us. The banjo player was a rapper form Southern California before joining the band, and the mandolin player studied opera. We are a very diverse group musically which I think lends appeal to audiences, but it can also create difficulties moving forward creatively, especially with members now living across the country from each other. 
I think it's kind of wild how the songs sound both similar and very different from the originals at the same time.  How would you describe a Hillbenders' take on a rock and roll song to someone who had never heard one before?
When you "flip" a song to bluegrass it means giving it that quick upbeat feel, and most importantly you use the acoustic bluegrass instruments. For us that's banjo, mandolin, dobro, guitar, and bass, but we try and infuse the attitude and performance quality of rock music. 
I've been watching some of your videos on YouTube and seeing the various types of songs you have done.  Does a particular style seem to work better for you?  
I think the tempo of the song is the most important aspect to "flipping" a song. We look for strong vocal/lyrical context that the listener can connect to and recognize.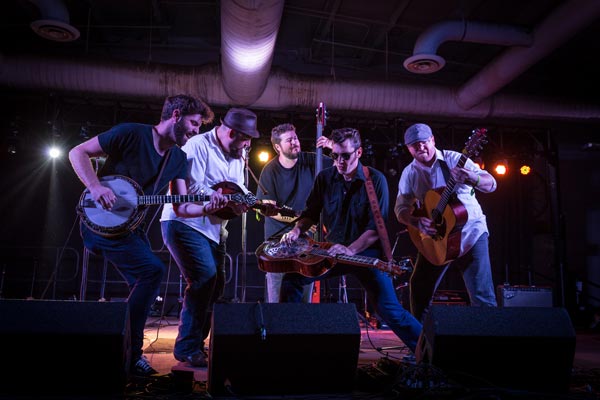 Americana and rootsy sounds have appeared in the mainstream in recent years.  Do you think this is almost a response to the manufactured studio music of the 90s and 2000s?
People want to be in charge of what they listen to, and discovery is part of that journey. The internet has allowed even the most obscure artist a platform to reach potential listeners. There are still lots of folks who just want to listen to commercial radio and it's BIG business, but there are endless artists just a click away. 
Are people simply yearning for something real? 
Yes. Honesty and seeing/hearing something genuine will never go away. Shortened attention spans and option overload are the new challenges. 
Finally, have you heard from any members of The Who on what they think of your version of Tommy?
We have met both Roger and Pete: Roger at one of The Who's charity events, and Pete caught wind of the record and invited us to see The Who in Nashville, TN. The show was amazing and included a Tommy medley. He gave us backstage clearance, and we chatted briefly. He was very encouraging and supportive of our interpretation. This meeting was a full circle moment for Louis. He was a man who could get things done. We lost Louis a year after Tommy was released to a sudden heart attack. We miss his guidance and friendship dearly, and we would not be performing still if not for him and his vision.
---
Gary Wien has been covering the arts since 2001 and has had work published with Jersey Arts, Elmore Magazine, Princeton Magazine, Backstreets and other publications. He is a three-time winner of the Asbury Music Award for Top Music Journalist and the author of Beyond the Palace (the first book on the history of rock and roll in Asbury Park) and Are You Listening? The Top 100 Albums of 2001-2010 by New Jersey Artists. In addition, he runs New Jersey Stage and the online radio station The Penguin Rocks. He can be contacted at gary@newjerseystage.com.
---