By Gary Wien
originally published: 08/27/2019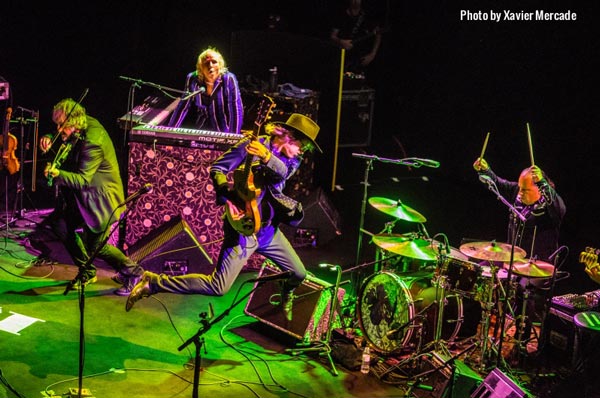 The Waterboys are one of those bands that people who love music seem to love.  They sprang out of the 1980s and have been creating great albums ever since, often incorporating Irish and Scottish sounds into their folk rock base. Led by Mike Scott, the band will be touring America in support of their latest release, Where The Action Is.  As luck would have it, the American part of their tour kicks off in New Jersey on Tuesday, September 17th at the Count Basie Center for the Arts in Red Bank.
Best known in America for the tracks "The Whole of the Moon" and "Fisherman's Blues", their latest release adds several songs to the band's greatest hits. Highlights include the fun and upbeat title track, "London Mick" (a tribute to Mick Jones of The Clash), the ballad "Out of All This Blue", and the last three tracks which showcase Mike Scott's poetic lyrics: "And There's Love", "In My Time On Earth",  and the epic closer, "Piper At The Gates Of Dawn." 
Mike Scott has always been a poet to me, albeit one that transcends poetry into the three-dimensional world.  His lyrics are poetic, but the combination of the music and his vocals creates something else - something bigger, something magical, something spiritual even.  Poetry has always been a large part of Scott's work and in 2011, The Waterboys released An Appointment with Mr. Yeats, an album featuring 14 poems by W.B. Yeats put to music.  It's an absolutely beautiful album. One that few artists would try and even fewer could pull off.
Mike Scott's love of poetry is apparent through the band's history. The poetry and music of Patti Smith inspired one of the band's most popular songs, "A Girl Called Johnny" from their debut album. Mike Scott explained the origin of the song in an interview with New Jersey Stage.  "She had a song on her first album called 'Redondo Beach' and I used to be such a Patti Smith fan. I had all her bootlegs.  I had recordings of all her radio broadcasts in the States and I had one recording from WBAI in New York - Live at the Free Music Store and she sang that song before it had ever come out.  It had a verse she must have scrapped by the time she released it on her record.  It mentioned a girl named Johnny.  And I'm afraid I was still young enough that I would steal things from other people's songs.  And I stole that and turned it into a song kind of in part about Patti Smith.  Now I know she may have gotten the idea from Serge Gainsbourg who made a film called The Ballad of Johnny Jane about a girl called Johnny.  So it began there.  I don't know."
It turns out, Patti Smith was not the only New Jersey artist to influence a young Mike Scott.  In 1977 he created his own fanzine called Jungleland while living in Edinburgh.  It covered the British punk rock scene, but its name was inspired by Bruce Springsteen.
---
The article continues after this ad
---
---
"What nobody knows is that when I was a 12 year old in Edinburgh, there was a gang called Jungle," recalled Scott.  "They had a big graffiti sign on a building at the road into their neighborhood that said, 'Welcome to Jungleland.'  This was about 1971, pre-Bruce.  I remember being very impressed by that sign and when he did his song I thought 'How did he know about that gang in Edinburgh?' Of course, he didn't, but it made me always love that title.  And I'm sure both were an influence on my fanzine back then."
If you're a fan of The Waterboys, you may have noticed that they're playing more cities in America than they've generally done before.  In the past, there were tours that only hit a handful of cities and many years in which the band did not even tour in America. 
"I always found it difficult to get to the States and once we would do a tour it would always be three or four years until we got back," explained Scott.  "Seems to be managing more these days and it helps that we've got American management now."
This will be the first time the band has toured America since 2015.  Scott says the band essentially has two new albums to perform since they did not tour the area for 2017's Out Of All This Blue release.  So fans can expect to hear songs from that release and the new one, plus plenty more.
"We roam freely through the history of The Waterboys," he continued.  "Play songs from most of the records.  The set changes night to night and we're doing two sets each night with an intermission.  There's plenty of room for variety."
Many fans have noticed what appears to be a steadier stream of releases in the past five years than usual.  Some of that stems from him becoming a father.  He's got a boy that's just two years old and a daughter who is six.  He says he works faster now than before because his time is more pressured as a dad.  If he's got three hours to work in his home studio he tries to take full advantage of it.
Since Scott has lived in Britain, Ireland, and Scotland - three places that will all be affected by Brexit, I ask what he thinks will happen.
"I don't think anybody knows what will happen if Brexit goes through," he replies.  "I mistrust the whole process.  I think the referendum was heavily distorted by what they call dark money and false advertising.  So I mistrust the process and mistrust our new Prime Minister, Boris Johnson, who's kind of a Trump clone.  He's famous for lying I'm afraid. So I don't expect anything good to come of him unless there's a marshalling of the forces of opposition to him.  One would hope that's Trump's greatest contribution too.  If he works as a focal point for the forces of sanity to take charge then he would have done something."
ESSENTIAL ALBUMS: This Is The Sea
includes "The Whole of the Moon", "Be My Enemy", title track
ESSENTIAL ALBUMS: Fisherman's Blues
includes "And A Bang On The Ear","Strange Boat", title track
---
Gary Wien has been covering the arts since 2001 and has had work published with Jersey Arts, Elmore Magazine, Princeton Magazine, Backstreets and other publications. He is a three-time winner of the Asbury Music Award for Top Music Journalist and the author of Beyond the Palace (the first book on the history of rock and roll in Asbury Park) and Are You Listening? The Top 100 Albums of 2001-2010 by New Jersey Artists. In addition, he runs New Jersey Stage and the online radio station The Penguin Rocks. He can be contacted at gary@newjerseystage.com.
---