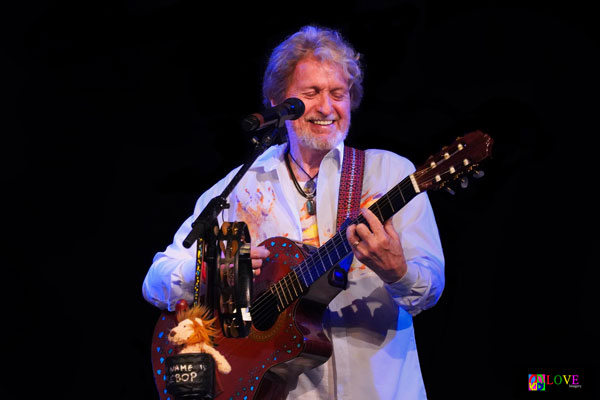 It's a gorgeous Monday, July 29, 2019 evening on the boardwalk in Ocean City, NJ, where music fans are lining up for a live Ocean City Music Pier performance by English singer/songwriter Jon Anderson, best known as a founding member of the progressive rock band, Yes.
Jon Anderson was born on October 25, 1944 in Lancashire in northwest England. His parents, Albert and Kathleen, were champion ballroom dancers. As a youngster, Jon listened to the music of such influential artists as Elvis Presley, Eddie Cochran, The Everly Brothers, and Jon Hendricks.
As a teen, Anderson began his career in music as a washboard player in a local skiffle group. At fifteen, his father took ill, and Anderson had to leave school to support his family by working a variety of jobs including farm laborer, truck driver, and milkman.
Although Anderson didn't plan on becoming a professional singer, after his brother Tony joined a group called The Warriors, Anderson took over as a vocalist when one of the singers left the band. With this job, Anderson soon found music a better choice for making a living than doing manual labor.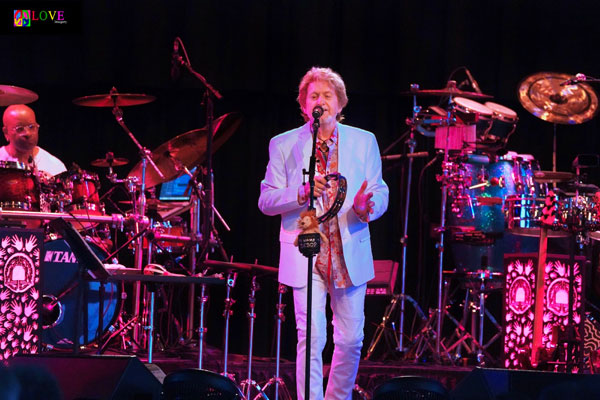 After the group broke up, Anderson — under the pseudonym Hans Christian — recorded several demos. One of them was a cover version of The Association's "Never My Love," which received a positive reception from the music press.
---
The article continues after this ad
---
---
In 1968, Anderson met bassist Chris Squire and the pair began to write songs. Along with Bill Bruford, Peter Banks, and Tony Kaye, they created the band, Yes.
Despite the fact that he was not an instrumentalist, Anderson was strongly involved in the selection of successive Yes members including guitarist Steve Howe, keyboardist Rick Wakeman, and drummer Alan White. The band hit the big time with such popular recordings as 1971's double-platinum album, Fragile, and 1972's million-seller, Close to the Edge.
In addition to Yes, in the early 1970s, Anderson worked with artists including King Crimson, Iron Butterfly, and the Greek musician Vangelis. In 1976 — on a break from Yes — he released his first solo album, Olias of Sunhillow. Over a period of six months, he recorded all of the music for the album in his garage, learning how to play every instrument himself.
During the early '80s, Anderson was invited to be a part of a group called Cinema which featured former Yes members Chris Squire, Alan White, and Tony Kaye, along with guitarist Trevor Rabin. After Cinema changed its name to Yes, their recording, 90125, became Yes' best selling album.
Anderson reunited with several of his former musical colleagues in 1988 to form a new group — Anderson, Bruford, Wakeman, Howe. In 1990, the members of this band joined the then-current members of Yes with the resulting eight members of both groups assuming the name Yes. The band celebrated with a 35th Anniversary Tour in 2004.
Yes was inducted into the Rock and Roll Hall of Fame in 2017. In March of 2019, Anderson released 1000 Hands: Chapter One, an album he'd started 30 years before featuring former Yes bandmate Steve Howe in addition to such other prominent musicians as violinist Jean-Luc Ponty, pianist Chick Corea, and drummer Billy Cobham.
Inside the beautiful Ocean City Music Pier, before Jon Anderson takes the stage, the crowd is treated to a performance by young musicians from the Paul Green Rock Academy jointly located in Philadelphia, PA and in Greenwich, CT.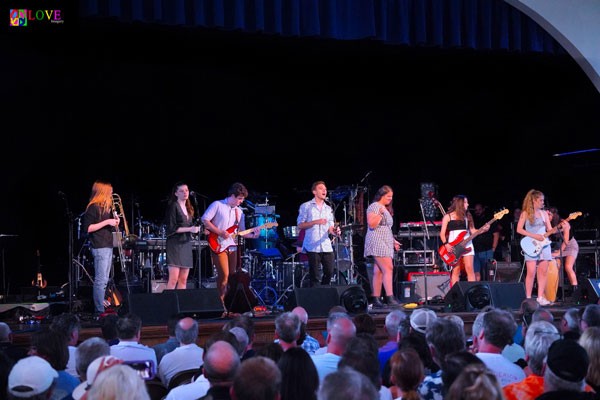 With a set list which includes such challenging pieces as "Rosanna" by Toto and "Barracuda" by Heart, the youngsters from the Academy demonstrate their vocal and instrumental talents to the packed house.
A highlight of the youngsters' set is a performance of "South Side of the Sky" by Yes, during which Jon Anderson makes his way onto the stage to sing with the kids, including Sophie Gilbert, age 16, from Darien, CT.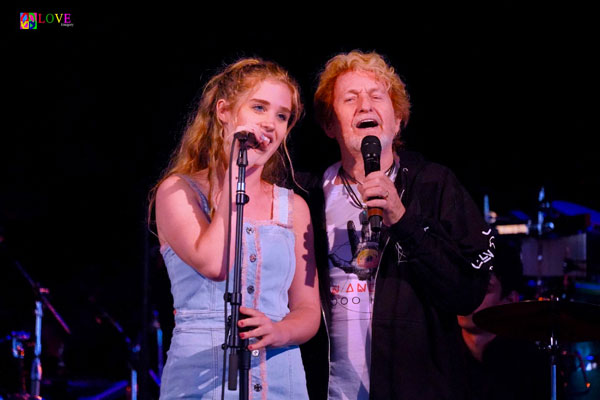 The audience responds with an enthusiastic standing ovation.
Following the performance, we take a moment to chat with Sophie who informs us that this is the third time the group has opened for Jon Anderson.
Revealing, "My favorite song tonight was 'South Side of the Sky,'" Sophie acknowledges, "This was the first time Jon Anderson surprised us and came on stage," before concluding, "It was an amazing experience getting to sing with him."
The lights dim and musicians Tommy Calton on guitar, violinist Jocelyn Hsu, drummer Rayford Griffon, percussionist Steady Joseph, bassist Tim Franklin, keyboardist Zach Tenorio, woodwind player Billy Meether, and keyboardist/trombonist/guitarist/mandolinist Joe Cosas take the stage.
The audience rises as Jon Anderson makes his way to the foot of the stage to open with Yes' 1984 #1 hit, "Owner of a Lonely Heart."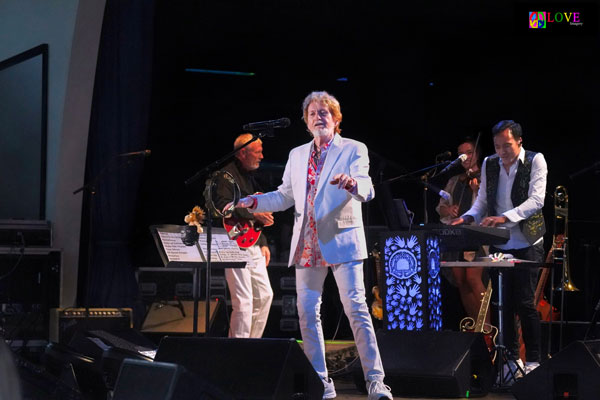 His alto/tenor voice sounding as full and clear as ever, Anderson deftly works the stage as the audience joins in on the catchy "Owner of a lonely heart" refrain.
The ultra-tight band accompanies Anderson as Billy Meether's soprano and bari sax playing and Jocelyn Hsu's violin talents add their own special timbres to the mix.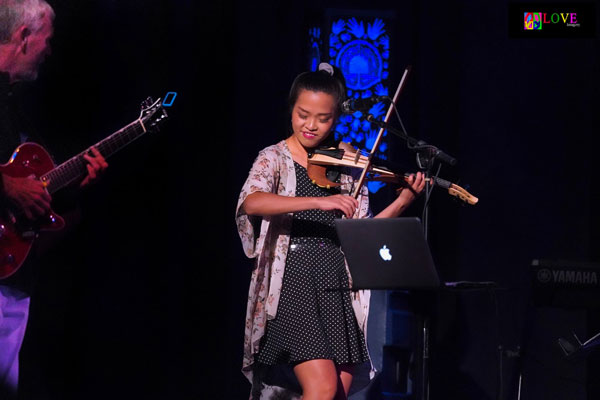 The crowd rises and applauds for this high energy performance and continues to cheer once they recognize the intro to Yes' "Yours is No Disgrace."
As towers of magenta light radiate the stage, Anderson shakes his tambourine to this composition which walks the line between funk-rock and jazz.
Singing center stage with passion and soul, Anderson's arms open as four-part vocal harmonies accompany him and the smoking band incites audience members to move in their seats to the complex and riveting music wafting through the auditorium.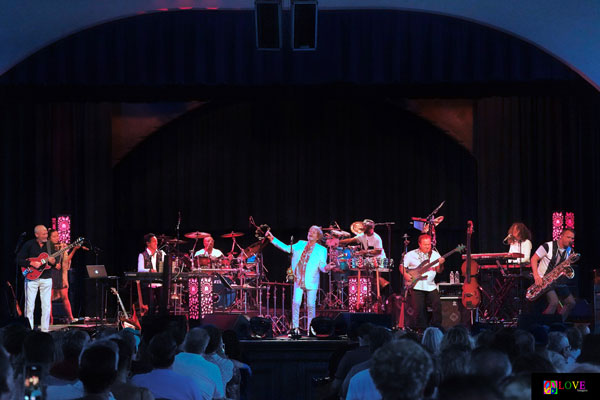 At the conclusion, the audience stands to Jon's delight as he claps along with the crowd. Then, he and the band segue into "Ramalama," a number from Anderson's latest album, 1000 Hands.
Seven-part vocal harmonies surround Anderson's voice like an orchestra of voices. Point and counterpoint alternate with an instrumental accompaniment which features violin, bass, keyboard, percussion, drums, and guitar.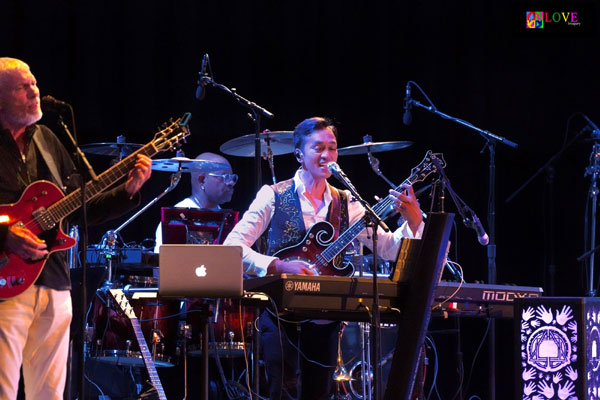 A Meether flute solo flutters over the vocal line eliciting cheers and whistles from the crowd.
Taking time to greet the audience, Anderson announces, "It's great to be with you tonight," before looking around the auditorium and exclaiming, "I love the windows! Such great views of Ocean City!"
Flute and electric violin are featured on "State of Independence," a song recorded by Anderson and Vangelis, best known for his Academy Award-winning score for the film, Chariots of Fire.
Anderson moves like a conductor as the music swirls around him in rhythmic splendor.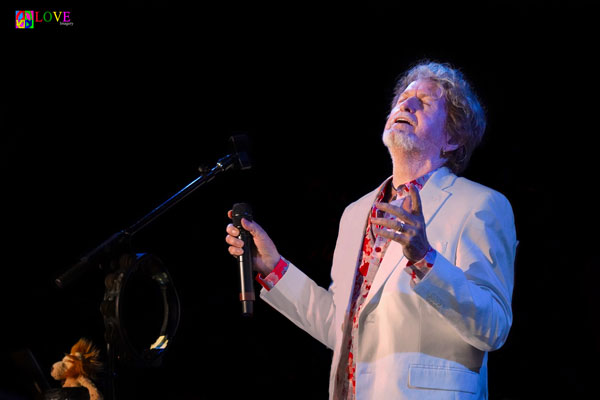 Once he starts singing, his voice punctuates the piece with power and emotion and functions as an instrument which adds the ultimate layer of sound to his pop symphony.
Tim Franklin plays electric upright bass as he sings on this composition that audience members can feel in their hearts and souls and which compels them to respond with enthusiastic cheers and whistles.
Announcing, "Music can change our higher self," Anderson acknowledges, "It makes me happy."
Here, he launches into another song from 1000 Hands entitled "Makes Me Happy."
After beginning the performance, Anderson abruptly stops the music saying, "The ukulele is very important on this song!"
Once the ukulele amplification problem is fixed, he restarts this bouncy number singing, "Just to be who you are makes me happy/Just to be where you are makes me feel so good inside."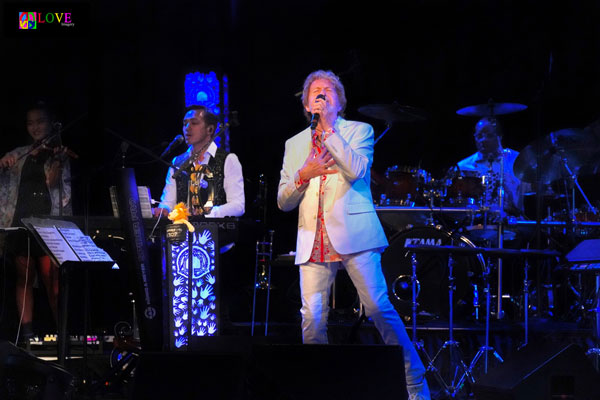 As lights dance on stage, Anderson is followed by an interlude which features Joe Cosas on trombone and Billy Meether on saxophone before the piece ends with a final strum of the ukulele.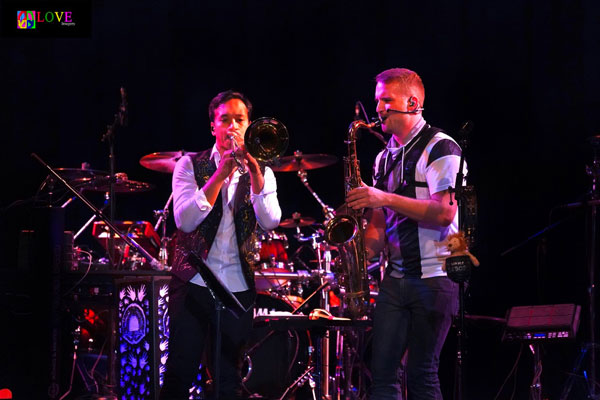 Audience members cheer as a fan yells out, "Thank you, Jon!"
Two 12-string guitars twang and seven-part harmonies ring out on Yes' "Your Move," before the acoustic guitarists switch over to electric guitar and keyboard for Anderson's rendition of Yes' "I've Seen All Good People." Clapping and urging the audience to join in, Anderson and the crowd sing the infectious "I've seen all good people turn their heads each day/So satisfied I'm on my way" refrain on this feel-good song which ends in a standing ovation.
A highlight of the evening's concert is an upbeat jazz-rock cover version of Simon and Garfunkel's "America."
As Anderson moves and conducts the band on this innovative arrangement, sax and bass duet with Jon's vocal, and the Jersey crowd cheers when he sings the lyric, "Counting the cars on the New Jersey Turnpike."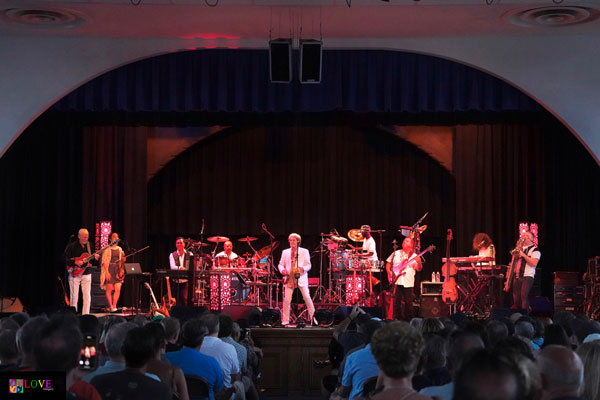 "What a band! What a band!" exclaims Anderson before stating, "The great mystery of life — where does music come from?"
Here, he and the band launch into another selection from 1000 Handsentitled "WDMCF (Where Does Music Come From)." The piece opens with a mystical sounding intro before taking on a rhythmic new-age world music vibe where seven-part vocals appear singing "Tell me/ Where does/Music/Come from/Inside/Outside/Forever." Filling the hall with good vibrations, this piece inspires within listeners a feeling of mystery, soul, and jubilation.
Anderson departs the stage, leaving his band members in the spotlight to perform a cover version of Pee Wee Ellis' "The Chicken," a jazz-funk piece which enables them to solo on their respective instruments.
During a short intermission we chat with an audience member, Rob from Pitman, and his mom.
Says Rob, 19, "I've been a fan of Jon Anderson's for five years. I heard about his music from friends, and I've known every single song he's played so far tonight."
Revealing that, thanks to Anderson and his music, he's now learning how to play the guitar, Rob acknowledges that he's both a fan of Anderson's solo work and his output with Yes saying, "I like progressive rock albums like 90125 and Fragile — I can really I appreciate how complex his music is."
Mom Dina agrees adding, "I'm learning all about this type of music from my son," noting, "Last month, we saw Steve Howe in concert and when I asked Rob what he wanted for his birthday, he said he wanted to see Jon Anderson."
Continuing, " We're so glad to be seeing him here at the Ocean City Music Pier," Dina notes, "It's a great venue where you can come to hang out on the beach all day and then see a fabulous concert at night. It's just beautiful."
The lights dim and Act II begins with an unplugged selection of tunes starting with "Flight of the Moorglade" from Anderson's debut solo album, Olias of Sunhillow.
As Anderson plays a unique thin dulcimer-like instrument known as a strummer, Tim Franklin plucks his stand-up bass, Steady Joseph taps on his hand drum, and Rayford Griffon plays a box drum he sits on while vocal harmonies follow one another around to create a sweet canon.
Violin, mandolin, soprano sax, shakers, and box drum are featured as Anderson plays acoustic guitar on Yes' "Sweet Dreams." On this upbeat New Age piece which features tight breaks and harmonies, the percussion section joyfully simmers and prompts cheers from the crowd.
As fans shout, "Beautiful!" and "We love you, Jon," Anderson and Co. segue into another number from Olias of Sunhillow, "To The Runner," a number which features percussionist Steady Joseph and saxophonist Billy Meeher dancing together on the break with synchronized hand motions.
Up next is a unplugged rendition of Yes' "Long Distance Run Around." Opening with a piano intro, this world music arrangement highlights Anderson's vocal power as he sings "Long distance runaround/Long time waiting to feel the sound," bringing audience members back in time to the music of early 1970s but with the twist of a distinct 21st-century vibe.
Anderson takes a moment to introduce his band members — notably guitarist Tommy Colton from Finland, violinist Jocelyn Hsu from Taiwan, keyboard/trombone/guitarist/mandolinist Joe Cosas from The Philippines, percussionists Rayford Griffon and Steady Joseph from Trinidad, bassist Tim Franklin from Ireland, keyboardist Zach Tenorio "from somewhere in this hemisphere," and woodwind expert Billy Meether on "sax, flute, and dancing."
The group launches into Yes' "Wonderous Stories," the sound encircling the audience as Anderson sings, moving and deeply feeling the music he's performing.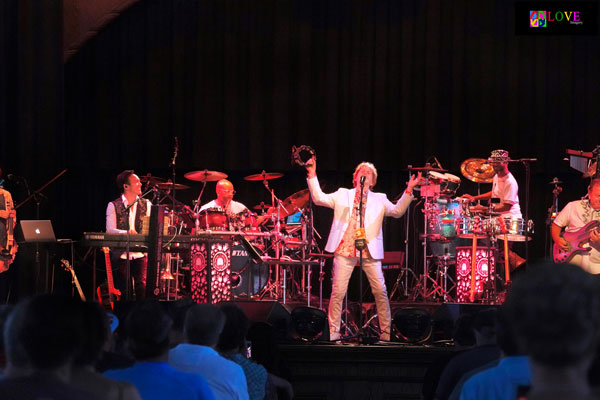 Announcing "The 1000 Hands album took 30 years to create, but music is timeless whenever you write it," Anderson points out, "You'll hear the phrase, 'We have so much, we are always wanting more,' in this song."
Mandolin, ukelele, acoustic guitar, keyboards, bass, sax, drums, and percussion interweave on "First Born Leaders," a catchy tune with a reggae feel which puts audience members in an island mood.
After explaining, "This next song was written 30 years ago. The energy — the lyrics — took 30 years to bake," Anderson performs "Come Up."
Featuring flute and violin duetting next to one another, Anderson invites the audience to clap along on this upbeat song with inviting vocal parts.
An extended jam takes place, with a low and resonant-sounding bari sax adding to the percussive mix as Tim Franklin holds down the bottom on the bass.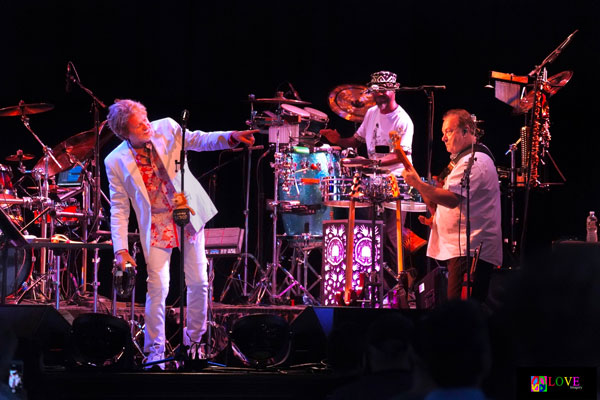 Finger picking on the guitar segues into a country picking song. Lights flash as seven-part harmonies ring out. Audience members clap along as acoustic and electric guitars strum with the bass, sax, and violin.
Anderson invites the audience to stand and clap along as he and the band segue into Yes' "Starship Trooper."
Singing "Sister bluebird flying high above/Shine your wings forward to the sun," Anderson and the band rock out.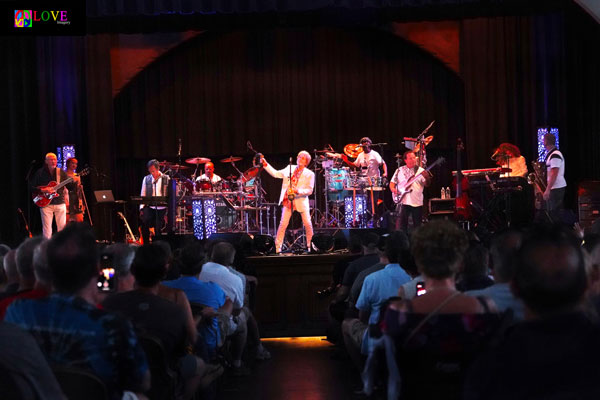 Steady Joseph plays with lighted drum sticks which add to the drama of the presentation as purple shafts of light stream upward.
The band sounds like an orchestra as they play this stirring anthemic piece which ends with the entire crowd on its feet cheering and the musicians responding in kind with a group bow. 
For an encore, Anderson and Co. perform Yes' "Roundabout," the audience continuing to stand and clap for this classic rocker as everyone sings, "I'll be the roundabout/The words will make you out 'n' out."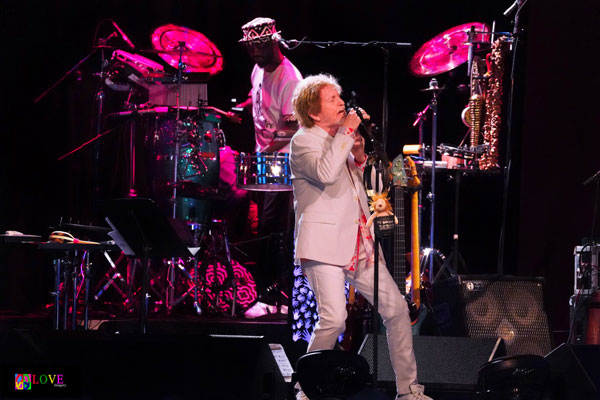 Joe Cosas on trombone and Billy Meether on sax are featured downstage as the arrangement changes to a world music feel which incorporates different rhythms and accents before segueing back into the original groove which elicits cheers and whistles and another standing ovation.
As audience members take their seats to enjoy tonight's final encore, Anderson picks up his acoustic guitar for his rendition of Yes' "Soon."
Pizzicato violin with flute, guitar, bass, and keys accompany Anderson as he sings with feeling, "Soon oh soon the light/Ours to shape for all time, ours the right/The sun will lead us/Our reason to be here."
The crowd stands and cheers one last time for Anderson and his musicians who take a final bow following this impressive performance.
As audience members make their way out of the auditorium, we get an opportunity to chat with two members of Jon Anderson's band.
First, we converse with keyboardist Zach Tenorio who confesses, "This is only my fourth gig with the band — I started one week ago and I'm still wrapping my head around it!"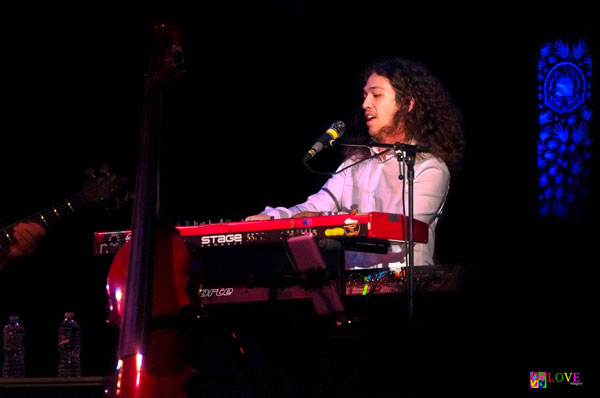 Revealing that he already knew several of Anderson's songs prior to his joining the band, Tenorio explains, "In 2007, I played 'Roundabout' and several other Yes songs when I was a part of the Paul Green Rock Academy," before concluding, "As you can imagine, I'm really loving this!"
Next, we chat with multi-instrumentalist Joe Cosas, Anderson's co-musical director, who has been a part of the group since February and is now on his second tour with the band.
Says Cosas, "Playing with Jon Anderson is a dream, and doing it here on the beach is like a dream on top of a dream — it's just been amazing," before exclaiming, "Plus, the vibe and energy of the room tonight was great!"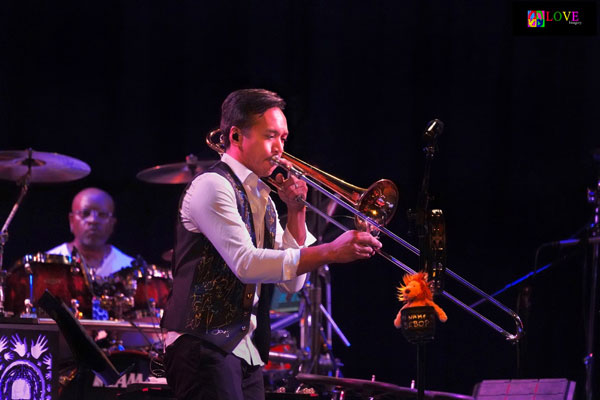 We also get a chance to chat with several audience members who share their opinions of tonight's concert by Jon Anderson.
Remarks Leroy from Wyomissing PA, "This was the best show I've seen in 20 years!"
His companion, Lynn, agrees adding, "Jon Anderson sounded like a young boy angel. He's so young and spiritual, and his music is very whimsical — I just loved everything about this show."
Bill from Clinton calls Anderson's performance tonight, "Incredible — so good, I want to see it again," explaining, "The music is amazing, and Jon Anderson treats it as if he's a conductor — it's just so good!"
Adam from Nashville agrees stating, "Wow! It's so interesting how they re-orchestrated some of the Yes songs and some of the Jon Anderson songs. It made it so enjoyable — so fresh, and so human — putting different spins on the arrangements."
Continuing, "Jon Anderson is so rhythmically attuned — there's tremendous musicianship in this band and such an interesting mix of people and instruments," Adam concludes by revealing, "This was a very personal concert to me — I've seen 'Roundabout' performed live at least 25 times before, and I love how that they rearranged it and really made it so alive, so fresh, and so very Jon Anderson."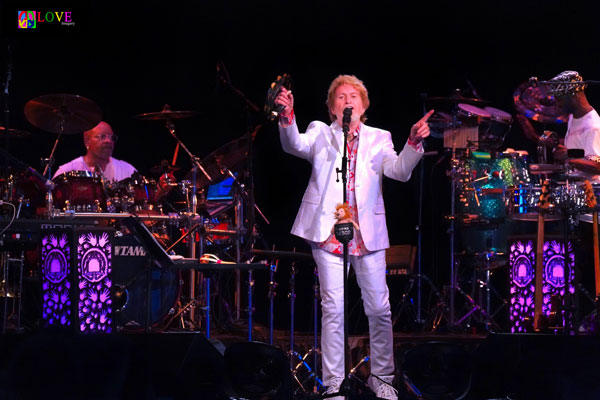 Lastly, we chaw with Dian from Philadelphia who tells us, "I've followed Jon Anderson for 30 years. I discovered Yes when I was in high school. Since then, I've seen the group about 200 times and I've also been to over 70 Jon Anderson concerts."
Recalling, "I grew up with classical music so I like to listen to the key changes, the time signatures, and the harmonies — you really have so much to listen to with Jon's music," Dian acknowledges, "I've been to 14 concerts in the Spring and 12 on this leg of the tour — I'm a huge fan," before showing us her only tattoo —a "Yes" logo she has tattooed on her chest.
Adding, "Jon is a virtuoso — his music is intricate, and his voice is amazing," Dian concludes by asserting, "To me, Jon Anderson is Yes."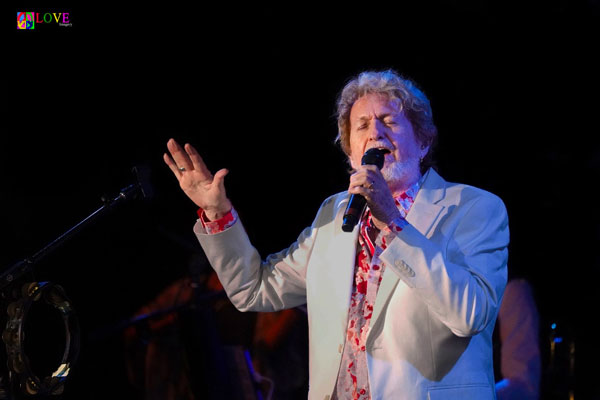 To learn more about Jon Anderson, please go to jonanderson.com. For information on future summer concerts at Ocean City Music Pier — including The Zombies on August 19 and Walter Trout on August 20 — please go to ocnj.us/summerconcerts.
Photos by Love Imagery
Spotlight Central. Your source for Jersey entertainment news and reviews
Love Imagery Fine Art Photography. all you need. peace/love/flower/power