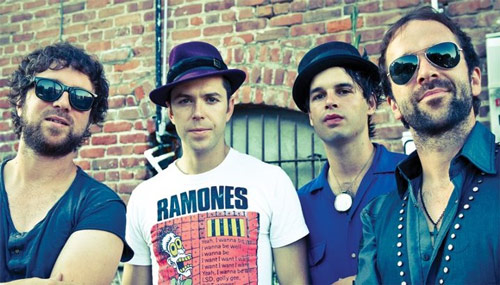 I can't explain it, but ever since I was a teenager my favorite artists have either been from New Jersey or Canada. If a dozen artists were played on the radio, chances are I'd somehow manage to pick out the ones from those two areas without ever knowing their histories. My collection of Canadian artists began to grow exponentially when I first subscribed to satellite radio a few years back. Ever since then, Iceberg 151 (a station that mostly plays Canadian artists) has been one of my top presets.
One of the first artists I stumbled upon from satellite is The Trews from Toronto (actually, I believe they were still based in Nova Scotia when I was turned on to them). In Canada, they're pretty much a household name with 13 top-10 singles and nearly 1,000 shows performed from coast to coast. In recent years, the accolades have been coming from this country as well. They've been called "the greatest rock band of their generation" by Performer Magazine. That's normally the kind of quote that makes bands cringe, but as I've heard it more and more by people I trust I'm beginning to wonder if they're on to something. While I love the band's music, tonight will be my first time seeing them live. I'm anxious to see if the others are right.
The Trews will be hitting The Saint in Asbury Park, NJ on Thursday, July 26. The U.S. portion of their current tour included dates in Lewiston, NY; Sturtevant, WI; Chicago; and Philadelphia. After the show at The Saint, they're heading to Manchester, NH and then back to Canada for a few weeks. The tour is in support of their latest disc, Hope & Ruin, which includes tracks like "Misery Loves Company", "One By One", "The World I Know", and the brilliant title track.
Their music explodes with passion. It's big anthems, surrounded by blazing guitars, gritty vocals, and a tightness that only comes from bands who have been around the block for quite a while. I've had this one on my calendar since it was first announced. This is the type of show that people will regret missing when their friends tell them how good it was. See it for yourself tonight.
Here are videos of some of my favorite tracks by the band:

In addition to The Trews, the lineup includes Red Desert and Flatleaver. Doors are at 7:30pm, admission is $10. The Saint is located at 601 Main Street in Asbury Park, NJ.
For more information on The Trews visit http://www.thetrewsmusic.com or http://www.facebook.com/thetrewsmusic