---
Tune into Radio Jersey with Lee Mrowicki every Monday through Friday from 6pm to 8pm
Broadcast on Asbury Music!
---
The Torch Has Been Passed to Nicole Atkins
By Gary Wien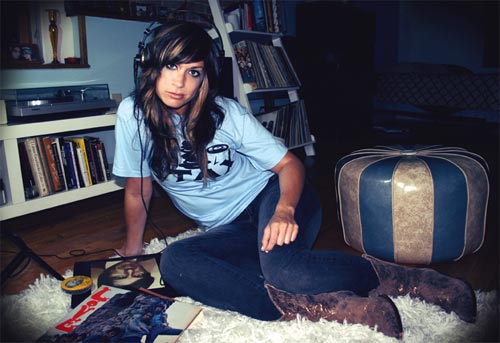 (ASBURY PARK, NJ - March 20, 2009) - The Stone Pony was the site of another special rock and roll evening on Friday night when Butch Walker invited a special guest on stage. For decades, the thought of a special guest at The Pony meant Bruce Springsteen was in the house, but tonight was different. Tonight was the passing of the torch to a new generation of Asbury Park heroes and the leader is Nicole Atkins. As Nicole joined Butch Walker on stage, the crowd responded with the same thunderous applause normally heard for the Boss. The two proceeded to play a beautiful rendition of Elton John's "Tiny Dancer" with dozens of camera phones all recording the moment. A quick check of YouTube.com not only found this tune, but at least 10 others from the show. We're truly in a new era of bootlegging. Some of the videos are actually very good quality as well. The addition of Nicole capped off a great set by Butch Walker who really seemed to enjoy playing at the Stone Pony again. Song after song, his energy kept growing stronger and the final fifteen minutes (which included the duet with Nicole) was among the best fifteen minutes I've ever seen at the club. It included some brilliant jamming, the classic cover, and even Butch singing "Hot Girls in Good Moods" from the bar across from the stage! I'm a fan of Butch's music, but just a casual fan. I was surprised to hear so many songs that I knew well from spinning them on the online radio station for years. Tunes such as "Race Cars & Goth Rock" and "#1 Summer Jam" stood out for me. Butch also played cuts like "Maybe it's just Me," "Here Comes the Heartbreak," "Vessels," and "Best Thing You Never Had." If you missed the show, just search YouTube and you'll probably be able to recreate the entire set! All in all, it was an impressive show by Butch Walker and a pretty good night of music overall. While The Films didn't do much for me, Chris Batten & the Woods gave another one of their spectacular live performances. They have been one of the most consistently strong live acts in New Jersey for several years now. Hopefully, they gained some fans on Friday night as the band opened the night in front of a packed house. Looking back on the night, it's great to see Nicole Atkins not only taking that next step towards stardom but bringing Asbury Park along for the ride. Just as Springsteen lent credibility to the area by living here, Nicole is doing the same. She's making Asbury Park hip again on a national level. While Asbury Park has always had great musicians and great shows, its national presence has leaned on Springsteen for too long. Bon Jovi had the unfortunate timing to be hitting it big just as Springsteen was releasing some of his most popular records, so he never quite had the opportunity to own the town the way Nicole does now. And she's clearly making the most of this opportunity. I once said Nicole would own Neptune City the way Bruce owned Asbury Park, I was wrong. She's going to own both...
---
For more by this author, click here
---


Arijit Singh's New North American Tour Will Include Single Stop In Tri-State Region At Prudential Center on April 13
(NEWARK, NJ) -- Bright Brain Productions, the leading entertainment company based in California announced the "Arijit Singh LIVE Tour" in 12 cities all across the U.S. This is the first of its kind and largest tour done by Arijit Singh or any Indian artist. The tour beings on April 5 and travels through major U.S. cities culminating on May 5.  The tour stops at Prudential Center in Newark on Saturday, April 13 at 7:00pm.
---
Light of Day's Main Event To Be Broadcast Live at McLoone's Supper Club
(ASBURY PARK, NJ) -- If you couldn't get tickets for the fabled "main event" of the 2019 Light of Day Winterfest, you have another chance see the show.  For the first time in the 19-year history of the festival, the "main event", the star-studded "Bob's Birthday Bash" on January 19th (a show that has long sold out), will be broadcast live via fiber optic cable at McLoone's Supper Club in Asbury Park.
---
Wharton Institute for the Performing Arts To Hold Winter Open House On January 27
(BERKELEY HEIGHTS) -- Wharton Institute for the Performing Arts (WIPA) will host a Winter Open House on Sunday, January 27 from 1:00pm to 4:00pm. The free event is open to the public and will be held at the Performing Arts School (PAS) located at 60 Locust Avenue in Berkeley Heights.
---
Billy Idol and Steve Stevens To Perform At Count Basie Center For The Arts
(RED BANK, NJ) -- Billy Idol and Steve Stevens, one of rock's most iconic and enduring duos, will hit the road this March for their first ever tour performing as a duo: Turned On, Tuned In and Unplugged. The Billy Idol/Steve Stevens tour comes to The Count Basie Center for the Arts on Thursday, April 4th.
---
McDonald's Gospelfest To Celebrate The Life of Aretha Franklin With Return to Prudential Center
(NEWARK, NJ) -- The 37th Annual McDonald's Gospelfest returns to the Prudential Center on Saturday, May 11 for the gospel event of the year. This year's event will honor and celebrate the life and legacy of the "Queen of Soul" Aretha Franklin with an All-Star cast. The 5:00pm to 7:00pm portion of the evening will feature a rising stars competition for all ages and cultures in categories including Soloists, Choirs, Praise Dancers, Singing Groups, Gospel Comedians, Gospel Poets and Gospel Rappers. The gospel concert, beginning at 7:00pm, will feature some of the most renowned gospel artists in music history with the goal of spreading love, peace and joy to all races, nationalities and beliefs.
---


Scott Wolfson and Other Heroes At Riverside Rhythm & Rhyme
This coming Sunday, January 20, Scott Wolfson and his band will be serving up their unique blend of Americana at the Riverside Rhythm & Rhyme series at Investors Bank Theater in Succasunna, New Jersey. The band – Scott Wolfson and Other Heroes – formed in Jersey City in 2011, and, even though the members have migrated in various directions since then, they still consider themselves to be a Jersey City band.
---
"He Totally Wowed Us!" John Oates LIVE! at SOPAC
It's brisk for an evening walk on South Orange Ave. in South Orange, NJ, this Friday, Jan. 4, 2019 evening, but it's a good road to follow as it leads us directly to the South Orange Performing Arts Center (SOPAC) for a special performance by singer, songwriter, and guitarist John Oates and his backup group, The Good Road Band.
---
"Tons of Fun!" The Glenn Miller Orchestra LIVE! at the Grunin Center
Although Friday, December 21, 2018 is the shortest day of the year, the audience of big band music lovers here at Toms River, NJ's Grunin Center for the Arts is hoping for a long evening of classic swing and holiday tunes performed by the incomparable Glenn Miller Orchestra!
---
Mike Davis and The New Wonders
Mike Davis traces his love for the trumpet back to a Disney movie. He grew up in a musical family, with both his parents playing strings in the Seattle Symphony. But Davis wanted an instrument of his own. Then, at age 9, he saw "The Aristocats," the animated film about a bunch of French felines — including a group of jazz-playing alley cats.
---
Ana Gasteyer's "Holiday Tipple" LIVE! at the Grunin Center
The Grunin Center stage in Toms River, NJ is set this Saturday, December 15, 2018 with drums, a grand piano, a guitar, an acoustic bass, and various microphones for vocals. A stool and several microphone stands are bedazzled with colorful garlands of shiny red, gold, and green, and wrapped gifts are strewn on stage among the instruments. Projected white snowflakes adorn the walls, and Christmas music plays as patrons enter the theater to put everyone in the mood for tonight's holiday show — Ana Gastayer's Holiday Tipple!
---
Event calendar
Friday, Jan 18, 2019
---
MUSIC

---
---
---
---
---
THEATRE

---
---
Annie Jr.

@ The Oakes Center, Summit - 7:30pm
---
Some Girl(s)

@ Studio Playhouse Upper Montclair, Upper Montclair - 8:00pm
---
---
COMEDY

---
---
MISC

---
---
View all events
---