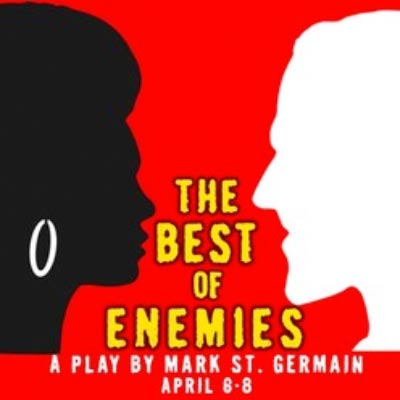 (MAPLEWOOD, NJ) -- As America celebrates Martin Luther King's life half a century after his assassination on April 4, 1968, The Theater Project commemorates this milestone with The Best of Enemies, a play that begins on the night of Dr. King's death. Two people in the same city but worlds apart – a black civil rights activist and a Ku Klux Klan leader – react to the news of the assassination in shocking but predictably different ways. Performances run April 5-8.
A TRUE STORY:  Flash forward three years to 1971 in this true story, when an ambitious young community organizer decides that the only way to move Durham, North Carolina's deeply segregated schools closer to Martin Luther King's vision of integrated, equal education is to bring these two bitter enemies together on the same school board committee:  Ann Atwater, the black activist, and C.P. Ellis, the local KKK leader, are locked in a fierce struggle that forces them both to confront the worst and best in each other and themselves.
"It's tempting to think of the Ku Klux Klan as a relic from the past, but recent events in Charlottesville and elsewhere remind us that the issues of racism explored in this play are very much with us, and need to be examined and addressed," said Mark Spina, Theater Project Artistic Director.
Mark St. Germain's play The Best of Enemies is based on the book by Osha Gray Davidson. It features Gary Glor, Daaimah Talley, BK Dawson and Dara Lewis, and is directed by Mark Spina.
At the door admission is $28; $25 seniors and $15 students. The Best of Enemies is part of The Theater Project's THREE PLAYS IN THREE WEEKS series, so patrons can purchase tickets to see three different shows for $45, and two for $40. The series includes The Best of Enemies (April 5-8), Back Channel (April 13-15) and Exit Followed By A Bear (April 20-22.)  Tickets: TheTheaterProject.org. Information: 908 809-8865.
---
The article continues after this ad
---
---
The Theater Project, now in its 24nd year, presents its main stage season at the Burgdorff Center in Maplewood. It also offers programs such as a playwright's workshop, new play presentations, and classes for kids in Essex and Union Counties.