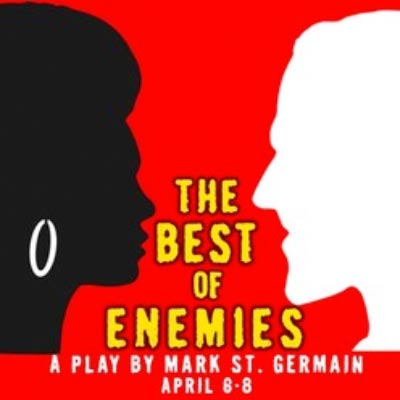 (MAPLEWOOD, NJ) -- As America celebrates Martin Luther King's life half a century after his assassination on April 4, 1968, The Theater Project commemorates this milestone with The Best of Enemies, a play that begins on the night of Dr. King's death. Two people in the same city but worlds apart – a black civil rights activist and a Ku Klux Klan leader – react to the news of the assassination in shocking but predictably different ways. Performances run April 5-8.
A TRUE STORY:  Flash forward three years to 1971 in this true story, when an ambitious young community organizer decides that the only way to move Durham, North Carolina's deeply segregated schools closer to Martin Luther King's vision of integrated, equal education is to bring these two bitter enemies together on the same school board committee:  Ann Atwater, the black activist, and C.P. Ellis, the local KKK leader, are locked in a fierce struggle that forces them both to confront the worst and best in each other and themselves.
"It's tempting to think of the Ku Klux Klan as a relic from the past, but recent events in Charlottesville and elsewhere remind us that the issues of racism explored in this play are very much with us, and need to be examined and addressed," said Mark Spina, Theater Project Artistic Director.
Mark St. Germain's play The Best of Enemies is based on the book by Osha Gray Davidson. It features Gary Glor, Daaimah Talley, BK Dawson and Dara Lewis, and is directed by Mark Spina.
At the door admission is $28; $25 seniors and $15 students. The Best of Enemies is part of The Theater Project's THREE PLAYS IN THREE WEEKS series, so patrons can purchase tickets to see three different shows for $45, and two for $40. The series includes The Best of Enemies (April 5-8), Back Channel (April 13-15) and Exit Followed By A Bear (April 20-22.)  Tickets: TheTheaterProject.org. Information: 908 809-8865.
---
The article continues after this ad
---
---
The Theater Project, now in its 24nd year, presents its main stage season at the Burgdorff Center in Maplewood. It also offers programs such as a playwright's workshop, new play presentations, and classes for kids in Essex and Union Counties.  
originally published: 2018-03-13 15:40:04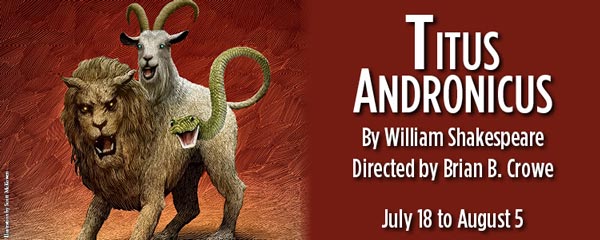 Titus Andronicus Will Play at The Shakespeare Theatre for the First Time in Over 30 Years
(MADISON, NJ) -- The Shakespeare Theatre of New Jersey continues its 56th season with its second Main Stage production, Titus Andronicus. Resident Director Brian B. Crowe will helm this rarely produced Shakespearean tragedy. STNJ veteran Bruce Cromer will play the title role; Tony Award nominee Robert Cuccioli and returning company members Vanessa Morosco and Benjamin Eakeley will play leading roles amongst a cast of 20 actors that also includes young artists from the Theatre's renowned Summer Professional Training Program. Performances run July 18 through August 5.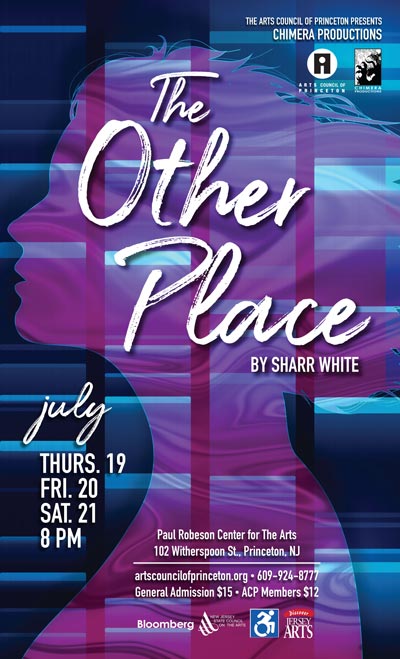 The Arts Council of Princeton and Chimera Productions present The Other Place
(PRINCETON, NJ) -- Chimera Productions presents its 13th production, The Other Place by Sharr White, in Princeton, New Jersey on July 19, 20 and 21, 2018, in conjunction with The Arts Council of Princeton. The play, presented in the intimate 60-seat theater inside Princeton's Paul Robeson Center for the Arts, is a fast-paced, witty, powerhouse of a drama about a scientist on the brink of a revolutionary discover, who's also contemplating divorce and trying to revive her relationship with her estranged daughter.




Tri-State Actors Theater Presents A Reading of "To Trample The Dragon"
(DOVER, NJ) -- Tri-State Actors Theater will present two readings of To Trample The Dragon, a new work by by Peter Mitsopoulos. The readings will take place June 28-29 at 8:00pm in the Dover Little Theatre.  This is a play that touches the loss we have all known, and the love that helps us survive.  Admission is by donation.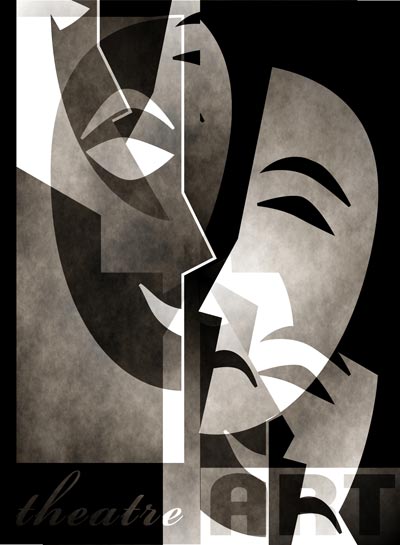 Two River Theater Presents Professional Development for Teachers: Examining the Work of T. Thomas Fortune and August Wilson
(RED BANK, NJ) -- Two River Theater, under the leadership of Artistic Director John Dias and Managing Director Michael Hurst, has announced a special one-day professional development program for educators on Tuesday, July 17 from 9:30am-4:30pm. "Examining the Work of T. Thomas Fortune and August Wilson" is being presented as a collaboration between Red Bank's T. Thomas Fortune Foundation and Two River Theater, in compliance with the New Jersey Amistad Commission. The program will focus on the work of T. Thomas Fortune (writer, journalist, social justice crusader, and editor of the New York Age Newspaper) and the theatrical work of playwright and poet August Wilson (August Wilson's American Century Cycle).