By Gary Wien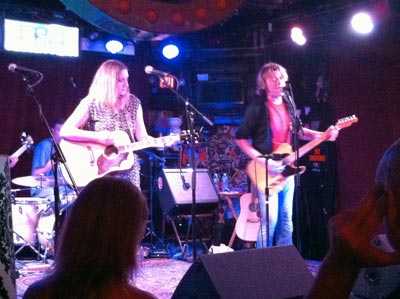 (ASBURY PARK, NJ -- AUGUST 10, 2013) -- Sometimes I worry when bands take several years to release a record. Will they lose momentum? Will people still care? For one incredible night at the Saint in Asbury Park, those questions were answered for The Sunday Blues. A packed house full of fans, friends, and family came out for the official cd release of "City Folklore" proving that sometimes good things can come to those who wait.

"City Folklore" is an outstanding record, one of the best of the year in my opinion. It's a mix of alt-country rock and americana that moves smoothly from the lead vocals of Keith McCarthy to Lindsey Miller and times when the duo works as one. Produced by Arlan Feiles, it's a great sounding debut record. For the record release party, the band (which also contained Andrew Clelland on bass and Johnny Macko on drums) played all but one of the songs on the new record and threw in a few newer tracks as well.

Seeing Lindsey and Keith on stage with these songs took me back to the days of the old Twisted Covers at the Twisted Tree Cafe in Asbury Park. The Sunday Blues were sort of forming at the time and some of the songs on this record were written and performed back then - even before they had a band name. Amazingly, the songs sound just as fresh today as they did when I first heard them many years ago.

Highlights of the set for me included: "You're Breaking Me", "Miranda" with Kerry McNulty (Lindsey's old bandmate from Divine Sign) on lead vocals, "The Overthrow", and "Four In The Morning". As with the album, the set flowed back and forth between Keith on lead vocals and Lindsey on lead. The new songs ("Holy War" and "You Know It's True") and the closer, "When I Paint My Masterpiece" by Bob Dylan were great additions as well.

The show was proof that if a musician supports the scene, the support will be there for them as well. Arlan Feiles, Eric Ginsberg, Frankie and Kelly McGrath, Michael Dante Summonte, Kerry McNulty, Danny White, Gregory Schwartz, Jerzy Jung, and Michael Askin were just some of the folks in attendance.

Lightning Jar opened the show, followed by Rick Barry. They all returned to the stage at the end to join The Sunday Blues in a cover of "Homegrown Tomatoes" by Guy Clark.

Prior to The Sunday Blues' set, Rick Barry gave another great solo set, playing a few songs I haven't heard him do in years like "Stupid American" which Lindsey had requested. He told the story of how that song was written at the Saint. Ironically, I was there that night and still remember the pad of paper with the original lyrics. One of the words in that song was actually banned by Scott Stamper at the Saint for many years. On this night, Rick let it fly!

His set included the "So Sweet And So In Love" tune written for his old Works In Progress series; "All Your Mistakes Have Names"; "Perfect Portrait (of a coward)"; "Atlantis" -- performed with Lindsey Miller; and a wonderful cover of "There Is A Light That Never Goes Out" by the Smiths featuring Keith McCarthy on guitar. It was interesting seeing Keith tone down his Keith Richards vibe for a Johnny Marr look on stage. I always wanted to have a Twisted Covers - Smiths show and seeing this made me wish we had done one.

Unfortunately, a set like this just makes me remember the times when you never knew what to expect from a Rick Barry show. He used to be so prolific that he would sometimes rattle off a completely new set list from one show to another -- all with brand new tunes. While, that's not exactly the way to build a fanbase, his show today is somewhat like a set lost in time. When his last EP was released, I thought he had dozens of songs that were better at the time than the ones chosen. While the record did earn him some praise from people who hadn't paid attention to him at the time, many long-time fans felt the way I did -- that a better album was inside him. Some of the songs that are rumored to be on his upcoming disc are actually songs I wished were on that last one. Between some of his more popular "hits" and the songs that were written around the time of his last record, but never released, it's almost as though he's playing catch up. It's almost like he needs to release his next record and immediately start recording the next to get back in the right time frame. Although, if there's one thing the Sunday Blues showed tonight... it's never too late.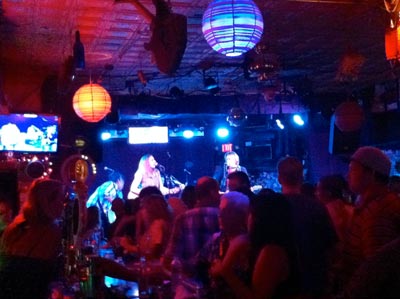 ---
Gary Wien has been covering the arts since 2001 and has had work published with Jersey Arts, Elmore Magazine, Princeton Magazine, Backstreets and other publications. He is a three-time winner of the Asbury Music Award for Top Music Journalist and the author of Beyond the Palace (the first book on the history of rock and roll in Asbury Park) and Are You Listening? The Top 100 Albums of 2001-2010 by New Jersey Artists. In addition, he runs New Jersey Stage and the online radio station The Penguin Rocks. He can be contacted at gary@newjerseystage.com.
---