By Gary Wien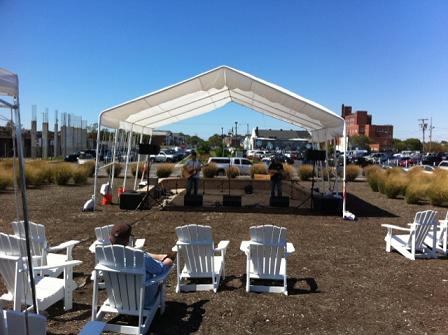 (ASBURY PARK, NJ -- SEPTEMBER 5, 2010) -- As the summer came to a close, more than twenty musicians performed during the afternoon on stages set upon the Asbury Park boardwalk. These artists were loosely part of the Paramount Sessions, a night deemed a celebration of the Asbury Park music scene that featured three artists at the Paramount Theatre followed by an after-party at The Stone Pony. I use the term loosely because none of the twenty-odd musicians were listed on the show posters nor in the press release; in fact, they were not even listed in the information provided on the show's Facebook page. In essence, while 900 people packed the Paramount that night, the artists performing during the day were on their own when it came to promotion and, sadly, many wound up performing largely in front of empty chairs and a dozen folks or so.

Now, I applaud the Paramount Sessions for what it attempted to do and congratulate them for what they achieved at night, which was an overwhelming success; however, I think it was wrong to treat the early performers in this fashion. They should have been part of the original promotion as well. Some performers were told there just wasn't enough space on the posters to list everyone and while that could be true, couldn't they have made a little room? Maybe made a second poster to promote the afternoon? Or squeezed them into the press release? At the very least, couldn't they have been listed on the event's Facebook page where one would think space would not be an issue?

I can't even begin to describe the feelings that some artists shared with me after their performances. They were all very happy to have been able to perform, but many were left disappointed overall. Some felt betrayed, even felt used, as if they were asked to work solely to ensure a good turnout for the show at the Paramount. Others were flat out pissed.

The artists that performed will most likely never speak out publicly and for good reason. As for myself, I've been burned and banished by the Asbury Park music scene so many times what's one more scar? I know what it's like to be left alone with nobody standing up for you and since several of the early performers are among the few people in the local music community I truly call my friends, I'll stand up for them here.

The performers on Sunday, September 5, 2010 were as follows:

1st Avenue Green Space
Jo Wymer, Tommy Strazza, George Wirth, Sheli Aarden, Keith Monacchio, Emily Grove, Anjelia & The Boy, Captain James & The Pain, Colie Brice, The Obvious, Divine Sign, The Amboys, Matt Wade, Mike Askin

4th Avenue Green Space
Carl Chesna, Gerry Perlinski, Jon Caspi, Michael Brett, Christian Beach, Joe Miller, Joe Barcatta Band, Dale Lakata and Eden, Vextion, Tom Richards, and Lost In Society



I'll never understand what it is with promotion in Asbury Park, but the town and its artists are different than anywhere else. I've been heavily involved in arts & entertainment websites and magazines for nearly a decade now. In that time, it never fails to amaze me how few venues, artists, or event promoters in the Asbury Park area ever bother to send a press release. While it is possible that they haven't heard about us, that's a pretty weak argument. In fact, it's no argument at all because if you are an artist or venue you should know every media outlet in your area. Ever hear of the Indie Music Bible? Musicians and venues from outside the area sure have. We get contacted by people in other states who saw our listings in that publication every single month, but I can't recall ever hearing from someone in the local area who found us there. My recommendation -- pick up books like that, they are incredible resources for you. Even a quick search on Google can help you find plenty of media outlets in the area that should know about your show or event.

Venues and event promoters generally say they don't have the staff or time to send out press releases, but a decent release takes less than 15 minutes to write and send out. And, for some reason, venues outside of the area always manage to send out releases. Maybe that's because they know that media attention helps to sell tickets. Maybe its because they also understand how the Internet works and how it helps drive ticket sales as well. Every press release or event listing put online is found by search engines. These search engines bring up the information based on keywords -- sometimes something as innocent as "boardwalk" can bring up a press release that's online and get someone interested in a show they had never heard about and most likely weren't even searching for.

Several artists were upset at the lack of promotion for the early shows at the Paramount Sessions, but overall I'd say the promotion was weak for the entire event. Many local websites told me they never received any press release or information about the show; those who did write about it largely grabbed information from the show's Facebook page. Similarly, several radio stations - online and FM stations - said they had to hunt for information as well. The funny thing is that virtually everyone in the area would have been glad to support an event like this. All the media asks is that they don't have to search for information. Running websites, radio stations, and magazines all are hard work. I know because I have done all three. More times than not these things are done as a labour of love - not for financial gain. If you depend on the media to find out information about a show you'll be disappointed more times than not because there simply isn't enough time.

Now, I'm not letting the artists off the hook either. While some of the artists did reach out to various media outlets, not nearly enough of them did. Promotion has to go both ways. Artists can't complain that the club/venue/event failed to bring a crowd for them if they failed to do adequate promotion on their end. In my opinion, posting event information on Facebook, Myspace, or in an email sent to an artist's mailing list should be part of their promotion, but it should, in no way, be all of the promotion. When you provide information to these places you're basically reaching people who already know you and may even know about the event already. True promotion reaches those who do not already know you, and may have simply stumbled upon the event. For example, let's say you are a musician who is on vacation somewhere for Labor Day weekend. Chances are you might pick up a newspaper or local entertainment magazine to see if anything was taking place, right?. Don't you think the Jersey Shore - an area with tens of thousands of tourists - is similar? People undoubtedly picked up newspapers and other local publications to see if there was anything of interest for them. How do you expect those publications to promote your event if they haven't been contacted?

Outside of the traditional print media comes local websites. Many people used to laugh when I said that Upstage Magazine had a larger audience than the Aquarian, but it was true. Our audience just happened to be 80% online. Now that the Aquarian is online, ask long-time writers if they've noticed a jump in their readership. I'm betting they have. Local websites have long had incredible numbers and loyal followings. Many of the local websites not only provide free advertising for events on a regular basis, but are glad to do so. You just have to reach out to them.

In many ways, these websites want to be part of the local music community, but they're usually on the outside looking in. The Asbury Park Music Community should include those in the local media, but I don't believe it does. I've been asked several times why I don't participate in the Asbury Rock Star Charity Softball Event. Other than timing issues, the main reason is because the event is meant to involve the local music community, which is something I do not believe I am part of.

Why not?

Well, for one reason, writers like me are never asked for feedback on ways to promote events such as The Paramount Sessions or the Wave Gathering. In fact, the original meeting invitation for The Paramount Sessions sought "Asbury Park Musicians, Bands, Singers & Songwriters" to provide input on setting up the event. It really shouldn't surprise me that nobody considered talking to the media because that's par for the course in Asbury Park. Even though members of the media cover lots of events and festivals in different areas and could easily offer plenty of tips, nobody ever bothers to ask us to share our knowledge or experiences.

And I know it's not just me saying this because I heard the same thing from a half dozen people I contacted for this article.

Advanced press coverage and media promotion of events such as The Paramount Sessions should be a given, but it's not when the media isn't contacted. Unless you have a plan in place, you'll wind up getting very excited when you see any press coverage at all. For example, some people involved in The Paramount Sessions were happy to see an article written in the Asbury Park Press about the artists performing on the boardwalk. While press is generally a good thing, a close look at the article actually showed it wasn't nearly as flattering of a piece as they would have liked. The article basically pointed out that several artists were playing to empty chairs and people walking down the boardwalk were often seen turning their head to see what the music was all about.

In other words, they were on the boardwalk and either didn't know something special was going on or hadn't heard about it beforehand.

Banners along the boardwalk promoting the day would have been nice. Putting a list of performers and their times in front of the stage on a sandwich board would have been nice as well - something that would have let people know that music was taking place all day long. You could even have had people walk up and down the boardwalk handing out flyers or program guides or mentioning the event on a bullhorn. Oh to dream! The key is to make sure people know something special was taking place.

Unfortunately, the idea that this was something special was also lost during the day. A jazz band, who was not part of the Paramount Sessions, performed elsewhere on the boardwalk; DJs blasted music at several restaurants including one extremely close to the 1st Avenue Green Space; and, perhaps worst of all, the Beach Bar located outside the Paramount Theatre actually had a duo performing covers throughout the afternoon. I say worst of all because the Beach Bar would have been a tremendous location to have original acts perform. It's a great place that has a built-in crowd already and is right next to where the big night-time show was taking place; yet, the bar helped treat the day as if it was just another summer day by featuring a covers duo.

I'm not suggesting that all of the artists should have been given the opportunity to perform in the Paramount Theatre, I'm just saying they should have been promoted as well. If the afternoon was truly part of The Paramount Sessions, why was it treated as if it existed on its own? But, as I said before, the blame has to rest on both sides.

I wish I knew why musicians from outside the area treat Asbury Park differently than those from the area. They seem hungrier for media attention and work harder. Are local musicians lazy? Do they just not understand how the media works? Or do they simply fail to see its potential? As someone in the local media, I think I speak for everyone when I say we want everyone to succeed. It's much better covering a scene that people care about than one that's dead. We're not out to get anybody.

I can already foresee people tattooing another Scarlet Letter on my chest because of this article, but it was not written to blast those involved in the Paramount Sessions. I think the Paramount Sessions should be called a success based on how the night turned out. I'm just hoping to provide some suggestions for improving the next go around. There are too many people willing to cover up mistakes and pretend things never happened around here. Shows like the Paramount Sessions are good ideas that can become better if people have an honest discussion of what worked and what didn't. Unfortunately, too many writers are afraid of ever saying anything that can be miscontrued as negative - even if it's only constructive criticism. We have people involved in the music scene just waiting to tear writers apart. I know because I've felt their wrath many times before. To me, it's the people who refuse to let the truth be spoken who are the biggest problems in the local scene, not the ones who try telling the truth.

More attention to how promotion and the media work would do wonders for this area. You do not need to spend a lot of money promoting shows if you put the time in to do the adequate steps of promotion. Yes, it's hard work but it's also part of your job. Whether you're a musician, promoter, or venue you need people to come to your shows. Why make it harder than it has to be?

---
Gary Wien has been covering the arts since 2001 and has had work published with Jersey Arts, Elmore Magazine, Princeton Magazine, Backstreets and other publications. He is a three-time winner of the Asbury Music Award for Top Music Journalist and the author of Beyond the Palace (the first book on the history of rock and roll in Asbury Park) and Are You Listening? The Top 100 Albums of 2001-2010 by New Jersey Artists. In addition, he runs New Jersey Stage and the online radio station The Penguin Rocks. He can be contacted at gary@newjerseystage.com.
---