By Gary Wien
originally published: 11/22/2017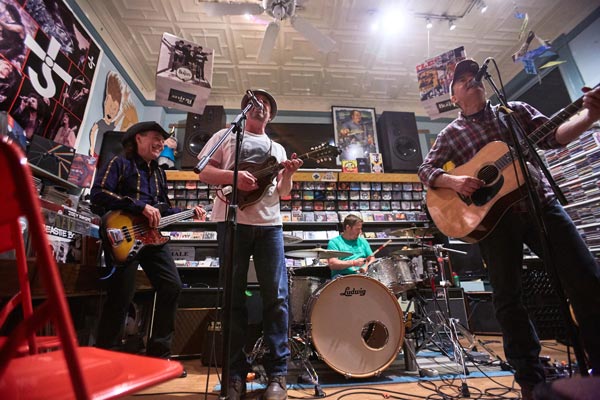 Long before The Successful Failures were even a band, lead singer Mick Chorba had them in mind.  You could almost say he willed them into existence.
At the time (late 1990s), Chorba was fronting The Dipsomaniacs, a popular indie rock band that was often compared to The Replacements.  He found himself writing a bunch of songs in a more alt-country style than the band's normal sound. One of the songs was a story about a guy who had a band called The Successful Failures. It was a bit of a nod to the indie rock lifestyle that had failed to make him famous and an ode to a Jack London short story. 
Years later when he sought a side project for tunes that didn't seem to fit, he created the band for real.  For a few years, both bands were around and releasing albums. When The Dipsomaniacs finally called it quits after more than a decade, The Successful Failures became his only band.  
The Successful Failures are now into their second decade as well putting Chorba in that rare category of artists with more than one band to last a decade or more.  Considering how hard it is for any band to survive 5 years, much less 10, to have two bands make it that long is quite an accomplishment.  He's been with The Successful Failures for so long it is no longer his current band, it's just his band.  And the period with his former band seems a bit like music from a different era and even a different artist.
When asked why he didn't just become a solo artist he explains, "I like being in a band.  I like the camaraderie of it.  I do some solo stuff, but I never follow through on finishing it.  Somehow or another I lose steam with it.  I find it's more interesting to hear what someone else will contribute."
---
The article continues after this ad
---
---
His bandmates include Ron Bechamps on bass, Rob Martin on drums, and Pete Smith on guitar.  Based out of Chesterfield, NJ in Burlington County, The Successful Failures recently released their latest album, Ichor of Nettle.  It's not only another strong release by the band, but one that bridges the gap between the different styles of Chorba's two bands. 
It's been so long since The Dipsomaniacs broke up that Chorba no longer has to consciously try to sound different.  He can just write songs as he wants to write songs.  So this album sounds closer to a blend of the two bands as any of their prior releases.  Songs like "Misguiding Light" and "When Did Everybody Grow Up" remind me of Dipsos songs while tunes like "Sam Houston" and "The Shit That Weighs You Down" lean more to the Successful Failures side.  The end result is a record that showcases the best of Chorba's songwriting and its wide range.
Chorba says that in the beginning he was trying to write the songs in a specific way, but no longer feels the need to do so. He started out with songs that didn't fit with the Dipsos style - songs that were too alt-country or too pop sounding would be steered to The Successful Failures.  "But now the songs are whatever I'm writing and whatever fits with the band."
Ichor of Nettle is another wonderful release from a guy who has been one of the Garden State best songwriters for decades.  He's had a knack for writing great songs with the spirit and energy of Paul Westerberg, the classic wordplay of Elvis Costello, and music that would not be out of place on an album by Wilco.  The latter is perhaps the greatest addition to come about with The Successful Failures.  While The Dipsomaniacs may have been tied into a certain power punk sound, The Successful Failures have a bit more room to play with.  And on the latest album they take full advantage of it.
The record has songs that utilize the band's alt-country sounds and harmonies and songs that completely rock out.  If you listen to the album from beginning to end, you can imagine the fun they must have had in the studio. Nothing seems forced; the band just moves from one style to another effortlessly.  The one constant is strong lyrics.
"I try to listen to good writers to not get lazy with lyrics," said Chorba.  "Westerberg does the same sort of word twists and fun with language as Costello does."
Chorba has a lot in common with Elvis Costello and Paul Westerberg.  Throughout his career, he's been a prolific songwriter like Costello - generally putting out a full album every other year or so.  And he's begun releasing tracks online under a pseudonym (Timothy Hay) as Westerberg does. 
The latest release contains 16 tracks, but could easily have included more.  The album was delayed because the band was halfway through the project when Rob Martin hurt his shoulder and needed surgery.  During the break, Chorba wrote a few more songs and the band decided to record some of them. Ironically, the album is so packed with material that fans keep telling him they've recently "discovered" new songs they like on the record.
"Someone told me about a middle track song," recalled Chorba.  "He said, 'I just discovered this track.  I've been listening to the album a lot but I was really focused on the beginning and the end.  I finally got into the middle area and I love this song.  There's just too many songs!' I'm like, 'You're right, there's too many songs!'"
One thing you will rarely see Chorba write songs about is politics.  Even in such political times as we find ourselves in today, he tends to steer away from writing overtly political tunes.  It's not that he worries about offending anyone or losing an audience, it's just that he prefers writing songs that tell stories.  He thinks the stories can do more to help change perceptions than anything, although he has penned songs like "Letting The Terrorists Win" on occasion.
If you see The Successful Failures live you might hear mini sets by The Beatles or Johnny Cash in addition to their originals, but you won't hear songs by Chorba's former band.  That band consisted of different musicians and a different identity.  In a strange but real way, playing those songs would almost be like cheating on his band. But you will probably hear the band rock out harder on stage than on record - just like The Dipsos used to do.
"When you're playing live it's kind of fun to just bash it out," admitted Chorba.  "I always think I'm writing these folk songs or concentrating on the lyrics, but when you're in the room with the drummer you want to play rock and roll."
Some things never change. He might be older, might be wiser, but he's still a rock and roller at heart.
---
Gary Wien has been covering the arts since 2001 and has had work published with Jersey Arts, Elmore Magazine, Princeton Magazine, Backstreets and other publications. He is a three-time winner of the Asbury Music Award for Top Music Journalist and the author of Beyond the Palace (the first book on the history of rock and roll in Asbury Park) and Are You Listening? The Top 100 Albums of 2001-2010 by New Jersey Artists. In addition, he runs New Jersey Stage and the online radio station The Penguin Rocks. He can be contacted at gary@newjerseystage.com.
---