By Gary Wien
originally published: 04/20/2015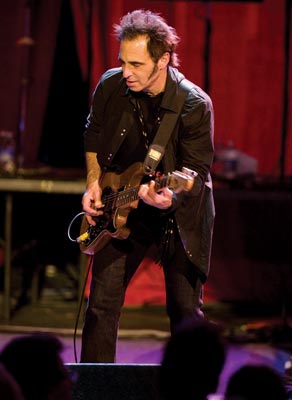 Nils Lofgren replaced Steven Van Zandt just before the Born In The USA Tour in 1984 and has been with the band ever since.  He first met Bruce Springsteen in 1970 when his band Grin shared a bill with Steel Mill at the Fillmore West.  Over the years, Lofgren saw Springsteen perform live several times and the two became friends.  
"In 1984, I was having a rough period," recalled Lofgren.  "I couldn't get a record deal and was feeling pretty bad.  Bruce was kind enough to invite me up to his home and we went around jamming through the weekend.  He played me the new album, Born In The USA, which was spectacular. I knew "Dancing In The Dark" should be a big hit and it was, but nobody had an idea it would go on to be the massive seller it was. I used to talk to him about how much fun it was to work with Neil Young and be in a band and not be the band leader, and how I embraced that.  I think he filed that away.
"So when Steve (Van Zandt) decided he had to go and do his solo stuff, Bruce needed a guitar player," continued Lofgren.  "I don't know the details, but eventually I got a call.  I went up there and jammed for a couple of days and it worked out beautifully and I got the job.  To this day I'm still thrilled.  To be in a great band and not be a band leader is exciting.  I've done that with Ringo Starr and the first All-Starr Band and certainly have done it with Neil Young and Patti Scialfa a couple of times.  It's all part of the same musical journey, but as a band leader you're going to sing every song and you're not going to sing much harmony;  you're probably going to play every solo and not going to do a lot of the more band parts like rhythm guitar."
In 1999, Van Zandt returned to the E Street Band, which meant they now had four guitarists in the band.  Lofgren saw this as an opportunity to learn a few new instruments.  He challenged himself to learn bottleneck and pedal steel, dobro, lap steel, and six-string banjo.  The end result breathed new life into old classics and actually enhanced the band's live performance.  For Lofgren, it meant being able to continue a career balanced between being a member of a band and leading one.
"What happens is after a long tour with E Street, I come off the road refreshed and excited to get back to my own music," said Lofgren.  "There's a new life and excitement to get up and sing your own songs again.  For me, it's been a very healthy thing to go from my own solo career to a band.  I'm a band person by nature."
---
The article continues after this ad
---
---
Ironically, Lofgren is aware that many of the most memorable experiences he's had in music would probably have never happened if he had success with Grin or his early solo albums.  If there were hit records at the beginning of his career, he would not have performed and toured with Neil Young or Ringo or Springsteen.
"I wouldn't change a thing looking back at it," said Lofgren.  "I'm still trying to reach more people because you make music to share.  I'm still excited to have the daydream — some might call it a pipedream in the music industry — but I'm still trying to get better and make albums to share.  I'm not holding my breath for anything.  I'm grateful right now that I've got these shows coming up.  I'm preparing myself physically, mentally, and spiritually.  Doing boring stuff like physical therapy for the legs and pains is all part of it because once you walk out there you want to be lost in the music and the moment and the energy of the crowd.  You want to just roll with it and do something special, which I found when I grew up is something right up my alley.  It's what I love and it's more of a calling than a job at this point.  Most musicians get off the road after 15 years if they don't love being in front of an audience, I'm 46 years and counting.  The live experience is the heart and soul of what inspires me and keeps me going."
Upcoming Shows In New Jersey
    May 1 — Carl Pfeiffer Performing Arts Stage, Wyckoff, NJ
    May 3 — The Newton Theatre, Newton, NJ
    May 8 — Levoy Theatre, Millville, NJ
    May 9 — Pollak Theatre at Monmouth University,  West Long Branch, NJ
PHOTO BY JOSEPH QUEVER
---
Gary Wien has been covering the arts since 2001 and has had work published with Jersey Arts, Elmore Magazine, Princeton Magazine, Backstreets and other publications. He is a three-time winner of the Asbury Music Award for Top Music Journalist and the author of Beyond the Palace (the first book on the history of rock and roll in Asbury Park) and Are You Listening? The Top 100 Albums of 2001-2010 by New Jersey Artists. In addition, he runs New Jersey Stage and the online radio station The Penguin Rocks. He can be contacted at gary@newjerseystage.com.
---