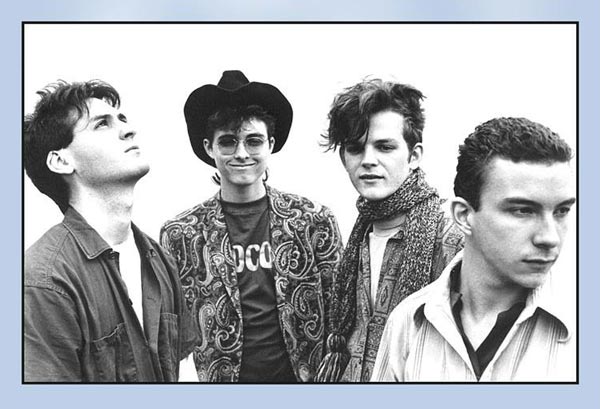 Crossfire Choir is a band that began in South Florida in the 80s with Jay Pounders, Eddie Freeze, Brad Peet, and Dennis Ambrose.  The band moved up north, settling in New Jersey, and became part of the New York City CBGB scene as well as one of the most popular bands in New Brunswick.
The band found themselves amidst a label bidding war and eventually signed a record deal with Geffen Records.  They toured with popular bands like Culture Club, The Thompson Twins, Midnight Oil, Love & Rocks, Flock of Seagulls, The Alarm, and others.  As with many bands of the era, being signed was more of a curse than a blessing.  After a few records, the band broke up for good in 1998.
Jay Pounders now lives in Nashville and has a residency at Belcourt Taps beginning on March 7th.  He contacted New Jersey Stage to give his side of the story and let people know that he's still writing music and would love for people to hear his new work.  His story details the pitfalls of the music business that largely remain true today.
Here is his story…
In 1982, I created a band called Crossfire Choir.
---
The article continues after this ad
---
---
Starting out in West Palm Beach, Florida as a two-piece synth-pop recording project with my best friend from high school, we soon added a bassist and drummer and set our sights on the record industry, which still existed in those days. We headed north in search of the "golden ticket" , ie. the ever-elusive recording contract that we were sure would bring us fame and fortune.  We headed north up I-95 towards New York landing in an exhaust polluted two-story house just inches off Rt. 27 in Edison, New Jersey. We were quickly and graciously adopted by the burgeoning New Brunswick, New Jersey music scene that produced many notables including The Smithereens, as well as MTV's Matt Pinfield, who, at that time was a local DJ on the college radio station at Rutgers.  Quickly becoming known for our quirky pop songs and our punk-rock attitude, we soon caught the eye of Hilly Kristal, the late owner of the already legendary CBGBs in lower Manhattan.
Hilly began managing the group and began having us open for all the big-name and up-and-coming acts that played CBGSs, especially those that he knew would draw industry folks.  After a brief and enjoyable bidding war (there is nothing like being wined and dined at the Russian Tea Room!), we signed a 2-album deal with Geffen Records in their offices overlooking Rockefeller Center in 1984.  At the time, it was rumored to be the largest contract ever offered to an unknown band.  
Geffen asked us to make a list of the producers with whom we most wanted to work. Near the top of our list was the famed producer, Steve Lillywhite, whom we had loved for his production of Peter Gabriel and XTC and had recently been catapulted to the upper echelon of sought after producers for his work with U2.  Geffen flew Steve to New York from London on the supersonic Concord to see us perform at The Peppermint Lounge and before long, we were off to London to make our debut album.
Upon finishing the record, the first feed-back we received from the label was that it was so good they were thinking about a rush release in the spring.  However, after a shake-up in the A&R staff in LA at Geffen, they decided it sounded too "English" (funny in light of the fact they flew us to London to record with an English producer). Instead of rushing the release, they wanted us to re-mix it and/or re-record some of the songs with an American producer.  And while we were at it, could we write some new songs that might be more of a single for American radio?  We remixed and recorded several songs with Stefan Galfas, who had recently worked on hits for Stevie Nicks and John Waite. The end result was our first record - one that neither the band nor the label was happy with.  Geffen dropped the band.
What was once the band with the Midas touch was now the kiss of death to industry insiders.  As people tend to do when things go wrong, we blamed others.  We fired Hilly and signed a management deal with a big-time entertainment manager David Sonenberg who represented Meat Loaf, Jimmy Iovine, Southside Johnny, etc. and was later won an Oscar as an executive producer of the film When We Were Kings.  We signed a publishing deal with Jerry Love at Famous Music and soon had our second "big break" with a new label in Seattle called Track Records.  The album (Back To The Wall) featured the single, "Canary Song" for which we recorded our first video that was featured on MTV's 120 Minutes and we thought that finally, things were turning back around for us.  But alas, the Crossfire Choir story had no happy ending. Track Records went bankrupt soon after releasing our record.  We found ourselves again facing the bleak cold truth that it may never happen for us.
By this time, all of the band's frustrations began to turn inward. Co-founder, Eddie Freeze and I decided that each other was the problem and another of my old friends from high school, Ron Desaram, joined the band on guitar.  We stripped down our sound, ditched the synthesizers, added leather jackets and marched into the 90s as new and hopefully improved Crossfire Choir.  We returned to Hilly with our hat in hand. Just as before, he orchestrated an industry buzz that helped us secure a development deal with Epic Records and signed another publishing deal.  This was just enough encouragement to keep us chasing the dream.
We released a third album on CBGB Records, called Dominique (named after Hilly's dog that was a constant presence as we recorded the album at CBGBs). We actually received a great deal of college radio airplay with Dominique and continued to tour and play in and around the Northeast for several years.  At some point, we decided to drop the Crossfire Choir name thinking that the name had too much bad history attached.  Probably too little too late. The band continued as a three piece for a while, with me and the original drummer Brad Peet, and bassist Dennis Ambrose playing and recording as The Pounders. I think we stayed together at least another year or two longer just because we loved getting together, having fun and bullshitting.  In the end, that really was what it was all about. That's all anything is about.
I have continued writing and recording since that time. Like Jake Gyllenhaal says in Brokeback Mountain, I just can't quit.
I moved to Los Angeles for several years and tried to get my music placed in film/tv projects and played regularly at Genghis Cohen, a small venue that features singer/songwriters and acoustic acts.  Over the years, more and more people suggested I try my wares in Nashville as my songs turned more and more into 'story songs' and my influences changed from the Sex Pistols to Townes Van Zandt.  So I moved back to Tennessee, a place I never thought I'd live again since leaving Memphis at age 13.  While billing myself as a singer/songwriter, upon hearing all the talented singers in this town, I now call myself a songwriter/singer.  I have been mellowed by all of life's humbling moments, but I think I've finally figured out how to write a song and I feel like I still have a lot to offer.
If I were a religious person, I'd say that my whole life was planned in order that I could show the world the power of perseverance and that life doesn't end with one's youth. The only advice I would offer young musicians is to not be too easily puffed up by success or discouraged by failure. Always remember that it's all about the music. That's the thing.  
*************************************************************************

Jay Pounders will begin a residency at Belcourt Taps starting on his (and coincidentally Townes Van Zandt's) birthday, March 7.  He'll be performing there on the 7th of each month at 7PM. 
*************************************************************************