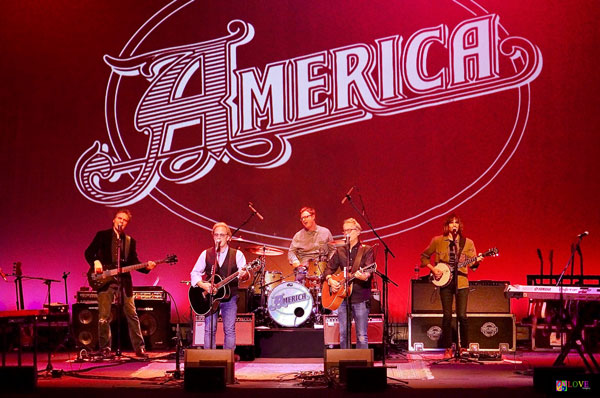 It's a clear, crisp Thursday March 29, 2018 evening as an enthusiastic crowd enters BergenPAC in Englewood, NJ to enjoy a nostalgic evening of music from the top '70s folk-rock band, America!
America's founding members Dewey Bunnell, Gerry Beckley, and Dan Peek formed the band in 1970 when the group began performing in England. They were all sons of American US Air Force servicemen who were stationed in London. They named their band America so people wouldn't confuse them with actual British groups who were trying to sound American.
America became best known for recording lush and easygoing folk-rock melodies. Their first album, America, premiered in 1971 and included such hits as "A Horse with No Name" and "I Need You." Following that, their Homecoming album came out in 1972 and featured the single "Ventura Highway." Some of their other big successes include "Tin Man" from their Holiday recording, and "Sister Golden Hair," a #1 single from their 1975 Hearts album.
In 1977 Peek retired from the group, but Bunnell and Beckley have continued to play for sold-out crowds performing 100 shows a year for the last 40 years.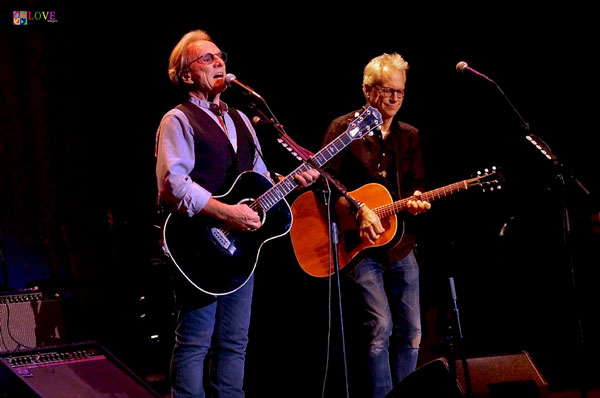 They've also continued to record, releasing albums which include Here and Now in 2007, Back Pages in 2011, and Lost and Found in 2015.
---
The article continues after this ad
---
---
Over the past four decades America has cultivated multiple generations of avid and devoted fans. Before tonight's concert, we take a moment catch up with just a few of them.
First, we chat with Liz from Woodbridge, who has traveled the Eastern seaboard from Virginia to Rhode Island numerous times to hear her beloved band. Liz's love for America has never wavered, and she tells us she's thrilled to hear them perform tonight in Englewood.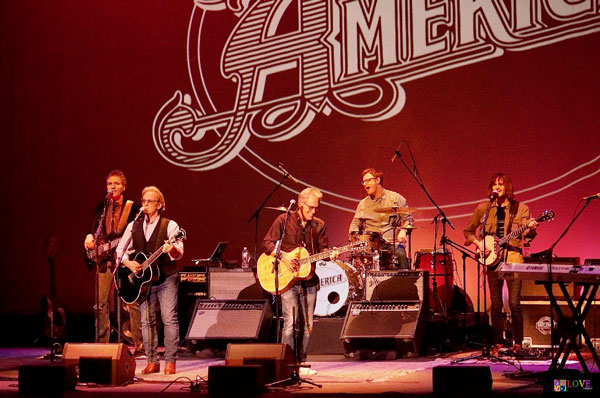 Despite having seen the group over a dozen times, Liz tells us that this evening's concert is unique because she is here with her son Daniel. Although Daniel grew up with America's music "practically since he was born," this will be his first-ever America performance and he is excited to hear the band live.
We also meet a cheerful couple, Bob and Patti, who reminisce about their early dating years when they were teens. According to the duo, they got together at about the same time that America first formed in 1970. In those days, recalls Bob, he had an eight-track player in his car, and the couple made out to Bob's America tape, explaining, "We could time how long we were kissing to it. We wouldn't come up for air for an entire track!"
Lastly, we meet Ron from Ridgefield — a firefighter for 36 years. Like many fans here this evening, for him, coming to hear America is a happy, nostalgic experience. "America has a load of hits and they bring back happy memories of being a kid and playing ball in the streets of Jersey City!" states Ron. He adds that he especially enjoys attending events at Bergen PAC because, as he explains, "it's easy to get to, there are good restaurants nearby, and it's convenient."
Before tonight's show, we also get a chance to chat with America's 37-year-old drummer, Ryland Steen, who is a singer/songwriter himself.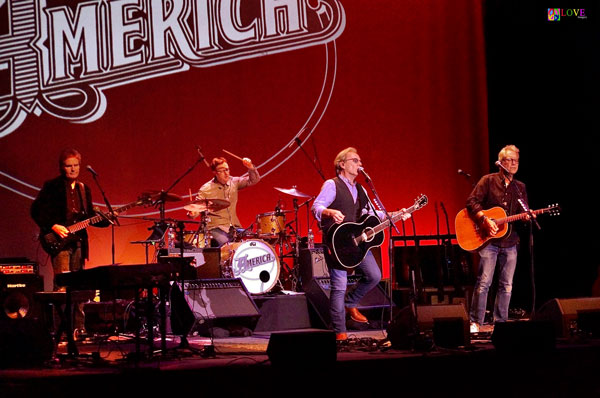 Steen tells us that he often enjoys meeting audience members before concerts. He reveals that when he joined America just over three years ago, he knew that America was a popular band from the '70s, but since he's learned the group's history, he contends, "It's really amazing what they've accomplished."
The auditorium lights dim and tonight's opening act, Larry Stevens, takes the stage. Stevens gets the audience warmed up as he sings and plays acoustic guitar on an original number entitled "Always You."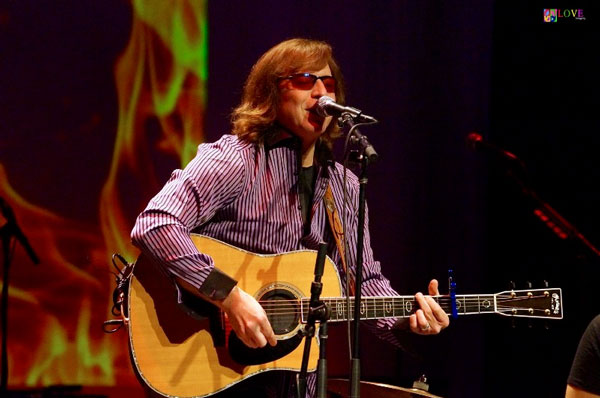 Sharing the stage with Stevens is percussionist Vinnie Presite on the cajón, a box-shaped seat drum, which he plays by slapping the front of the box with his hands. The duo has a very full sound for only two performers, and the audience takes in their easygoing sound.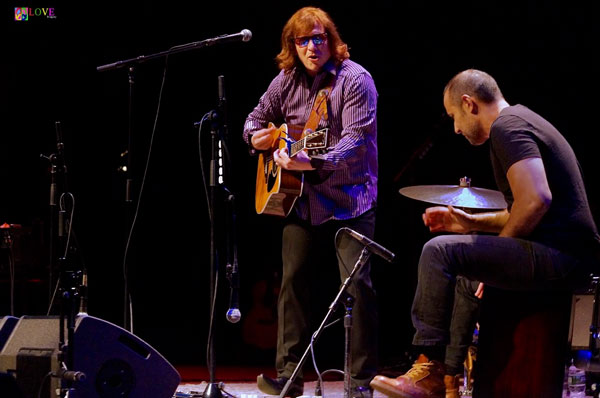 A highlight of Stevens's set is his original rendition of John Mayer's "Your Body is a Wonderland." Physically resembling a young José Feliciano, Stevens's voice easily glides through the melodic tune. This number is followed up by two original numbers — "Deja Voo-Doo Glow," which compliments Stevens's smooth falcetto voice, and "Love just Happens to Be."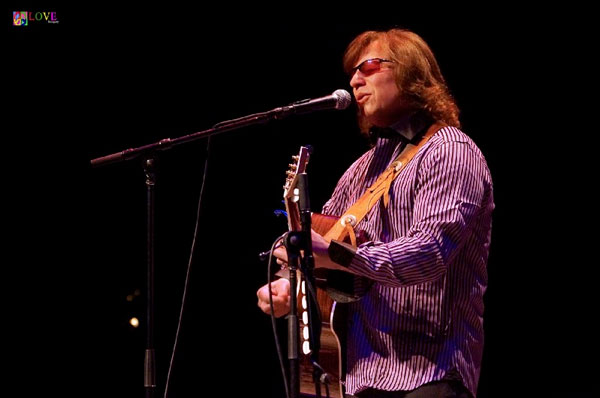 Following hearty applause, during intermission, we have an opportunity to speak with Larry Stevens in the BergenPAC lobby. Here, we learn about Stevens's New Jersey connection — he was born in Paterson, grew up in Montvale, and currently resides in Park Ridge.
When asked why he feels New Jersey plays such a big part in popular music, he states, "We all grew up listening to a lot of different styles — the Beatles, Top 40, Elvis — and we heard so much of it on local radio," before noting, "And so much music took place right here in Jersey, as well as in nearby New York City."
In closing, Stevens tells us that he has a special love for performing here in New Jersey when he comments, "BergenPAC feels like a second home — we really enjoy playing here!"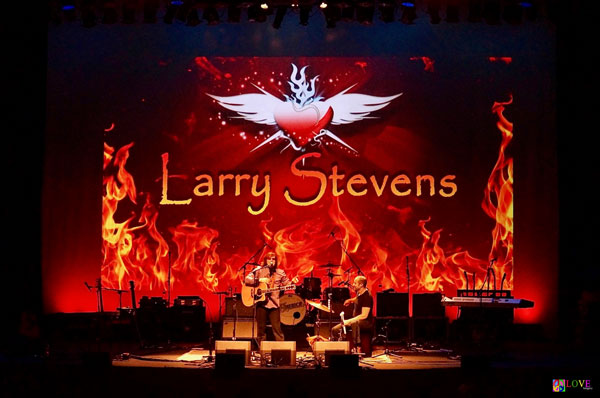 As we make our way back into the auditorium, the lights dim and the audience enjoys a video montage of photos and images of America from earlier days.
The live music commences with founding member Dewey Bunnell singing lead on the America's 1974 hit, "Tin Man," written by Bunnell and originally produced by the well-known Beatles producer, George Martin.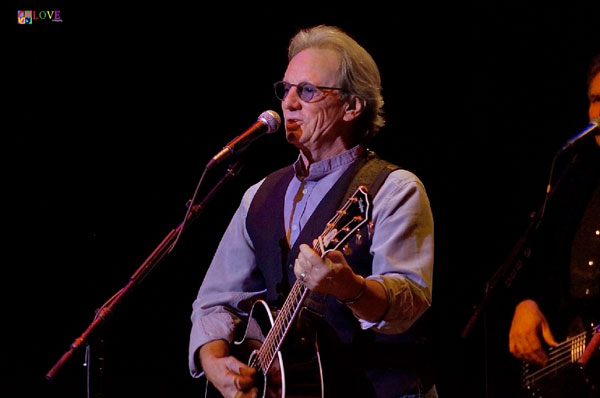 Accompanied by long-time colleague Gerry Beckley on vocals, the group's smooth, familiar harmonies bring the audience back to an earlier time.
At the song's conclusion, Bunnell, Beckley, and the rest of the band — Ryland Steen on drums; Rich Campbell on bass; and Andy Barr on guitars, banjo, and keyboards — are greeted with excited applause from the crowd.
The group then launches into their 1982 Top 10 hit, "You Can Do Magic." As Gerry Beckley croons, "You can do magic/You can have anything that you desire/Magic/And you know you're the one who can put out the fire," his voice sounds as clear and strong as it did in the 1970s.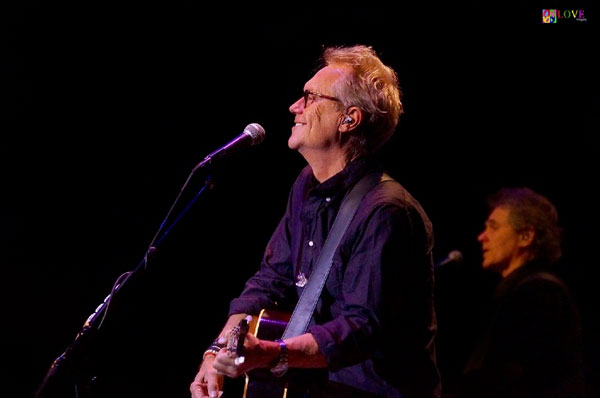 An outstanding part of the evening is the group's performance of their 1972 Top 10 hit, "Ventura Highway," which begins with their signature hammer-on guitar introduction.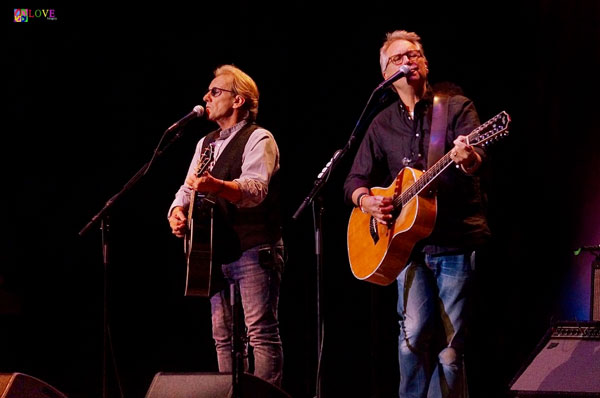 As the audience takes in the group's stellar rhythmic acoustic sound and tight vocal harmonies, they view various sights on the big screen including surfers, old cars, and dancers on the beach. The performance receives a well-deserved standing ovation!
Another highlight of the evening is the band's performance of their 1974 number, "Hollywood." Expertly accompanied by his stage mates, the tune features a soaring electric guitar solo by Andy Barr.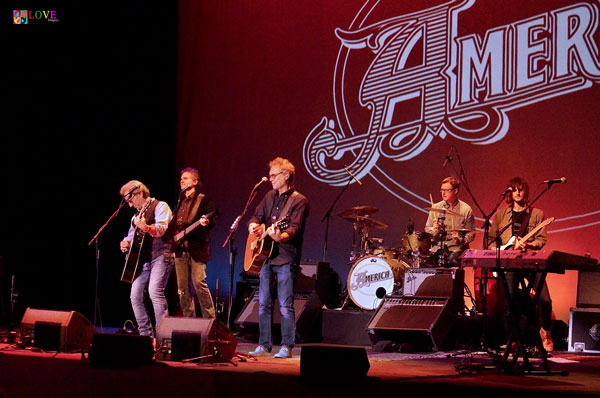 As Barr and the band jam, the crowd views an assortment of iconic Tinseltown clips of Lucy and Ricky, Marilyn Monroe, Humphrey Bogart, Charlie Chaplan, and Mickey Mouse, to name a few.
The group finishes with a rhythmic and dynamic version of their 1975 hit, "Sister Golden Hair," which leaves the audience singing, dancing on their feet, and wanting more!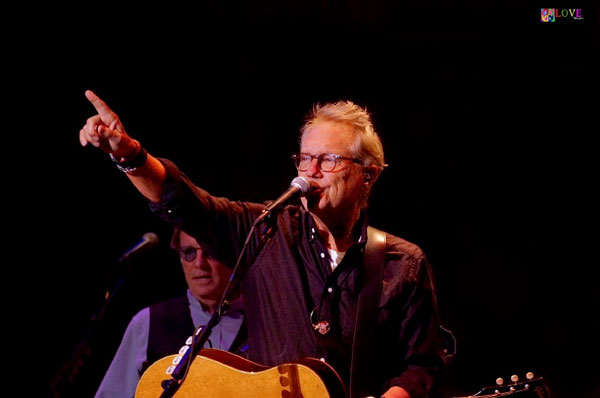 Although the musicians depart the stage, they do not disappoint. They return to perform their 1972 #1 hit, "A Horse with No Name," their most successful single. The crowd remains on its feet, clapping and cheering for their beloved band!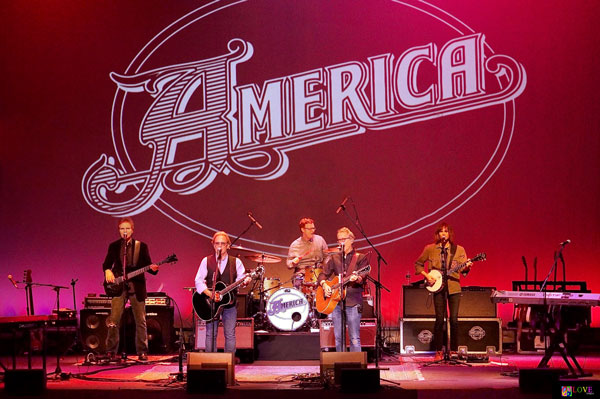 Following the show, we take a moment to catch up with some of the concert attendees as they cheerfully make their way out of the BergenPAC auditorium.
First, we catch up with Bob and Patti — the couple we spoke with before the show — where Bob announces, "America was awesome! Their shows are always great!"
Richard from Edison reveals, "This is my fifth time hearing America live. They are a great band, and their music brings back so many special memories from my childhood."
Lastly, we chat with Nancy from Union who discloses that, although her parents couldn't join her for this evening's performance, she attributes her love for the band to them, explaining, "The music of America was always a staple growing up in our home. Their songs are the soundtrack of my life."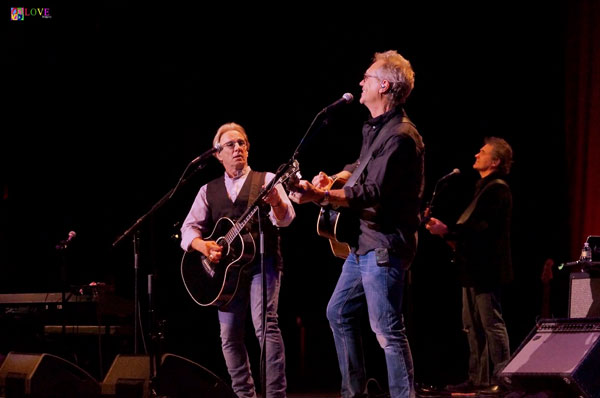 To learn more about America, please go to venturahighway.com. For further information about Larry Stevens, please click on larrystevensband.com. To find out more about future concerts at Bergen PAC — including Todd Rundgren on April 20 and Kansas on April 26 — please go to bergenpac.org.