By Gary Wien
originally published: 02/23/2019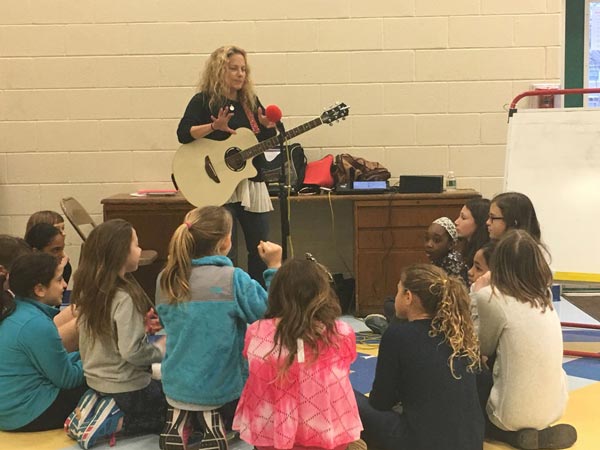 For roughly two decades, Alice Leon led the band The Alice Project.  They released several albums and toured throughout the East Coast. 
After the band disbanded, she began releasing music under her own name.  She's also taken her songwriting talent to a different use - running songwriting workshops and performances for children in schools and libraries, Girl Scout troops, as well as with senior citizens and children with disabilities and life-threatening conditions with TheSongs4U.COM
She's also teamed up with Kathy Moser to work with teens and adults and use the power of music to help those on the journey to recovery from addiction.
"I think that the coolest thing about a career as an artist is the unexpected places and situations you find yourself in," said Leon.  "I'm a big believer in flexibility."
It all started when her son was in elementary school.  As a parent, she came in and wrote a song with the class about their tadpoles turning into magical creatures and it just grew organically from there.
---
The article continues after this ad
---
---
"With the school programs my favorite part is when magic and musical surprises happen," explained Leon. "What makes me proud is sharing my joy for creating something new that didn't exist before. The songs we create are not pre-scripted. We know what the subject matter is going to be and we generally will choose the style of music, but we still don't know what the song is going to sound like when we start. I liken it to jumping out of an airplane. We know we're going to land but don't know in what condition. It's a journey we take together and because I have so much experience writing songs I can always steer our project toward something that will sound good in the end with the students.  I've received hundreds of letters from students telling me that they now want to grow up and be songwriters."
Leon says each program is tailored towards the school's needs.  She has worked with kids in the deaf community, underserved kids in Trenton, students with learning disabilities, and with mainstream students.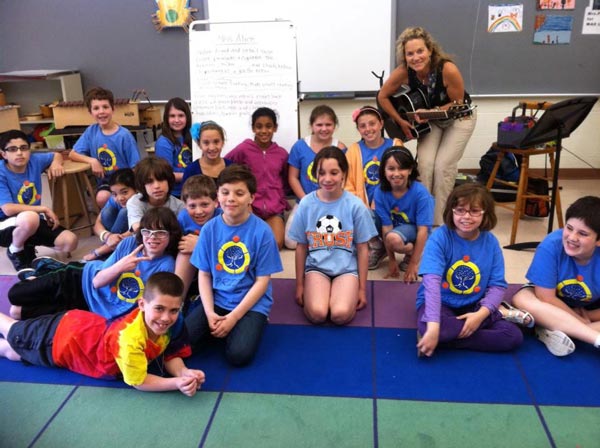 "Each program starts with a little overview about what songwriting is and how I believe that music is magic," said Leon.  "I usually give a little mini concert and sing a song for the kids to qualify what I do as a musician and singer songwriter.  We then get to whatever subject we're going to write about and each student has an opportunity to offer their ideas which I always write down on the board."
The students get to choose the style of music to create, including hip-hop, dance, pop, country, and rock and roll.  They then go about creating lyrics from the various ideas.  It doesn't take long before everybody is trying to sing a melody to basic chord progressions.  After the song is written, the entire class takes part as the song is digitally recorded by Leon.  In many cases, the song is then turned into a green screen music video.
"Recently I added a live edit portion to my program which has been incredibly successful so that students truly understand the entire process from, brainstorming, creating a song, recording the song and then creating the music video," she added.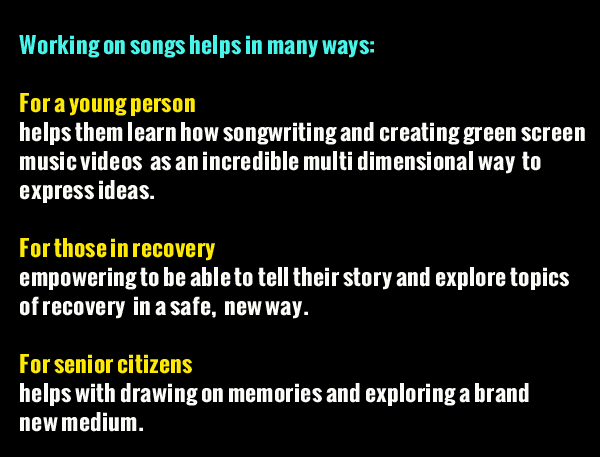 She began working with children with disabilities and life-threatening conditions when she was approached by an organization called Songs of Love to create songs for critically ill children.  This was another aspect of the business that grew organically on its own, but one with very distinct highs and lows.
The highs include the sense of reward Leon gets by knowing that she was able to bring a little joy to these children and their families who are struggling to get through each day.  The lows come after the children pass on.  Sometimes their parents will send Leon photos of the children and have some of the songs played at their funerals.  "Mostly though the parents write to me telling me that the song has brought them joy," she noted.
Leon describes her songwriting programs as a joyful way to support curriculum, ideas, working together to create something magical and lasting.  Any school, Girl Scout troop, or recovery facility interested in learning more can contact Alice via email.
Here's a listen to one of Alice Leon's own songs
---
Gary Wien has been covering the arts since 2001 and has had work published with Jersey Arts, Elmore Magazine, Princeton Magazine, Backstreets and other publications. He is a three-time winner of the Asbury Music Award for Top Music Journalist and the author of Beyond the Palace (the first book on the history of rock and roll in Asbury Park) and Are You Listening? The Top 100 Albums of 2001-2010 by New Jersey Artists. In addition, he runs New Jersey Stage and the online radio station The Penguin Rocks. He can be contacted at gary@newjerseystage.com.
---