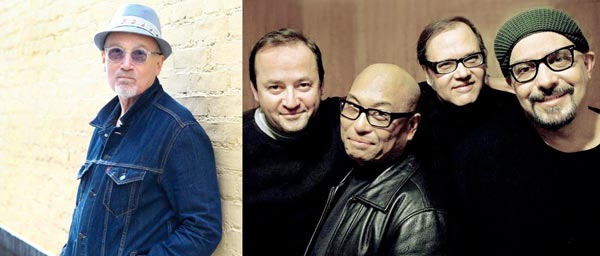 (MONTCLAIR, NJ) -- When Pat DiNizio passed away on December 12, 2017, the future of The Smithereens was suddenly thrown into doubt. Thankfully, the band has decided to continue motoring on with shows here and there.  One show coming up is at Outpost in the Burbs in Montclair on Friday, June 1st with fellow 80s rock legend Marshall Crenshaw on hand as special guest vocalist alongside Jim Babjak, Dennis Diken, and Mike Mesaros.
Crenshaw was one of many artists to take place in the tribute "Time and Time Again: A Celebration of the Life of Pat DiNizio" concert, which took place at the Count Basie Theatre in Red Bank on January 13th.  He played with the band on tracks like "Even If I Never Get Back Home", "Strangers When We Meet", and a cover of Budd Holly's "Well, All Right."  His own career includes such classic radio hits as "Someday, Someway" and "Whenever You're On My Mind." 
The Smithereens may not have been the biggest band to ever come out of New Jersey, but they were arguably one of the best representations of a Jersey band.  They combined a Jersey rock and roll vibe with a Beatlesque sound. DiNizio was not just from Jersey - he was proud of being from Jersey.  He never forgot his hometown of Scotch Plains and would be glad to know that there is now a "Pat Dinizio Way" in his honor.
To me, The Smithereens are one of the best rock and roll bands to ever come from Jersey, and one of the most underrated bands around. The band's breakthrough release, Especially for You, was one of the best albums of the 1980s and sounds as fresh today as it did the day it was released. That release contains the MTV hits "Blood & Roses" and "Behind the Wall of Sleep."  It was their first album after a pair of EPs (Girls About Town in 1980 and Beauty and Sadness in 1983). They would go on to release hits like "Only a Memory", "A Girl Like You", and "Top of the Pops" and record wonderful albums covering The Who and The Beatles.
Speaking of covers, while we do not know if there will be any new Smithereens original songs in the future, the band is releasing "COVERS" - a new release featuring 20 over the band's favorite cover songs from the Smithereens vault.  The disc includes covers of such artists as The Clash, Bruce Springsteen, Iggy Pop, The Kinks, Buddy Holly, The Beatles, Beach Boys, and more.  It is expected to be released in late May or early June.
---
The article continues after this ad
---
---
In addition to the Count Basie Theatre show, The Smithereens' Jim Babjak and Dennis Diken, along with Marshall Crenshaw and Graham Maby (of the Joe Jackson Band,) paid tribute to Pat DiNizio for an upcoming PBS-TV special which will honor musicians who passed away in 2017.  The show's performance and interviews were taped at Forge Studios in PA.
The Outpost in the Burbs show on June 1st will take place at The First Congregational Church of Montclair, located at 40 S Fullerton Avenue in Montclair, New Jersey.  Tickets are $40 and are available online.
---
Gary Wien has been covering the arts since 2001 and has had work published with Jersey Arts, Elmore Magazine, Princeton Magazine, Backstreets and other publications. He is a three-time winner of the Asbury Music Award for Top Music Journalist and the author of
Beyond the Palace
(the first book on the history of rock and roll in Asbury Park) and
Are You Listening? The Top 100 Albums of 2001-2010 by New Jersey Artists
. In addition, he runs New Jersey Stage and the online radio station
Asbury Music
. He can be contacted at
gary@newjerseystage.com
.
---