By Gary wien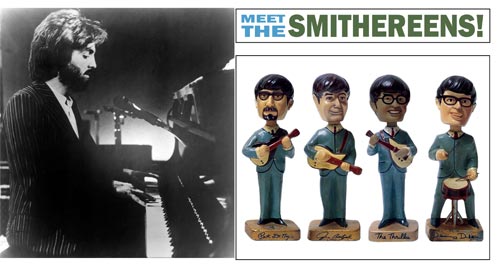 Sometimes life can be funny. Back in 1978, Glen Burtnik had his first big break when he was cast in the West Coast production of Beatlemania. Since that time, music has taken him all over the world - through a promising solo career, stints in classic rock bands like Styx, gold records, hit singles - and back to New Jersey where he is once again playing Paul McCartney.

Meanwhile, The Smithereens have gone through periods of hit singles, gold and platinum records and have had music bring them across the world as well, but it took the reworking of a Beatles record to bring them back on top and get them more recognition than they've had in a long, long time.

It figures that the two New Brunswick legends would somehow find their paths meet due to the four lads from Liverpool and that day will be Friday, August 17th at the State Theatre.

Glen Burtnik and The Smithereens will combine to form one of the summer's most anticipated concerts - the Jersey Summer Beatles Bash featuring The Smithereens playing every cut from Meet The Beatles and Glen Burtnik & Friends playing every cut from Sgt. Pepper's Lonely Hearts Club Band. It's a wonderful look at just how much The Beatles grew as artists in such a short period of time and a rare chance to see artists performing entire albums from start to finish in a live setting. And, for a Beatles fan, this is just about as good as it gets!

"I think it's a great contrast when you go from their first American release to Sgt. Pepper in three short years," said Pat DiNizio, lead singer of The Smithereens. "I think it's fitting in that this is the album which really blew the lid off rock and roll and helped create bands who influenced bands like The Smithereens - bands like The Byrds, Beau Brummels and all of the stuff we listened to when we were younger."

The Smithereens released their own take on the Meet The Beatles record earlier this year with Meet The Smithereens. Unlike other artists who choose to pay tribute to their idols with a greatest hits approach, The Smithereens decided to do something different.

"I came across this magazine called American Heritage and the theme of the particular issue was 1964 - the year that changed everything," explained DiNizio. "It talked about the civic rights movement, Lyndon B. Johnson's Great Society, and the Vietnam War but mainly it talked about Beatlemania and the profound impact that the emergence of The Beatles and the American release had on the world of youth culture in America. It was at that point that we realized Meet The Beatles was the collective favorite album of The Smithereens. That was the album that launched a thousand bands. It was like a shot heard around the world and for a very long period of time it was the Holy Grail of Beatles albums because it had been missing for 20 years. When Capitol Records began to put the Beatles CDs, they put out the British versions that American audiences were not familiar with. So the versions that so many of us grew up with disappeared with the demise of vinyl. It was only recently that they even came out again. A lot of people never even knew of Meet The Beatles or had forgotten about it. We could have gone the easy route and do the hits like everyone else seems to do, but it just seemed more interesting and more challenging to do an entire album from beginning to end. I think it required a whole lot more imagination to really make the material ours - to make it sound like them, but sound like us as well; to make it sound retro, but thoroughly modern."

They say great minds think alike and apparently that's true for these two New Brunswick artists as Glen Burtnik has been planning a series of live shows based around the idea of paying tribute to classic albums. The series is still in the works, but this show will provide a glimpse of what he has in mind and it's hard to think of a better place to start. He's actually starting with a record that The Beatles never even performed live!

"I had been planning to create some kind of series like an artist-in-residence series of performing classic albums in their entirety," said Glen Burtnik. "While mulling over that idea I thought the Beatles would be the best way to kick off this kind of thing and I was aware that there was this upcoming 40th anniversary of Sgt. Pepper.

"I was probably about 12 years old and was completely anamored with my older brother Brian who brought the album home. I was instantly aware that listening to Sgt. Pepper was some sort of rite of passage. It was just an amazing work of art! It was unlike anything that had happened before. Albums really didn't matter before. Pop music, at least, was all about singles. I think Frank Sinatra had dabbled in concept albums and long playing albums were something that classical music buffs were all about, but rock records basically were singles strung together.

"Sgt. Pepper is perhaps the most important album ever. I consider it the most important album ever made. It's not necessarily the best Beatles album, but there's just something about it that defines an era, defines a generation and really nails The Beatles as the cultural icons that they were and continue to be."

Both Glen Burtnik and The Smithereens hold long ties to New Brunswick. Glen was (and is still) a member of the classic Slaves of New Brunswick band featuring members of the local music community who used to get together and jam at clubs like the old Melody Bar. The Smithereens practically got their start at The Court Tavern in New Brunswick and played there once a month for the first few years of the band. But even though they've been crisscrossing the same area for over 20 years, this might be the very first time they're playing in New Brunswick on the same bill. The Beatles have a way of doing that to people. That's why there are so many Beatles conventions and why bands continue to cover the Beatles.

"It's ironic that I'm still doing The Beatles, but I really do consider it the Bible of pop music and there are so many emotional, and personal connections," explained Burtnik. "I was born in '55, so I was 8 or 9 years old when The Beatles were on Ed Sullivan. I followed their careers closely. Every release that they'd come out with not only meant a lot to me but, to coin a cliche, was like the soundtrack of my life. So to try to recreate that music is a thrill. It's almost like after I conquer Sgt. Pepper I can die, I'll have done what I had to do.

"I think The Beatles probably did some deeper work elsewhere, but nevertheless the way they tied everything together with the Sgt. Pepper theme and the closing track, "A Day In The Life" - I don't know if The Beatles ever really surpassed that moment.

"They took a chance. They went out on a limb. Instead of putting out an album of singles or more attempts at pop they became completely experimental and continued on that path. The chances they took were fearless. If for no other reason, it's an inspiration to behold."

Pat DiNizio feels as strongly about his band performing Meet The Beatles. "For us it was The Beatles at their apex as a live performing band," said DiNizio. "They were very successful in Europe already and in the U.K. I don't know if I've ever heard Ringo play as well as he did on that record. They were just really cooking as a live band and with The Smithereens still being a lead guitar, bass and drums it was the perfect choice."

Even though the band released their take on the album earlier in the year, this will be the first time The Smithereens play the record live from track one to end. Ironically, the Meet The Smithereens record hasn't introduced as many people to the music of The Beatles as it has introduced Beatles fans to the music of The Smithereens. Sales of the band's Greatest Hits record climbed tremendously on Amazon.com in the first few months of the Meet The Smithereens release.

Pat DiNizio was one of the first artists to popularize the idea of house concerts so I asked him if he thought other artists might start releasing tributes to their favorite albums as well.

"I don't know," he replied. "I always thought that if Kurt Cobain was alive, he would probably have done an entire Husker Du album like Zen Arcade or something. I don't know if other people are going to follow in our footsteps or the path that we're moving along, but I think it's a pretty interesting idea. One group doing one album is fascinating to me. That's different from those collections where you have a dozen different artists doing an album. With those you have 12 different musical acts recording in 12 different studios in 12 different states with 12 different approaches. We didn't want to do that, we wanted a record that was cohesive."

In yet another bit of Brunswick synergy, both Pat DiNizio and Glen Burtnik list the White Album as their favorite by The Beatles or the one that influenced their own work the most.

The Smithereens will be releasing a new record of Christmas songs this winter and plan for a new studio release in April 2008. There aren't any plans to record any more tribute CDs like the Meet The Smithereens disc, but they do have an offer that they're considering to record a CD of '60s covers similar to the record The Ramones put out once.

Glen Burtnik says he has absolutely no plans for another record at this time. He's been making small recordings from his home studio that he sells to fans at his shows. In between his Beatles gigs and plans for the album tribute shows, he's very happy with the way things are going.
---
Win a pair of tickets to see the Jersey Summer Beatles Bash! Click here!
---
JERSEY SUMMER BEATLES BASH!
The Smithereens and Glen Burtnik & Friends
August 17, 2007
State Theatre, New Brunswick
performing the entire albums:
Meet The Beatles / Sgt. Pepper,Aeos Lonely Hearts Club Band