By Gary Wien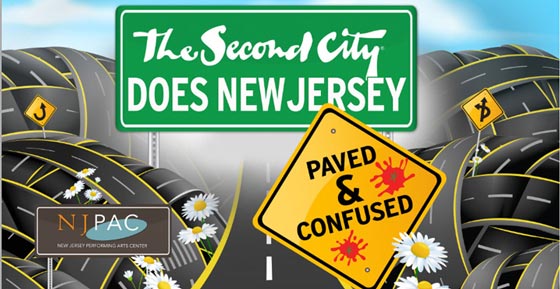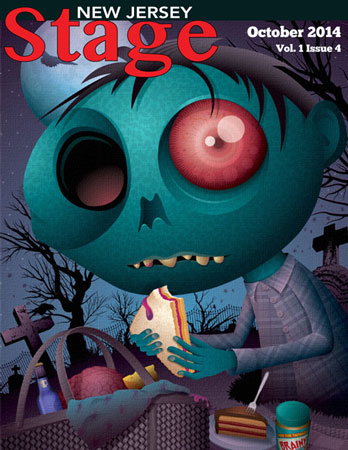 This article was originally designed to be read in the October 2014 issue of
New Jersey Stage magazine. To read it in its original format, click here

The legendary improvisation group The Second City is coming to the New Jersey Performing Arts Center for shows on November 7th and 8th with a show that's somewhat different from their standard touring production. New Jersey Stage spoke with Kelly Leonard, Executive Vice President of Second City about the show and his upcoming book Yes, and
The Second City Does New Jersey: Paved and Confused is a show tailored to the Garden State. With our history of reality TV shows, mobsters, and industry I guess we made it pretty easy for you.
I don't think it's a stretch to think we could mine some comedy out of New Jersey. I went to school in Ithaca, NY for a year and I think about 50% of the school was from New Jersey, so I certainly picked up on some themes. You have a rich political history, both good and bad. There's the sports, the industry, the mob… I mean there's a million things and it's just a lot of characters and that's great fodder for comedy.
Does this show follow the setup of both scripted performance and improv?
Yes, it'll be a combination; mostly scripted with some improvisational stuff inside there. We're customizing a handful of scenes specifically for Newark and the state and we're also drawing on some of the classic Second City archives for additional material. We'll let the cast make up some stuff for the audience as well. It's a nice blend of everything that we do.
Do you have any sketches based on shows like The Housewives of New Jersey or Boardwalk Empire?
There's definitely that kind of stuff. Whether it's a line in a song or a scene or a full-out scene, we've got more material than we're going to use. What we do during the rehearsal process is figure out the stuff that hits the best. We'll wind up doing the funniest of the material, but it could change up until that night.
It's so sad that we give you more material than you need...
We happen to live in a city here in Chicago which is the same. We're very used to it.
Is there a standard Second City touring troupe?
There are 3 Second City touring companies that tour across the country. We've selected one of them to work on this show. It really is the next generation of great talent. This would be the same set up that Stephen Colbert, Steve Carell, and Tina Fey had. They were all in the touring company and cut their teeth out on the road. The goal is to hopefully graduate to our residence stages and then on to fame and fortune. New Jersey is going to see the next generation of comedy's best and brightest!
So, basically everyone gets their feet wet with the touring company?
Yeah, it's a terrific system that was set up years and years ago. Thousands of people audition to get one or two slots a year. What they're doing is performing some of our classic sketches, getting an idea for stuff that works, and writing their own material and improvising with people who are just as good as you. Usually you're with the touring company for a couple of years. When you're traveling around in a van performing at performing arts centers, schools, and for businesses, you just get good. You do so many dates and even when you're not on stage you're exchanging ideas and bits with your fellow cast mates. It's a dynamic way to get very, very good at this specific type of work.
Does the show have its own scenery or props?
Second City is very nimble. We are normally 6 chairs and that's what we're focused on. There aren't elaborate sets or costumes. We kind of travel with a duffel bag. That's the Second City style and method that's made us successful for 55 years.
What do you think it is about improv that's kept it interesting for 55 years?
Well, improvisation is an incredibly powerful tool for basically creating something out of nothing. I often say that improv is like yoga for your social skills. In improvisation, you're doing practice to do deep lifting to stay in the moment. You have to say 'yes, and' and can't say no to an idea. It's really a laboratory for innovation and creativity.
Unlike a lot of theatre companies, we train up our talent. We have our talent perform and then we let them go, we don't try to hold on to them. That leaves room for the next generation of folks to come through. I think many businesses would look at it this way: if you're training all of this talent and you're spending all this money on them and they're yours, wouldn't you want to keep them? And while that's a perfectly natural instinct, I think the fact that it wasn't our setup here has allowed this work to be fresh for all of the new generations. It's a magical system that was already here when I walked through these doors 26 years ago. And so for us, we're sort of care-taking the next part of this arc of history at Second City. Our job is not to screw with the things that work, but to also recognize that it's an artistic endeavor and you've got to take risks, you've got to fail, and you've got to try new things. And we're doing that. We do that all of the time, but the core things and the stuff is what's made us so successful.
Tell me about your book, Yes, and. Is it about improv, Second City, or a little of both?
It's a little of both. It's a book I co-wrote with Tom Yorton that is coming out in February with Harper Collins. It's basically the 7 principals of improvisation and talks about how they play out at Second City and have they've played out when we've worked with other businesses and how they can play out in your own life.
"Yes, and" is the sticky center of improvisation. The idea is that if you say 'no' at the start of any brainstorming session, it'll go nowhere. You can't build anything original or new if you say no. You have to start with 'yes, and' and not just affirm but contribute. One of the things we do often when we go into businesses is task people with going one day where you can't say no. It's really, really hard. But what you recognize when you eliminate that from your vocabulary is that you just might allow one of those crazy ideas that could be a gem to find its way through where before it never would have gotten there. It's the heart and soul of improvisation and I think it's key to what's made us successful.
The book also has backstage stories on a lot of the famous alumni and some of the work we've done with groups like Major League Baseball. Hopefully, it's going to be interesting to people who want to get an idea into what we do here, but also we feel improvisation is a cutting-edge methodology that - if you look around the world today - more people are recognizing is important.

---
Gary Wien has been covering the arts since 2001 and has had work published with Jersey Arts, Elmore Magazine, Princeton Magazine, Backstreets and other publications. He is a three-time winner of the Asbury Music Award for Top Music Journalist and the author of Beyond the Palace (the first book on the history of rock and roll in Asbury Park) and Are You Listening? The Top 100 Albums of 2001-2010 by New Jersey Artists. In addition, he runs New Jersey Stage and the online radio station The Penguin Rocks. He can be contacted at gary@newjerseystage.com.
---